This website uses cookies to ensure you get the best experience while browsing it. By clicking 'Got It' you're accepting these terms.
Illegal Pot Farms Are 'Silently Killing' Endangered Wildlife
Nov. 05, 2015 11:17AM EST
Researchers at the University of California released a study yesterday indicating that rat poisons increasingly pose a significant risk for California's imperiled Pacific fishers, small forest-dwelling mammals that are protected under the California Endangered Species Act. The study shows that increasing numbers of fishers are being exposed to and dying from greater varieties of rat poisons, or rodenticides, found at illegal marijuana farms. It also affirms reports and data from across the state that rodenticides continue to poison and kill numerous California wildlife species.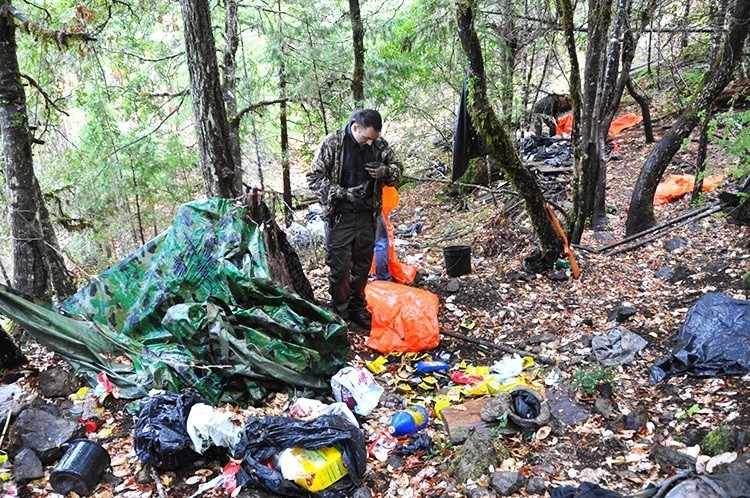 Poisons from illegal marijuana grow sites are killing increasing numbers of fishers in California. Here, Mourad Gabriel of the Integral Ecology Research Center stands among all the trash at a illegal marijuana grow site in Northern California. Photo credit: Mark Higley / Hoopa Valley Tribal Forestry
"These poisons are silently killing our country's most majestic wildlife by indiscriminately causing animals to literally bleed to death from the inside out," said Jonathan Evans, environmental health legal director at the Center for Biological Diversity. "It's time to ban these poisons from the market to protect fishers, bald eagles, great horned owls and kit foxes from a painful, gruesome fate."
Anticoagulant rodenticides interfere with blood clotting, resulting in uncontrollable bleeding that leads to death. These slow-acting poisons are often eaten for several days by rats and mice, causing the toxins to accumulate in their tissues and poisoning predators that eat the weakened rodents. Other types of rodenticides threatening wildlife include neurotoxins and poisons that calcify soft tissue.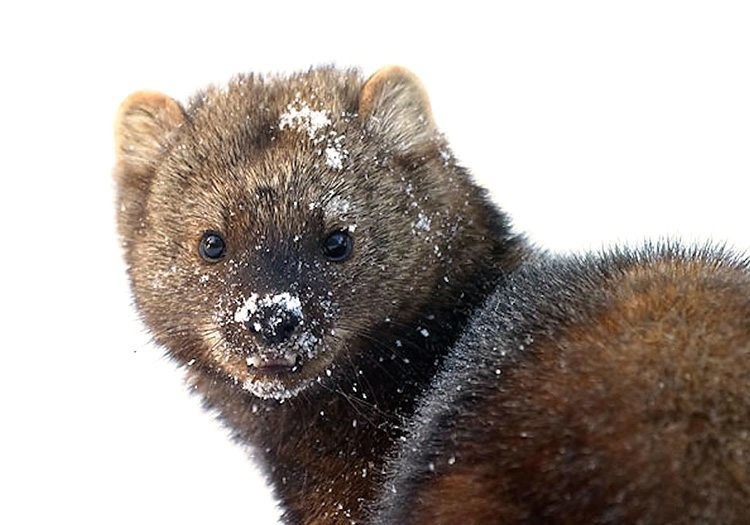 "Fishers are the flagship species," said Mourad Gabriel. "We have to think of so many species, like Sierra Nevada red foxes, spotted owls, martens—they all are potentially at risk. This is essentially going to get worse unless we do something to rectify this threat."
Previous studies by the California Department of Fish and Wildlife have documented rodenticides in more than 75 percent of wildlife tested, including eagles, owls, bobcats, mountain lions, endangered San Joaquin kit foxes and 30 other wildlife species. Even after California took steps in July 2014 to reduce exposure from certain types of rodenticides, exposure and poisoning by rodenticides remains prolific.
The new study was led by Mourad Gabriel, formerly at the University of California Davis and now at the Integral Ecology Research Center in California. Exposure rates in fishers to rodenticides increased from 79 percent in 2012 to 85 percent in the most recent study. Necropsies of fishers confirmed as many as six different rodenticides in one animal. Some of the chemicals found were considered safer alternatives to other commercially available rodenticides, but they nonetheless killed fishers.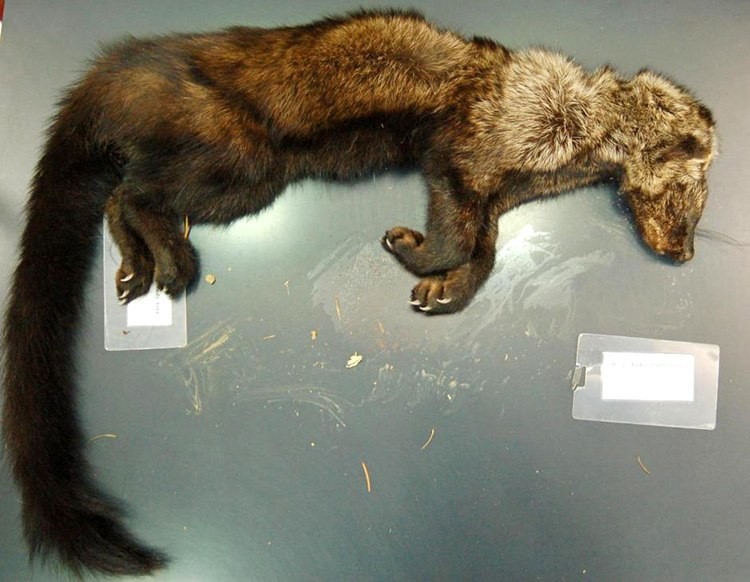 This fisher, brought to UC-Davis for a necropsy, was poisoned by anticoagulant rodenticide (rat poison) found on an illegal marijuana grow site in Northern California. Photo credit: UC-Davis
"Fishers are the flagship species," said Gabriel. "We have to think of so many species, like Sierra Nevada red foxes, spotted owls, martens—they all are potentially at risk. This is essentially going to get worse unless we do something to rectify this threat."
Safe alternatives to rat poison can be used to address rodent outbreaks in homes and rural areas. Effective measures include rodent-proofing by sealing cracks and crevices and eliminating food sources in homes, providing owl boxes to encourage natural predation on farms and utilizing traps that don't involve these highly toxic chemicals. For more information visit SafeRodentControl.org.
YOU MIGHT ALSO LIKE
8 Myths About Pesticides That Monsanto Wants You to Believe
Shocking Photos of Green Sea Turtle Killed by Ingesting Plastics and Other Marine Litter
National Geographic's Stunning Portraits Bare the Stark Reality of Climate Change
Algal Blooms Linked to Largest Die-Off of Great Whales Ever Recorded
EcoWatch Daily Newsletter
Bernie Sanders holds his first presidential campaign rally at Brooklyn College on March 02 in Brooklyn, New York. Kena Betancur / VIEWpress / Corbis. Getty Images
Bernie Sanders has become the first contender in the crowded 2020 Democratic presidential primary field to pledge to offset all of the greenhouse gas emissions released by campaign travel, The Huffington Post reported Thursday.
An aerial view of the flooding at the Camp Ashland, Nebraska on March 17. Nebraska National Guard / Staff Sgt. Herschel Talley / Flickr / CC BY 2.0
The record flooding in the Midwest that has now been blamed for four deaths could also have lasting consequences for the region's many farmers.
In tea, food, or just on your windowsill, embrace the fragrance and fantastic healing potential of herbs.
By Ana Santos Rutschman
The world of food and drug regulation was rocked earlier this month by the news of a change in leadership at the Food and Drug Administration. Commissioner Scott Gottlieb resigned and will step down in early April. His temporary replacement is Dr. Ned Sharpless, director of the National Cancer Institute.
MartinPrescott / iStock / Getty Images
On Wednesday the U.S. Environmental Protection Agency (EPA) announced the first 20 chemicals it plans to prioritize as "high priority" for assessment under the Toxic Substances Control Act. Given the EPA's record of malfeasance on chemicals policy over the past two years, it is clear that these are chemicals that EPA is prioritizing to ensure that they are not properly evaluated or regulated.
Strawberries top the Environmental Working Group's "Dirty Dozen" list of U.S. produce most contaminated with pesticides. DANIEL LEAL-OLIVAS / AFP / Getty Images
Which conventionally-grown fruits and vegetables in the U.S. are most contaminated with pesticides? That's the question that the Environmental Working Group answers every year with its "Dirty Dozen" list of produce with the highest concentration of pesticides after being washed or peeled.
A drilling rig in a Wyoming natural gas field. William Campbell / Corbis via Getty Images
A U.S. federal judge temporarily blocked oil and gas drilling on 300,000 acres of federal leases in Wyoming Tuesday, arguing that the Bureau of Land Management (BLM) "did not sufficiently consider climate change" when auctioning off the land, The Washington Post reported.
Mizina / iStock / Getty Images
Oats are widely regarded as one of the healthiest grains you can eat, as they're packed with many important vitamins, minerals, and fiber.