This website uses cookies to ensure you get the best experience while browsing it. By clicking 'Got It' you're accepting these terms.
Illegal Pot Farms Are 'Silently Killing' Endangered Wildlife
Nov. 05, 2015 11:17AM EST
Researchers at the University of California released a study yesterday indicating that rat poisons increasingly pose a significant risk for California's imperiled Pacific fishers, small forest-dwelling mammals that are protected under the California Endangered Species Act. The study shows that increasing numbers of fishers are being exposed to and dying from greater varieties of rat poisons, or rodenticides, found at illegal marijuana farms. It also affirms reports and data from across the state that rodenticides continue to poison and kill numerous California wildlife species.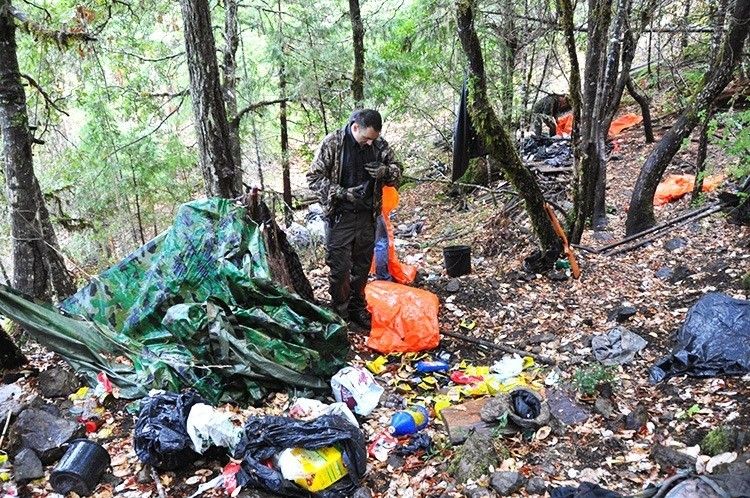 Poisons from illegal marijuana grow sites are killing increasing numbers of fishers in California. Here, Mourad Gabriel of the Integral Ecology Research Center stands among all the trash at a illegal marijuana grow site in Northern California. Photo credit: Mark Higley / Hoopa Valley Tribal Forestry
"These poisons are silently killing our country's most majestic wildlife by indiscriminately causing animals to literally bleed to death from the inside out," said Jonathan Evans, environmental health legal director at the Center for Biological Diversity. "It's time to ban these poisons from the market to protect fishers, bald eagles, great horned owls and kit foxes from a painful, gruesome fate."
Anticoagulant rodenticides interfere with blood clotting, resulting in uncontrollable bleeding that leads to death. These slow-acting poisons are often eaten for several days by rats and mice, causing the toxins to accumulate in their tissues and poisoning predators that eat the weakened rodents. Other types of rodenticides threatening wildlife include neurotoxins and poisons that calcify soft tissue.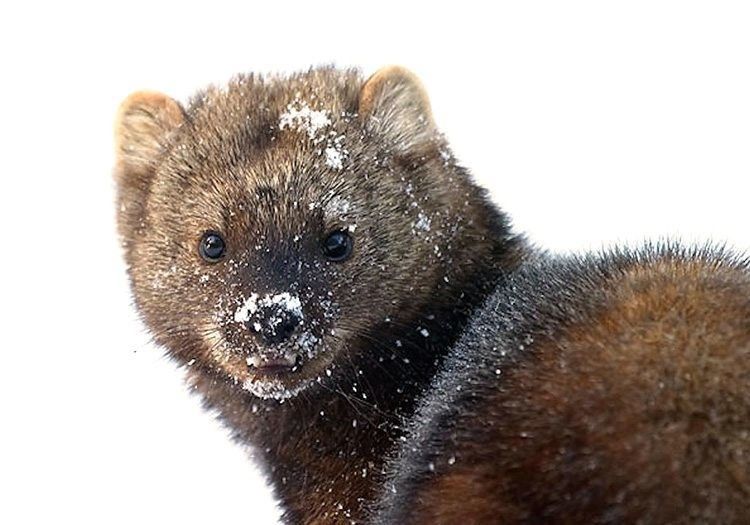 "Fishers are the flagship species," said Mourad Gabriel. "We have to think of so many species, like Sierra Nevada red foxes, spotted owls, martens—they all are potentially at risk. This is essentially going to get worse unless we do something to rectify this threat."
Previous studies by the California Department of Fish and Wildlife have documented rodenticides in more than 75 percent of wildlife tested, including eagles, owls, bobcats, mountain lions, endangered San Joaquin kit foxes and 30 other wildlife species. Even after California took steps in July 2014 to reduce exposure from certain types of rodenticides, exposure and poisoning by rodenticides remains prolific.
The new study was led by Mourad Gabriel, formerly at the University of California Davis and now at the Integral Ecology Research Center in California. Exposure rates in fishers to rodenticides increased from 79 percent in 2012 to 85 percent in the most recent study. Necropsies of fishers confirmed as many as six different rodenticides in one animal. Some of the chemicals found were considered safer alternatives to other commercially available rodenticides, but they nonetheless killed fishers.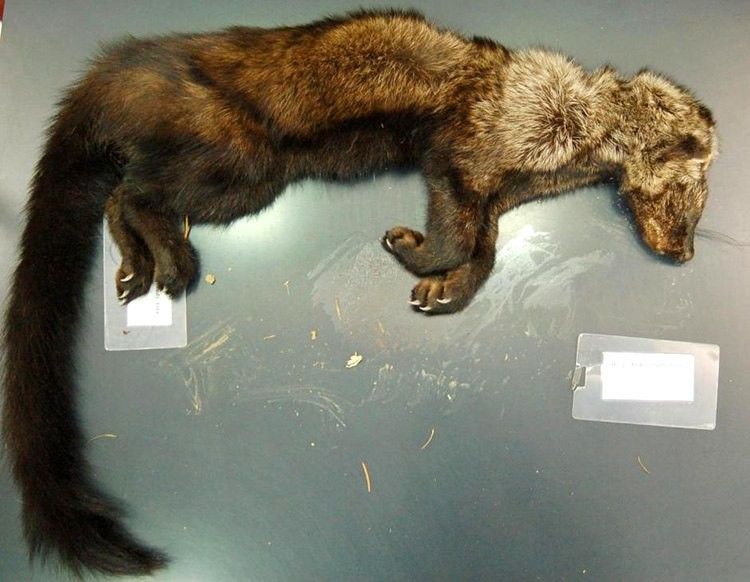 This fisher, brought to UC-Davis for a necropsy, was poisoned by anticoagulant rodenticide (rat poison) found on an illegal marijuana grow site in Northern California. Photo credit: UC-Davis
"Fishers are the flagship species," said Gabriel. "We have to think of so many species, like Sierra Nevada red foxes, spotted owls, martens—they all are potentially at risk. This is essentially going to get worse unless we do something to rectify this threat."
Safe alternatives to rat poison can be used to address rodent outbreaks in homes and rural areas. Effective measures include rodent-proofing by sealing cracks and crevices and eliminating food sources in homes, providing owl boxes to encourage natural predation on farms and utilizing traps that don't involve these highly toxic chemicals. For more information visit SafeRodentControl.org.
YOU MIGHT ALSO LIKE
8 Myths About Pesticides That Monsanto Wants You to Believe
Shocking Photos of Green Sea Turtle Killed by Ingesting Plastics and Other Marine Litter
National Geographic's Stunning Portraits Bare the Stark Reality of Climate Change
Algal Blooms Linked to Largest Die-Off of Great Whales Ever Recorded
EcoWatch Daily Newsletter
The Democratic primary candidates take the stage during Tuesday's debate. SAUL LOEB / AFP via Getty Images
On Tuesday night, the Democratic presidential candidates gathered for what The Guardian said was the largest primary debate in U.S. history, and they weren't asked a single question about the climate crisis.
A. Battenburg / Technical University of Munich
By Sarah Kennedy
Algae in a pond may look flimsy. But scientists are using algae to develop industrial-strength material that's as hard as steel but only a fraction of the weight.
Variety of fermented food korean traditional kimchi cabbage and radish salad. white and red sauerkraut in ceramic plates over grey spotted background. Natasha Breen / REDA&CO / Universal Images Group / Getty Image
Even if you've never taken probiotics, you've probably heard of them.
These supplements provide numerous benefits because they contain live microorganisms, such as bacteria or yeast, which support the healthy bacteria in your gut (1, 2, 3, 4).
Pexels
Singapore will become the first country in the world to place a ban on advertisements for carbonated drinks and juices with high sugar contents, its health ministry announced last week. The law is intended to curb sugar consumption since the country has some of the world's highest diabetes rates per capita, as Reuters reported.
A typical adult takes around 20,000 breaths per day. If you live in a megacity like Beijing, with many of those lungfuls you're likely to inhale a noxious mixture of chemicals and pollutants.
Fred Stone holds his brown swiss cow Lida Rose at his Arundel dairy farm on March 18 after a press conference where he spoke about PFAS chemical contamination in his fields. Gregory Rec / Portland Portland Press Herald via Getty Images
By Susan Cosier
First there was Fred Stone, the third-generation dairy farmer in Maine who discovered that the milk from his cows contained harmful chemicals. Then came Art Schaap, a second-generation dairy farmer in New Mexico, who had to dump 15,000 gallons of contaminated milk a day.
Protesters attend the 32nd annual Fur-Free Friday demonstration on Nov. 23, 2018 in Beverly Hills, California. Ella DeGea / Getty Images
California Governor Gavin Newsom signed into law a bill that that bans the sale and manufacture of fur products in the state. The fur ban, which he signed into law on Saturday, prohibits Californians from selling or making clothing, shoes or handbags with fur starting in 2023, according to the AP.
By Simon Evans
During the three months of July, August and September, renewables generated an estimated total of 29.5 terawatt hours (TWh), compared with just 29.1TWh from fossil fuels, the analysis shows.