This website uses cookies to ensure you get the best experience while browsing it. By clicking 'Got It' you're accepting these terms.


The best of EcoWatch, right in your inbox. Sign up for our email newsletter!
Illegal Dumping of Fracking Wastewater May Be Linked to Radioactivity in PA Creek, Experts Say
Aug. 20, 2015 12:36PM EST
Energy
Recently released testing results in western Pennsylvania, upstream from Pittsburgh, reveal evidence of radioactive contamination in water flowing from an abandoned mine. Experts say that the radioactive materials may have come from illegal dumping of shale fracking wastewater.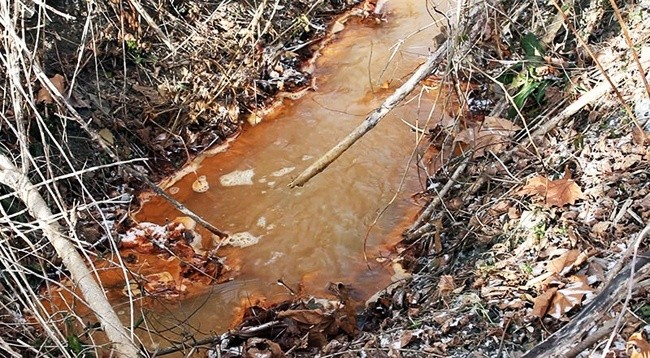 Water at the edge of the Clyde Mine discharge in East Bethlehem Township turns the water orangey red where it flows into Ten Mile Creek. Photo credit: Natasha Khan / PublicSource
Regulators had previously found radioactivity levels that exceeded the U.S. Environmental Protection Agency's (EPA) drinking water standards more than 60-fold in waters in the same area, which is roughly three miles upstream from a drinking water intake, but those test results were only made public after a local environmental group obtained them through open records requests.
At the end of July, the West Virginia Water Research Institute released the results from its tests of water flowing from an abandoned coal mine.
Most of the sampling results showed no detectable radioactivity, but one test result showed roughly 13 picocuries per liter (pci/l) of gross alpha radioactivity, just below the EPA's drinking water limits, confirming the presence of radioactive materials in the mine's discharge.
"There's something going on there that's not right," Paul Ziemkiewicz, director of the West Virginia Water Research Institute told the Pittsburgh Post-Gazett. "The radiation, together with higher bromide levels than you would expect to see coming out of a deep mine, point to drilling wastewater."
In April 2014, under pressure from local environmental groups, the state Department of Environmental Protection (DEP) had taken samples from the same mine, the Clyde Mine in Washington County, Pennsylvania, as it discharged into 10 Mile Creek, a popular destination for boaters and fishermen.
Those tests showed one sample with radioactive materials (specifically radium 226 and radium 228) totaling 327 pci/l at and a second totaling 301 pci/l—in other words, up to 65 times the radium levels that the EPA considers safe in drinking water.
Some had speculated that the 2014 test results could simply have been flukes or false positives, a claim that seems less likely now that the subsequent round of testing by independent researchers also showed the presence of radioactivity.
The DEP is continuing to investigate, but some in the region say that these efforts are less than satisfactory.
"The DEP has known of elevated levels of radiation in the streams for more than a year, during which time countless people have recreated in (the water) and been exposed to possible harm," Patrick Grenter, director of Center for Coalfield Justice, told the state press.
The discharges from the Clyde Mine flow into Ten Mile Creek, a tributary of the Monongahela River, which serves as a drinking water supply for much of Pittsburgh and the surrounding region.
One drinking water intake, the Tri County Joint Municipal Authority, is located just three miles downstream from the mine and has been plagued for years by problems with another drilling wastewater-related substance, trihalomethanes.
Very low levels—1 pci/l—of one form of radium were found when that drinking water was tested last year. But tests for other radioactive materials known to be associated with fracking have not been done for years at the plant.
In 2011, the New York Times reported that Pennsylvania was allowing drillers to legally dump shale gas wastewater through sewage treatment plants, knowing that the plants could not remove the radioactive materials found in shale waste—and that no testing had been done to find out whether the state's drinking water supplies were safe.
Since then, high levels of radioactivity have been found in sediments downstream from wastewater treatment plants, but the April 2014 testing was the first to show illegally high levels of wastewater in the state's rivers and streams.
Ken Dufalla, a local environmentalist who filed the open records request, told the Pittsburgh Post-Gazette that he was concerned that the more than 1.6 trillion gallons of water trapped in the Clyde Mine's underground labyrinth had been contaminated by illegal shale wastewater dumping. "I'm going to keep turning every stone over until we find out what's going on," he added.
The recent tests showed radioactivity was present, but at 13 pci/l, slightly below the 15 pci/l that the EPA considers the maximum for drinking water safety.
Prof. Ziemkiewicz told DeSmog Blog that it is unusual to see any radioactivity at all coming out of deep mines like Clyde Mine, so that while July's results were below the EPA's drinking water standard, his organization would be continuing to test. He had not conducted tests of the sediments in the riverbed, he added.
State environmental regulators also launched a new round of their own testing, with results due out before the end of this month.
But those tests have drawn strong criticism from those closely following the issue because the creek was flowing unusually fast—more than ten times its normal volume—when the samples were taken. That means that the discharge from the mine would be far more diluted than normal, so tests would return abnormally low numbers.
The DEP's testing has drawn outrage from local environmental organizations as a result.
"DEP's recent sampling of Ten Mile Creek flies in the face of common sense and reveals a disturbing lack of seriousness that is dismissive of the community in Greene County and the significance of this situation," Mr. Grenter told PublicSource.
The half-life for radium 226 is 1,600 years, meaning even then it will still be half as potent at it is today. According to the EPA, long term exposure to radium increases risk of lymphoma, bone cancer and leukemia.
The state's testing methods are also under scrutiny.
Earlier this year, a peer-reviewed study found that the EPA's approved method for testing drinking water for radioactivity can understate radium levels in fracking wastewater by as much as 99 percent because the high levels of corrosive salts also in fracking waste can throw off testing results.
The DEP's 2014 test results used a different and more accurate technique, gamma spectroscopy, to measure radioactivity levels, but state regulators in the Marcellus region have at times used the EPA's flawed testing methods, known as EPA 903 and EPA 904 to measure radium in fracking waste.
This is not the first time that regulators have suspected that abandoned coal mines are being used to surreptitiously get rid of fracking wastewater. In 2011, leaked internal EPA emails gave the public a window into one such investigation involving suspected illegal dumping in the Gateway Mine near Ruff Creek, Pennsylvania.
Fracking and drilling generate hundreds of billions of gallons of wastewater a year nationwide and disposing of the waste is proving to be one of the most intractable issues associated with fracking. As evidence grows that injecting it underground is causing earthquakes, drillers are increasingly looking to dispose of their waste by treating it to remove toxic materials. But the highly variable mix of various elements, corrosive salts, petroleum byproducts and other dangerous substances is extremely difficult to adequately treat.
Concern over radioactivity and other contaminants in fracking waste led the EPA to announce in July that it planned to officially block drillers from dumping waste at sewage treatment plants nationwide. Pennsylvania regulators had previously asked drillers to voluntarily refrain from using the plants, but there has been no mandatory bans on the practice until now.
The proposal drew immediate pushback from the oil and gas industry, which argued that the EPA would likely next move to stop the industry from using all treatment plants that dump into rivers.
"If that is foreclosed," Lee Fuller, Independent Petroleum Association of America's (IPAA) executive vice president, told FuelFix, "then we're facing a loss of production because the water can't be managed."
YOU MIGHT ALSO LIKE
Colorado Governor Drinks Water From Animas River After Historic Mine Waste Spill
Toxic Floods From Coal Mines and Power Plants Hit Vietnam's Ha Long Bay World Heritage Site
EcoWatch Daily Newsletter
PhotoAlto / Laurence Mouton / Getty Images
By Ana Reisdorf, MS, RD
You've probably heard the buzz around collagen supplements and your skin by now. But is the hype really that promising? After all, research has pointed to both the benefits and downsides of collagen supplements — and for many beauty-conscious folk, collagen isn't vegan.
Pixabay
By Marlene Cimons
Neil Pederson's introduction to tree rings came from a "sweet and kindly" college instructor, who nevertheless was "one of the most boring professors I'd ever experienced," Pederson said. "I swore tree rings off then and there." But they kept coming back to haunt him.
Aerial view of the explosion site of a chemical factory on March 22 in Yancheng, Jiangsu Province of China. Caixin Media / VCG / Getty Images)
At least 47 people have died in an explosion at a plant in Yancheng, China Thursday run by a chemical company with a history of environmental violations, Sky News reported.
A fishmonger in Elmina, a fishing port in the Central Region of Ghana. Environmental Justice Foundation
By Daisy Brickhill
Each morning, men living in fishing communities along Ghana's coastline push off in search of the day's catch. But when the boats come back to shore, it's the women who take over.
Pexels
By Sam Nickerson
Links between excess sugar in your diet and disease have been well-documented, but new research by Harvard's School of Public Health might make you even more wary of that next soda: it could increase your risk of an early death.
The study, published this week in the American Heart Association's journal Circulation, found that drinking one or two sugar-sweetened beverages (SSBs) each day — like sodas or sports drinks — increases risk of an early death by 14 percent.
Tyson Foods is recalling approximately 69,093 pounds of frozen chicken strips because they may have been contaminated with pieces of metal, the U.S. Department of Agriculture (USDA) Food Safety and Inspection Service (FSIS) announced Thursday.
The affected products were fully-cooked "Buffalo Style" and "Crispy" chicken strips with a "use by" date of Nov. 30, 2019 and an establishment number of "P-7221" on the back of the package.
"FSIS is concerned that some product may be in consumers' freezers," the recall notice said. "Consumers who have purchased these products are urged not to consume them. These products should be thrown away or returned to the place of purchase."
Environmental exposure to pesticides, both before birth and during the first year of life, has been linked to an increased risk of developing autism spectrum disorder, according to the largest epidemiological study to date on the connection.
The study, published Wednesday in BMJ, found that pregnant women who lived within 2,000 meters (approximately 1.2 miles) of a highly-sprayed agricultural area in California had children who were 10 to 16 percent more likely to develop autism and 30 percent more likely to develop severe autism that impacted their intellectual ability. If the children were exposed to pesticides during their first year of life, the risk they would develop autism went up to 50 percent.