This website uses cookies to ensure you get the best experience while browsing it. By clicking 'Got It' you're accepting these terms.
Illegal Discharge of Toxic Coal Ash into Waterways Prompts Legal Action
Feb. 13, 2013 11:03AM EST
Citing ongoing coal waste contamination at Tennessee Valley Authority (TVA)'s Colbert Fossil Plant, conservation groups have charged that the facility is violating the Clean Water Act and that failure to address these violations will result in a lawsuit. As outlined in the 60-day notice of intent letter sent to TVA, violations at the coal-burning facility have caused significant amounts of pollutants to be discharged illegally into Cane Creek, a tributary of the Tennessee River, as well as groundwater in the area.
The letter—­submitted by the Southern Environmental Law Center on behalf of Tennessee Riverkeeper, Southern Alliance for Clean Energy, Shoals Environmental Alliance and Waterkeeper Alliance—details how seepage from the facility's coal ash ponds contains arsenic, a toxic substance and known carcinogen, as well as selenium, lead, iron, cadmium and other pollutants.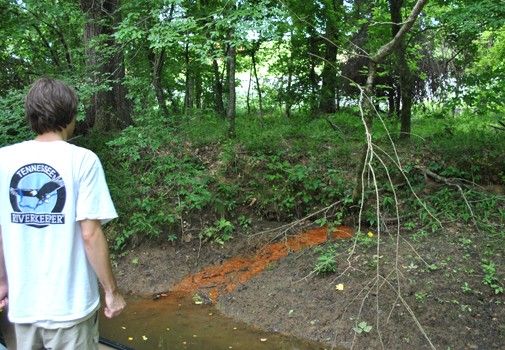 "The Colbert Fossil Plant has had ongoing and persistent pollution problems from its coal ash ponds for decades," said Keith Johnston, managing attorney for the Southern Environmental Law Center's Birmingham office. "The only acceptable remedy is for TVA to stop this unpermitted discharge and to start storing all coal ash safely away from our waterways."
Built in the 1950s, the aging Colbert plant is located on the Tennessee River and adjacent to one of its major tributaries, Cane Creek.
"Toxic metals in the seepage water negatively affects the health of the river and puts at risk the many fishermen, boaters, skiers and swimmers who use this area regularly, as well as those who depend on the river for their municipal drinking water supply," said David Whiteside of the Tennessee Riverkeeper. "Citizens depend on a clean and healthy Tennessee River for drinking water, swimming, fishing and other recreational uses, as well as bringing in millions of dollars in recreational and tourism income throughout the Valley."
The 60-day notice outlines ongoing surface and groundwater contamination from the Colbert Fossil Plant. TVA's own documentation shows that its coal ash ponds and other waste impoundments have polluted the groundwater for almost thirty years, but despite TVA's awareness of the contamination, it has continued to dispose and store the plant's coal waste irresponsibly. In addition, Tennessee Riverkeeper has documented additional toxic discharges from the site flowing directly into Cane Creek.
The facility's contamination originates from two coal ash ponds covering 127 acres total. The impoundments are unlined, meaning there is no barrier to prevent coal ash contaminants from reaching groundwater. And, indeed, documentation has confirmed seepage of arsenic and other pollutants through the sides and the bottoms of the ash ponds. At one location, sampling has shown arsenic levels that were more than fifty times Alabama's Maximum Contaminant Level for arsenic.
Both the groundwater contamination and unpermitted surface water discharges constitute violations of the facility's National Pollutant Discharge Elimination System (NPDES) permit and the Clean Water Act.
Donna Lisenby, the coal campaign coordinator for Waterkeeper Alliance said, "Since the TVA Kingston Fossil Plant coal ash spill in 2008, I have been working with Waterkeepers across the United States to document water pollution from coal-fired power plants. Two things make Colbert unique and distinguish it from hundreds of other coal ash ponds around the country. The first is that water tests results from Colbert's unpermitted discharges have some of the highest levels of arsenic, lead, selenium, cadmium, chromium, boron, iron, manganese and molybdenum that we have seen anywhere in the southeast. The second is that TVA stored more than a million tons of coal waste in unlined ponds that were constructed on top of and adjacent to sink holes."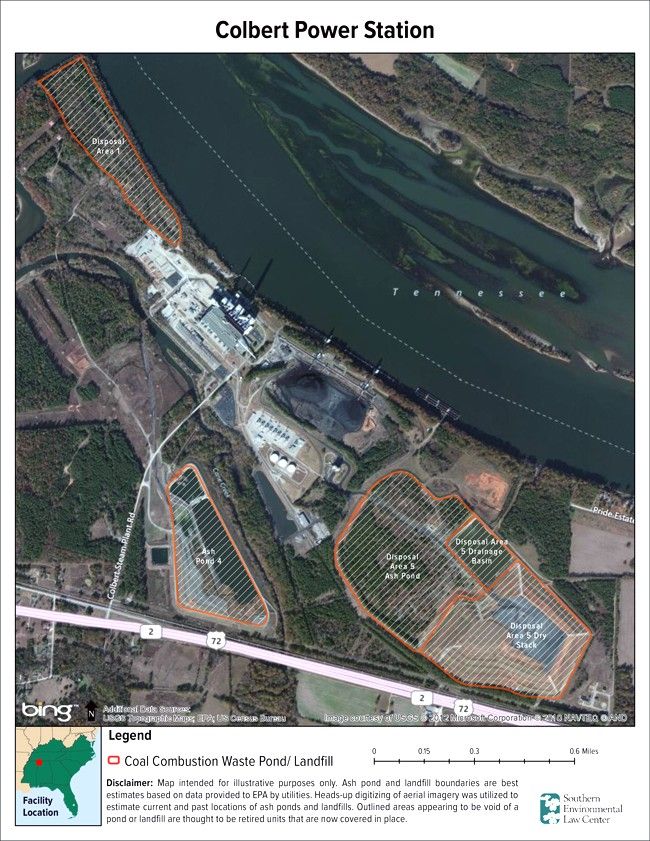 "The contamination at Colbert is indicative of a broader problem across the Southeast, namely that utility regulators need to pay more attention to the problems posed and caused by these ill-maintained coal ash ponds," said Ulla Reeves, regional program director of the Southern Alliance for Clean Energy. "With TVA's history of questionable coal ash management and in light of the Kingston coal ash disaster of 2008, we hope this notice will serve as another wake up call that TVA needs to clean up its act."
Visit EcoWatch's WATER and COAL ASH pages for more related news on this topic.
 ——–
EcoWatch Daily Newsletter
Artist's conception of solar islands in the open ocean. PNAS
Millions of solar panels clustered together to form an island could convert carbon dioxide in seawater into methanol, which can fuel airplanes and trucks, according to new research from Norway and Switzerland and published in the Proceedings of the National Academy of Sciences journal, PNAS, as NBC News reported. The floating islands could drastically reduce greenhouse gas emissions and dependence on fossil fuels.
Marcos Alves / Moment Open / Getty Images
More than 40 percent of insects could go extinct globally in the next few decades. So why did the U.S. Environmental Protection Agency (EPA) last week ok the 'emergency' use of the bee-killing pesticide sulfoxaflor on 13.9 million acres?
EcoWatch teamed up with Center for Biological Diversity via EcoWatch Live on Facebook to find out why. Environmental Health Director and Senior Attorney Lori Ann Burd explained how there is a loophole in the The Federal Insecticide, Fungicide, and Rodenticide Act under section 18, "that allows for entities and states to request emergency exemptions to spraying pesticides where they otherwise wouldn't be allowed to spray."
Simple swaps that cut down on kitchen trash.
Sponsored
By Kayla Robbins
Along with the bathroom, the kitchen is one of the most daunting areas to try and make zero waste.
View of downtown Miami, Florida from Hobie Island on Feb. 2, 2019.
Michael Muraz / Flickr
The Democratic candidates for president descended upon Miami for a two-night debate on Wednesday and Thursday. Any candidate hoping to carry the state will have to make the climate crisis central to their campaign, as The New York Times reported.
By Sharon Kelly
On Monday, the Wall Street Journal featured a profile of Scott Sheffield, CEO of Pioneer Natural Resources, whose company is known among investors for its emphasis on drawing oil and gas from the Permian basin in Texas using horizontal drilling and hydraulic fracturing, or fracking.
Pexels
By Craig K. Chandler
The federal government has available to it, should it choose to use them, a wide range of potential climate change management tools, going well beyond the traditional pollution control regulatory options. And, in some cases (not all), without new legislative authorization.
Denis Poroy / Getty Images
By Dan Gray
Processed foods, in their many delicious forms, are an American favorite.
But new research shows that despite increasing evidence on just how unhealthy processed foods are, Americans have continued to eat the products at the same rate.
By Sarah Steffen
With a profound understanding of their environmental surroundings, indigenous communities around the world are often cited as being pivotal to tackling climate change.