This website uses cookies to ensure you get the best experience while browsing it. By clicking 'Got It' you're accepting these terms.
IKEA's New Furniture Can Charge Your Phone Wirelessly
Mar. 02, 2015 02:26PM EST
Business
Good news for those of you whose phone is always running low on juice, leaving you running around looking for your charger and a place to use it. Dutch-based furniture giant IKEA has announced it will soon be incorporating a wireless charger into a line of furniture called Home Spot.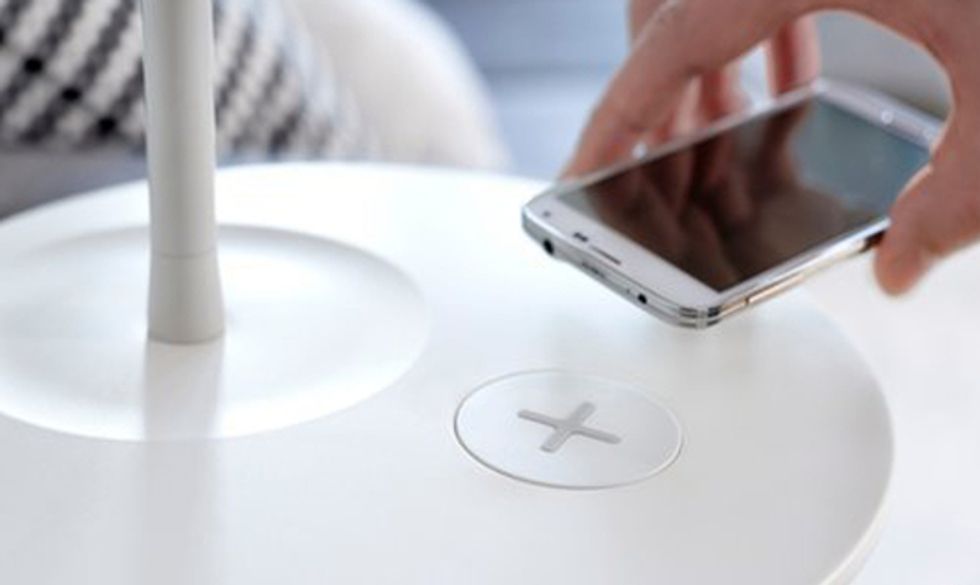 The coffee tables, end tables, desks and lamps will use the Qi charging standard, developed by the Wireless Power Consortium (WPC). It was introduced in 2011 and is currently the most widely used standard in public places like hotels, coffee shops, airports and restaurants. Qi doesn't require electronic devices to come in contact with the charger but to merely be set down near it. The Home Spot furniture would need to be plugged into a outlet for the charger to work. Currently about 80 different phones support the Qi technology. That doesn't include iPhones, although there are adapters available.
"IKEA is delivering on its vision of making life at home better with this innovative, stylish and useful new collection that show consumers the beauty and simplicity of wireless charging," said Wireless Power Consortium chairman Menno Treffers. "We applaud IKEA for its unmatched insight and their unique passion for making wireless charging affordable and simple for consumers."
Some environmentalists have expressed concern about whether the elements of the charger will be recyclable.
"A key principle that manufacturers of furniture with built-in wireless charging technology should consider is that the furniture is designed to be easy to disassemble for upgrade, reuse, repair or recycling," Julian Kirby, resource use campaigner at Friends of the Earth, told the BBC. "Disposable electric toothbrushes are one example of a terrible product design in those respects—it's virtually impossible to separate out the tech from the batteries and plastic casing which means valuable and often toxic materials are dumped in landfill or burnt in incinerators."
IKEA responded that its wireless charging products are easy to separate into component parts and that the built-in charging stations will limit the amount of individual chargers someone needs to buy.
Another potential drawback is that there are two other competing standards for wireless chargers with the PowerMatters Alliance (MA) standard widely used in the U.S. including nationwide in Starbucks.
The Home Spot line of furniture is expected to be in stores in Europe and North America in mid-April, and arrive in other parts of the world later in the year. The charger will add about $23 extra to the cost of furniture, and kits to add the charger to existing furniture will sell for under $35.
"Our belief is that mobile phones are vital parts to people's lives at home and their desire to stay connected, and Qi addresses an unmet need to keep devices powered," said Bjorn Block, IKEA's range manager for lighting and wireless charging. "We value the access to the leading and most advanced global standard for wireless charging."
YOU MIGHT ALSO LIKE
IKEA Sees Sales of Green Products Soar, Sales Exceed $1 Billion in 2014
Charge Your Smart Phone With 3D-Printed Solar Tree
Industry Leaders Confident Sustainability Challenges Can Become Successful Business Opportunities
EcoWatch Daily Newsletter
Germany reached an agreement Thursday that will allow it to stop burning coal by 2038.
This photograph shows green photosynthetic cyanobacteria growing and mineralizing in the sand-hydrogel framework. The living material has similar strength to cement-base mortar. College of Engineering and Applied Science at Colorado University Boulder /
EurekAlert!
Cement is a remarkable building material; it's cheap, durable and readily available. However, its production is a leading source of carbon dioxide emissions, coughing up 2.8 gigatons of emissions every year, as Advanced Science News reported.
Internal documents from the Department of Homeland Security reveal that non-violent demonstrators targeting the oil industry were classified as "extremists," with some organization members listed alongside known white supremacists, as The Guardian reported.
An additional 2,100 deaths from fatal injuries may occur in the U.S. every year from a 2 C rise in temperatures, which could have grave implications for global changes associated with the climate crisis.