This website uses cookies to ensure you get the best experience while browsing it. By clicking 'Got It' you're accepting these terms.
IKEA Continues to Lead in Solar Energy Installations
Oct. 21, 2013 12:22PM EST
Business
IKEA has commenced work on a new solar panel array that will double the amount of generation at a store just outside, Boston, MA.
The retailer, which installed solar projects on 39 of its 44 U.S. locations last year, recently began work on a 58,575-square-foot addition to its Stoughton, MA location. The addition will make space for 1,248 panels to be installed next spring and produce 383,200 kilowatt hours (kWh) per year.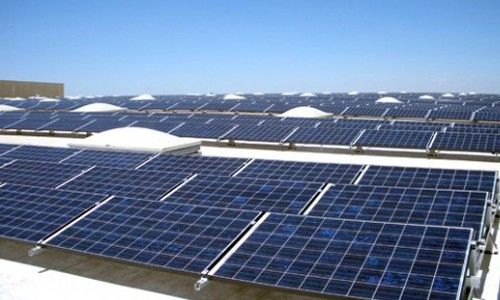 "We are thrilled at the opportunity to double the amount of solar energy generated and used by this store," Anton van Dongen, store manager, said in a statement. "This is another example of the IKEA commitment to create a more sustainable life for communities where we operate." 
Once the project is completed, the Stoughton site will have a total of 5,468 panels that generate 1,078,200 kWh. Using the U.S. Environmental Protection Agency's Greenhouse Gas Equivalencies Calculator, IKEA estimates that total to be the equivalent of reducing 761 tons of carbon dioxide, eliminating the emissions of 158 cars or powering 105 homes.
Nearly 90 percent of IKEA's stores are powered by solar energy.
IKEA allocated $1.8 billion to invest in renewable energy through 2015. The company aims to use 100 percent clean energy by 2020. The Swedish company has installed more than 300,000 solar panels on buildings across the world and owns and operates 137 wind turbines in Europe.
IKEA's other sustainable efforts include recycling waste material using energy-efficient HVAC and lighting systems, recycling construction materials, using skylights in warehouses and conserving water in its restrooms. Last month, the company announced that it would take on the largest geothermal project in the history of Kansas and Missouri to heat and cool its Merriam store, just outside Kansas City.

EcoWatch Daily Newsletter
By Anita Desikan
The Trump administration is routinely undermining your ability — and mine, and everyone else's in this country — to exercise our democratic rights to provide input on the administration's proposed actions through the public comment process. Public comments are just what they sound like: an opportunity for anyone in the public, both individuals and organizations, to submit a comment on a proposed rule that federal agencies are required by law to read and take into account. Public comments can raise the profile of an issue, can help amplify the voices of affected communities, and can show policymakers whether a proposal has broad support or is wildly unpopular.
Alena Gamm / EyeEm / Getty Images
Picture this: a world where chocolate is as rare as gold. No more five-dollar bags of candy on Halloween. No more boxes of truffles on Valentine's day. No more roasting s'mores by the campfire. No more hot chocolate on a cold winter's day.
Who wants to live in a world like that?
Fabian Krause / EyeEm / Getty Images
Water protectors of all persuasions gathered in talking circles at Borderland Ranch in Pe'Sla, the heart of the sacred Black Hills, during the first Sovereign Sisters Gathering. At the center are Cheryl Angel in red and white and on her left, Lyla June. Tracy Barnett
By Tracy L. Barnett
Sources reviewed this article for accuracy.
For Sicangu Lakota water protector Cheryl Angel, Standing Rock helped her define what she stands against: an economy rooted in extraction of resources and exploitation of people and planet. It wasn't until she'd had some distance that the vision of what she stands for came into focus.
Hedges, 2019 © Hugh Hayden. All photos courtesy of Lisson Gallery
By Patrick Rogers
"I'm really into trees," said the sculptor Hugh Hayden. "I'm drawn to plants."
BruceBlock / iStock / Getty Images
Thanks to their high concentration of powerful plant compounds, foods with a natural purple hue offer a wide array of health benefits.