If Senator Bennet Isn't a Climate Denier, Then Why Is He Acting Like One?
Dec. 03, 2014 01:39PM EST
Climate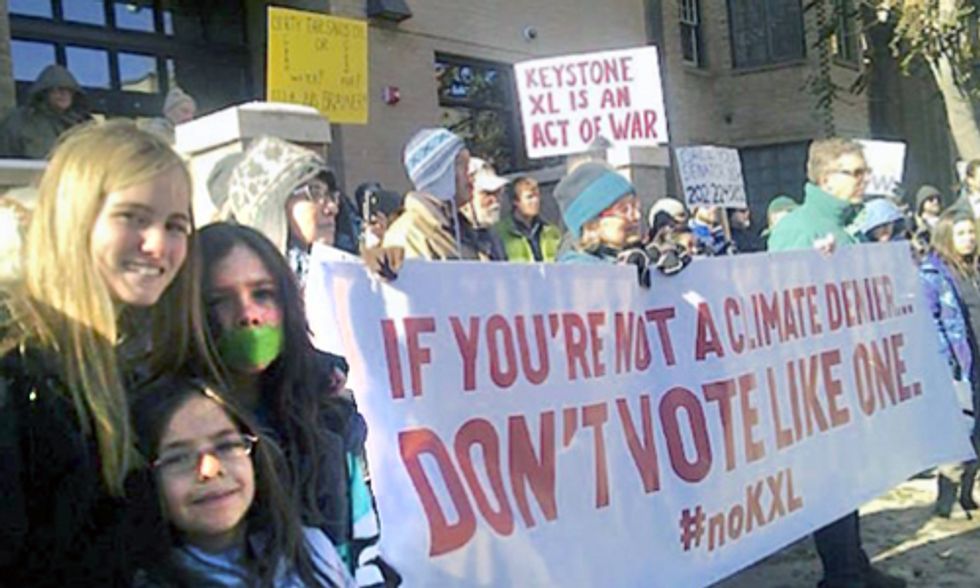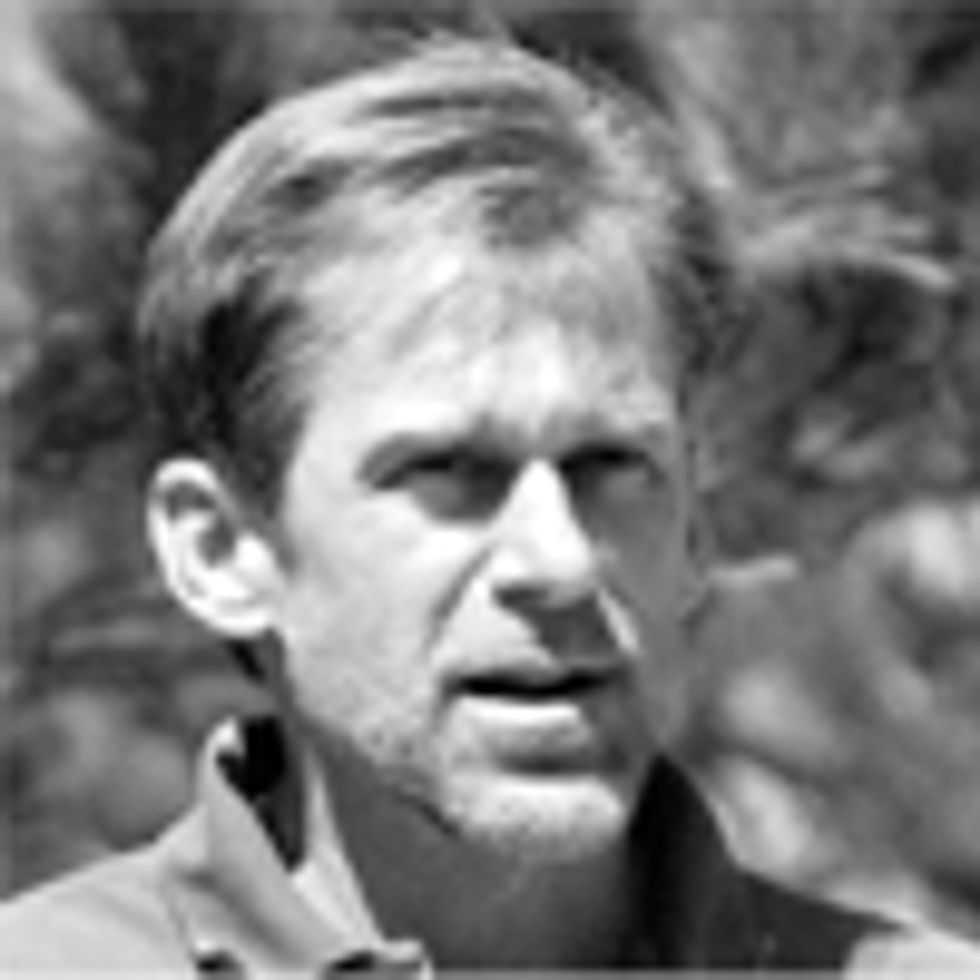 When U.S. Senator Michael Bennet, a Democrat in swing-state Colorado, voted for the Keystone XL pipeline in November, prominent Associated Press reporter Nick Riccardi, who closely followed the 2014 Colorado elections, tweeted: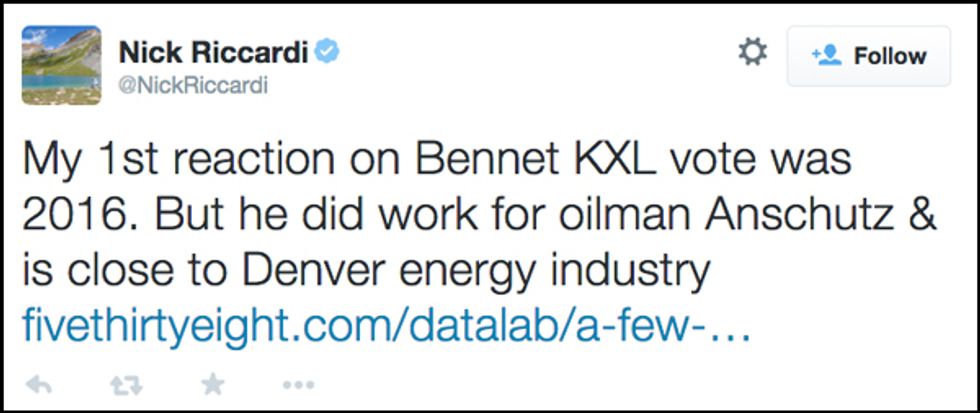 Of course, the Democratic Party base and environmental community in Colorado was outraged at Bennet's vote. Activists flooded his office phone, his office in Denver and his office in Washington, DC, before, during and after the vote. A few got arrested in his office in Washington, DC. They held banners that said, "If you're not a climate denier, don't vote like one."
As a response to all of that, here's the statement that Bennet's spokesperson released to the public and media:
He would prefer that instead of focusing our political debate on a narrow issue that we develop a broad and comprehensive energy strategy to reduce carbon pollution and support renewable energy. He believes we should take aggressive action to curb climate change and support the President's Climate Action Plan.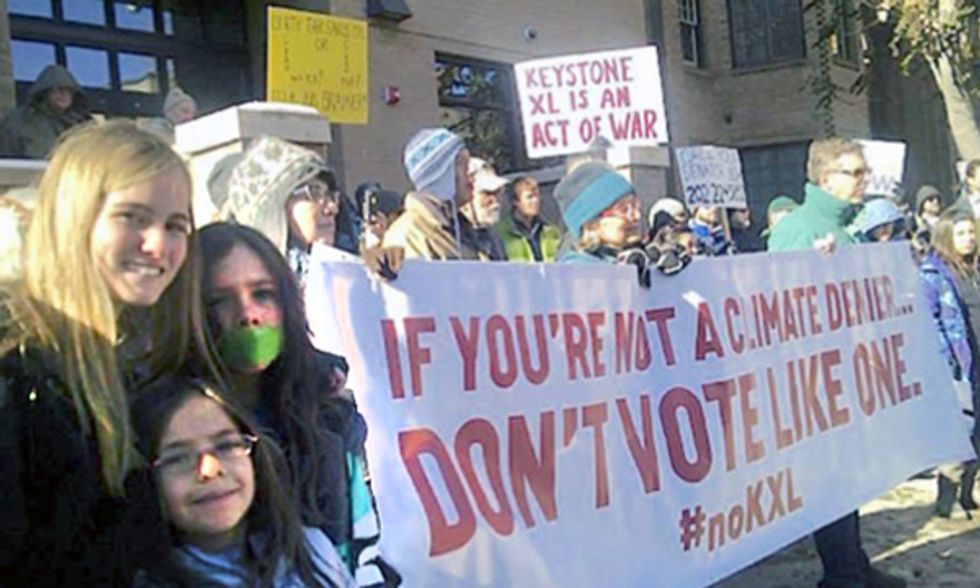 A few days later, Senator Bennet was interviewed by the Denver Post about his positions on energy and fracking for oil and gas in Colorado. The Denver Post reported that Bennet said he supported an "'all of the above' approach to energy" that included "guarding Colorado's booming liquid natural gas industry" to "make it easier for energy companies to export liquefied natural gas" and would be "pushing legislation to reduce taxes on liquefied natural gas."
So …, here we have a prominent U.S. Senator—who, in fact, was the Chairman of the Democratic Senate Campaign Committee for the 2014 election—who says we should take "aggressive action to curb climate change," but yet he supports mining all of the Alberta tar sands via his Keystone XL vote, and supports mining and fracking for all of the oil and gas in Colorado and beyond.
Here are two statements from actual scientists that refute Senator Bennet:
James Hansen, former NASA climate change scientist who helped start the climate movement in the U.S., has said that Keystone XL would accelerate tar sands mining in Alberta and would be "game over for the climate" due to the massive CO2 emissions associated with mining and burning the tar sands.

Keywan Riahi, who is one of the authors of the Intergovernmental Panel on Climate Change (IPCC) report, was quoted in April 2014 as saying: "The [report] clearly shows that unabated fossil fuels need to be phased out [in] the long-term, and this is also the case for natural gas, including shale gas."
In 2016, Senator Bennet is up for re-election in Colorado. Climate change activists like me are extremely concerned with Senator Bennet's position on climate change policy. As we try to wrap our heads around Bennet's votes and statements, we have these questions:
Does Senator Bennet actually believe in climate change?

Or, as suggested by the Associated Press reporter, is Senator Bennet so close to his former boss, the Denver energy industry, and their support of his 2016 re-election that he can't vote against them?

Or, defying 97 percent of all current science and scientists, does he actually think there is a scientific opportunity to mine all of the tar sands and frack all of the oil and gas and still have "aggressive action" to fight climate change?
We Colorado Democrats and climate change activists eagerly look forward to Senator Bennet's future statements and positions on these issues. Of course, we will continue to respectfully work with Senator Bennet on these and other environmental issues in Colorado over the next two years. But in the meantime, we will "sleep with one eye open."
YOU MIGHT ALSO LIKE
Barbra Streisand: 'God Help Us!' Sen. Inhofe to Head Committee on Environment
Jon Stewart: Honestly Governor Christie, 'Let the [Pregnant] Pigs Turn Around'
EcoWatch Daily Newsletter
Recent Stories from EcoWatch