If GMOs Are Safe, Why Not Label Them? (64 Other Countries Do)
When Yvon Chouinard, founder of Patagonia, began writing about genetically modified organisms (GMOs) in the early 2000s, he started by asking a reasonable question: "What does a clothing company know about genetic engineering?"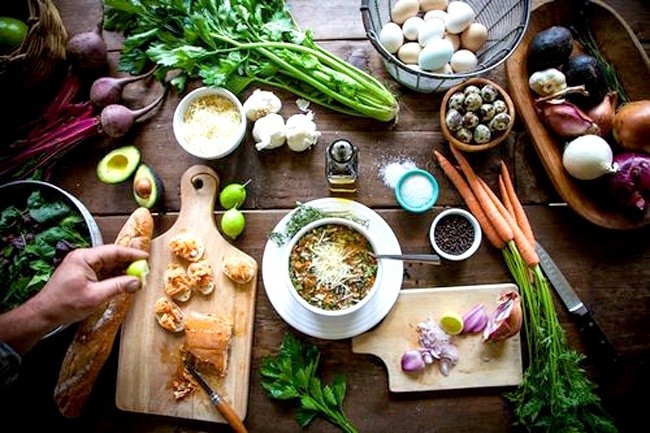 Patagonia Provisions
Wild Sockeye Salmon comes only from abundant, sustainable runs—we never use farmed or genetically engineered salmon—and our Tsampa Soup uses only organic, non-GMO ingredients. Photo credit: Amy Kumler
The answer, he said: "Not enough." And neither does anyone else. In the proliferation of GMOs, Yvon saw a serious threat to wildness and biodiversity.
More than 10 years later, the prevalence of GMOs in everyday food products has risen sharply—but basic consumer awareness remains low.
An alarming bill before Congress aims to keep it that way. The Safe and Accurate Food Labeling Act of 2014 (H.R. 4432) will remove any requirements for manufacturers to label foods containing GMOs. Even the misleading name of the bill suggests an intention to leave us in the dark.
We all have a right to know what's in our food. The manufacturers of GMO seeds maintain that GMO corn and soy, found in many everyday food products, are safe. But if they are safe, why not label them?Currently, 64 countries around the world require labeling of foods containing GMOs. Most other developed countries—including 28 nations in the European Union, as well as Japan, Australia, Brazil, Russia and China—require labeling.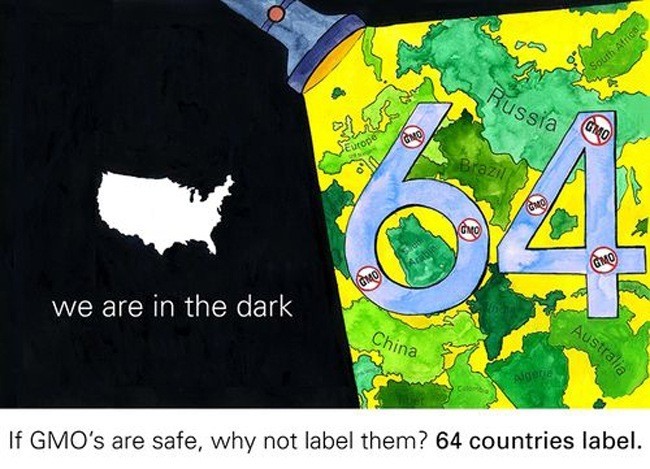 Yet, in the U.S., various food companies joined together to sue the state of Vermont, the first state to pass legislation requiring labeling of GMO food. (Last month, a district judge ruled in favor of labeling GMO food).
Sometimes a new technology puts us up against an edge that's hard to see, feel or even define. New technologies, like genetically engineered food, should be labeled, so you can decide whether you want to risk ingesting them.
That seems like common sense to us—so it's not clear why there is so much resistance to labeling GMOs. Among other arguments, large corporations pushing against labeling say the cost of new labels will be great and passed along to the consumer. But an independent study has shown this is unlikely as manufacturers routinely update labels for marketing reasons.
Further, we have a good, time-tested alternative to GMOs on a global scale: organic farming. Modern organic farming can be highly productive—as good as conventional systems but safer and more sustainable. It can produce high yields from small acreage through the use of locally adapted plants, intercropping, improved nutrient recycling and new techniques to minimize leaching, soil erosion and water consumption.
Claims that genetically engineered seeds will provide significant increases in agricultural production worldwide are probably true—but only in the very short term. In a comparison of organic and conventional yields, Rodale Institute discovered that after an initial decline in yields during the first few years of transition, the organic system soon rebounded to match or surpass the conventional system.
Organic farming puts food on the table (and clothing on our backs) without poisoning the Earth.
Patagonia switched to organic cotton in 1996 because we found out how many pesticides are used in growing conventional cotton. In our new food line, Patagonia Provisions, we only use organic ingredients.
Business is responding with positive steps forward: In the last six months, several food and restaurant businesses have announced plans to reformulate products to eliminate artificial ingredients, including GMOs.
But even if people don't buy organic, a majority say they want to know what's in the food they eat. We should be informed and make our own choices about what we feed our families and ourselves.
So, as a clothing company that recently got into the food business, we believe it would be irresponsible not to push hard for transparency and other imperatives that will shape our ability to keep the planet and all its inhabitants alive and healthy in the future.
I'm was proud to join with other business leaders on May 20 in Washington, DC, to talk to lawmakers about the critical need for transparency in food labeling. I encourage you to visit JustLabelIt.org to learn more about how to protect your right to know.
Originally published on Patagonia's blog, The Cleanest Line.
YOU MIGHT ALSO LIKE
 Chipotle Under Attack for Going GMO Free
Nearly 40 Million Birds Dead as Avian Flu Ravages Midwest
Watch John Oliver's Hilarious Rant Exposing the Horrors of the Chicken Industry
Laurie Woolever
By James O'Hare
There are 20 million people in the world facing famine in South Sudan, Somalia, Nigeria and Yemen. In developed nations, too, people go hungry. Venezuela, for instance, is enduring food insecurity on a national level as a result of economic crisis and political corruption. In the U.S., the land of supposed excess, 12.7 percent of households were food insecure in 2015, meaning they didn't know where their next meal would come from.
Keep reading...
Show less
Shutterstock
By Rachael Link
Though commonly thought to be a vegetable, cucumber is actually a fruit.
Keep reading...
Show less
Melwater, Greenland ice sheet. Diane Tuft
Artists are taking the climate crisis into frame and the results are emotional, beautiful and stirring.
So you've seen the best climate change cartoons and shared them with your friends. You've showed your family the infographics on climate change and health, infographics on how the grid works and infographics about clean, renewable energy. You've even forwarded these official National Oceanic and Atmospheric Administration graphs that explain the 10 clear indicators of climate change to your colleagues at the office.
Keep reading...
Show less
May. 27, 2017 01:11PM EST
As the Trump administration moves full speed ahead on boosting the oil and fossil fuel industry, opposition to increased pipeline construction is cropping up in different communities around the country.
Keep reading...
Show less
May. 27, 2017 01:02PM EST
Minke whale stranding near Havergate Island in Suffolk. MCGA.
By Simon Evans
Last Saturday, two dead whales washed up on the coast of Suffolk, in eastern England, and a third was spotted floating at sea.
What happened next illustrates how news can spread and evolve into misinformation, when reported by journalists rushing to publish before confirming basic facts or sourcing their own quotes.
Keep reading...
Show less
May. 27, 2017 01:22PM EST
By Monica Amarelo and Paul Pestano
Sun safety is a crucial part of any outdoor activity for kids, and sunscreen can help protect children's skin from harmful ultraviolet rays. Kids often get sunburned when they're outside unprotected for longer than expected. Parents need to plan ahead and keep sun protection handy in their cars or bags.
Keep reading...
Show less
May. 27, 2017 01:02PM EST
By Joe McCarthy
A lot of people take part in community clean-up efforts—spending a Saturday morning picking up litter in a park, mowing an overgrown field or painting a fence.
Keep reading...
Show less
May. 26, 2017 03:22PM EST
Rink Glacier in western Greenland, with a meltwater lake visible center. NASA/OIB
Scientists have had their eyes on Greenland as its iconic glaciers have begun disappearing due to a warming climate. But, what they didn't expect to see was a whole new type of melting.
Keep reading...
Show less


Get EcoWatch in your inbox