This website uses cookies to ensure you get the best experience while browsing it. By clicking 'Got It' you're accepting these terms.
If GMOs Are Safe, Why Not Label Them? (64 Other Countries Do)
May. 22, 2015 08:17AM EST
Food
When Yvon Chouinard, founder of Patagonia, began writing about genetically modified organisms (GMOs) in the early 2000s, he started by asking a reasonable question: "What does a clothing company know about genetic engineering?"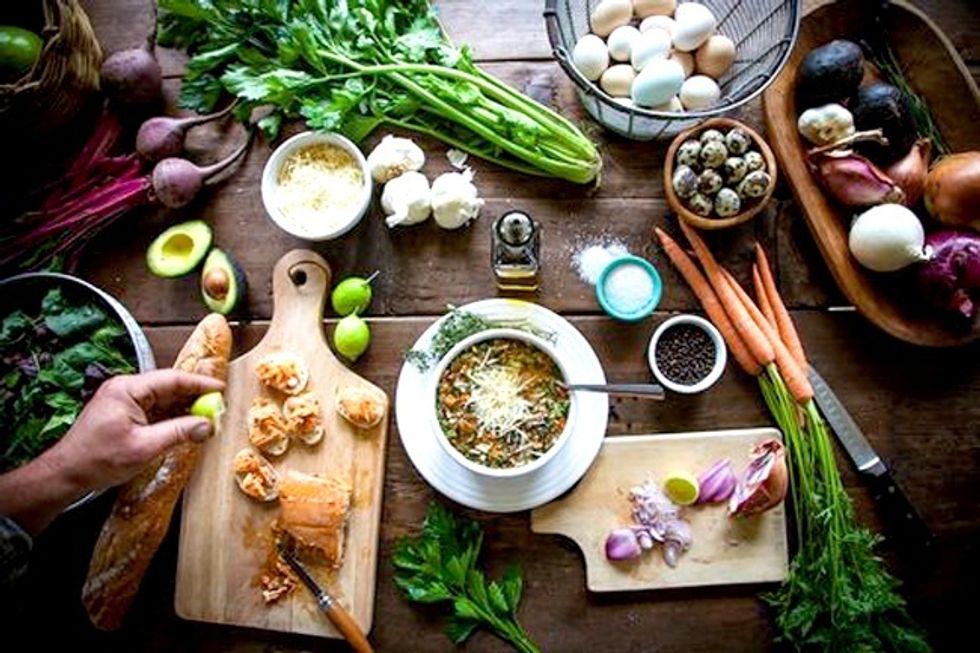 Patagonia Provisions
Wild Sockeye Salmon comes only from abundant, sustainable runs—we never use farmed or genetically engineered salmon—and our Tsampa Soup uses only organic, non-GMO ingredients. Photo credit: Amy Kumler
The answer, he said: "Not enough." And neither does anyone else. In the proliferation of GMOs, Yvon saw a serious threat to wildness and biodiversity.
More than 10 years later, the prevalence of GMOs in everyday food products has risen sharply—but basic consumer awareness remains low.
An alarming bill before Congress aims to keep it that way. The Safe and Accurate Food Labeling Act of 2014 (H.R. 4432) will remove any requirements for manufacturers to label foods containing GMOs. Even the misleading name of the bill suggests an intention to leave us in the dark.
We all have a right to know what's in our food. The manufacturers of GMO seeds maintain that GMO corn and soy, found in many everyday food products, are safe. But if they are safe, why not label them?Currently, 64 countries around the world require labeling of foods containing GMOs. Most other developed countries—including 28 nations in the European Union, as well as Japan, Australia, Brazil, Russia and China—require labeling.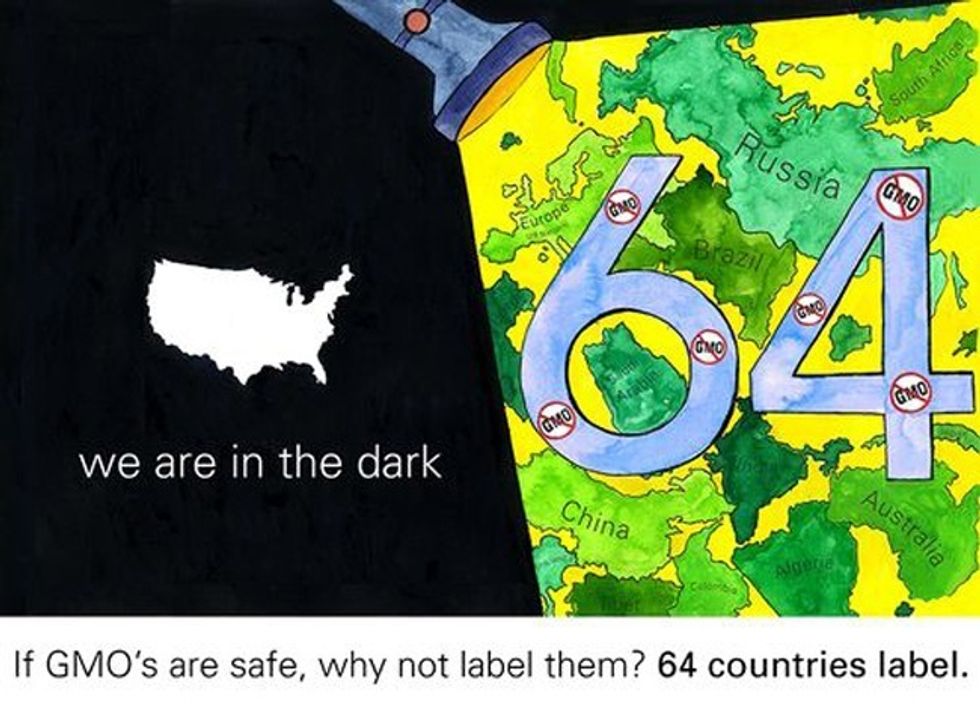 Yet, in the U.S., various food companies joined together to sue the state of Vermont, the first state to pass legislation requiring labeling of GMO food. (Last month, a district judge ruled in favor of labeling GMO food).
Sometimes a new technology puts us up against an edge that's hard to see, feel or even define. New technologies, like genetically engineered food, should be labeled, so you can decide whether you want to risk ingesting them.
That seems like common sense to us—so it's not clear why there is so much resistance to labeling GMOs. Among other arguments, large corporations pushing against labeling say the cost of new labels will be great and passed along to the consumer. But an independent study has shown this is unlikely as manufacturers routinely update labels for marketing reasons.
Further, we have a good, time-tested alternative to GMOs on a global scale: organic farming. Modern organic farming can be highly productive—as good as conventional systems but safer and more sustainable. It can produce high yields from small acreage through the use of locally adapted plants, intercropping, improved nutrient recycling and new techniques to minimize leaching, soil erosion and water consumption.
Claims that genetically engineered seeds will provide significant increases in agricultural production worldwide are probably true—but only in the very short term. In a comparison of organic and conventional yields, Rodale Institute discovered that after an initial decline in yields during the first few years of transition, the organic system soon rebounded to match or surpass the conventional system.
Organic farming puts food on the table (and clothing on our backs) without poisoning the Earth.
Patagonia switched to organic cotton in 1996 because we found out how many pesticides are used in growing conventional cotton. In our new food line, Patagonia Provisions, we only use organic ingredients.
Business is responding with positive steps forward: In the last six months, several food and restaurant businesses have announced plans to reformulate products to eliminate artificial ingredients, including GMOs.
But even if people don't buy organic, a majority say they want to know what's in the food they eat. We should be informed and make our own choices about what we feed our families and ourselves.
So, as a clothing company that recently got into the food business, we believe it would be irresponsible not to push hard for transparency and other imperatives that will shape our ability to keep the planet and all its inhabitants alive and healthy in the future.
I'm was proud to join with other business leaders on May 20 in Washington, DC, to talk to lawmakers about the critical need for transparency in food labeling. I encourage you to visit JustLabelIt.org to learn more about how to protect your right to know.
Originally published on Patagonia's blog, The Cleanest Line.
YOU MIGHT ALSO LIKE
 Chipotle Under Attack for Going GMO Free
Nearly 40 Million Birds Dead as Avian Flu Ravages Midwest
Watch John Oliver's Hilarious Rant Exposing the Horrors of the Chicken Industry
EcoWatch Daily Newsletter
A new report spotlights a U.N. estimate that at least 275 million people rely on healthy coral reefs. A sea turtle near the Heron Island in the Great Barrier Reef is seen above. THE OCEAN AGENCY / XL CATLIN SEAVIEW SURVEY
In a new report about how the world's coral reefs face "the combined threats of climate change, pollution, and overfishing" — endangering the future of marine biodiversity — a London-based nonprofit calls for greater global efforts to end the climate crisis and ensure the survival of these vital underwater ecosystems.
Half of the extracted resources used were sand, clay, gravel and cement, seen above, for building, along with the other minerals that produce fertilizer. Cavan Images / Cavan / Getty Images
The world is using up more and more resources and global recycling is falling. That's the grim takeaway from a new report by the Circle Economy think tank, which found that the world used up more than 110 billion tons, or 100.6 billion metric tons, of natural resources, as Agence France-Presse (AFP) reported.
By Gero Rueter
Heating with coal, oil and natural gas accounts for around a quarter of global greenhouse gas emissions. But that's something we can change, says Wolfgang Feist, founder of the Passive House Institute in the western German city of Darmstadt.

By George Citroner
Recent research finds that official government figures may be underestimating drug deaths by half.
Researchers estimate that 142,000 people died due to drug use in 2016.
Drug use decreases life expectancy after age 15 by 1.4 years for men and by just under 1 year for women, on average.
Government records may be severely underreporting how many Americans die from drug use, according to a new study by researchers from the University of Pennsylvania and Georgetown University.
Water coolers in front of shut-off water fountains at Center School in Stow, MA on Sept. 4, 2019 after elevated levels of PFAS were found in the water. David L. Ryan / The Boston Globe via Getty Images
In a new nationwide assessment of drinking water systems, the Environmental Working Group found that toxic fluorinated chemicals known as PFAS are far more prevalent than previously thought.