This website uses cookies to ensure you get the best experience while browsing it. By clicking 'Got It' you're accepting these terms.
Idaho Passes Bill to Kill Hundreds of Wolves
Mar. 21, 2014 08:44AM EST
The Idaho Legislature yesterday passed House Bill 470, a bill to create a new lethal "Wolf Depredation Control Board" to administer a fund for widespread killing of wolves in the state. The bill, expected to be signed into law by Gov. Otter (R-ID), sets aside $400,000 in state funds to kill roughly 500 wolves, leaving just 150 in the entire state.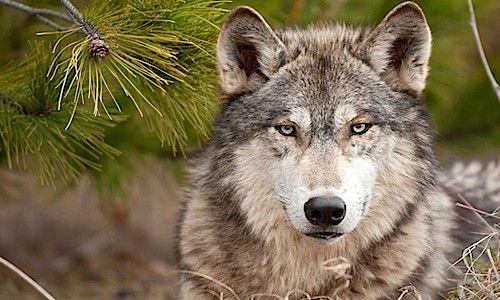 Photo courtesy of Shutterstock
The new board will consist of members appointed and overseen by Gov. Otter, who said in 2007 that he wanted to be the first to kill an Idaho wolf after federal protections were taken away. The board will be made up of representatives of the agricultural, livestock and hunting communities. The bill does not require any members of the board to represent the wolf conservation community.
"Political leaders in Idaho would love nothing more than to eradicate Idaho's wolves and return to a century-old mindset where big predators are viewed as evil and expendable," said Amaroq Weiss, West Coast wolf organizer at the Center for Biological Diversity. "The new state wolf board, sadly, reflects that attitude. The legislature couldn't even bring itself to put a single conservationist on the board, so the outcome is predictable: many more wolves will die."
Congress in 2011 stripped Endangered Species Act protection from wolves in Idaho and Montana. Since then, 1,592 wolves have been killed in those states.
The bill is the latest in a series of anti-wolf actions in Idaho that could ultimately backfire and force the return Endangered Species Act protections for gray wolves in the northern Rocky Mountains. Other commitments made by Idaho, including promises to maintain refugia for wolves in remote areas and wilderness, have been rolled back. The Idaho Department of Fish and Game sent a hunter-trapper into the Frank Church-River of No Return Wilderness this winter to eliminate two wolf packs. It recently announced a new predator-management plan designed to kill 60 percent of the wolf population in the Middle Fork area over the next several years, and contracted with USDA's Wildlife Services to gun down 23 wolves in the Lolo management zone in February.
"Yet again, Idaho has put a black eye on decades of tireless work to return wolves to the American landscape," said Weiss. "This bill sets aside $400,000 in state funds to wipe out as many wolves as legally possible in Idaho. Reducing these wolf populations to below even the absolute bare minimum sets a dangerous precedent and ensures that true wolf recovery will be little more than a pipedream in Idaho."
In combination with mortality from annual hunting and trapping seasons, the wolf population in Idaho is under serious threat of dropping near—or even below—minimal recovery levels that Idaho promised to maintain when wolves in the northern Rockies lost federal protections in 2011. The sponsor of H.B. 470, Rep. Marc Gibbs (R-Dist. 32), says the intent of the bill is to reduce Idaho's wolf population to as few as 10 packs.
The U.S. Fish and Wildlife Service is required by its own delisting criteria to review the population if changes in Idaho law or management objectives significantly increase the threat to the population. It must then decide whether to reinstate federal Endangered Species Act protections or extend the post-delisting period for federal oversight.
Visit EcoWatch's BIODIVERSITY page for more related news on this topic. 

EcoWatch Daily Newsletter
Artist's conception of solar islands in the open ocean. PNAS
Millions of solar panels clustered together to form an island could convert carbon dioxide in seawater into methanol, which can fuel airplanes and trucks, according to new research from Norway and Switzerland and published in the Proceedings of the National Academy of Sciences journal, PNAS, as NBC News reported. The floating islands could drastically reduce greenhouse gas emissions and dependence on fossil fuels.
Marcos Alves / Moment Open / Getty Images
More than 40 percent of insects could go extinct globally in the next few decades. So why did the U.S. Environmental Protection Agency (EPA) last week ok the 'emergency' use of the bee-killing pesticide sulfoxaflor on 13.9 million acres?
EcoWatch teamed up with Center for Biological Diversity via EcoWatch Live on Facebook to find out why. Environmental Health Director and Senior Attorney Lori Ann Burd explained how there is a loophole in the The Federal Insecticide, Fungicide, and Rodenticide Act under section 18, "that allows for entities and states to request emergency exemptions to spraying pesticides where they otherwise wouldn't be allowed to spray."
Simple swaps that cut down on kitchen trash.
Sponsored
By Kayla Robbins
Along with the bathroom, the kitchen is one of the most daunting areas to try and make zero waste.
View of downtown Miami, Florida from Hobie Island on Feb. 2, 2019.
Michael Muraz / Flickr
The Democratic candidates for president descended upon Miami for a two-night debate on Wednesday and Thursday. Any candidate hoping to carry the state will have to make the climate crisis central to their campaign, as The New York Times reported.
By Sharon Kelly
On Monday, the Wall Street Journal featured a profile of Scott Sheffield, CEO of Pioneer Natural Resources, whose company is known among investors for its emphasis on drawing oil and gas from the Permian basin in Texas using horizontal drilling and hydraulic fracturing, or fracking.
Pexels
By Craig K. Chandler
The federal government has available to it, should it choose to use them, a wide range of potential climate change management tools, going well beyond the traditional pollution control regulatory options. And, in some cases (not all), without new legislative authorization.
Denis Poroy / Getty Images
By Dan Gray
Processed foods, in their many delicious forms, are an American favorite.
But new research shows that despite increasing evidence on just how unhealthy processed foods are, Americans have continued to eat the products at the same rate.
By Sarah Steffen
With a profound understanding of their environmental surroundings, indigenous communities around the world are often cited as being pivotal to tackling climate change.