This website uses cookies to ensure you get the best experience while browsing it. By clicking 'Got It' you're accepting these terms.
Iceland's Fin Whale Hunt Cancelled for 2016
Feb. 25, 2016 03:08PM EST
Great news. Word today from colleagues in Iceland and now reports in both Icelandic and English-language media confirm that the planned hunt for fin whales will not happen this summer. The man behind that whaling is claiming that he's stopping because of "hindrances" in exporting the meat. That's great news for whales and everyone who has been opposing this needless, senseless hunt.
Fin whales are amazing. The second largest animal on our planet growing up to 27 meters in length (that's about two and a half double-decker buses) and are found all over the globe. They're nicknamed the "greyhounds of the sea," because they are sleek, streamlined swimming machines. They are listed as internationally endangered, largely because these massive whales were some of the first targets of the harpoons of factory whaling in the 20th century and their populations were virtually wiped out in many areas.
Over the past few years Iceland has defied international opinion and public outcry and allowed one man, Kristian Loftsson, to restart a fin whale hunt. This hunt of an internationally endangered species is quite impossible to defend. It makes no environmental, economic or social sense to Iceland. There is no market for the meat in Iceland, the blubber (and often more) is discarded as being "unfit for human consumption" and the tentative trade to Japan makes no sense—not least since they too have stockpiles of unwanted whale meat and are concerned about toxic pollution.
Greenpeace supporters have played a crucial role in highlighting and even blockading some of these illicit shipments. When tens of thousands of supporters raised there voices for whales, President Obama imposed diplomatic sanctions on Iceland. And activists have blocked ports in the Netherlands and Germany and challenged shipments through Canada, exposed desperate shipment through the Arctic and mobilized massive public support to block whale meat trade via South Africa. And let's not forget there is no economic rationale for these hunts and this trade and fin whales are supposed to be protected species internationally. As well as that, whales and other marine life in the North Atlantic have been shown to suffer particularly badly from toxins. That's why people are advised to avoid eating whale blubber or too many portions of fatty fish and recent studies suggest some populations of whales in the North Atlantic might ultimately go extinct as a result of pollution alone.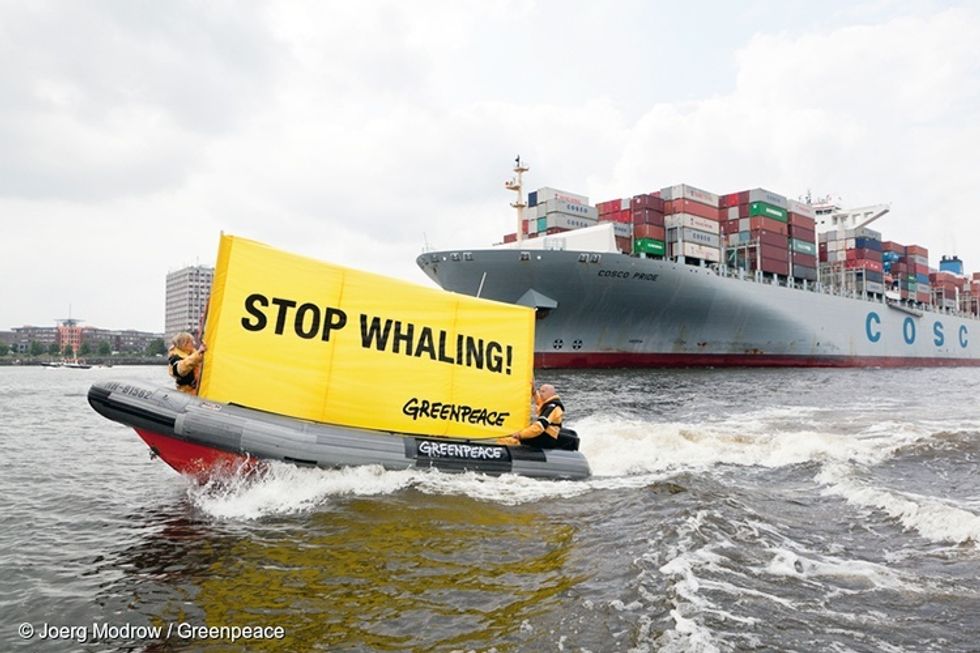 Over recent decades tourism has become a much more significant economic activity in Iceland than whaling could ever be and the growth of whale-watching has been one of the greatest success stories of all. Iceland is now a destination synonymous with scenery and wildlife, which has increasingly brought the tourist industry into conflict with Loftsson's ego-driven hunt.
There's simply no place today for commercial whaling and the world's remaining whales, dolphins and porpoises face a whole host of threats from us humans that we collectively aren't tackling—from climate change, to pollution and industrial fishing. Stopping the senseless charade of commercial whaling for good needs to happen so we can get on with the other stuff.
So when Loftsson says he is stopping because of "hindrances," it sounds like a very diplomatic version of the truth to save face. But let's hope that the cancelling of this year's hunt is the end of this indefensible outrage for good.
That would be even better news for the whales, for Iceland and for the oceans.
YOU MIGHT ALSO LIKE
Massive Starfish Die-Off Linked to Warming Oceans
Humpback Whale Entangled in Illegal Gillnet Saved by Sea Shepherd Crew
Horrible! This Guy Drags Shark From Sea Just to Pose for Photos
Baby Dolphin Dies After Being Passed Around by Tourists Taking Selfies
EcoWatch Daily Newsletter
A volcano erupts on New Zealand's Whakaari/White Island on Dec. 9, 2019.
Michael Schade / Twitter
A powerful volcano on Monday rocked an uninhabited island frequented by tourists about 30 miles off New Zealand's coast. Authorities have confirmed that five people died. They expect that number to rise as some are missing and police officials issued a statement that flights around the islands revealed "no signs of life had been seen at any point,", as The Guardian reported.
Guardians of the Forest monitor passersby entering Juracal Village in Araribóia Indigenous Reserve, Maranhão, Brazil on Aug. 8, 2015. Bonnie Jo Mount / The Washington Post via Getty Images
Two indigenous leaders were killed in a drive-by shooting in Northeast Brazil Saturday, and two others were injured.
Human activity is smothering the ocean, the largest study of its kind has found, and it poses a major threat to marine life.
Pexels
Up to 20% of people may have a food addiction or exhibit addictive-like eating behavior.
Spiced hot chocolate. Lilechka75 / iStock / Getty Images
Food is the cornerstone of the holiday season. It brings friends and family together to share memories, cultural traditions, and great flavors.