This website uses cookies to ensure you get the best experience while browsing it. By clicking 'Got It' you're accepting these terms.
I Am Only One Dude, But I Am Making a Difference
May. 13, 2016 10:59AM EST
Five years ago I decided I had to turn my life around and take some drastic measures.
There was no moment of clarity or a profound realization. There was no near death experience or loss of a family member. I was actually beyond happy with who I was and what I was doing with my life. My business was a success. I was traveling the world. I was healthy and I had just moved out to San Diego, California from my homeland of Wisconsin.
---
So what happened? Well, the reality of the 21st century struck. I started to watch a lot of documentaries and read a lot of books and quickly learned that many of my daily actions were causing serious environmental and social destruction. The food I ate, the water I drank, the gas I pumped into my car, the trash I was creating and the electricity I was using all had much greater stories behind them then I had ever cared to look into. Just by living what could be considered a fairly normal American life I was responsible for so much pollution, destruction and inequality. The documentaries and books really hit home.
I could have thought that the task ahead would be too huge to take on. I could have decided that I didn't have to change because the people around me were doing the same thing. I could have felt overwhelmed or unempowered by everything I learned. But instead I was actually really excited. Excited to uncover the truth and live the truth. Excited to take my life back from the corporations and misleading advertisements. Excited to feel proud about my life rather than have a pit of anxiety in my stomach.
I knew it was going to be a long task ahead of me so I took it one step, one week at a time. I hung up a list of changes that I wanted to make in my kitchen and each week I had the goal of checking off one thing. It ranged from small things like ditching plastic bags and removing any disposable items from my life to big things like selling my car and going pedal powered. There were hundreds of small and large changes that I set out to make and with each checkmark I felt more empowered to tackle the next one. Each change also had a multiplying effect on other goals I had. For example one of my goals was to start shopping locally and ditch the big box marts like Wal-Mart. I sold my car to stop using gas and to stop wasting money but not having a car also prevented me from going the distance to Wal-Mart and not having the trunk to fill up made me stop buying more stuff than I could fit on my bike. It all went hand in hand.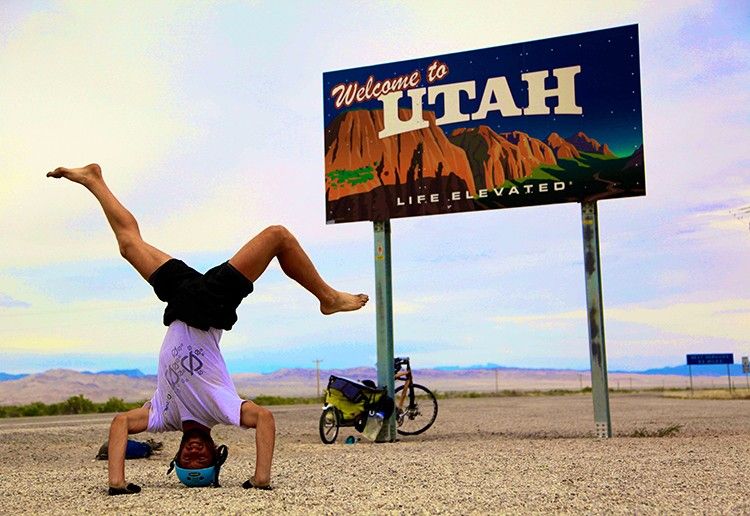 I decided that changing my life wasn't going to be a burden. Instead it was going to be fun and an adventure. To really engrain these changes into my life I decided to go on a wild ride. I set out to cycle across the USA, putting everything I had learned into practice and leave as little of an impact as I could for the entire journey. What that meant was eating 100 percent local, organic, unpackaged food or wasted food, drinking water only from natural sources (or wasted sources), creating no trash and carrying every piece I created to the finish line, towing solar panels to create my own electricity and pedaling the entire way without using any fossil fuels.
In 4,700 miles of cycling across America I used just 160 gallons of water, burned less than one gallon of gas, never turned on a light switch, created only 2 pounds of trash and ate nearly 300 pounds of food from grocery store dumpsters! That is 80 times less water, 200 times less trash, 600 times less fossil fuels and 1,000 times less electricity than the average American uses. It was a very extreme adventure but I've come to find that the average American life is also quite extreme and I was just living out the opposite end of the spectrum both to see if it was possible and to prove a point.
I did some wacky things like live off a leaky fire hydrant in Brooklyn for five days, pedal through a record setting heat wave surviving on dripping faucets, ride 700 miles with no bike seat to "stand up for sustainability" and eat out of hundreds of dumpsters across America. I also immersed myself in sustainability by visiting farms, grassroots environmental non-profits and staying in the homes of fellow Americans all along the way.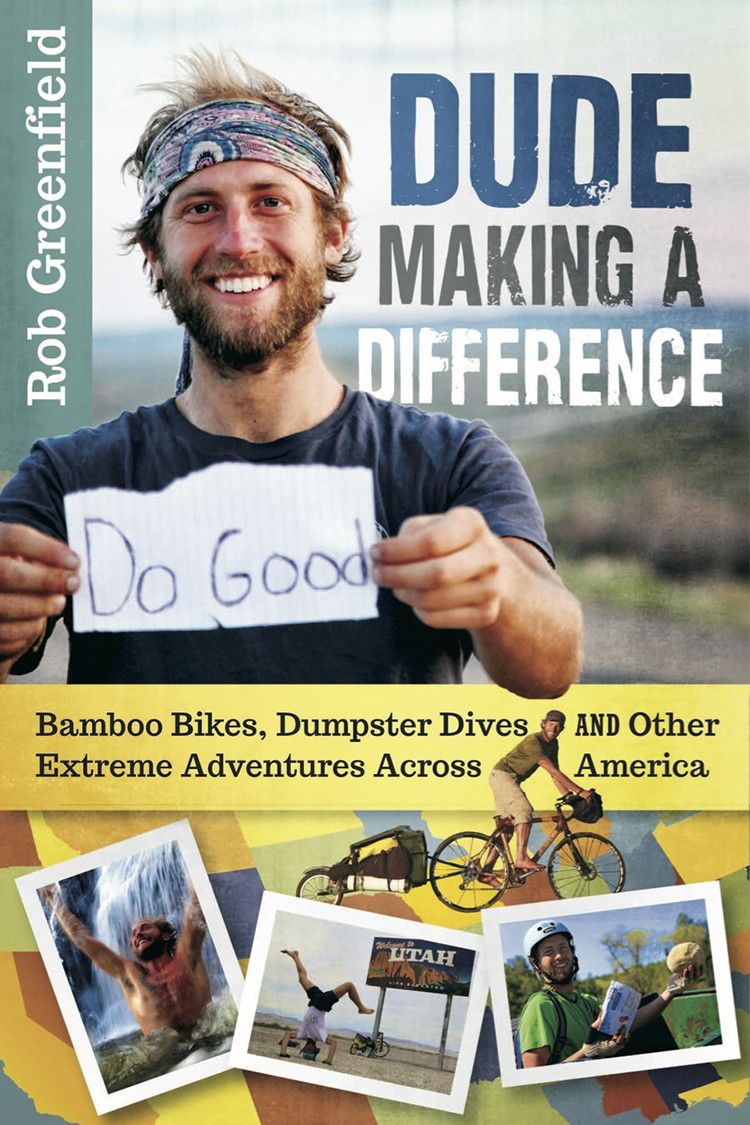 There were definitely people who thought I wouldn't live to tell the story but I indeed did. I wrote my book, Dude making a Difference, about this journey in hopes that it would inspire people to reexamine their relationship with the Earth's resources. The great news is that you don't have to do the crazy things I did in this adventure to transform your life. It comes down to simple changes in your life that can be done right at home, in your community and with your friends and family. It can be an incredibly rewarding and exciting journey, and I hope that my book will inspire you to take that leap of faith.
One hundred percent of the proceeds from this book are donated to environmental grassroots nonprofits. Get a copy here.
EcoWatch Daily Newsletter
A glacier is seen in the Kenai Mountains on Sept. 6, near Primrose, Alaska. Scientists from the U.S. Geological Survey have been studying the glaciers in the area since 1966 and their studies show that the warming climate has resulted in sustained glacial mass loss as melting outpaced the accumulation of new snow and ice. Joe Raedle / Getty Images
By Mark Mancini
On Aug. 18, Iceland held a funeral for the first glacier lost to climate change. The deceased party was Okjökull, a historic body of ice that covered 14.6 square miles (38 square kilometers) in the Icelandic Highlands at the turn of the 20th century. But its glory days are long gone. In 2014, having dwindled to less than 1/15 its former size, Okjökull lost its status as an official glacier.
Members of Chicago Democratic Socialists of America table at the Logan Square Farmers Market on Aug. 18. Alex Schwartz
By Alex Schwartz
Among the many vendors at the Logan Square Farmers Market on Aug. 18 sat three young people peddling neither organic vegetables, gourmet cheese nor handmade crafts. Instead, they offered liberation from capitalism.
Hackney primary school students went to the Town Hall on May 24 in London after school to protest about the climate emergency. Jenny Matthews / In Pictures / Getty Images
Bird watching in the U.S. may be a lot harder than it once was, since bird populations are dropping off in droves, according to a new study.
Amazon CEO Jeff Bezos announces the co-founding of The Climate Pledge at the National Press Club on Sept. 19 in Washington, DC. Paul Morigi / Getty Images for Amazon
The day before over 1,500 Amazon.com employees planned a walkout to participate in today's global climate strike, CEO Jeff Bezos unveiled a sweeping plan for the retail and media giant to be carbon neutral by 2040, 10 years ahead of the Paris agreement schedule.
For the past seven years, the Anishinaabe people have been facing the largest tar sands pipeline project in North America. We still are. In these dying moments of the fossil fuel industry, Water Protectors stand, prepared for yet another battle for the water, wild rice and future of all. We face Enbridge, the largest pipeline company in North America, and the third largest corporation in Canada. We face it unafraid and eyes wide open, for indeed we see the future.
The climate crisis often intensifies systems of oppression. Rieko Honma / Stone / Getty Images Plus
By Mara Dolan
We see the effects of the climate crisis all around us in hurricanes, droughts, wildfires, and rising sea levels, but our proximity to these things, and how deeply our lives are changed by them, are not the same for everyone. Frontline groups have been leading the fight for environmental and climate justice for centuries and understand the critical connections between the climate crisis and racial justice, economic justice, migrant justice, and gender justice. Our personal experiences with climate change are shaped by our experiences with race, gender, and class, as the climate crisis often intensifies these systems of oppression.