This website uses cookies to ensure you get the best experience while browsing it. By clicking 'Got It' you're accepting these terms.


The best of EcoWatch, right in your inbox. Sign up for our email newsletter!
Hydropower Will Undermine COP21 as 'False Solution' to Climate Change
Nov. 02, 2015 10:03AM EST
Insights + Opinion
"Big hydroelectric dams are a false solution because of the methane." — Randy Hayes, Oct. 8, Denver, Colorado
Over the past 15 years, the "methane problem" with hydropower has made minor blips in international news and has just begun to infiltrate the discussion of how it is wrong to use hydropower as a solution to fight climate change.
---
The non-profit environmental group International Rivers has spearheaded much of the education and advocacy, and scientific journals as well as climate-related news sites like Climate Central are also taking up the case. Hydropower has been called a "methane factory" and "methane bomb" that is just beginning to rear its ugly head as a major source of greenhouse gas emissions that have so-far been unaccounted for in climate change discussions and analyses.
Scientific studies indicate that methane emissions from hydropower dams and reservoirs can vary dramatically. In northern subarctic climates, methane emissions have been measured as a small fraction of greenhouse gas emissions as compared to coal-fired power plants. In temperate climates like much of the U.S. and Europe, methane emission measurements vary by sub-climate, size of reservoir and vegetation growth, but have been measured from small to large as compared to the emissions from coal-fired power plants. In tropical environments, hydropower methane emissions have been measured as high as double those of the greenhouse emissions of a coal-fired power plant that generates the same amount of electricity.
Further, although the Intergovernmental Panel on Climate Change (IPCC) has guidelines on calculating methane emissions from hydropower dams/reservoirs, there have been very few measurements of these methane emissions at the same time that large hydropower projects are being built by the thousands across the planet. One Brazilian scientist estimates that methane from hydropower currently accounts for 23 percent of all human-caused worldwide methane emissions. As hydropower plants proliferate, that number will only increase.
Hydropower is almost always greenwashed and sold to the public and policymakers as "clean energy" and "carbon-free." Even though the IPCC lists hydropower's methane emissions as a greenhouse gas source, and over a decade of science refutes the claim that hydropower is clean energy, the myth of carbon-free hydropower is embedded in the Kyoto Protocol's "Clean Development Mechanism" to address planetary climate change and is increasingly being implemented by countries in attendance at COP 21 in Paris. Even worse, the World Bank still lists, promotes and funds hydropower as "clean energy," and nearly every country in the world is building hydropower plants under the same auspices. Even the U.S. government still perpetuates the anti-science myth of clean hydropower.
In the lead-up to COP 21, countries have been sending their "Intended Nationally Determined Contributions (INDCs)" to the United Nations. An INDC is a description of how each country intends to reduce its carbon emissions.
Let's look at five quick, random examples out of the 181 INDCs sent to the United Nations so far:
1. China is in the midst of building dozens of massive hydropower plants per year, including the largest on the planet. In its INDC, China states they intend to: "proactively promote the development of hydro power, on the premise of ecological and environmental protection and inhabitant resettlement."
2. India's INDC uses hydropower to meet its emission reduction target, and states: "With a vast potential of more than 100 GW, a number of policy initiatives and actions are being undertaken to aggressively pursue development of country's vast hydro-potential."
3. Japan's INDC states that it intends to reach its "emissions reduction target" in part by getting to nine percent hydropower by 2030. Japan has dozens of currently operating hydropower plants with dozens more in the planning stages.
4. Canada's INDC states that it will use "low-impact hydro" as one of its "investments to encourage the generation of electricity from renewable energy" Canada has dozens of new hydropower dams under construction, and few if any are even remotely considered "low-impact hydro."
5. Costa Rica's INDC boasts: "Costa Rica has a long standing tradition of innovation on hydroelectric generation, in conservation and specially, on matters of climate change." Costa Rica routinely markets itself as having a nearly carbon-free energy system, with more than 80 percent percent coming from hydropower—with absolutely none of the methane emissions measured or accounted for in its INDC—and is just finishing construction of the largest hydropower dam in Central America.
What's even more problematic is that many of the countries around the world that are most aggressively pursuing hydropower don't even list it in their INDC, but rather state they are using the 2006 IPCC Guidelines for National Greenhouse Gas Inventories to calculate their emissions and their reductions in emissions by using various energy types.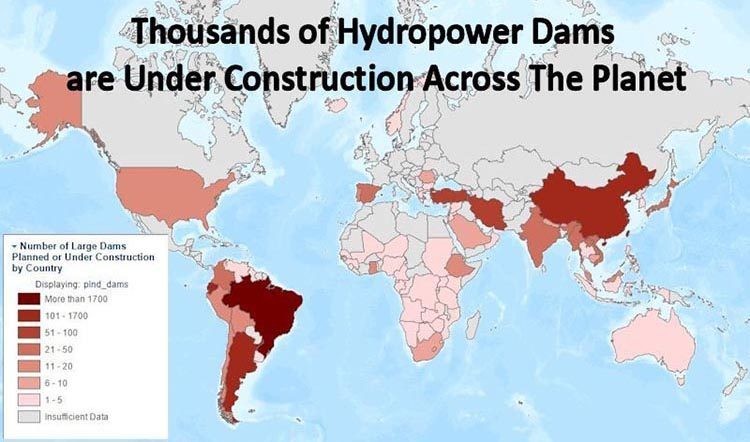 Take Indonesia as just one example, which has built and is continuing to build dozens of massive hydropower dams. In their INDC, Indonesia does not mention hydropower, stating that they will meet emissions reductions and that: "The inventory is based on 2006 IPCC Guideline for National Greenhouse Gas inventories."
I have deep skepticism about whether these countries are using the guidelines correctly, because even in 2006, the guidelines contained methane emissions calculations from dams and reservoirs, including the "CH4 [methane] Emissions From Flooded Lands" appendix to chapter four, which contains specific calculations for methane emissions upstream and downstream of dams. Thus, countries that are completely destroying their rivers and their climate with hydropower including Malaysia, Brazil, Guatemala, Russia and even the U.S. don't even list hydropower as a methane emissions source in their INDC, while including hydropower as a clean energy source, all under the auspices of likely misconstrued or purposely ignored IPCC guidelines.
How bad could it get? The Eastern European Balkan countries have recently announced they want to build 2,700 hydropower dams and every single one is being touted as a clean energy alternative to fight climate change.
As the world cartwheels towards COP 21, there are many reasons why scientists and advocates have little faith that the negotiations will yield consequential results to fight climate change. The lack of information about the methane emissions from hydropower, the apparent lack of enforcement of the IPCC guidelines and the ruse of calling hydropower "clean energy" are just more issues in the long list of problems with COP 21.
If we continue to ignore methane emissions from hydropower, we won't just be miscalculating greenhouse gas emissions, we will be miscalculating the likely devastating impacts climate change will have on the planet.
Gary Wockner, PhD, is an international environmental activist and writer based in Colorado where he also works to protect the Colorado and Cache la Poudre Rivers. You can contact him here: Gary@GaryWockner.com.
EcoWatch Daily Newsletter
Aerial view of the explosion site of a chemical factory on March 22 in Yancheng, Jiangsu Province of China. Caixin Media / VCG / Getty Images)
At least 47 people have died in an explosion at a plant in Yancheng, China Thursday run by a chemical company with a history of environmental violations, Sky News reported.
A fishmonger in Elmina, a fishing port in the Central Region of Ghana. Environmental Justice Foundation
By Daisy Brickhill
Each morning, men living in fishing communities along Ghana's coastline push off in search of the day's catch. But when the boats come back to shore, it's the women who take over.
Pexels
By Sam Nickerson
Links between excess sugar in your diet and disease have been well-documented, but new research by Harvard's School of Public Health might make you even more wary of that next soda: it could increase your risk of an early death.
The study, published this week in the American Heart Association's journal Circulation, found that drinking one or two sugar-sweetened beverages (SSBs) each day — like sodas or sports drinks — increases risk of an early death by 14 percent.
Tyson Foods is recalling approximately 69,093 pounds of frozen chicken strips because they may have been contaminated with pieces of metal, the U.S. Department of Agriculture (USDA) Food Safety and Inspection Service (FSIS) announced Thursday.
The affected products were fully-cooked "Buffalo Style" and "Crispy" chicken strips with a "use by" date of Nov. 30, 2019 and an establishment number of "P-7221" on the back of the package.
"FSIS is concerned that some product may be in consumers' freezers," the recall notice said. "Consumers who have purchased these products are urged not to consume them. These products should be thrown away or returned to the place of purchase."
Environmental exposure to pesticides, both before birth and during the first year of life, has been linked to an increased risk of developing autism spectrum disorder, according to the largest epidemiological study to date on the connection.
The study, published Wednesday in BMJ, found that pregnant women who lived within 2,000 meters (approximately 1.2 miles) of a highly-sprayed agricultural area in California had children who were 10 to 16 percent more likely to develop autism and 30 percent more likely to develop severe autism that impacted their intellectual ability. If the children were exposed to pesticides during their first year of life, the risk they would develop autism went up to 50 percent.
The ExxonMobil Torrance Refinery in Torrance, California.
waltarrrr / Flickr
ExxonMobil could be the second company after Monsanto to lose lobbying access to members of European Parliament after it failed to turn up to a hearing Thursday into whether or not the oil giant knowingly spread false information about climate change.
The call to ban the company was submitted by Green Member of European Parliament (MEP) Molly Scott Cato and should be decided in a vote in late April, The Guardian reported.
Bernie Sanders holds his first presidential campaign rally at Brooklyn College on March 02 in Brooklyn, New York. Kena Betancur / VIEWpress / Corbis. Getty Images
Bernie Sanders has become the first contender in the crowded 2020 Democratic presidential primary field to pledge to offset all of the greenhouse gas emissions released by campaign travel, The Huffington Post reported Thursday.