Hydraulic Fracturing Faces Growing Competition for Water Supplies in Water-Stressed Regions
May. 02, 2013 07:48AM EST
Energy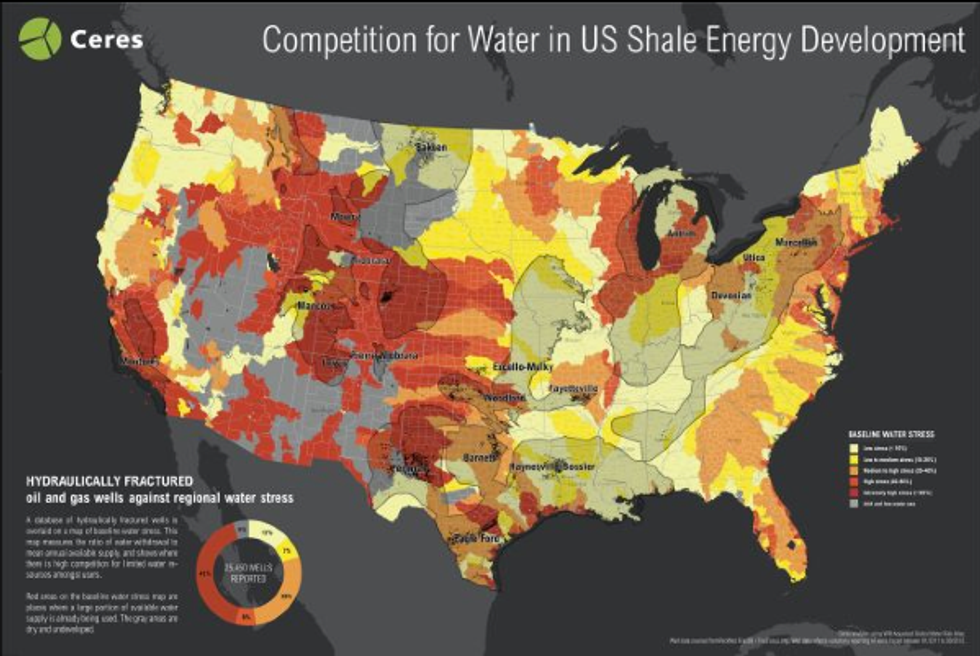 A new Ceres research paper on water use in hydraulic fracturing operations shows that a significant portion of this activity is happening in water stressed regions of the U.S., most prominently Texas and Colorado, which are both in the midst of prolonged drought conditions. It concludes that industry efforts underway, such as expanded use of recycled water and non-freshwater resources, need to be scaled up along with better water management planning if shale energy production is to grow as projected.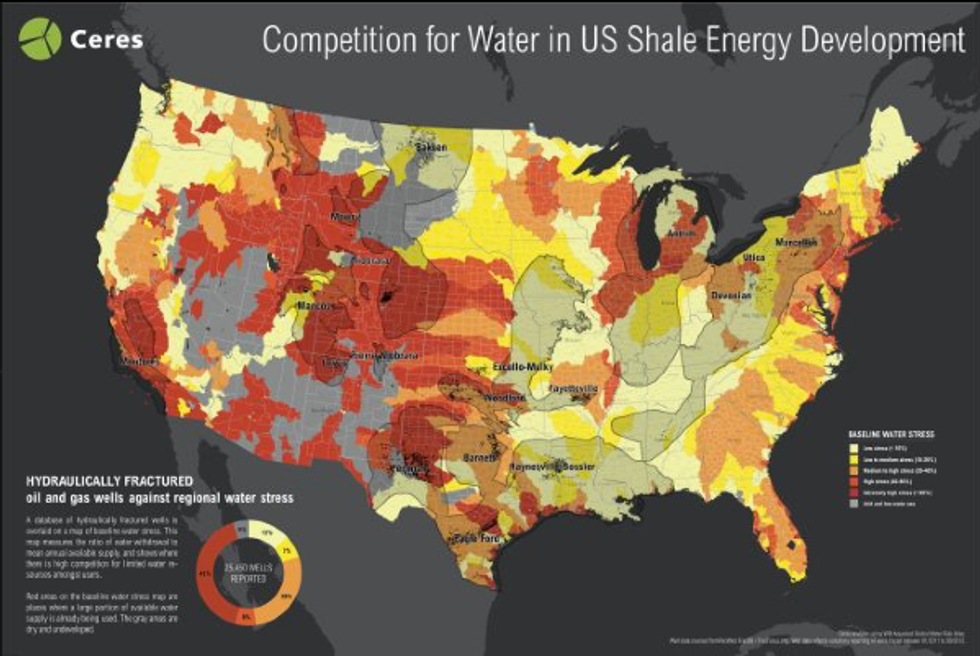 The report, announced today, is based on well drilling and water use data from FracFocus.org and water stress indicator maps developed by the World Resources Institute (WRI). The research shows that nearly 47 percent of the wells were developed in water basins with high or extremely high water stress. The research was based on FracFocus data collected on 25,450 wells in operation from January 2011 through September 2012.
"These findings highlight emerging tensions in many U.S. regions between growing hydraulic fracturing activity and localized water supply needs," said Ceres president Mindy Lubber, in announcing the report, Hydraulic Fracturing & Water Stress: Growing Competitive Pressures for Water, at Ceres' annual conference in San Francisco.
FracFocus.org was launched in 2011 as a voluntary national hydraulic fracturing chemical registry. The database provides the location and date that each oil and gas well was developed and the chemical additives and total volume of water injected down each well.
WRI's water stress indicator maps are part of a recently launched Aqueduct Water Risk Atlas, which provides a comprehensive, high-resolution picture of water-related risks worldwide. The baseline water stress indicator maps show the level of competition for water in different U.S. regions by measuring total annual water withdrawals against the percentage of water that is available. Extremely high water tress means more than 80 percent of available water is already being allocated for municipal, industrial and agricultural uses.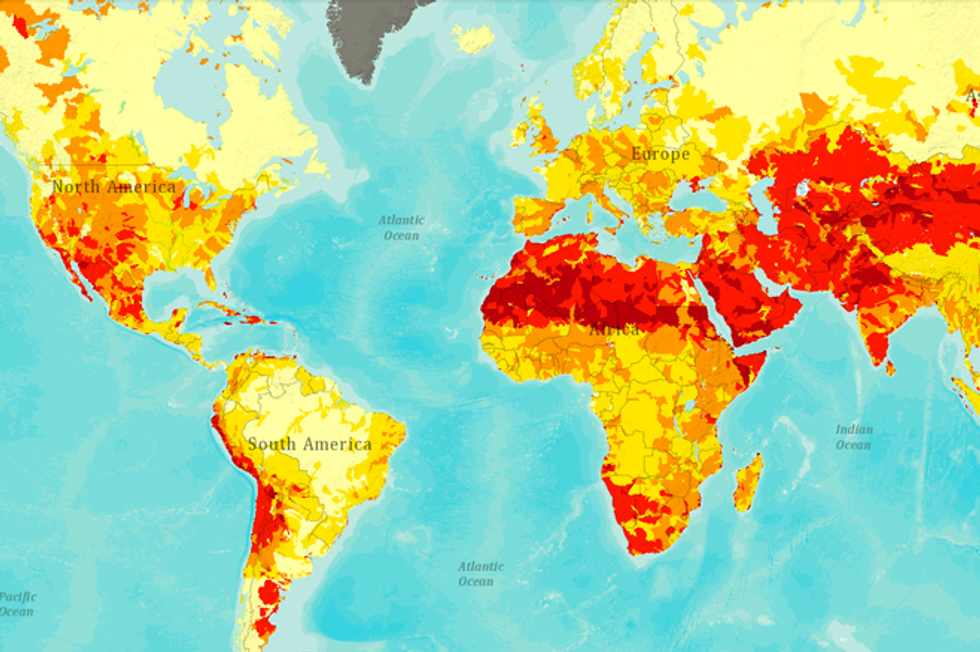 By linking the two datasets together through matching latitude and longitude coordinates, the report provides valuable insights about the extent and distribution of well production activity in regions with water competition challenges.
Colorado and Texas showed the highest exposure to water stress. In Colorado, 92 percent of the wells were in extremely high water stress regions. In Texas, which accounts for nearly half of the total wells analyzed, 51 percent of the wells were in high or extremely high water stress regions. In some Texas counties, water use for hydraulic fracturing accounted for more than 20 percent of the region's total water use. In Pennsylvania, 70 percent of the wells were in medium to high water stress water basins and only 2 percent were in high water stress basins.
"Given projected sharp increases in shale oil and gas production in the coming years, competition over water should be a growing concern to energy companies, policymakers and investors," the report concludes, noting a projected doubling of oil and gas fracturing production in the coming years. "Shale energy development cannot grow without water, but in order to do so the industry's water needs and impacts need to be better understood, measured and managed."
As the report outlines, the industry has made progress in boosting the use of recycled water and other alternative water sources for fracturing wells. Operators are starting to use non-freshwater alternatives such as wastewater, saline water, seawater and acid-mine drainage. "Overall water recycling and the use of non-freshwater sources must increase considerably to have a significant impact," the report says.
The report includes key recommendations for companies and regulators, among those:
Comprehensive mandatory disclosure by companies of how much freshwater, non-freshwater and recycled water they are using region by region as well as how much water is returning to the surface and where it is ending up.
Requirements for companies to set quantifiable water use targets, including recycling and non-freshwater use targets.
Ensure that both companies and local regulators are conducting sufficient water management planning.
Ensure that companies have a local stakeholder engagement process in place on water issues.
Today's report is part of a larger, more comprehensive study Ceres is undertaking to analyze water risks across the entire hydraulic fracturing lifecycle—from water sourcing to final treatment and disposal of wastewater—across different regional basins in North America. The research is aimed primarily at investors who have financial stakes in operators and support services in these regions.
Visit EcoWatch's FRACKING page for more related news on this topic.
——–
Sign the petition today, telling President Obama to enact an immediate fracking moratorium:

EcoWatch Daily Newsletter