Hunger Strike Continues as Community Demands Transparency of Petrochemical Giant
Dec. 27, 2012 06:47PM EST
Energy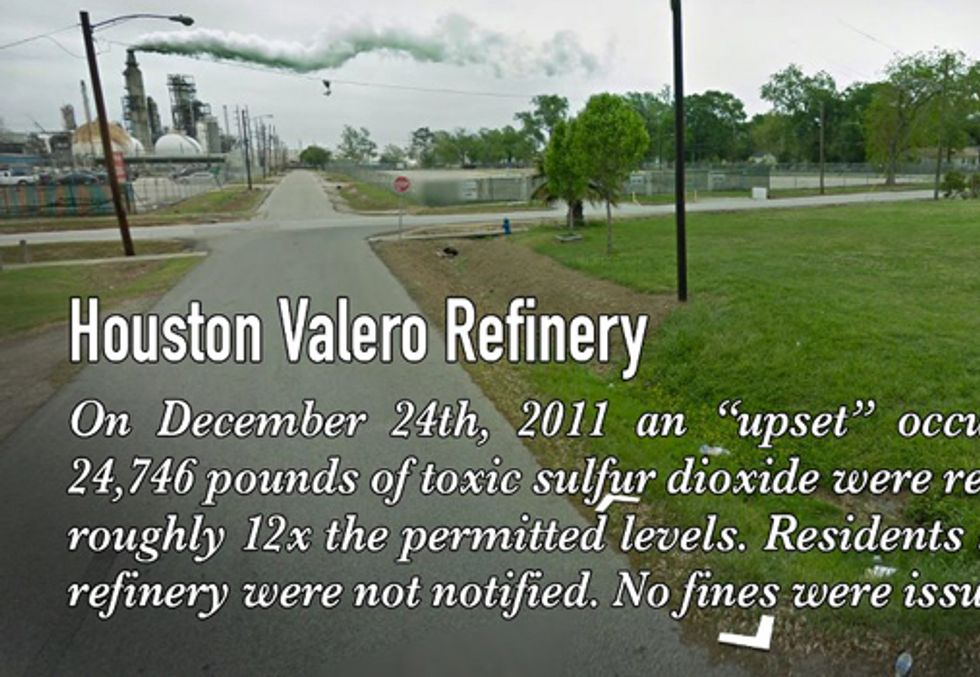 Residents of the Houston neighborhood of Manchester are demanding today that the Valero refinery, which has been polluting the air surrounding their homes for decades, reveal exactly what toxins it is forcing residents to breathe. Community members were joined by Gulf Coast activists Diane Wilson and Bob Lindsey Jr., who have committed to an indefinite hunger strike until Valero agrees to divest from the Keystone XL tar sands pipeline, which is linked to environmental destruction and human rights abuses in Canada. Today marks the 29th day of their sustained strike.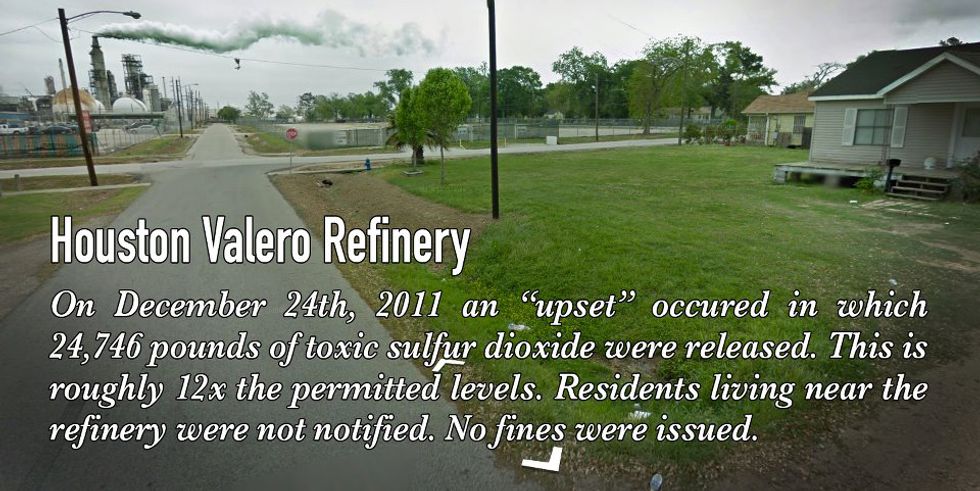 The event culminated with a rally and protest outside the Valero refinery that has been forcing local residents to breathe poisonous, cancer-causing chemicals for decades. Community members, organizers, Lindsey and Wilson marched to a neighborhood park that sits in the shadow of the Valero smokestack, carrying a banner that read, "We demand to know what you are forcing us to breathe."
"I have trouble breathing, a really bad cough and asthma. It feels like I can't breathe, it's really scary," said Yudith Nieto, a Houston resident who grew up in the Manchester neighborhood. "You feel helpless and you can't understand why something like this is happening to you."
For years residents have been purposefully misinformed and disproportionately exploited for Valero's benefit. The Manchester community has suffered through decades of premature deaths, cancers, asthma and other diseases attributable to the refinery emissions.
"There is an unending war and Valero has the weapon of destruction," said Wilson, who has spent decades working to expose how the Texas petrochemical complex has been covering up spills and dumping lethal chemicals into bays along Gulf Coast. "A popular motto of the unions was that an injury to one is an injury to all. Well, make no mistake: Manchester is being harmed."
Community groups Tar Sands Blockade and Texas Environmental Justice Advocacy Services (TEJAS) have been actively organizing a campaign of growing resistance in Manchester, highlighted most recently when Gulf Coast activists Wilson and Lindsey began a sustained hunger strike on Nov. 29, after locking their necks to tanker trucks destined for the Valero refinery.
 
"Manchester is a living example of environmental racism," said María Jiménez, TEJAS board member and life-long resident of Houston's East End. "Today segregation means the unequal impact of air, water and noise pollution on historically marginalized communities. Whether it's the immediate health effects or the long term chronic illnesses, Manchester suffers while Valero pursues record profits."
Visit EcoWatch's KEYSTONE XL and PIPELINES pages for more related news on this topic.
EcoWatch Daily Newsletter