Hundreds of New Yorkers Rally Against Fracking, Call for Renewable Energy
May. 22, 2014 03:08PM EST
Energy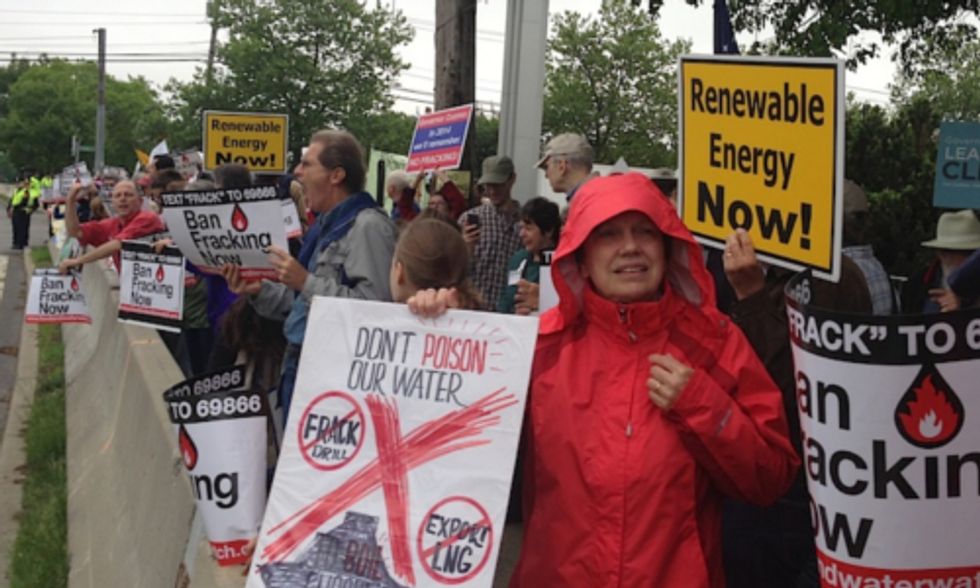 President Barack Obama traveled to Cooperstown, NY, today to tout the state's tourism economy and its role in job creation. The President was met outside the Baseball Hall of Fame by hundreds of residents and numerous organizations rallying for a rejection of fracking and a transition to renewable energy.

"We're thrilled to have President Obama in Cooperstown to see this incredible village and countryside, and to promote tourism to one of the most beautiful places in New York," said Ellen Pope, executive director of Otsego 2000. "It's important for President Obama to see that fracking would put the Susquehanna headwaters, our community and our economy at risk and must not be allowed."
Concerned residents pointed out that fracking would put tourism and the regional economy at risk, noting that the village, surrounding towns and many local businesses have long been leaders in New York's municipal ban movement—more than 1,000 New York State businesses have come out in support of a ban on fracking, including the Cooperstown Chamber of Commerce and Brewery Ommegang.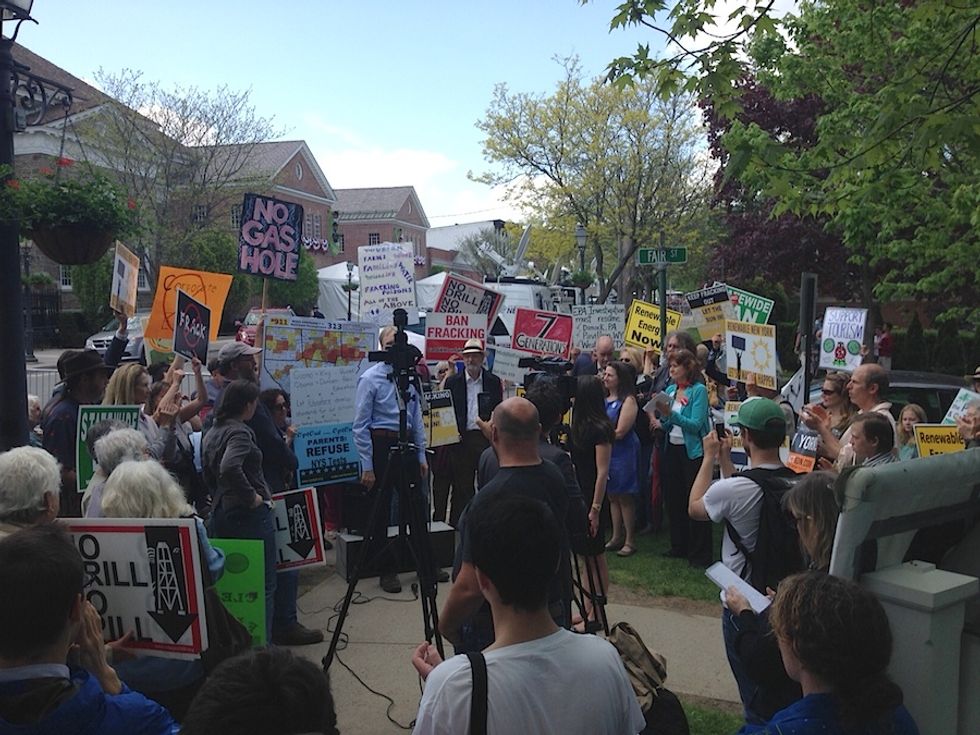 "Our business relies on tourism driven by the beauty of the region and clean water and air, which fracking would destroy," said Marc Kingsley, owner of The Inn at Cooperstown. "We urge President Obama to listen to the science and reject fracking, and instead usher in a new age of prosperity powered by renewable energy."
The protest highlighted President Obama's contradictory support of fracking while, at the same time, attempting to mitigate climate change. Recent research shows that methane leaks undermine natural gas's benefits, actually increasing greenhouse gas emissions and exacerbating climate change.
"For our communities and for the climate, we need to get off fossil fuels and onto renewables," said Adrian Kuzminski of Sustainable Otsego. "And renewable energy will create more, better and long-lasting jobs." 
Helen Slottje, recent winner of the 2014 prestigious Goldman Prize for her leadership in passing municipal fracking bans, attended the rally and said, "President Obama should look at why nearly 200 New York municipalities have passed prohibitions on fracking and re-think his support. The facts show that fracking poisons our water and air, makes people sick, and it shouldn't happen in New York or anywhere."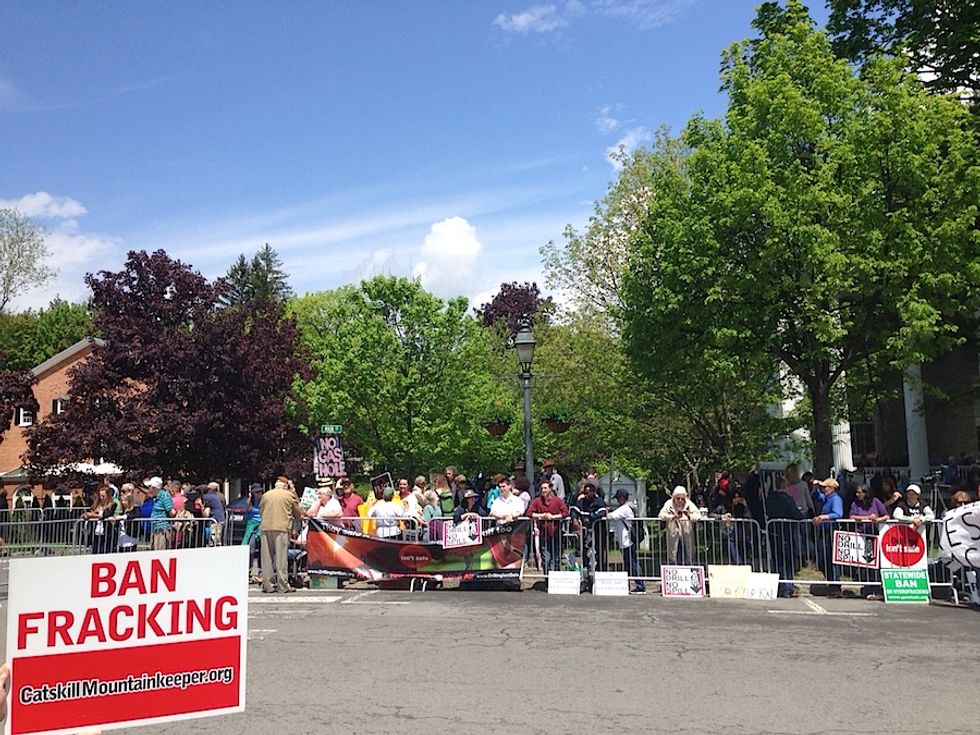 Rather than fracking and fossil fuels, New Yorkers showed today that transitioning to renewable energy would protect public health and the environment, build on the incredible assets of small towns like Cooperstown and offer a brighter path forward. 
Partnering organizations include: Otsego 2000, Sustainable Otsego, Middlefield Neighbors, New Yorkers Against Fracking, Catskill Mountainkeeper, Frack Action and Citizen Action of New York, amongst others.
Also today in New York, a major rally took place at the New York State Democratic Convention, in Melville, NY, where Gov. Andrew Cuomo (D-NY) was in attendance. With a majority of New York Democrats and a plurality New York residents opposed to fracking, New Yorkers from around the state urged Gov. Cuomo to listen to his constituents and ban fracking.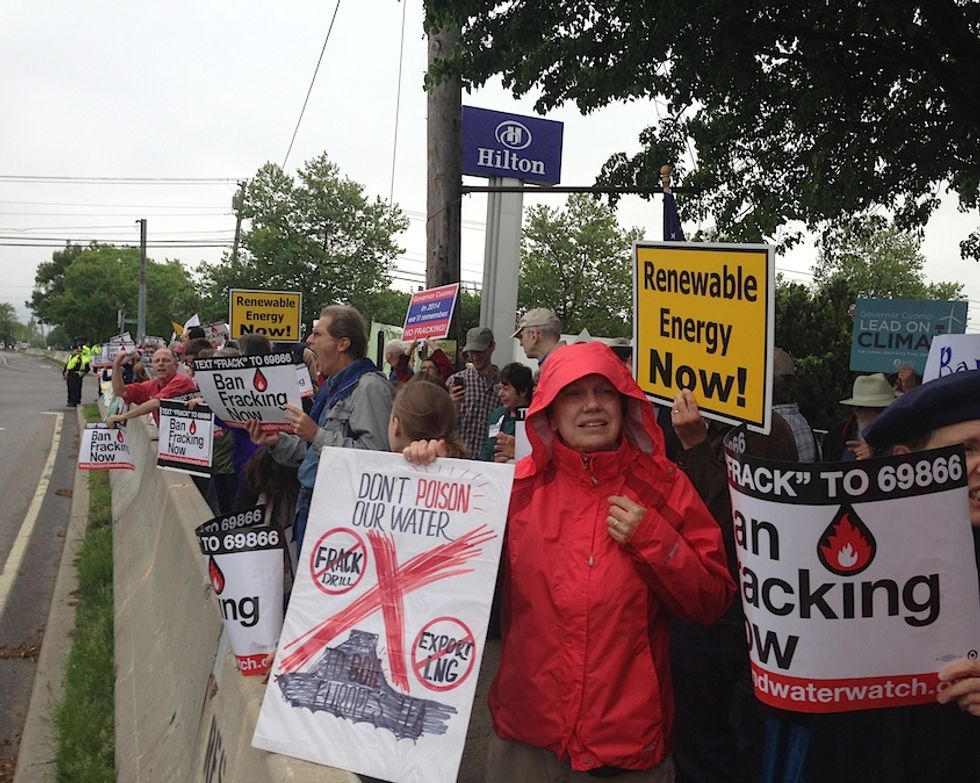 --------
YOU MIGHT ALSO LIKE
Fracking California: Authorities Slash Estimate of Recoverable Shale by 96%
'Dear Governor Hickenlooper' Film Exposes Detriments of Fracking and Promise of Renewable Energy
North Carolina Republicans Want Felony Charges for Those Who Disclose Fracking Chemicals
--------
EcoWatch Daily Newsletter
Recent Stories from EcoWatch