Humans to Blame for Catastrophic Drought in California, Scientists Say
One way or another, humans are to blame for the catastrophic drought in California that scientists say may be emerging as a "new normal."
Either humans have mismanaged the state's water or human-triggered global warming has begun to help turn America's landscape of wine and roses into a dustbowl, according to two new studies.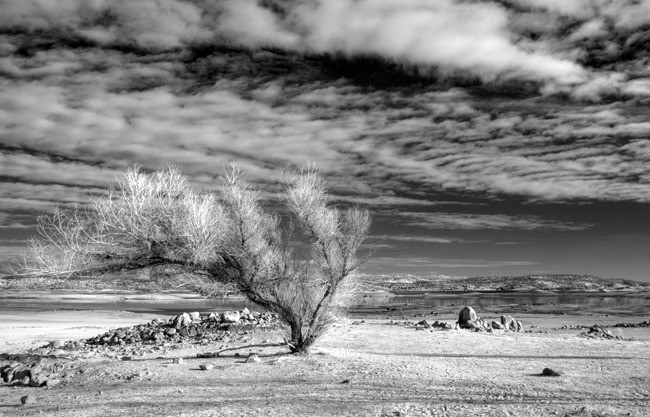 Low water levels at Folsom Dam near Sacramento as the Californian landscape takes on a dustbowl look. Photo credit: Robert Couse-Baker
And the arguments have relevance extending far beyond the U.S. west, as the European Drought Observatory has warned that much of mainland Europe is now caught up in the continent's worst drought since 2003.
The consequences of any drought could also be more enduring than expected. A research team in the U.S. reports in the journal Ecological Applications that trees that survived severe drought in the U.S. southeast 10 years ago are now dying—because of the long-ended drought.
Complex Connections
Such statements are simple, but the connections with climate change are complex. That is because drought is a natural cyclic turn of events, even in well-watered countries. It is one of those extremes that, summed up, make the average climate.
Global warming or not, droughts would happen. California in particular has a history of periodic drought that dates back far beyond European settlement and the state's growth to become the most populous in the U.S.
But the drought that began in 2012—and which has cost the agricultural industry more than $2 billion, lost 17,000 jobs and so far killed 12 million trees—is the worst in at least a century.
Amir AghaKouchak, a hydrologist at the University of California Irvine and colleagues say in Nature journal that they want authorities to recognize that human factors are making cyclic water scarcity worse.
They say:
"Severe and long-lasting droughts have occurred in reconstructions of the region's past climate, so it is not clear whether California's current drought is a temporary weather condition or is the emergence of a 'new normal.'
"Observations and climate projections indicate that California's climate is warming, with more winter rainfall instead of snow, earlier snow melt and decreases in spring and summer stream flows. Future droughts will be compounded by more-intense heatwaves and more wildfires.
"Soaring temperatures will increase demand for energy just when water for power generation and cooling is in short supply. Such changes will increase the tension between human priorities and nature's share."
Rising Levels
The researchers leave open the question of the role of global warming, fueled by rising levels of atmospheric carbon dioxide because of increasing fossil fuel combustion. But U.S. scientists report in Geophysical Research Letters that they think global warming could have contributed up to 27 percent of the present drought.
Their study, based on analysis of month-by-month meteorological data for more than a century, identifies a trend towards drought that is in step with warming since 1901. And they argue that even through the present drought is natural, it has been modestly intensified by climate change.
More ominously, global warming has amplified the probability of severe drought. The new study suggests that by the 2060s, California may be in more or less permanent drought. Rainfall might increase, but not enough to make up for greater evaporation because of rising temperatures.
"A lot of people think that the amount of rain that falls out the sky is the only thing that matters," says the report's lead author, A. Park Williams, a bioclimatologist at Columbia University's Lamont-Doherty Earth Observatory. "But warming changes the baseline amount of water that's available to us, because it sends water back into the sky."
YOU MIGHT ALSO LIKE
Historic Wildfire Season Has Burned More Than 7.5 Million Acres (That's Larger Than Massachusetts)
Why Are Climate Groups Only Focused on 50% of the Solution?
College of the Atlantic / Flickr
Sierra magazine, the national magazine of the Sierra Club, released on Tuesday its eleventh annual "Cool Schools" ranking of North America's greenest colleges and universities.
Sierra received complete surveys from a record-breaking 227 schools—in 36 states, the District of Columbia, and for the first time ever, Canada.
Keep reading...
Show less
Oil in the Niger Delta. Amnesty International Canada
By Andy Rowell
The decades-long struggle for social and environmental justice in the Niger Delta continues, largely unseen by the wider world.
On Aug. 11, hundreds of people from the Niger Delta stormed the Belema flow station gas plant owned by Shell in the Rivers State region of the Delta. The plant transports crude oil to the Bonny Light export terminal, from where it is shipped overseas.
Keep reading...
Show less
Rainforest Action Network / Flickr

The National Academy of Sciences, Engineering and Medicine said in a statement the Interior Department has directed it to cease its study on the potential health risks for people living near surface coal mines in Central Appalachia.
The Interior Department, which committed more than $1 million to the study last year, has begun an agency-wide review of grants over $100,000 because of the "Department's changing budget situation."
Keep reading...
Show less
California Energy Commission
California and North Carolina's electricity grids faced no disruptions during Monday's solar eclipse, which many saw as a test for the future when solar power will command a greater share of the energy mix.
"It bodes well for renewable energy on the grid during an event like this," said Eric Schmitt, a vice-president at California Independent System Operator that delivers most of the state's electricity.
Keep reading...
Show less
Bob Wick / Bureau of Land Management
Keep reading...
Show less
www.youtube.com
Are you ready to watch the Great American Eclipse of 2017? Will you be in the path of totality? Do you have your safety glasses ready?
Well, however you decide to watch the solar eclipse today, NASA TV will be showing the "Eclipse Across America" with live video of the celestial event. The feed is already live with lots of handy information about today's unprecedented eclipse. So be sure to watch above.
Enjoy!
Energy
Aug. 21, 2017 08:43AM EST
www.youtube.com
"One out of three Americans lives within 50 miles of high-level nuclear waste, some of which, like Plutonium, is lethally dangerous and will be around for an incredible longtime," John Oliver explained last night on Last Week Tonight.
According to the Nuclear Energy Institute, there is more than 71,000 tons of nuclear waste stranded at 104 reactors. "It was a problem we should have solved in the 1980s," Oliver said, "much like a Rubik's Cube."
Despite years of using nuclear energy, the country still doesn't have a permanent facility for its storage, the comedian said. Oliver proposed what the U.S. really needs is some kind of "nuclear toilet."
Watch above.
Popular
Aug. 21, 2017 10:55AM EST
C: Gage Skidmore
By Andy Rowell
As Trump's presidency spirals like a toxic vortex from one crisis to another, and with the global news media reacting to one venomous tweet after another, it is easy to miss the slow assault against science and the environment that continues below the radar.
The crisis for Trump could get a whole lot worse, with his ex-Chief of Staff, Steve Bannon, who was sacked last week, promising that he was "prepared to go to war with his adversaries in the White House."
Keep reading...
Show less