Humane Society Uncovers Unconscionable Animal Cruelty in Kentucky
Feb. 21, 2014 04:28PM EST
Food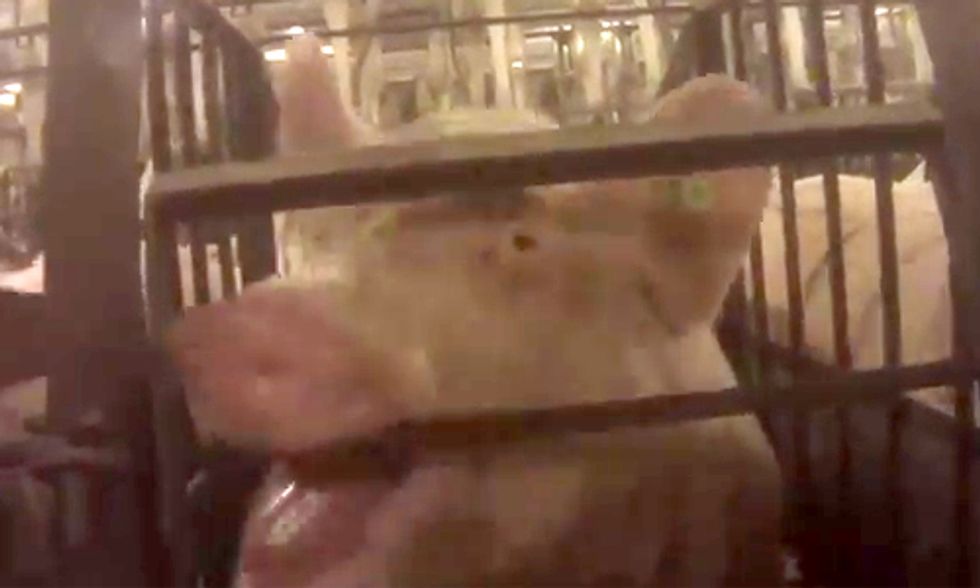 The object of posting this undercover exposé isn't about shock value or sensationalizing an activist cause, rather, it has been published to convey a sad and simple truth—unspeakable animal cruelty heavily permeates America's food industry.
Warning: The following video contains graphic material that may be unsuitable for some viewers.
The Humane Society of the United States (HSUS) video was released Thursday showing pigs trapped in cramped cages known as gestation crates being fed ground up intestines from 900 piglets that had died over a two-day period from a highly contagious diarrheal disease, according to a Humane Society press release.
This investigation, conducted in January at the Iron Maiden Hog Farm in Owensboro, KY, revealed the illegal feeding practice which appears to be fairly widespread within the industrial sector of the pig industry.
The HSUS has called on the Kentucky Livestock Care Standards Commission, created to "establish, maintain or revise standards governing the care and well-being" of farm animals, to end gestation crate confinement and to review the practice of feeding diseased piglets to surviving pigs on the Iron Maiden farm.
In addition, the HSUS is calling on the U.S. Department of Agriculture to examine the practice of feeding dead piglets to mother pigs, which also occurred at the Kentucky farm.
The investigation at Iron Maiden Hog Farm also documented:
Animals locked in cages so small they couldn't turn around for essentially their entire lives.
Sick and injured sows left without care, including one sow who suffered from an extreme uterine prolapse for nearly two days before finally dying.
Lame sows—whose hind legs became too weak from strict confinement to support their weight—"hobbled" to keep their legs from collapsing. Their legs are bound together so they canw stand in their crates.
Several exposé videos have surfaced over the last year, forcing companies like DiGiorno Pizza and Tyson Foods to cut ties with farms throughout the country that routinely tortured cows, pigs and other livestock. 
Industry's Response
The Idaho House is ready for a floor vote that will likely send Senate Bill 1337 to the desk of Republican Gov. C.L. Otter for final approval, reports Food Safety News.
If passed, the bill would make clandestine filming of agricultural operations illegal.
With a 13-1 majority vote, the House Agriculture Affairs Committee sent the Agriculture Protection Act to the House floor Thursday with a "do-pass" recommendation.
Roughly 130 people signed into the hearing, which brought state and national animal-welfare activists face-to-face with influential Idaho agriculture representatives who support the bill.
HSUS sent its top public policy manager, Matt Dominguez, to Boise in a last-minute attempt to prevent SB 1337 from reaching the House floor. But Dominguez, who grew up on a farm, and the HSUS Idaho director both ended up being grilled by committee members.
To show how pigs can reshape people's perspectives on animal rights, check out this Esther the Wonder Pig slideshow that explores a couple's transformation from meat eaters to vegans. 
[blackoutgallery id="318565"]
Visit EcoWatch's FOOD and HEALTH pages for more related news on this topic.

EcoWatch Daily Newsletter