This website uses cookies to ensure you get the best experience while browsing it. By clicking 'Got It' you're accepting these terms.
Human Carcinogen Found in Drinking Water Near Gas Drilling Ops
Jan. 23, 2012 11:30AM EST
Fracking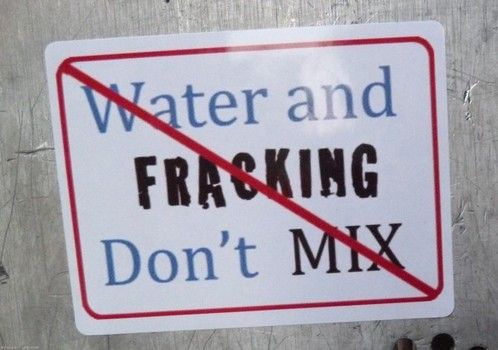 The U.S. Environmental Protection Agency's (EPA) detection of arsenic, a known human carcinogen, barium and other contaminants in the well water of homes near natural gas drilling operations in Dimock Township, Pa., should prompt a nationwide investigation of drilling-linked water pollution.
"EPA and other officials must move quickly to ensure these families have an adequate source of clean water," said Dusty Horwitt, senior counsel with Environmental Working Group (EWG). "This finding confirms what Dimock residents have said for months—that the Pennsylvania Department of Environmental Protection should have never allowed Cabot to end deliveries of clean water."
Last month, EWG published a report called Gas Drilling Doublespeak that found that Dimock residents, among other people in gas-rich areas, were not warned of risks to their water supplies when they were approached to lease their land for drilling.
EPA officials in Philadelphia announced they would deliver clean water to the four affected households and conduct broader testing at about 60 more homes in south-central area Susquehanna County. Cabot Oil & Gas Corp., the Houston-based company that began drilling for gas in the area in 2008, delivered water to the households under a 2010 consent agreement but stopped Nov. 30 after state regulators determined that Cabot had met its obligations.
According to an EPA action memo, agency scientists found the four households' well water contaminated with arsenic and other hazardous substances "at levels that present a public health concern." Some of these "are not naturally found in the environment," EPA officials said, and may have been released by drilling activities. Among the toxic substances found in the well water, according to the EPA:
Arsenic, classified by the US government and World Health Organization as a known human carcinogen, an element sometimes found in "elevated concentrations" in groundwater because of drilling;
Barium, a common constituent of drilling fluids; long-term ingestion at high levels can cause kidney damage
Phthalates, a synthetic plastic chemical and probable human carcinogen, according to EPA
Glycol compounds common in drilling fluids and associated with damage to kidneys, the nervous system, lungs, heart, testicular damage and anemia
Manganese, an naturally occurring element that can damage the nervous system at high levels
Phenol, found in some drilling fluids; at high levels can cause irregular heartbeat, liver damage and skin burns
Sodium, compounds found in some drilling fluids, at high levels can cause high blood pressure
Federal officials said that although the investigation has not been completed, they have concluded, based on samplings to date, that a "chronic health risk exists" for the wells in question.
"These results also show that the families ultimately need a permanent source of healthy water, which the state has so far failed to deliver," Horwitt said. "Cabot should bear the cost of providing this, not the taxpayers."
For more information, click here.
—————
Environmental Working Group is a nonprofit research organization based in Washington, D.C. that uses the power of information to protect human health and the environment.
EcoWatch Daily Newsletter
Fred Stone holds his brown swiss cow Lida Rose at his Arundel dairy farm on March 18 after a press conference where he spoke about PFAS chemical contamination in his fields. Gregory Rec / Portland Portland Press Herald via Getty Images
By Susan Cosier
First there was Fred Stone, the third-generation dairy farmer in Maine who discovered that the milk from his cows contained harmful chemicals. Then came Art Schaap, a second-generation dairy farmer in New Mexico, who had to dump 15,000 gallons of contaminated milk a day.
Protesters attend the 32nd Annual Fur-Free Friday demonstration on Nov. 23, 2018 in Beverly Hills, California. Ella DeGea / Getty Images
California Governor Gavin Newsom signed into law a bill that that bans the sale and manufacture of fur products in the state. The fur ban, which he signed into law on Saturday, prohibits Californians from selling or making clothing, shoes or handbags with fur starting in 2023, according to the AP.
By Simon Evans
During the three months of July, August and September, renewables generated an estimated total of 29.5 terawatt hours (TWh), compared with just 29.1TWh from fossil fuels, the analysis shows.
A demonstrator waves an Ecuadorian flag during protests against the end of subsidies to gasoline and diesel on Oct. 9 in Quito, Ecuador. Jorge Ivan Castaneira Jaramillo / Getty Images
Protesters block the road outside Mansion House in London during an XR climate change protest. Gareth Fuller / PA Images via Getty Images
Protestors marched outside the Prudential Center in Newark, New Jersey on Monday, August 26, during the MTV Video and Music Awards to bring attention to the water crisis currently gripping the city. Karla Ann Cote / NurPhoto / Getty Images
By Will Sarni
It is far too easy to view scarcity and poor quality of water as issues solely affecting emerging economies. While the images of women and children fetching water in Africa and a lack of access to water in India are deeply disturbing, this is not the complete picture.
Pexels
Mice exposed to nicotine-containing e-cigarette vapor developed lung cancer within a year.
More research is needed to know what this means for people who vape.
Other research has shown that vaping can cause damage to lung tissue.
A new study found that long-term exposure to nicotine-containing e-cigarette vapor increases the risk of cancer in mice.
Demonstrators with The Animal Welfare Institute hold a rally to save the vaquita, the world's smallest and most endangered porpoise, outside the Mexican Embassy in DC on July 5, 2018. SAUL LOEB / AFP / Getty Images
Six months: That's how much time Mexico now has to report on its progress to save the critically endangered vaquita porpoise (Phocoena sinus) from extinction.