This website uses cookies to ensure you get the best experience while browsing it. By clicking 'Got It' you're accepting these terms.
Huge Victory: U.S. Government Slams Door on Invasive Experiments on Chimps
Nov. 24, 2015 09:33AM EST
I've made a series of announcements in the last three years about ongoing progress in the effort to end the era of invasive experiments on chimpanzees. Here's another, and it's a great one.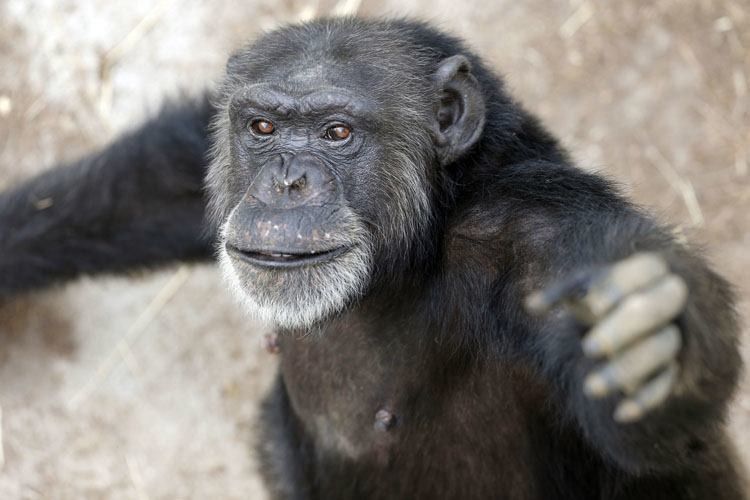 On Nov. 18, the National Institutes of Health (NIH) announced it has scuttled plans to maintain a colony of 50 chimpanzees for research—reversing a decision the agency made a little more than two years ago. At that time, the research agency said it would end all invasive chimp experiments, but maintain 50 chimps in an "ethologically appropriate" environment in the event they were needed for research down the line. Now, we really see the agency closing and locking the door behind the chimps and throwing away the key on their way out of the laboratories.
And there's more good news. According to news reports, the agency has also determined that the 20 government-owned chimpanzees at Texas Biomedical Research Institute—the site of a Humane Society of the United States (HSUS) undercover investigation where we uncovered dismal conditions for the primates housed there—are going to be the next group of chimpanzees moved to sanctuary at Chimp Haven, the national chimpanzee sanctuary.
Moving these chimpanzees to sanctuary is not only the right thing to do, but it will also save taxpayer dollars due to the lower cost of care. We applaud NIH director Francis Collins for his foresight in taking this action. The Institute of Medicine concluded that there are alternatives to using chimps in invasive experiments.
This latest announcement by NIH comes in the wake of enhanced federal protections under the Endangered Species Act for captive chimpanzees. The HSUS and other groups petitioned successfully for this change, and as a result any private laboratory that wishes to use chimpanzees in harmful or invasive research must obtain a permit from the U.S. Fish and Wildlife Service and show that the research would benefit wild populations. Further, any permit would be subject to public comment. Therefore, we know that as of Sept. 14, no invasive research has been conducted on chimpanzees. And, with NIH's announcement, there's reason to believe it will never happen again with government funding.
Approximately 700 chimpanzees remain in laboratories with around 300 owned by the federal government. But we are working on travel plans for every one of them, starting with the group at Texas Biomedical. The HSUS stands ready to work with stakeholders, including the government, Chimp Haven and other sanctuaries, laboratories, the public and other animal protection groups, to ensure all chimpanzees are retired to high-quality sanctuaries. It will take our collective action and resources to push this issue over the finish line but it is the least these chimpanzees deserve after all they have been through.
It's rare to close out a category of animal use so emphatically. That's exactly what's happening here, and it's thrilling.
YOU MIGHT ALSO LIKE
Only 3 Northern White Rhinos Left on Earth After Death of Nola at San Diego Zoo
Landmark Ruling Finds Japanese Whalers Guilty of Contempt of Court
Yellowstone National Park Proposes Slaughtering 1,000 Wild Bison
7 Ultimate Hikes From Around the World That Should Be on Your Bucket List
EcoWatch Daily Newsletter
DESIREE MARTIN / AFP / Getty Images
Wildfires raging on Gran Canaria, the second most populous of Spain's Canary Islands, have forced around 9,000 people to evacuate.
Wolves in Mount Rainier, Washington. Ron Reznick / VW Pics / Universal Images Group via Getty Images
The last four members of an embattled wolf pack were killed in Washington State Friday, hours before the court order that could have saved them.
Plateau Creek near De Beque, Colorado, where land has been leased for oil and gas production. Helen H. Richardson / The Denver Post / Getty Images
By Randi Spivak
Slashing two national monuments in Utah may have received the most attention, but Trump's Interior Department and U.S. Forest Service have been quietly, systematically ceding control of America's public lands to fossil fuel, mining, timber and livestock interests since the day he took office.
Aerial view of lava flows from the eruption of volcano Kilauea on Hawaii, May 2018. Frizi / iStock / Getty Images
Hawaii's Kilauea volcano could be gearing up for an eruption after a pond of water was discovered inside its summit crater for the first time in recorded history, according to the AP.
Global SO2 Emission Hotspot Database / Greenpeace
A new report by Greenpeace International pinpointed the world's worst sources of sulfur dioxide pollution, an irritant gas that harms human health. India has seized the top spot from Russia and China, contributing nearly 15 percent of global sulfur dioxide emissions.
The huge surge this year in Amazon deforestation is leading some European countries to think twice about donations to the Amazon Fund. LeoFFreitas / Moment / Getty Images
By Sue Branford and Thais Borges
Ola Elvestrun, Norway's environment minister, announced Thursday that it is freezing its contributions to the Amazon Fund, and will no longer be transferring €300 million ($33.2 million) to Brazil. In a press release, the Norwegian embassy in Brazil stated:
Gina Lopez, the Philippine secretary of the environment, at a meeting with residents affected by a mine tailing disaster. Keith Schneider
Gina Lopez, a former Philippine environment secretary, philanthropist and eco-warrior, died on Aug. 19 from brain cancer. She was 65.
Trump speaks to contractors at the Shell Chemicals Petrochemical Complex on Aug. 13 in Monaca, Pennsylvania. Jeff Swensen / Getty Images
Thousands of union members at a multibillion dollar petrochemical plant outside of Pittsburgh were given a choice last week: Stand and wait for a speech by Donald Trump or take the day off without pay.