This website uses cookies to ensure you get the best experience while browsing it. By clicking 'Got It' you're accepting these terms.
Huge Victory: U.S. Government Slams Door on Invasive Experiments on Chimps
Nov. 24, 2015 09:33AM EST
I've made a series of announcements in the last three years about ongoing progress in the effort to end the era of invasive experiments on chimpanzees. Here's another, and it's a great one.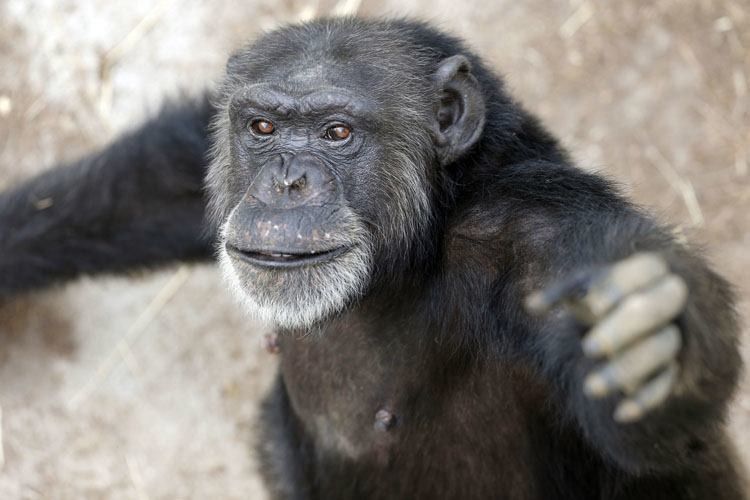 On Nov. 18, the National Institutes of Health (NIH) announced it has scuttled plans to maintain a colony of 50 chimpanzees for research—reversing a decision the agency made a little more than two years ago. At that time, the research agency said it would end all invasive chimp experiments, but maintain 50 chimps in an "ethologically appropriate" environment in the event they were needed for research down the line. Now, we really see the agency closing and locking the door behind the chimps and throwing away the key on their way out of the laboratories.
And there's more good news. According to news reports, the agency has also determined that the 20 government-owned chimpanzees at Texas Biomedical Research Institute—the site of a Humane Society of the United States (HSUS) undercover investigation where we uncovered dismal conditions for the primates housed there—are going to be the next group of chimpanzees moved to sanctuary at Chimp Haven, the national chimpanzee sanctuary.
Moving these chimpanzees to sanctuary is not only the right thing to do, but it will also save taxpayer dollars due to the lower cost of care. We applaud NIH director Francis Collins for his foresight in taking this action. The Institute of Medicine concluded that there are alternatives to using chimps in invasive experiments.
This latest announcement by NIH comes in the wake of enhanced federal protections under the Endangered Species Act for captive chimpanzees. The HSUS and other groups petitioned successfully for this change, and as a result any private laboratory that wishes to use chimpanzees in harmful or invasive research must obtain a permit from the U.S. Fish and Wildlife Service and show that the research would benefit wild populations. Further, any permit would be subject to public comment. Therefore, we know that as of Sept. 14, no invasive research has been conducted on chimpanzees. And, with NIH's announcement, there's reason to believe it will never happen again with government funding.
Approximately 700 chimpanzees remain in laboratories with around 300 owned by the federal government. But we are working on travel plans for every one of them, starting with the group at Texas Biomedical. The HSUS stands ready to work with stakeholders, including the government, Chimp Haven and other sanctuaries, laboratories, the public and other animal protection groups, to ensure all chimpanzees are retired to high-quality sanctuaries. It will take our collective action and resources to push this issue over the finish line but it is the least these chimpanzees deserve after all they have been through.
It's rare to close out a category of animal use so emphatically. That's exactly what's happening here, and it's thrilling.
YOU MIGHT ALSO LIKE
Only 3 Northern White Rhinos Left on Earth After Death of Nola at San Diego Zoo
Landmark Ruling Finds Japanese Whalers Guilty of Contempt of Court
Yellowstone National Park Proposes Slaughtering 1,000 Wild Bison
7 Ultimate Hikes From Around the World That Should Be on Your Bucket List
EcoWatch Daily Newsletter
Did you know that more than a third of food is wasted or thrown away every year? And that only 25 percent of it would be enough to feed the 795 million undernourished people in the world? That's why today is Stop Food Waste Day, a chance to reflect on what you can do to waste less of the food you buy.
Stop Food Waste Day is an initiative of food service company Compass Group. It was launched first in the U.S, in 2017 and went global the year after, making today it's second worldwide celebration.
Flames and smoke are seen billowing from the roof at Notre-Dame Cathedral on April 15 in Paris, France. Veronique de Viguerie / Getty Images
When Paris's Notre Dame caught fire on April 15, the flames threatened more than eight centuries of culture and history. The fire evoked shock, horror and grief worldwide. While the cathedral burned, French President Emmanuel Macron expressed determination to rebuild what the French regard as a sacred site.
An artist's impression of NASA's InSight lander on Mars. NASA / JPL-CALTECH
Scientists have likely detected a so-called marsquake — an earthquake on Mars — for the first time, The National Aeronautics and Space Administration (NASA) announced on Tuesday.
Hero Images / Getty Images
Across the political aisle, a majority of American parents support teaching climate change in schools even though most teachers currently do not.
By Andrea Germanos
Lawyer and visionary thinker Polly Higgins, who campaigned for ecocide to be internationally recognized as a crime on par with genocide and war crimes, died Sunday at the age of 50.
She had been diagnosed with an aggressive cancer last month and given just weeks to live.
The Anopheles stephensi mosquito, which carries malaria. CDC / Jim Gathany
The world's first malaria vaccine was launched in Malawi on Tuesday, NPR reported. It's an important day in health history. Not only is it the first malaria vaccine, it's the first vaccine to target any human parasite.