Huge Victory: Senate Rejects the DARK Act
Mar. 16, 2016 01:03PM EST
GMO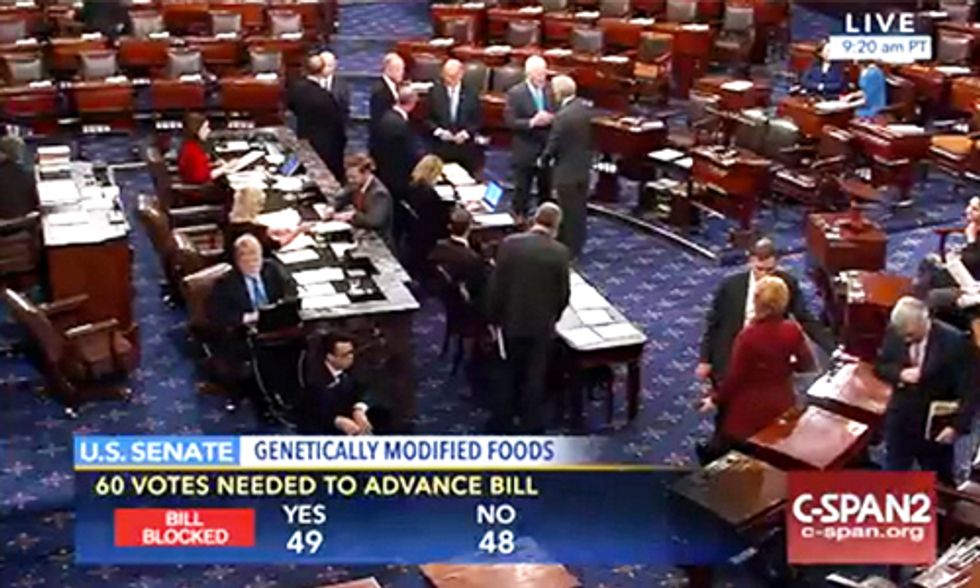 Today, the Senate did the right thing and did not advance a bill from Sen. Pat Roberts (R-Kan.) that can best be described as the Denying Americans the Right to Know (DARK) Act. The bill would have prevented states from requiring labeling of genetically engineered (GMO) foods and stopped pending state laws that require labeling to go into effect.
BREAKING: The #DARKAct is blocked in the Senate. This is a HUGE victory for American consumers! #votefood https://t.co/gRGcOl6Q2G

— Food Policy Action (@Food Policy Action)1458145322.0
Many Senators properly noted that this bill fails to solve the problem it claims to fix. Instead, by blocking state laws from going into effect and replacing them with voluntary measures and impractical alternatives to labeling, it would have ensured that big food processing companies and the biotechnology industry continue to profit by misleading consumers.
Another common message from many Senators was the need to continue negotiating about the contents of this bill. But more compromise will not fix the problem at the core of Sen. Roberts' approach: Blocking state laws that require GMO labeling will strip away the ability of states to protect the public's right to know what is in its food. Any version of this bill that would result in anything less than mandatory on-package labeling is unacceptable.
People want to know if the food they buy contains GMO ingredients. It's time for Congress to create a mandatory on-package labeling requirement so people can decide for themselves whether they want to eat a food that has been produced using genetic engineering.
The majority of Americans support labeling for GMOs and will hold their elected officials accountable if they vote to strip away transparency about how their food is produced. We urge the Senate to continue to reject bills that would block state labeling laws.
YOU MIGHT ALSO LIKE
Jury to Decide if Monsanto PCBs Caused Plaintiffs' Cancer
'Monsanto Rider' Would Shield Chemical Giant From Liability for Injuries Caused by PCBs in Public Schools
Big Food Found Guilty in Multimillion Dollar Cover Up in GMO Labeling Fight
California Widow Sues Monsanto Alleging Roundup Caused Her Husband's Cancer
EcoWatch Daily Newsletter
Related Articles from EcoWatch