This website uses cookies to ensure you get the best experience while browsing it. By clicking 'Got It' you're accepting these terms.
Huge Victory for Solar Power in Georgia
Nov. 20, 2013 05:13PM EST
Business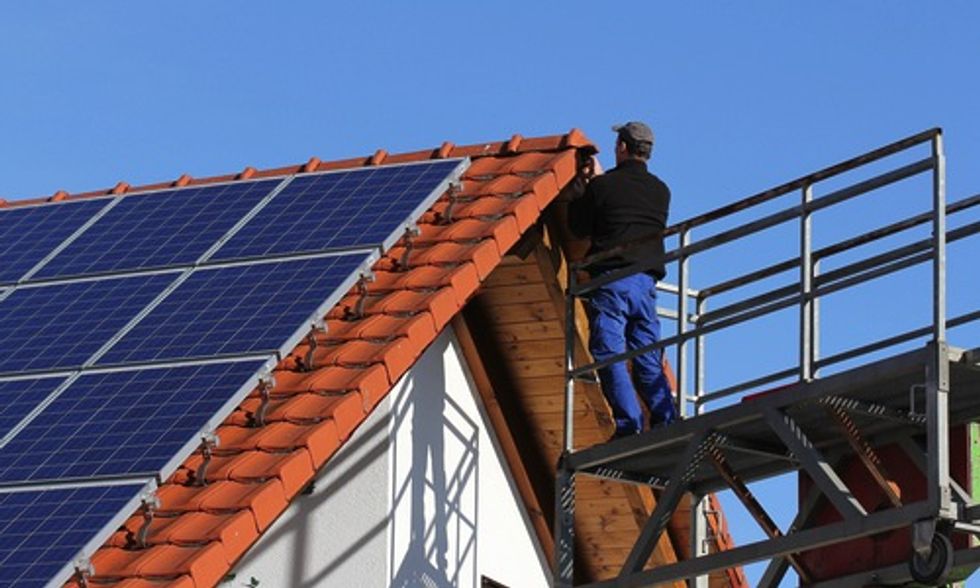 Photo courtesy of Shutterstock
In stark contrast to the situation in Arizona, Georgia Power customers with solar panels won't be charged an extra monthly fee.
Georgia Power, the largest subsidiary of Southern Co., made that decision this week, withdrawing a proposal that would have tacked on nearly $30 a month to their utility bills if they installed panels after Jan. 1, according to The Associated Press. The state Public Service Commission can formally accept the decision at meeting on Dec. 17.
"This is a real victory for individuals and businesses that want to use technology to regain some control over their energy bills," Jason Rooks, a lobbyist for the Georgia Solar Energy Industries Association, told The Associated Press. 
However, Georgia Power spokesman John Kraft told WSAV, the Savannah, GA area affiliate of NBC, that he still believes the fee is necessary and would bring it up again "at a later date." The announcement was still enough to make solar users breathe easier.
"Adding an additional tariff or tax, whatever you choose to call it, to a bill that's already high," said Julian Smith, a solar panel installer, "that would be ridiculous. It would slow the entire industry down in the state of Georgia."
Similar to Arizona Public Service, Georgia Power believes solar users aren't paying their fair share in grid costs since many still need additional power from the utility. The Solar Energy Industries Association (SEIA) believes the utility responded positively to growing opposition.
"Once again, common sense—and overwhelming public support—have prevailed on the side of clean, affordable solar energy," SEIA senior vice president of state affairs Carrie Cullen Hitt said in a statement. "To its credit, Georgia Power sensed an ever-growing opposition to the proposal and has withdrawn it. We urge the Commission to formally accept this decision at its December 17 meeting."
Arizona Public Service (APS) received approval to charge its solar customers late last week. The average customer with 70 kilowatts of solar power will pay nearly $5 per month if they make installations after New Year's Day. APS wanted to charge $50 per month.
In Ohio, legislators are evaluating a bill that would rescind five-year-old renewable energy standards. Researchers from The Ohio State University's Center for Resilience believe enacting the bill would lead to higher payments for energy customers and lost investment opportunities in the renewables sector.
Visit EcoWatch's RENEWABLES page for more related news on this topic.

EcoWatch Daily Newsletter
We need our government to do everything it can to stop PFAS contamination and exposure from wreaking havoc in communities across the country. LuAnn Hun /
Unsplash
By Genna Reed
The EPA announced last week that it is issuing a preliminary regulatory determination for public comment to set an enforceable drinking water standard to two of the most common and well-studied PFAS, PFOA and PFOS.
This decision is based on three criteria:
PFOA and PFOS have an adverse effect on public health
PFOA and PFOS occur in drinking water often enough and at levels of public health concern;
regulation of PFOA and PFOS is a meaningful opportunity for reducing the health risk to those served by public water systems.
Charging EVs in Stockholm: But where does a dead battery go? Ranjithsiji / Wikimedia Commons
By Kieran Cooke
Driving an electric-powered vehicle (EV) rather than one reliant on fossil fuels is a key way to tackle climate change and improve air quality — but it does leave the old batteries behind as a nasty residue.
U.S. Secretary of the Treasure Steven Mnuchin arrives for a welcome dinner at the Murabba Palace in Riyadh, Saudi Arabia on Feb. 22, 2020 during the G20 finance ministers and central bank governors meeting. FAYEZ NURELDINE / AFP via Getty Images
Finance ministers from the 20 largest economies agreed to add a scant mention of the climate crisis in its final communiqué in Riyadh, Saudi Arabia on Sunday, but they stopped short of calling it a major economic risk, as Reuters reported. It was the first time the G20 has mentioned the climate crisis in its final communiqué since Donald Trump became president in 2017.
Aerial view of Parque da Cachoeira, which suffered the January 2019 dam collapse, in Brumadinho, state of Minas Gerais, Brazil — one of the country's worst industrial accidents that left 270 people dead. Millions of tons of toxic mining waste engulfed houses, farms and waterways, devastating the mineral-rich region. DOUGLAS MAGNO / AFP / Getty Images
Participants of the climate demonstration Fridays for Future walk through Hamburg, Germany on Feb. 21, 2020. Axel Heimken / picture alliance via Getty Images