This website uses cookies to ensure you get the best experience while browsing it. By clicking 'Got It' you're accepting these terms.
Huge Victory for Solar Power in Georgia
Nov. 20, 2013 05:13PM EST
Business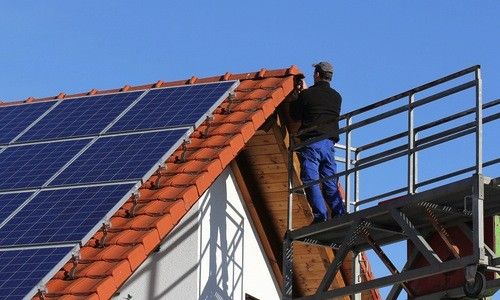 Photo courtesy of Shutterstock
In stark contrast to the situation in Arizona, Georgia Power customers with solar panels won't be charged an extra monthly fee.
Georgia Power, the largest subsidiary of Southern Co., made that decision this week, withdrawing a proposal that would have tacked on nearly $30 a month to their utility bills if they installed panels after Jan. 1, according to The Associated Press. The state Public Service Commission can formally accept the decision at meeting on Dec. 17.
"This is a real victory for individuals and businesses that want to use technology to regain some control over their energy bills," Jason Rooks, a lobbyist for the Georgia Solar Energy Industries Association, told The Associated Press. 
However, Georgia Power spokesman John Kraft told WSAV, the Savannah, GA area affiliate of NBC, that he still believes the fee is necessary and would bring it up again "at a later date." The announcement was still enough to make solar users breathe easier.
"Adding an additional tariff or tax, whatever you choose to call it, to a bill that's already high," said Julian Smith, a solar panel installer, "that would be ridiculous. It would slow the entire industry down in the state of Georgia."
Similar to Arizona Public Service, Georgia Power believes solar users aren't paying their fair share in grid costs since many still need additional power from the utility. The Solar Energy Industries Association (SEIA) believes the utility responded positively to growing opposition.
"Once again, common sense—and overwhelming public support—have prevailed on the side of clean, affordable solar energy," SEIA senior vice president of state affairs Carrie Cullen Hitt said in a statement. "To its credit, Georgia Power sensed an ever-growing opposition to the proposal and has withdrawn it. We urge the Commission to formally accept this decision at its December 17 meeting."
Arizona Public Service (APS) received approval to charge its solar customers late last week. The average customer with 70 kilowatts of solar power will pay nearly $5 per month if they make installations after New Year's Day. APS wanted to charge $50 per month.
In Ohio, legislators are evaluating a bill that would rescind five-year-old renewable energy standards. Researchers from The Ohio State University's Center for Resilience believe enacting the bill would lead to higher payments for energy customers and lost investment opportunities in the renewables sector.
Visit EcoWatch's RENEWABLES page for more related news on this topic.

EcoWatch Daily Newsletter
An aerial view of the Kudala Sangama submerged in floodwaters about 460 kms of the South Indian city of Bangalore on Aug. 10. Floods have displaced hundreds of thousands across much of India with the southern state of Kerala worst hit, authorities said on Aug. 10. STR / AFP / Getty Images
The southern India state of Kerala, having lost almost a million homes in two disastrous floods in 2018 and 2019, is trying to adapt to climate change by building homes for the poor that are flood-resistant.

The Paradise Fossil Plant in Kentucky. Coal-fired power plants are a major source of air pollution.
TVA / GPA Photo Archive / Flickr /
CC BY 2.0
Tweeting that the U.S. has the cleanest air in the world does not make it so. Not only do we rank 10th, but a new study says that after steady improvement during the Obama-era, air pollution has gotten worse while Donald Trump has been president.
In this Oct. 7 handout photo from the Aracaju Municipal Press Office, workers are removing oil from Viral Beach, in Aracaju, Brazil. The spill has been polluting Brazil's beaches since early September. Aracaju Municipal Press Office / AP
More than 1,000 miles of shoreline in Brazil are now contaminated by a mysterious oil spill. that has lasted for weeks as the country struggles to clean what may be its largest oil spill in history.
Nitrogen dioxide and nitrogen oxides, the pollutants released by diesel vehicles are a major source of air pollution in London. Jack Taylor / Stringer / Getty Images
On days where air pollution is higher, hundreds of people across nine major cities in England are suffering from more potentially fatal cardiac arrests or heading to the hospital for strokes or severe asthma attacks, according to new research from King's College in London.
A diet high in fish and vegetables can help keep your gut healthy. Linda Raymond / E+ / Getty Images
By Heather Cruickshank
Trillions of bacteria and other microbes live in the human digestive system. Together, they form a community that's known as the gut microbiota.
Many bacteria in the microbiota play important roles in human health, helping to metabolize food, strengthen intestinal integrity and protect against disease.
The message of the global movement to ban fracking and get off fossil fuels envisions a different future, one that starts with cutting off pollution at the source. cta88 / iStock / Getty Images Plus