Huge Protest Underway Against Canadian Tar Sands Pipelines
Oct. 22, 2012 06:47AM EST
Energy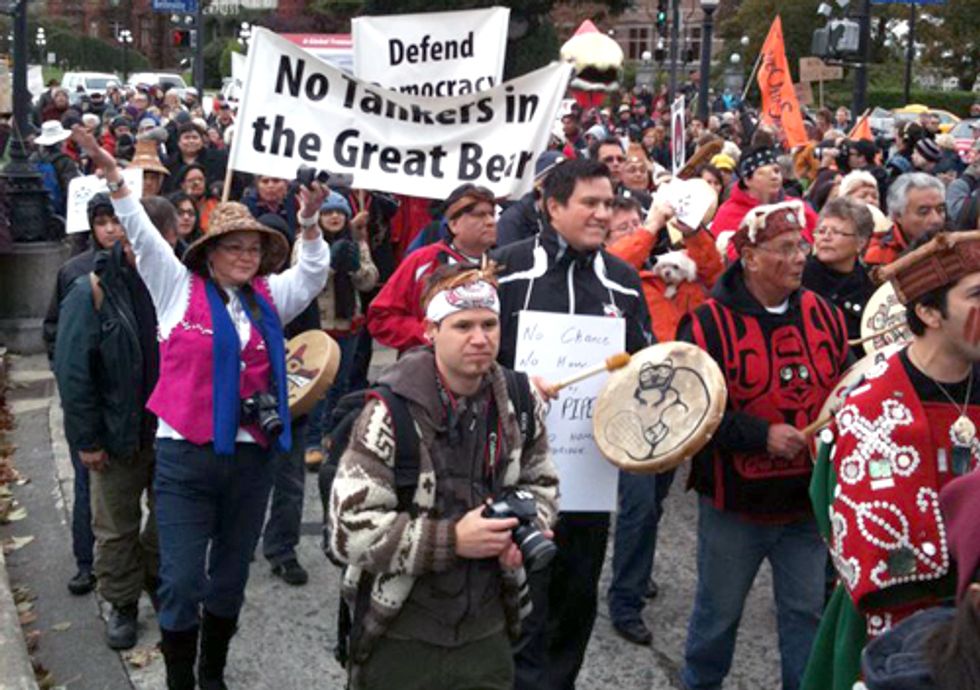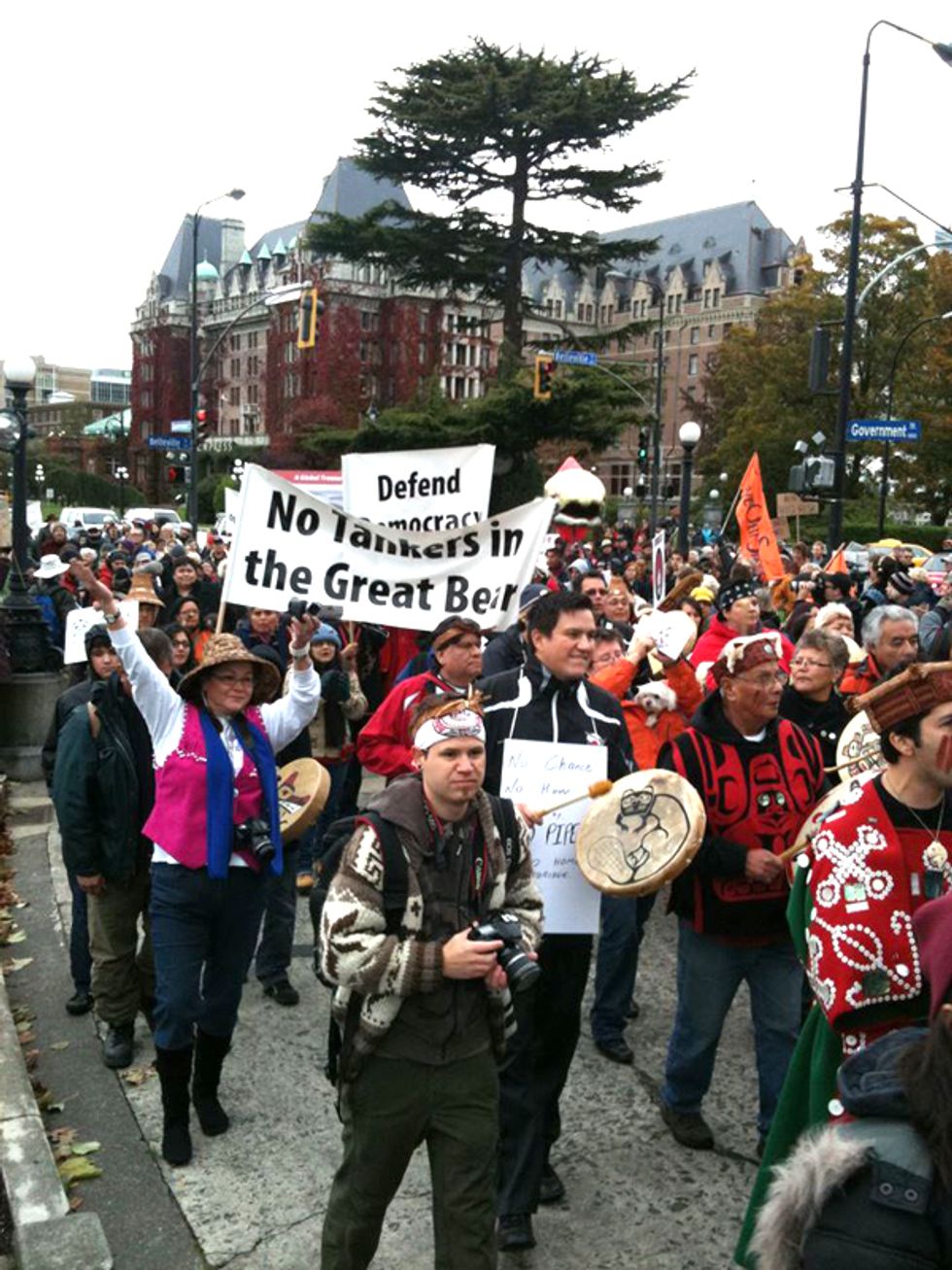 More than 1,500 people from across Canada and all walks of life have gathered in front of the B.C. legislature today to participate in a mass sit-in to defend Canada's west coast from the proposed Enbridge and Kinder Morgan pipelines and tar sands tankers, and to push back against Prime Minister Stephen Harper's gutting of Canada's environmental legislation. The Harper government is seeking to further weaken federal environmental laws in order to fast-track tar sands mines and pipelines, including changes hidden in last week's second omnibus budget bill.
"The Harper government's attempt to gut Canada's environmental safeguards and fast-track the destructive Enbridge and Kinder Morgan pipelines without listening to the voices of Canadians will increase the effects of climate change and put the health of Canadians and the environment in danger," said Susan Spratt, western regional director of the Canadian Auto Workers. "Today, we join our fellow Canadians to say no to this agenda and defend our coast, mountains, rivers, forests, wildlife and First Nations communities against tar sands pipelines and tankers. We want long-term green jobs that will take us beyond fossil fuels, not short-term high risk pipelines."
Today's sit-in is the largest act of peaceful civil disobedience on the tar sands issue in Canadian history. More than 80 leaders from Canada's business, First Nations, environmental, labor, academic, medical and artistic communities have endorsed the sit-in, including Stephen Lewis, David Suzuki, Maude Barlow, Naomi Klein, Tom Goldtooth, David Coles, Bill McKibben and Tony Clarke. Prominent entertainers have also added their names in support of the sit-in, including Mark Ruffalo, Daryl Hannah, Michael Moore, Ellen Page, Pamela Anderson, Peter Keleghan and Tantoo Cardinal.
"It's inspiring to see people from all walks of life and from across the country defending our right to say 'no' and to stand-up to projects that would put our communities at risk and to push back against Harper's reckless anti-environment agenda," said Chief Jackie Thomas of the Saik'uz First Nation. "Today's turnout shows the widespread opposition to tar sands tankers and the Enbridge pipeline. There's a clear message here for Canada's politicians, and they ignore it at their own peril."
The action began at 11 a.m. PST with a solidarity rally in front of the B.C. legislature featuring speeches from prominent First Nation Chiefs that would be directly impacted by the tar sands pipeline proposals and from leaders from Canada's labor, environmental and social justice communities. Following the speeches, participants staked a 245 meter-long black banner into the front lawn of the B.C. legislature, representing the length of the Aframax tankers that are transporting tar sands crude oil through Burrard Inlet and Georgia Strait, threatening B.C.'s marine ecosystems and coastal economies. The pending Enbridge and Kinder Morgan proposals threaten to quadruple this tanker traffic and further increase the risks to our coast.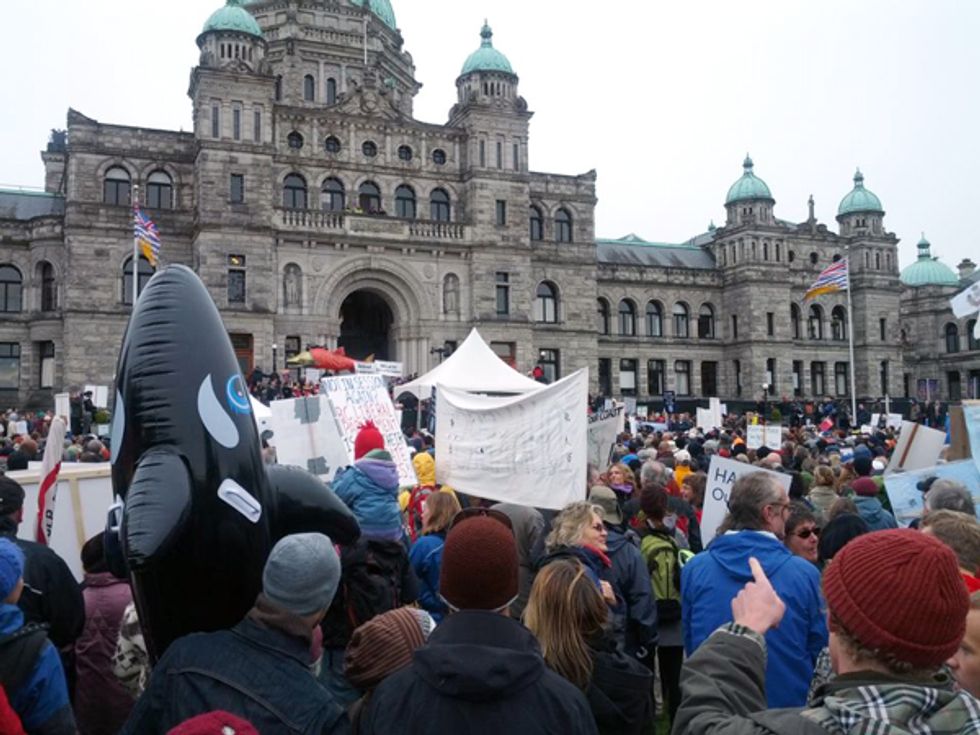 "These pipelines and tankers would take our country in the wrong direction," said Rick Zaleski, a homeowner from Chilliwack B.C., who works in online sales. "I've worked hard to build a life for my family in this beautiful province, and I'm worried about the future of my two sons if these projects go ahead. Pipelines affect us all, no matter where we live."
Groups providing support in organizing the Defend Our Coast event include Indigenous groups like the Indigenous Environment Network, Yinka Dene Alliance and Coastal First Nations; environmental and social justice groups like the Council of Canadians, Tanker Free BC, Greenpeace Canada and Occupy Vancouver Environmental Justice, and unions like the Communications, Energy and Paperworkers Union, Canadian Auto Workers, BC Teacher's Federation, Canadian Union of Public Employees—BC and the United Fishermen and Allied Workers' Union-CAW.
"Tar sands pipelines and tankers are not the solution, they're the problem," said Susan Lambert, president of the B.C. Teachers' Federation. "It's time to for our elected leaders to put an end to the tar sands industry's risky business and start focusing on a clean energy future for the people of Canada, especially our children."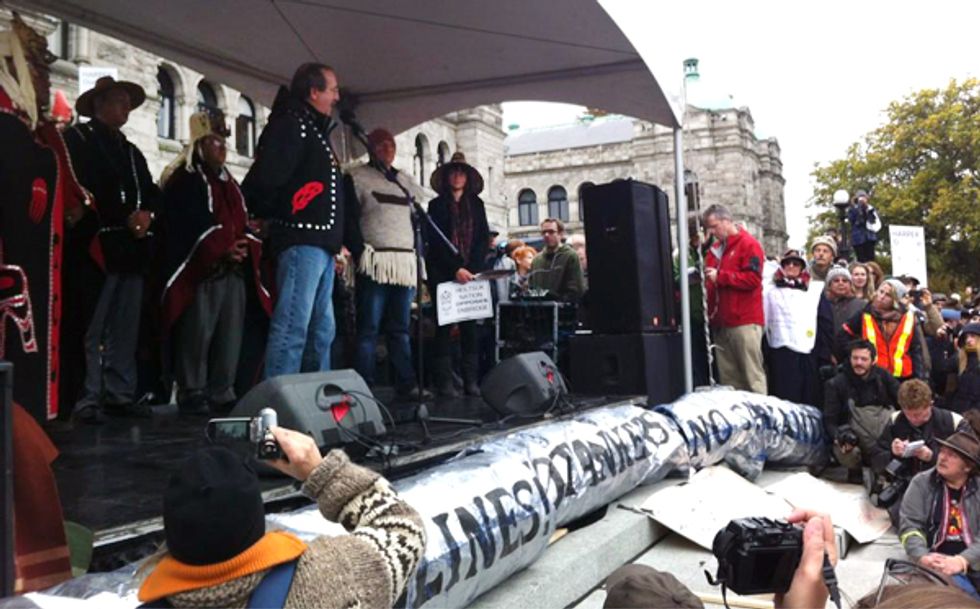 In 2010 alone, oil pipeline spills in Alberta occurred, on average, every 1.5 days, leaking more than 3 million liters of oil into the province's land and water systems. The proposed Enbridge and Kinder Morgan pipelines would carry up to 525,000 and 600,000 barrels per day, respectively.
"Pipeline or tanker accidents would be a disaster for our rivers and coast. But even if the oil arrives safely at its destination, the carbon emissions that would result from its use would contribute to a climate disaster," said George Hoberg, a professor in the University of British Columbia faculty of forestry. "If the Enbridge and Kinder Morgan pipelines are built, they'll be exporting 2.5 times more greenhouse gases than we currently emit within B.C."
"If these pipelines are allowed to be built, there will be no incentive to cut back on the production of fossil fuels and convert to the clean energy future we and the planet need," says Maude Barlow, chairperson of the Council of Canadians. "These pipelines are not only the arteries carrying the dirtiest oil on earth, they become the drivers of an expanded industry as there will be relentless pressure to keep them full. We must and will stop these pipelines."
"There are moments in history when it's clear that our elected leaders are failing us and it is necessary to speak up," said Art Sterritt of Coastal First Nations. "Today we are calling on Members of the Legislated Assembly and Parliament to stand up for Canada's west coast and the rights of First Nation people and all British Columbians. The absolute certainty of an oil spill will devastate the culture and economy of those who live on the west coast and will not be tolerated."  
In addition to today's sit-in in Victoria, a solidarity rally took place yesterday in Toronto and today in Montreal, as people across the country come together to defend Canada's west coast from tar sands tankers and pipelines.
Following today's sit-in, people will link arms in front of the MLA—Members of the Legislative Assembly—offices in more than 55 communities, including Liberal stronghold ridings, throughout B.C. on Oct. 24 to defend the coast and say no to tar sands pipelines and tankers.
Stay tuned to EcoWatch for further developments on this protest.
Visit EcoWatch's PIPELINE page for more related news on this topic.
EcoWatch Daily Newsletter
Related Articles from EcoWatch
Recent Stories from EcoWatch