This website uses cookies to ensure you get the best experience while browsing it. By clicking 'Got It' you're accepting these terms.


The best of EcoWatch, right in your inbox. Sign up for our email newsletter!
Huge News for Elephants: U.S. Bans Ivory Trade
Jun. 03, 2016 09:42AM EST
Animals
President Obama, along with the U.S. Fisheries and Wildlife Service, announced regulations Thursday to ban nearly all commercial elephant ivory trade in the country.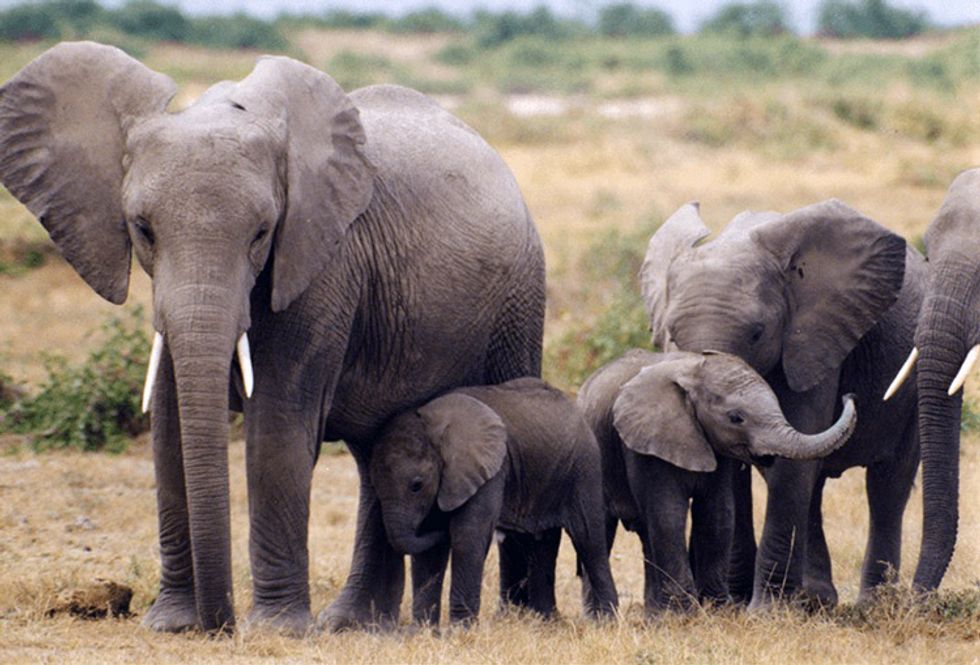 This landmark decision, coming from the country with the second-largest market for ivory, should have a significant impact on the trade. The ban helps fulfill President Obama's 2013 executive order to combat wildlife trafficking.
"We're excited the Obama administration has taken this important step to reduce the domestic trade in ivory," Sarah Uhlemann, international program director at the Center for Biological Diversity, said. "The United States has one of the largest markets for ivory in the world and reducing demand here will go a long way toward saving elephants in Africa."
The ban follows a series of actions Kenya has taken to end the illegal ivory trade, including the burning of huge piles of tusks. Experts say roughly 96 elephants are killed daily—30,000 annually—for their tusks.
Thursday's "bold action underscores the United States' leadership and commitment to ending the scourge of elephant poaching and the tragic impact it's having on wild populations," Sec. of the Interior Sally Jewell said, who serves as co-chair of the President's Task Force on Wildlife Trafficking. "We hope other nations will act quickly and decisively to stop the flow of blood ivory by implementing similar regulations, which are crucial to ensuring our grandchildren and their children know these iconic species."
Under current rules, ivory can be traded in the U.S. if it was imported before the African elephant was listed as endangered or if the animal died of natural causes as long as there was documentation, according to The New York Times. These rules provided opportunities for traffickers to use the legal markets as cover for illegal imports.
The new rules, which take effect July 6, limit the import of sport-hunted trophies to two per hunter, per year. Before the new rule there was no limit on trophies per year. The sale of ivory that was part of a move or inheritance is prohibited under the new rule. New prohibitions and restrictions will be placed on foreign commercial and noncommercial enterprises, The New York Times said.
"Since we proposed this rule in 2015, we received more than 1.3 million comments from the public, demonstrating that Americans care deeply about elephants and overwhelmingly support African elephant conservation," Fisheries and Wildlife Service Director Dan Ashe said. "Our actions close a major avenue to wildlife traffickers by removing the cover that legal ivory trade provides to the illegal trade. We still have much to do to save this species, but today is a good day for the African elephant."
One major exception to the rule allows musicians to trade instruments containing small amounts of ivory. Genuine antiques, artwork and chiseled chess pieces will be tradable under new conditions. Each item must be made with less than 200 grams of ivory to be eligible for sale, The Washington Post reported.
"We're particularly pleased that the rule confirms that domestic trade and international travel with existing musical instruments that contain small amounts of African elephant ivory aren't contributing to the poaching crisis," Heather Noonan, the vice president for advocacy at the League of American Orchestras, told The New York Times.
Not everyone is happy about the news. Ivory dealers and collectors said the new rules will cost them $11.9 million, according to The Washington Post. Century-old artifacts will be worthless because proving the item's age will be difficult.
"The result of this is the antique ivory business has all but ceased in this country," Anton Bruehl, a collector and researcher, told The Washington Post. "I cannot sell it in this country. I don't even know if I can donate it to this institution."
Bruehl conducted a survey of collectors that found up to 30,000 people who own ivory-adorned walking sticks, pianos, Japanese style panels painted with water colors and furniture will be affected by the new rules. Though, his opinion is not a popular one as the ban is receiving praise from all over the world.
Next week U.S. officials will visit Beijing to talk about further action against the global ivory trade, according to The Guardian. Ivory prices were already dropping in Asia in response to the ban, Peter Knights, chief executive of WildAid, said. He's hoping Japan will soon make a move to stop illegal trading.
For now, wildlife activists are celebrating this latest victory.
"The new regulations will make it much harder for criminals to use the United States as a staging ground for illegal ivory trade," Ginette Hemley, senior vice president of wildlife conservation at World Wildlife Fund, said. "They also send a strong signal to the international community that the US is committed to doing its part to save elephants in the wild."
This Newsy video provides more information about the ban and the state of ivory in the U.S.:
YOU MIGHT ALSO LIKE
Huge Success: Two Years of Zero Rhino Poaching in Nepal
Kenya to Burn Biggest Ever Stockpile of Illegal Ivory
Leonardo DiCaprio and Nicole Kidman to Attend Torching of Largest Ever Ivory Stockpile to Help Put an End to Poaching
Elephants Being Slaughtered for Ivory Faster Than They Can Reproduce
EcoWatch Daily Newsletter
Pexels
By Danielle Nierenberg and Katherine Walla
As the holiday season ramps up for many across the world, Food Tank is highlighting 15 children's books that will introduce young eaters, growers and innovators to the world of food and agriculture. Authors and organizations are working to show children the importance — and fun — of eating healthy, nutritious and delicious food, growing their own produce, and giving food to others in need.
Pixabay
Purple cabbage, also referred to as red cabbage, belongs to the Brassica genus of plants. This group includes nutrient-dense vegetables, such as broccoli, Brussels sprouts, and kale.
Pexels
By Lauren Wolahan
For the first time ever, the UN is building out a roadmap for curbing carbon pollution from agriculture. To take part in that process, a coalition of U.S. farmers traveled to the UN climate conference in Madrid, Spain this month to make the case for the role that large-scale farming operations, long criticized for their outsized emissions, can play in addressing climate change.
Pexels
In recent years, acai bowls have become one of the most hyped-up health foods on the market.
They're prepared from puréed acai berries — which are fruits grown in Central and South America — and served as a smoothie in a bowl or glass, topped with fruit, nuts, seeds, or granola.
Investing in grid infrastructure would enable utilities to incorporate modern technology, making the grid more resilient and flexible. STRATMAN2 / FLICKR
By Elliott Negin
The Royal Swedish Academy of Sciences' recent decision to award the 2019 Nobel Prize in Chemistry to scientists who developed rechargeable lithium-ion batteries reminded the world just how transformative they have been. Without them, we wouldn't have smartphones or electric cars. But it's their potential to store electricity generated by the sun and the wind at their peak that promises to be even more revolutionary, reducing our dependence on fossil fuels and protecting the planet from the worst consequences of climate change.