This website uses cookies to ensure you get the best experience while browsing it. By clicking 'Got It' you're accepting these terms.
Huge New Methane Blowholes in Siberia Have Scientists Worried Climate Change Is to Blame
Feb. 25, 2015 10:20AM EST
Climate
The large methane-filled blowholes that were discovered in Siberia last summer seem to be more numerous than originally thought, with four giant new craters, along with clusters of smaller ones, found in the permafrost in northern Russia. The new holes were discovered in the same general vicinity as the original three, on the Yamal Peninsula.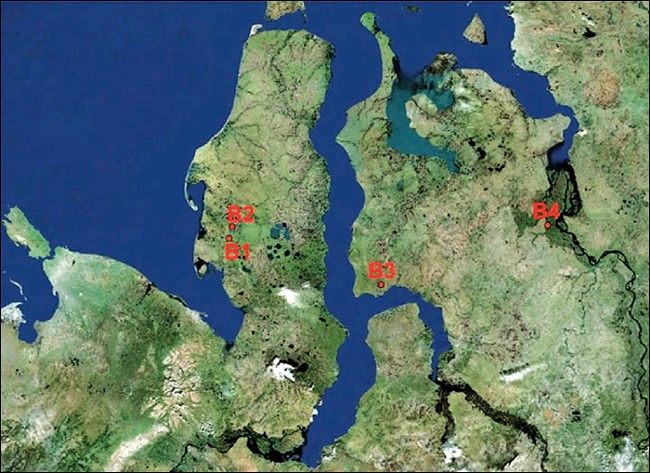 "We know now of seven craters in the Arctic area," professor Vasily Bogoyavlensky of the Moscow-based Oil and Gas Research Institutes and the Russian Academy of Sciences told the Siberian Times. "Five are directly on the Yamal peninsula, one in Yamal Autonomous district, and one is on the north of the Krasnoyarsk region, near the Taimyr peninsula. We have exact locations for only four of them. The other three were spotted by reindeer herders. But I am sure that there are more craters on Yamal, we just need to search for them. I would compare this with mushrooms: when you find one mushroom, be sure there are few more around. I suppose there could be 20 to 30 craters more."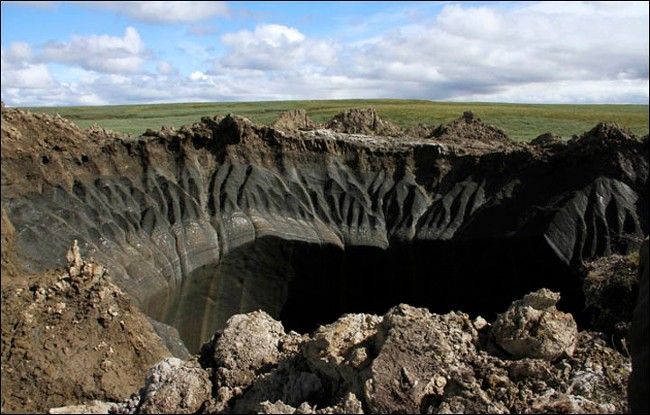 The cause of the blowholes is not entirely clear, although probable explanations have been coming into focus as Russian scientists have continued to study them. The most prominent theory is that exceptionally warm temperatures caused by climate change have released methane stored in the permafrost, causing a sort of explosion that creates the craters.
Bogoyavlensky says two of the craters have turned into lakes, as examination of satellite images has allowed scientists to learn more about them, their location and how numerous they are. It complements the exploration inside the craters undertaken late last year. Bogoyavlensky has urged further exploration but has warned about the risks involved, saying that leaking methane could cause new explosions at any time.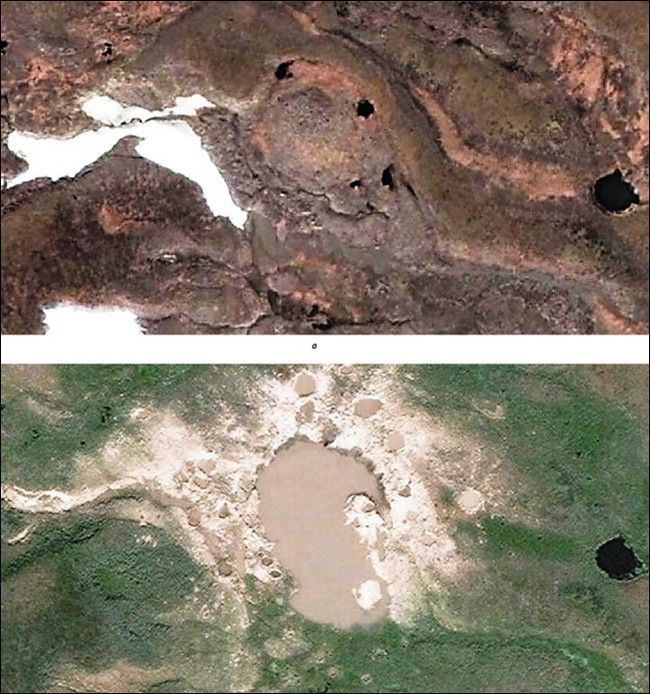 "We know that there can occur a series of gas emissions over an extended period of time, but we do not know exactly when they might happen," he said. "For example, you all remember the magnificent shots of the Yamal crater in winter, made during the latest expedition in November 2014. But do you know that Vladimir Pushkarev, director of the Russian Centre of Arctic Exploration, was the first man in the world who went down the crater of gas emission? More than this, it was very risky, because no one could guarantee there would not be new emissions."
YOU MIGHT ALSO LIKE
Methane Blow-Holes Sign of Runaway Climate Change?
Extraordinary Photos From Inside the Siberian Methane Blowhole
Russian Scientists: Global Warming Played Major Role in Siberian Craters
EcoWatch Daily Newsletter
Explosions and a blaze at the Philadelphia Energy Solutions Refining Complex on June 21.
VOA News / YouTube screenshot
A fire broke out at a Philadelphia oil refinery Friday morning, starting with an explosion so massive it was felt as far away as South Jersey and Delaware County, Pennsylvania, CNN reported.
Asian elephants in Bandipur National Park, India. Mike Prince / CC BY 2.0
By John R. Platt
Some of the tiniest creatures in Myanmar benefit from living near the largest species in the area.
Eucador's Waorani indigenous people celebrated a court ruling against oil extraction on their ancestral lands.
Oregon state capitol. Tashka / iStock / Getty Images
Oregon republicans fled their state rather than do anything to stop the climate crisis. The state republicans abrogated their duties as elected officials and ran away since they don't have the votes to stop a landmark bill that would make Oregon the second state to adopt a cap-and-trade program to curb greenhouse gas emissions, as Vice News reported.
The Burbo Bank Offshore Wind Farm in the Irish Sea in Wallasey, England. Christopher Furlong / Getty Images
The birthplace of coal power is changing its ways. For the first time since the industrial revolution, the United Kingdom will generate more electricity from clean energy sources like wind, solar and nuclear power rather than from fossil fuel plants, the country's National Grid said Friday, as the BBC reported.
A chimpanzee in Ol Pejeta Conservancy, Kenya. Ray in Manila / CC BY 2.0
By Ashley Edes
Whether you find it fascinating or disquieting, people recognize the inherent similarities between us and our closest primate relatives, especially the great apes. As a primatologist I regularly field questions ranging from how strong gorillas and chimpanzees are (very) to whether monkeys throw poop (not yet observed in the wild) to how smart they are (let's just say I can't compete with their puzzle-solving abilities).