This website uses cookies to ensure you get the best experience while browsing it. By clicking 'Got It' you're accepting these terms.
Huge New Methane Blowholes in Siberia Have Scientists Worried Climate Change Is to Blame
Feb. 25, 2015 10:20AM EST
Climate
The large methane-filled blowholes that were discovered in Siberia last summer seem to be more numerous than originally thought, with four giant new craters, along with clusters of smaller ones, found in the permafrost in northern Russia. The new holes were discovered in the same general vicinity as the original three, on the Yamal Peninsula.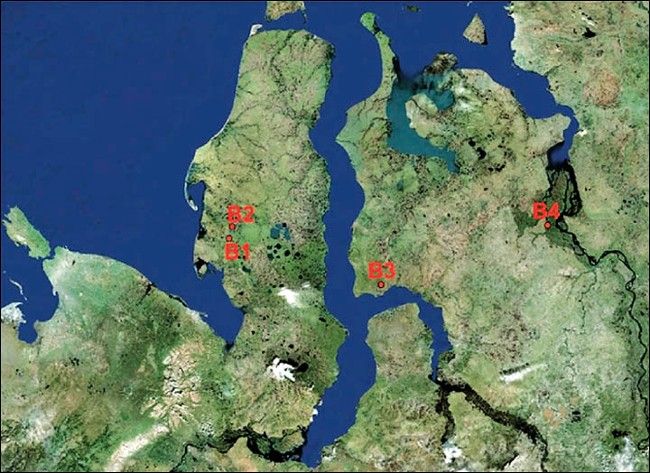 "We know now of seven craters in the Arctic area," professor Vasily Bogoyavlensky of the Moscow-based Oil and Gas Research Institutes and the Russian Academy of Sciences told the Siberian Times. "Five are directly on the Yamal peninsula, one in Yamal Autonomous district, and one is on the north of the Krasnoyarsk region, near the Taimyr peninsula. We have exact locations for only four of them. The other three were spotted by reindeer herders. But I am sure that there are more craters on Yamal, we just need to search for them. I would compare this with mushrooms: when you find one mushroom, be sure there are few more around. I suppose there could be 20 to 30 craters more."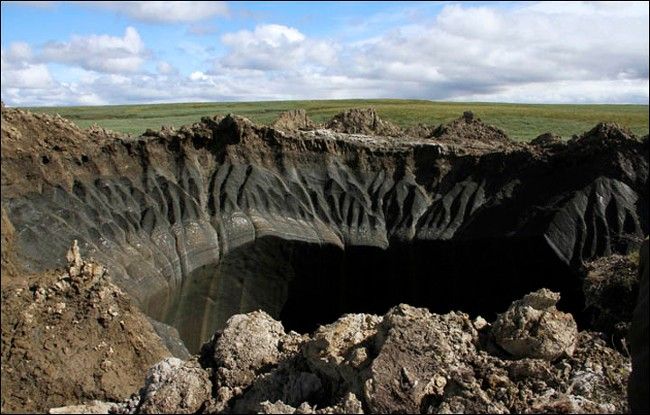 The cause of the blowholes is not entirely clear, although probable explanations have been coming into focus as Russian scientists have continued to study them. The most prominent theory is that exceptionally warm temperatures caused by climate change have released methane stored in the permafrost, causing a sort of explosion that creates the craters.
Bogoyavlensky says two of the craters have turned into lakes, as examination of satellite images has allowed scientists to learn more about them, their location and how numerous they are. It complements the exploration inside the craters undertaken late last year. Bogoyavlensky has urged further exploration but has warned about the risks involved, saying that leaking methane could cause new explosions at any time.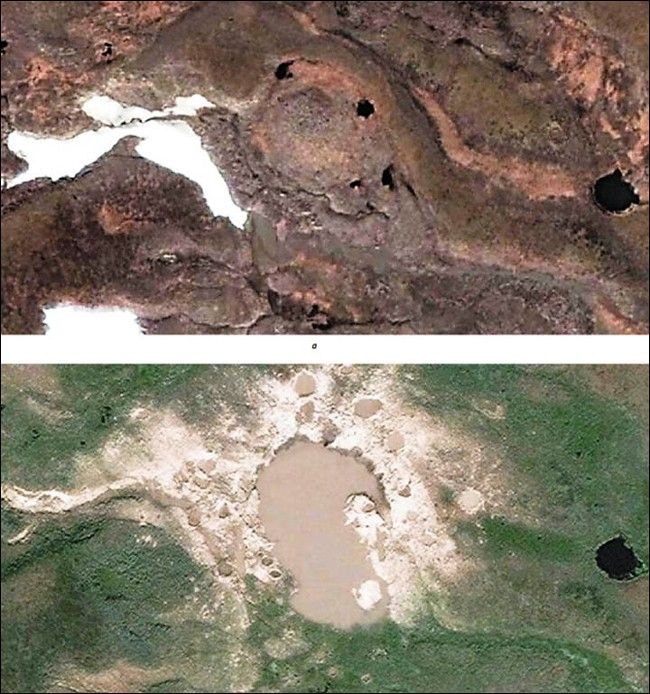 "We know that there can occur a series of gas emissions over an extended period of time, but we do not know exactly when they might happen," he said. "For example, you all remember the magnificent shots of the Yamal crater in winter, made during the latest expedition in November 2014. But do you know that Vladimir Pushkarev, director of the Russian Centre of Arctic Exploration, was the first man in the world who went down the crater of gas emission? More than this, it was very risky, because no one could guarantee there would not be new emissions."
YOU MIGHT ALSO LIKE
Methane Blow-Holes Sign of Runaway Climate Change?
Extraordinary Photos From Inside the Siberian Methane Blowhole
Russian Scientists: Global Warming Played Major Role in Siberian Craters
EcoWatch Daily Newsletter
By Anita Desikan
The Trump administration is routinely undermining your ability — and mine, and everyone else's in this country — to exercise our democratic rights to provide input on the administration's proposed actions through the public comment process. Public comments are just what they sound like: an opportunity for anyone in the public, both individuals and organizations, to submit a comment on a proposed rule that federal agencies are required by law to read and take into account. Public comments can raise the profile of an issue, can help amplify the voices of affected communities, and can show policymakers whether a proposal has broad support or is wildly unpopular.
Alena Gamm / EyeEm / Getty Images
Picture this: a world where chocolate is as rare as gold. No more five-dollar bags of candy on Halloween. No more boxes of truffles on Valentine's day. No more roasting s'mores by the campfire. No more hot chocolate on a cold winter's day.
Who wants to live in a world like that?
Fabian Krause / EyeEm / Getty Images
Water protectors of all persuasions gathered in talking circles at Borderland Ranch in Pe'Sla, the heart of the sacred Black Hills, during the first Sovereign Sisters Gathering. At the center are Cheryl Angel in red and white and on her left, Lyla June. Tracy Barnett
By Tracy L. Barnett
Sources reviewed this article for accuracy.
For Sicangu Lakota water protector Cheryl Angel, Standing Rock helped her define what she stands against: an economy rooted in extraction of resources and exploitation of people and planet. It wasn't until she'd had some distance that the vision of what she stands for came into focus.
Hedges, 2019 © Hugh Hayden. All photos courtesy of Lisson Gallery
By Patrick Rogers
"I'm really into trees," said the sculptor Hugh Hayden. "I'm drawn to plants."
BruceBlock / iStock / Getty Images
Thanks to their high concentration of powerful plant compounds, foods with a natural purple hue offer a wide array of health benefits.