This website uses cookies to ensure you get the best experience while browsing it. By clicking 'Got It' you're accepting these terms.
Huge New Methane Blowholes in Siberia Have Scientists Worried Climate Change Is to Blame
Feb. 25, 2015 10:20AM EST
Climate
The large methane-filled blowholes that were discovered in Siberia last summer seem to be more numerous than originally thought, with four giant new craters, along with clusters of smaller ones, found in the permafrost in northern Russia. The new holes were discovered in the same general vicinity as the original three, on the Yamal Peninsula.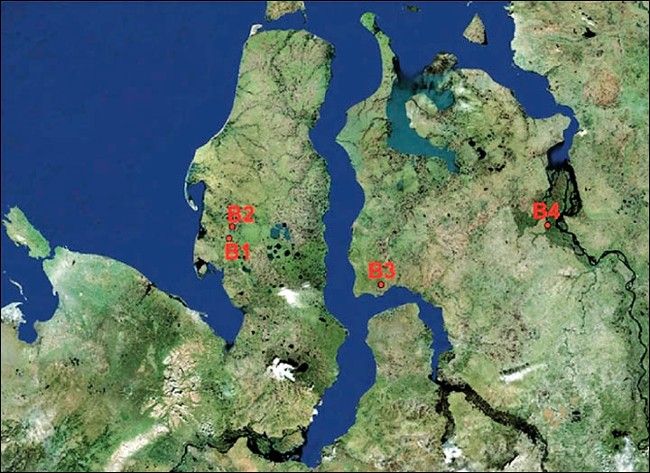 "We know now of seven craters in the Arctic area," professor Vasily Bogoyavlensky of the Moscow-based Oil and Gas Research Institutes and the Russian Academy of Sciences told the Siberian Times. "Five are directly on the Yamal peninsula, one in Yamal Autonomous district, and one is on the north of the Krasnoyarsk region, near the Taimyr peninsula. We have exact locations for only four of them. The other three were spotted by reindeer herders. But I am sure that there are more craters on Yamal, we just need to search for them. I would compare this with mushrooms: when you find one mushroom, be sure there are few more around. I suppose there could be 20 to 30 craters more."
The cause of the blowholes is not entirely clear, although probable explanations have been coming into focus as Russian scientists have continued to study them. The most prominent theory is that exceptionally warm temperatures caused by climate change have released methane stored in the permafrost, causing a sort of explosion that creates the craters.
Bogoyavlensky says two of the craters have turned into lakes, as examination of satellite images has allowed scientists to learn more about them, their location and how numerous they are. It complements the exploration inside the craters undertaken late last year. Bogoyavlensky has urged further exploration but has warned about the risks involved, saying that leaking methane could cause new explosions at any time.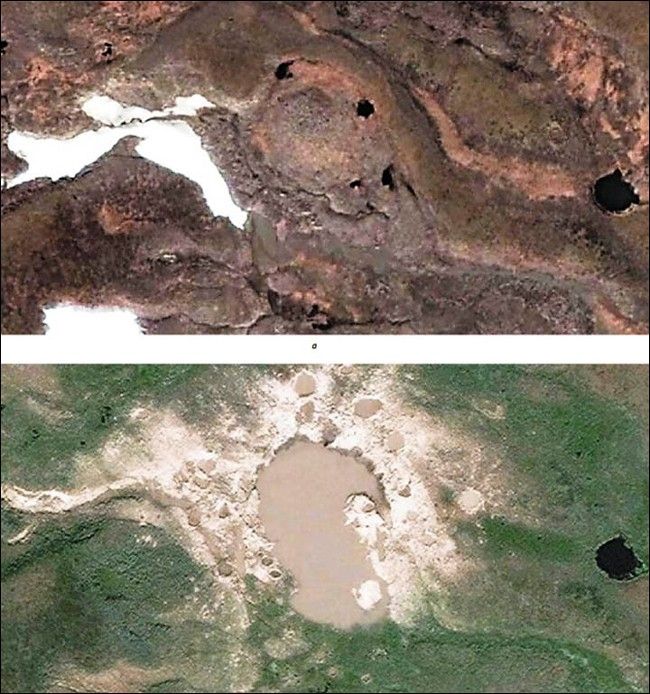 "We know that there can occur a series of gas emissions over an extended period of time, but we do not know exactly when they might happen," he said. "For example, you all remember the magnificent shots of the Yamal crater in winter, made during the latest expedition in November 2014. But do you know that Vladimir Pushkarev, director of the Russian Centre of Arctic Exploration, was the first man in the world who went down the crater of gas emission? More than this, it was very risky, because no one could guarantee there would not be new emissions."
YOU MIGHT ALSO LIKE
Methane Blow-Holes Sign of Runaway Climate Change?
Extraordinary Photos From Inside the Siberian Methane Blowhole
Russian Scientists: Global Warming Played Major Role in Siberian Craters
EcoWatch Daily Newsletter
Flames and smoke are seen billowing from the roof at Notre-Dame Cathedral on April 15 in Paris, France. Veronique de Viguerie / Getty Images
When Paris's Notre Dame caught fire on April 15, the flames threatened more than eight centuries of culture and history. The fire evoked shock, horror and grief worldwide. While the cathedral burned, French President Emmanuel Macron expressed determination to rebuild what the French regard as a sacred site.
An artist's impression of NASA's InSight lander on Mars. NASA / JPL-CALTECH
Scientists have likely detected a so-called marsquake — an earthquake on Mars — for the first time, The National Aeronautics and Space Administration (NASA) announced on Tuesday.
Hero Images / Getty Images
Across the political aisle, a majority of American parents support teaching climate change in schools even though most teachers currently do not.
By Andrea Germanos
Lawyer and visionary thinker Polly Higgins, who campaigned for ecocide to be internationally recognized as a crime on par with genocide and war crimes, died Sunday at the age of 50.
She had been diagnosed with an aggressive cancer last month and given just weeks to live.
The Anopheles stephensi mosquito, which carries malaria. CDC / Jim Gathany
The world's first malaria vaccine was launched in Malawi on Tuesday, NPR reported. It's an important day in health history. Not only is it the first malaria vaccine, it's the first vaccine to target any human parasite.
Ice-rich permafrost has been exposed due to coastal erosion, National Petroleum Reserve, Alaska. Brandt Meixell / USGS
By Jake Johnson
An alarming study released Tuesday found that melting Arctic permafrost could add nearly $70 trillion to the global cost of climate change unless immediate action is taken to slash carbon emissions.
According to the new research, published in the journal Nature Communications, melting permafrost caused by accelerating Arctic warming would add close to $70 trillion to the overall economic impact of climate change if the planet warms by 3°C by 2100.
Jeff Reed / NYC Council
The New York City Council last week overwhelmingly passed one of the most ambitious and innovative legislative packages ever considered by any major city to combat the existential threat of climate change.