This website uses cookies to ensure you get the best experience while browsing it. By clicking 'Got It' you're accepting these terms.
Huge Hydropower Plant to Harness Seawater and Solar Power in South America's Driest Desert
Jan. 22, 2016 03:54PM EST
Lodged between the Andes Mountains and the Pacific Ocean is the Atacama Desert in Chile—the driest non-polar desert in the world.
It certainly isn't a location where you'd expect to find a hydropower plant, but Valhalla, a Chilean company, plans to build Espejo de Tarapaca (Tarapaca Mirror), a 300-megawatt solar and hydropower plant.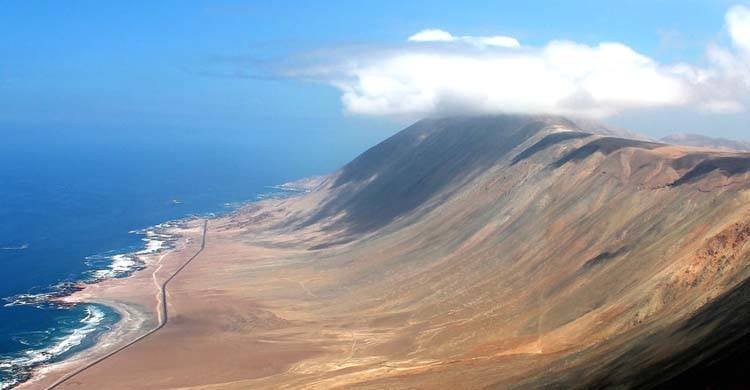 During the day, the plant will use solar power to move seawater up a tunnel to the top of a mountain, where the water will be stored in a natural reservoir, explained FastCoExist. At night, the water will be released back down, generating power as it falls. This way, the plant can generate power day and night. Pumped storage hydropower plants are not a new concept, but utilizing solar power to pump the water is.
"You need to be able to provide power when it's needed, so it's readily available and dispatchable," Francisco Torrealba, co-founder of Valhalla, told FastCoExist. "If on a particular day you don't have wind and can't provide energy at a peak time, that would be a huge crisis. That's why our concept becomes relevant."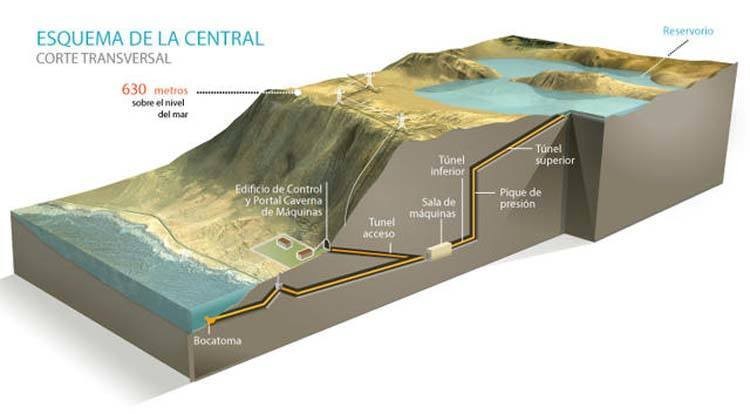 The Chilean coast is an ideal location for this type of project. "Chile has the best conditions in the world for solar plants—roughly 15 percent better than Arizona," Torrealba said. "It's really stunning. But Chile also has the best conditions in the world for pump storage running with seawater. That means we can produce flat, steady power at a very reasonable price."
The company won't have to construct dams, either. "We found these natural depressions that we believe were very ancient lakes, but obviously there is nothing there now, it is a desert, that will allow us to store water," the company's co-founder and chief executive Juan Andres Camus told Reuters.
And it's currently cost-competitive with coal. "In Chile, we don't have any subsidies for renewables, so we need to be able to compete straight with coal generation," Torrealba explained. "It's a very Darwinian world—you need to be able to play against coal. Our cost structure is at the price of coal right now."
Valhalla is set to begin construction on the plant in the second half of 2016. They're still in the process of securing funding for the venture, but they estimate they will be supplying electricity to utilities by 2020. They believe the Chilean coastline has the potential to supply power for all of South America.
"The region of Tarapaca can be a leader in solar energy," Torrealba told Tunneling Journal. "And Chile can become an energy superpower in the world."
"We could completely replace all the generation in South America," he told FastCoExist. "You could very easily envision a South America in 20-25 years which has an integrated grid all throughout the continent, in which Chile could be providing very cheap, clean electricity with this combination of pump storage and solar power."
YOU MIGHT ALSO LIKE
Find Out How Close Your City Is to Going 100% Clean Energy
PeopleImages / E+ / Getty Images
By Daniel Ross
Hurricane Florence, which battered the U.S. East Coast last September, left a trail of ruin and destruction estimated to cost between $17 billion and $22 billion. Some of the damage was all too visible—smashed homes and livelihoods. But other damage was less so, like the long-term environmental impacts in North Carolina from hog waste that spilled out over large open-air lagoons saturated in the rains.
Hog waste can contain potentially dangerous pathogens, pharmaceuticals and chemicals. According to the state's Department of Environmental Quality, as of early October nearly 100 such lagoons were damaged, breached or were very close to being so, the effluent from which can seep into waterways and drinking water supplies.
This picture taken on May 21, 2018 shows discarded climbing equipment and rubbish scattered around Camp 4 of Mount Everest. Decades of commercial mountaineering have turned Mount Everest into the world's highest rubbish dump as an increasing number of big-spending climbers pay little attention to the ugly footprint they leave behind. DOMA SHERPA / AFP / Getty Images
China has closed its Everest base camp to tourists because of a buildup of trash on the world's tallest mountain.
Researchers tested the eggs of Arctic northern fulmers like these in Nunavut, Canada.
Fiona Paton / Flickr
By Madison Dapcevich
Plastics have been recorded in every corner of the world, from the remote icy waters of Antarctica to the bellies of deep-sea fishes. Now, preliminary findings presented at this year's American Association for the Advancement of Science (AAAS) annual meeting in Washington, DC suggest that bird eggs from the high Arctic—one of the most remote wildernesses on the planet—show evidence of contamination from chemicals used in plastics.

A small Australian rat that lived on a 12 acre island in the Great Barrier Reef has become the first mammal to go extinct primarily because of human-caused climate change, the Australian Government confirmed Monday.
The Bramble Cay melomys was first declared extinct after a 2014 search on Bramble Cay, its native island in the Torres Strait, between Queensland, Australia and Papua New Guinea, according to a 2016 report by the University of Queensland and the Queensland government.