This website uses cookies to ensure you get the best experience while browsing it. By clicking 'Got It' you're accepting these terms.


The best of EcoWatch, right in your inbox. Sign up for our email newsletter!
Huge Hydropower Plant to Harness Seawater and Solar Power in South America's Driest Desert
Jan. 22, 2016 03:54PM EST
Business
Lodged between the Andes Mountains and the Pacific Ocean is the Atacama Desert in Chile—the driest non-polar desert in the world.
It certainly isn't a location where you'd expect to find a hydropower plant, but Valhalla, a Chilean company, plans to build Espejo de Tarapaca (Tarapaca Mirror), a 300-megawatt solar and hydropower plant.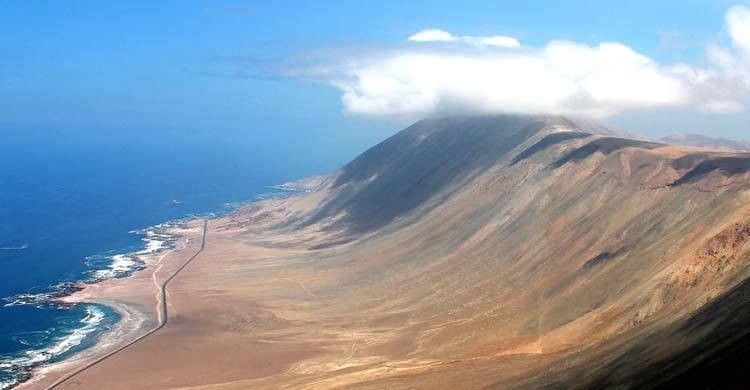 During the day, the plant will use solar power to move seawater up a tunnel to the top of a mountain, where the water will be stored in a natural reservoir, explained FastCoExist. At night, the water will be released back down, generating power as it falls. This way, the plant can generate power day and night. Pumped storage hydropower plants are not a new concept, but utilizing solar power to pump the water is.
"You need to be able to provide power when it's needed, so it's readily available and dispatchable," Francisco Torrealba, co-founder of Valhalla, told FastCoExist. "If on a particular day you don't have wind and can't provide energy at a peak time, that would be a huge crisis. That's why our concept becomes relevant."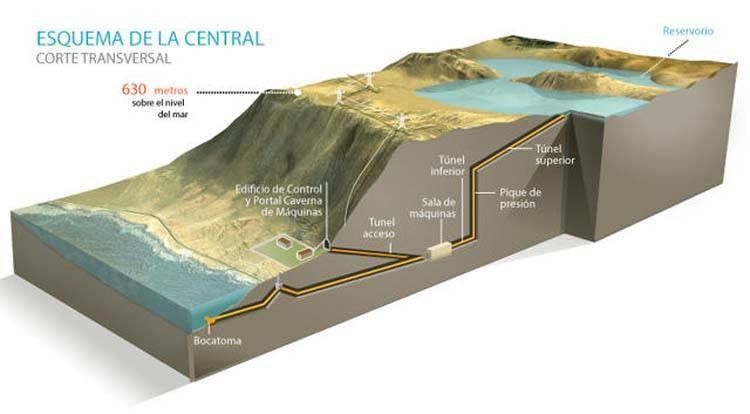 The Chilean coast is an ideal location for this type of project. "Chile has the best conditions in the world for solar plants—roughly 15 percent better than Arizona," Torrealba said. "It's really stunning. But Chile also has the best conditions in the world for pump storage running with seawater. That means we can produce flat, steady power at a very reasonable price."
The company won't have to construct dams, either. "We found these natural depressions that we believe were very ancient lakes, but obviously there is nothing there now, it is a desert, that will allow us to store water," the company's co-founder and chief executive Juan Andres Camus told Reuters.
And it's currently cost-competitive with coal. "In Chile, we don't have any subsidies for renewables, so we need to be able to compete straight with coal generation," Torrealba explained. "It's a very Darwinian world—you need to be able to play against coal. Our cost structure is at the price of coal right now."
Valhalla is set to begin construction on the plant in the second half of 2016. They're still in the process of securing funding for the venture, but they estimate they will be supplying electricity to utilities by 2020. They believe the Chilean coastline has the potential to supply power for all of South America.
"The region of Tarapaca can be a leader in solar energy," Torrealba told Tunneling Journal. "And Chile can become an energy superpower in the world."
"We could completely replace all the generation in South America," he told FastCoExist. "You could very easily envision a South America in 20-25 years which has an integrated grid all throughout the continent, in which Chile could be providing very cheap, clean electricity with this combination of pump storage and solar power."
YOU MIGHT ALSO LIKE
Find Out How Close Your City Is to Going 100% Clean Energy
EcoWatch Daily Newsletter
arinahabich / Stock / Getty Images
By Sydney Swanson
With April hopping along and Easter just around the corner, it's time for dyeing eggs (and inadvertently, dyeing hands.) It's easy to grab an egg-dyeing kit at the local supermarket or drug store, but those dye ingredients are not pretty.
Aerial of farmland and mountains near Seaward Kaikoura Range in New Zealand. David Wall Photo / Lonely Planet Images / Getty Images Plus
By Jordan Davidson
New Zealand's pristine image as a haven of untouched forests and landscapes was tarnished this week by a brand new government report. The Environment Aotearoa 2019 painted a bleak image of the island nation's environment and its future prospects.
heshphoto / Image Source / Getty Images
Mike Taube / Getty Images
A new EPA rule on asbestos does not say anything about the asbestos currently in the environment. Bob Allen / Getty Images
A mountain woodland caribou bull in the Muskwa-Kechika Wilderness area in northern British Columbia, Canada. John E Marriott / All Canada Photos / Getty Images
It's heartening, in the midst of the human-caused sixth mass extinction, to find good wildlife recovery news. As plant and animal species disappear faster than they have for millions of years, Russia's Siberian, or Amur, tigers are making a comeback. After falling to a low of just a few dozen in the mid-20th century, the tigers now number around 500, with close to 100 cubs — thanks to conservation measures that include habitat restoration and an illegal hunting crackdown.