This website uses cookies to ensure you get the best experience while browsing it. By clicking 'Got It' you're accepting these terms.
​How ​Your Tax Dollars Fund Climate Change Denial
Jul. 16, 2014 08:46AM EST
Though the U.S. government continued sounding the alarm on climate change over the past year, its subsidies to fossil fuel companies grew.
Since President Barack Obama took office in 2009, federal fossil fuel subsidies have grown by 45 percent, from $12.7 billion to a current total of $18.5 billion, according to a report from Oil Change International.
Las year alone, U.S. federal and state governments provided $21.6 billion in production and exploration subsidies to the oil, gas, and coal industries. The increase is a result of oil and gas booms that are rewarded with tax breaks and other incentives. They are essentially rewarded for accelerating climate change, the report concludes.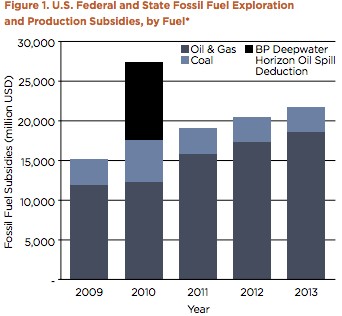 "Channeling billions of taxpayer dollars to the oil, gas, and coal industries each year is in direct opposition to the urgent demands of climate change," the report's executive summary reads. "The U.S. needs to reject its current All of the Above energy strategy that amounts to nothing less than climate denial and live up to its promises to eliminate fossil fuel subsidies and usher in a rapid transition to clean, renewable energy."
The All of the Above policy opened the door for fossil fuels to remain alongside increases in renewable energy. Oil Change's report includes more startling facts:
U.S. taxpayers  spend more than $5 billion each year for federal subsidies that encourage further exploration and development of new fossil fuel resources.
Subsidies that promote fossil fuel production on federal property—related to rules governing royalty payments to the U.S. government for leasing federal oil, gas and coal-producing land—total nearly $4 billion each year.

Additional costs borne by taxpayers related to the military, climate, local environmental and health impacts of the fossil fuel industry are estimated between $360 billion and $1 trillion each year in the U.S.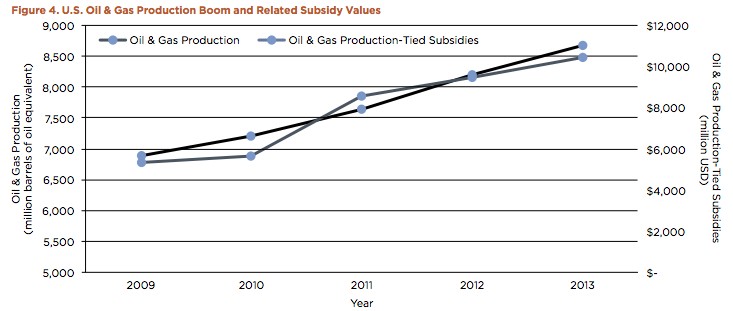 Obama can't be fully blamed for the subsidies, though. According to the report, he has proposed ending some of the fastest-growing subsidies to the oil industry in every budget he has sent to Capitol Hill. Congress typically blocks the proposals. Had members passed last year's proposal, about $6.1 billion less in subsidies would have been issued to the industry.
The "cozy relationship" between Congress and the fossil fuel industry can be thanked for that, according to Oil Change. In 2011 and 2012, oil, gas, and coal companies spent $329 million in campaign contributions and lobbying expenditures. They received $33 billion in federal subsidies over those same two years.
That's more than a 10,000 percent return on investment.
Plus, learn if there's one that's best for your health.
Catherine Falls Commercial / Moment / Getty Images
An invasive Amynthas worm, also known as a crazy snake worm, Asian jumping worm and Alabama jumper Tom Potterfield / Flickr
By Jason Bittel
My wife and I built a house two years ago on a few acres of woodland outside of Pittsburgh. The backyard is full of maples, poplars, briars and common spicebush. Two-lined salamanders and grumpy-looking crayfish wade among the rocks in the small stream that runs down the edge of the property. Deer, raccoon and opossum tracks appear regularly in the snow and mud. Sometimes, my trail-cam even catches a pair of gray foxes as they slink through the night.
AleksandarNakic / Getty Images
By Kate Murphy
No matter the time of year, there's always a point in each season when my skin decides to cause me issues. While these skin issues can vary, I find the most common issues to be dryness, acne and redness.

David Woodfall / The Image Bank / Getty Images
By Sam Nickerson
The U.S. Environmental Protection Agency (EPA) in April 2018 proposed relaxing standards related to how it assesses the effects of exposure to low levels of toxic chemicals on public health.
Now, correspondence obtained by the LA Times revealed just how deeply involved industry lobbyists and a controversial, industry-funded toxicologist were in drafting the federal agency's proposal to scrap its current, protective approach to regulating toxin exposure.
Steve Irwin poses with a three foot long alligator at the San Francisco Zoo on June 26, 2002. Justin Sullivan / Getty Images
February 22 is the birthday of conservationist and beloved TV personality "Crocodile Hunter" Steve Irwin, who would have been 57 years old today.
Irwin's life was tragically cut short when the barb from a stingray went through his chest while he was filming in 2006, but his legacy of loving and protecting wildlife lives on, most recently in a Google Doodle today honoring his birthday.