How You Can Help Save the Whales by Eating the Right Fish
Attention seafood lovers: if you buy (or eat) fish sourced from one of Iceland's leading seafood companies, you are unwittingly funding whaling.
As part of the Don't Buy From Icelandic Whalers coalition, Natural Resources Defense Council and other groups brought this message to Boston earlier this month, urging seafood companies at the Seafood Expo North America not to do business with the giant Icelandic seafood company HB Grandi or its subsidiaries—companies linked to and controlled by Icelandic whaling interests.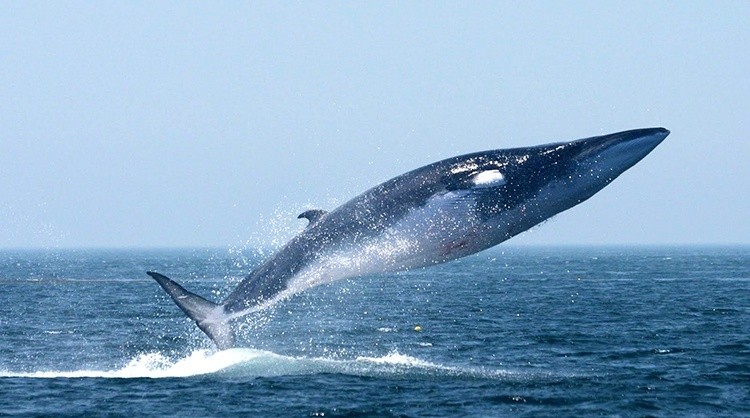 HB Grandi—Iceland's largest seafood company—plays a very active role in Iceland's whaling industry. Not only does it provide its facilities for the processing of endangered fin whale meat for the export market (i.e., to Japan), but it is also controlled by the whaling and investment company Hvalur hf. Last year, Hvalur killed 155 endangered fin whales, the highest number since the moratorium on commercial whaling took effect. Hvalur is responsible for the deaths of more than 700 endangered fin whales since 2006.
Fin whales, known as the "greyhounds of the sea" for their sleekness and speed, are the world's second largest animal and are listed as an endangered species.
Hvalur announced earlier this month that it would not hunt fin whales this summer, citing issues with exports to Japan, its main market. While Hvalur's planned suspension of its summer fin whale hunt is great news for the whales, whaling has been suspended in Iceland in the past (after the tsunami), only to later resume.

Endangered fin whales will receive a temporary reprieve from Iceland's harpoons this summer, but the coalition continues to urge companies to use their buying power to ensure Iceland stops killing whales permanently.
In addition to outreach at the Boston Seafood Expo, we wrote to major U.S. wholesalers and retailers that source Icelandic seafood, urging them to audit their supply chains in order to reassure the public that they are not buying fish from companies linked to whaling. Most recently, the popular retail chain Wegmans and seafood supplier Iceland Seafood International provided written statements confirming they do not source from companies linked to Icelandic whaling. High Liner Foods, Ahold USA and Trader Joe's have also pledged their opposition to commercial whaling and confirmed they do not source seafood from HB Grandi.
But many other companies have not responded to our request.
The coalition website, www.DontBuyFromIcelandicWhalers.com, identifies which North American businesses purchase seafood from companies linked to Hvalur and provides information for consumers about how to take action against Icelandic whaling.
Click here for more information and to take action.
YOU MIGHT ALSO LIKE
SeaWorld's Famous Whale and 'Blackfish' Star Is Dying
Endangered Species Found Dead, Likely Result of Illegal Fishing
Ocean 'Artivist' Creates Breathtaking Coral Reef Sculptures
Young Humpback Whale Found Dead, Exposes Devastating Impacts of Ocean Trash
A coalition of conservation groups and others announced Thursday that a historic number of comments and petitions of support have been submitted to the U.S. Department of the Interior in support of Bears Ears National Monument. Despite the entirely inadequate 15-day comment period ending on May 26, more than 685,000 comments in support of Bears Ears National Monument have been collected.
Keep reading...
Show less
Rink Glacier in western Greenland, with a meltwater lake visible center. NASA/OIB
Scientists have had their eyes on Greenland as its iconic glaciers have begun disappearing due to a warming climate. But, what they didn't expect to see was a whole new type of melting.
Keep reading...
Show less
Mountain View Fire
By Lena Moffitt
An oil tanker in Mead, Colorado exploded, killing one and injuring three on Thursday. Authorities are continuing to investigate the cause of the explosion.
Keep reading...
Show less
Banner created by Alliance for Climate Education
Keep reading...
Show less
Twenty-two GOP senators sent a letter Thursday urging Donald Trump to pull out of the Paris agreement. They argued remaining in the deal could "upend" the administration's ability "to fulfill its goal of rescinding the Clean Power Plan."
Keep reading...
Show less
By Cheryl Johncox
The Federal Energy Regulatory Commission (FERC) rejected on Thursday Energy Transfer Partners' request to resume horizontal directional drilling at two sites for its Rover fracked gas pipeline. This rejection comes after numerous leaks into Ohio's wetlands, and Clean Air and Clean Water act violations. FERC has halted the process at only eight locations of the 32 where drilling is taking place under Ohio's wetlands and streams.
Keep reading...
Show less
By Nadia Prupis
A majority of people in eight countries say they are ready to change their lifestyles if it would prevent climate catastrophe, a survey on global threats released Wednesday found.
Keep reading...
Show less
May. 25, 2017 01:55PM EST
Bill Maher is sick of billionaires' obsession with Mars, more like "Mars-a-Lago," he said.
In a new animation produced by ATTN:, the popular talk show host of Real Time, discusses the perils of our planet, including how "climate change is killing us."
Keep reading...
Show less