This website uses cookies to ensure you get the best experience while browsing it. By clicking 'Got It' you're accepting these terms.
How You Can Help Prevent an Arctic Nightmare
May. 14, 2015 08:31AM EST

I had a terrible nightmare: President Mitt Romney approved Shell Oil's drilling plans for the Chukchi Sea off the coast of Alaska. He did it even though his own Department of the Interior calculated that the odds of a large oil spill were 75 percent. He did it even though no proven method exists to respond to such a spill. He did it even though indigenous Alaskan culture has centered on traditional harvests of marine resources for thousands of years. He did it even though all known, extractable Arctic oil and gas reserves must remain undeveloped if the world wants to avoid the worst effects of climate disruption. He did it even though such a spill would affect fish, birds from around the globe and marine mammals such as polar bears, walruses, seals, and bowhead and beluga whales. He did it in spite of Shell's abysmal track record in the Arctic, which could inspire the next Dumb and Dumber sequel.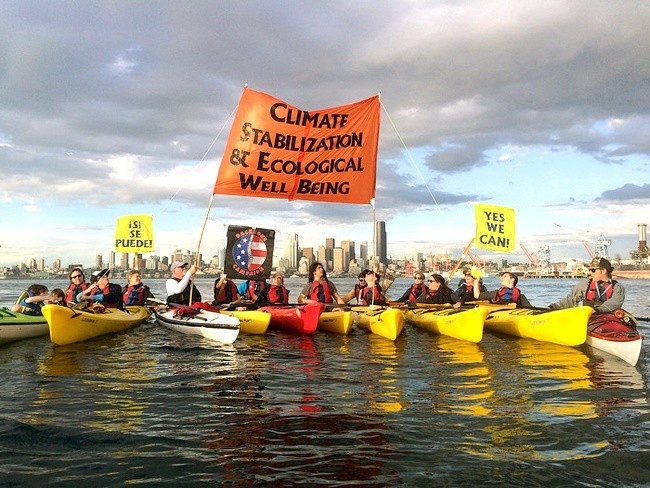 When I woke up and realized that Romney had lost the election, I was momentarily relieved. But then the nightmare started all over again. Because everything else really did happen—only it was President Barack Obama, the man we worked so hard to put in the White House, whose Interior Department decided it would be OK to spill oil in the Arctic.
How are we supposed to make sense of this?
Is it because Obama is worried about his next election? There isn't one. Is it because he's beholden to the petroleum industry? They never supported him. Is it because he thinks the U.S., as the new chair of the Arctic Council, should lead by some kind of perverse counterexample? Here's what Secretary of State John Kerry said at the council's annual meeting last month: "The Arctic Council can do more on climate change ... we all know the clock is ticking, and we actually don't have a lot of time to waste." OK, so let's release millions more tons of greenhouse gases and melt the Arctic even faster.
If this is U.S. climate leadership, then I'd hate to see what climate irresponsibility looks like.
Why is it so hard for so many of our leaders to recognize what Martin Luther King, Jr., once called "the fierce urgency of now?" We really don't have time to waste, yet our government keeps promoting drilling, fracking and mining as if the laws of nature could be suspended at our convenience.
As for America's Arctic, President Obama, Secretary Kerry and Interior Secretary Sally Jewell will have long since left office when, as predicted by their own experts, disaster strikes on the dark, stormy waters of the Chukchi. The nearest Coast Guard station is more than 1,000 miles away. As strong currents and winds spread oil to the most sensitive marine areas and coastlines, all anyone will be able to do is watch and wish we had not been so reckless.
But it's still not too late to change the odds. The chances of a major spill are three-in-four, but only if Shell is allowed to go through with its crazy plans. Already, the idea that our government would take such an appalling risk is inspiring outraged citizens to rise up and say "no way!"
Even before the Obama administration's approval of Shell's drilling plans, "kayaktivists" in the Pacific Northwest were planning to protest the oil company's plans to lease a terminal in the Port of Seattle for its drilling fleet. This Saturday they'll stage a "sHell No Flotilla" and an accompanying rally on dry land. There will also be a solar and wind-powered, crowd-funded "People's Platform" marine barge—with the message "Next Time Try Solar."
According to Seattle mayor Ed Murray, who supports denying Shell a permit to use his city's port, "We need to focus our port, our businesses, on the new economy, on things like clean energy of the future and not on the old economy that is dying out, such as oil." Exactly. But the resistance in Seattle needs to be just the beginning, because we cannot let this stand.
If Shell does end up drilling in the Arctic, much of the responsibility will rest with President Obama and his administration. But if we don't shout it from the rooftops (or our kayaks) that this is a terrible mistake, if we don't make the case that fossil fuels can and must stay in the ground—that tomorrow is today—then some of the blame must rest with us, too.
I'm not too worried about that, though. You can bet the Sierra Club won't give up this fight, nor will the millions of other people who want our leaders to match rhetoric with reality. When our leaders let us down, we have two choices: complain or raise hell. Which will it be?  It's our obligation to do both.
If you're within driving distance of Seattle this weekend, come join the rally—by land or by sea. And if you want to take a stand against climate disruption and Arctic exploitation, and believe that clean energy would do a better job, throw in a few dollars for our friends in Seattle working to stop Shell before it starts.
YOU MIGHT ALSO LIKE
9 Companies Leading the Charge to Green the Internet (And 7 That Aren't)
How Solar Can Help Power Nepal's Relief and Recovery Efforts
Why Renewables Are a Better Investment Than Cheap Oil to Grow the Global Economy
Prince William and British naturalist David Attenborough attend converse during the World Economic Forum annual meeting, on January 22 in Davos, Switzerland. Fabrice Cofferini /AFP / Getty Images
Britain's Prince William interviewed famed broadcaster David Attenborough on Tuesday at the World Economic Forum's annual meeting in Switzerland.
During the sit-down, the 92-year-old naturalist advised the world leaders and business elite gathered in Davos this week that we must respect and protect the natural world, adding that the future of its survival—as well as humanity's survival—is in our hands.
Electric vehicle sales took off in 2018, with a record two million units sold around the world, according to a new Deloitte analysis.
What's more, the accounting firm predicts that another 21 million electric cars will be on the road globally over the next decade due to growing market demand for clean transportation, government subsidies, as well as bans on fossil fuel cars.
Teenager Alex Weber and friends collected nearly 40,000 golf balls hit into the ocean from a handful of California golf courses.
Alex Weber /
CC BY-ND
Southwest Greenland had the most consistent ice loss from 2003 to 2012. Eqalugaarsuit, Ostgronland, Greenland on Aug. 1, 2018.
Rob Oo / CC BY 2.0
Greenland is melting about four times faster than it was in 2003, a new study published Monday in the Proceedings of the National Academy of Sciences found, a discovery with frightening implications for the pace and extent of future sea level rise.
"We're going to see faster and faster sea level rise for the foreseeable future," study lead author and Ohio State University geodynamics professor Dr. Michael Bevis said in a press release. "Once you hit that tipping point, the only question is: How severe does it get?"
Finally, some good news about the otherwise terrible partial government shutdown. A federal judge ruled that the Trump administration cannot issue permits to conduct seismic testing during the government impasse.
The Justice Department sought to delay—or stay—a motion filed by a range of coastal cities, businesses and conservation organizations that are suing the Trump administration over offshore oil drilling, Reuters reported. The department argued that it did not have the resources it needed to work on the case due to the shutdown.
Most people have heard of the Amazon, South America's famed rainforest and hub of biological diversity. Less well known, though no less critical, is the Pantanal, the world's largest tropical wetland.
Like the Amazon, the Pantanal is ecologically important and imperiled. Located primarily in Brazil, it also stretches into neighboring Bolivia and Paraguay. Covering an area larger than England at more than 70,000 square miles, the massive wetland provides irreplaceable ecosystem services that include the regulation of floodwaters, nutrient renewal, river flow for navigability, groundwater recharge and carbon sequestration. The wetland also supports the economies of the four South American states it covers.
Demonstrators participate in a protest march over agricultural policy on Jan. 19 in Berlin, Germany. Carsten Koall / Getty Images Europe
By Andrea Germanos
Organizers said 35,000 people marched through the streets of the German capital on Saturday to say they're "fed up" with industrial agriculture and call for a transformation to a system that instead supports the welfare of the environment, animals and rural farmers.

The fire that erupted after a pipeline explosion in Mexico Friday. FRANCISCO VILLEDA / AFP / Getty Images
By Patrick Rogers
If you have ever considered making the switch to an environmentally friendly electric vehicle, don't drag your feet. Though EV prices are falling, and states are unveiling more and more public charging stations and plug-in-ready parking spots, the federal government is doing everything it can to slam the brakes on our progress away from gas-burning internal combustion engines. President Trump, likely pressured by his allies in the fossil fuel industry, has threatened to end the federal tax credits that have already helped put hundreds of thousands of EVs on the road—a move bound to harm not only our environment but our economy, too. After all, the manufacturing and sale of EVs, hybrids, and plug-in hybrids supported 197,000 jobs in 2017, according to the most recent U.S. Energy and Employment Report.