This website uses cookies to ensure you get the best experience while browsing it. By clicking 'Got It' you're accepting these terms.


The best of EcoWatch, right in your inbox. Sign up for our email newsletter!
How Wind Power is Saving Millions During Polar Vortex
Jan. 28, 2014 08:53AM EST
Business
By Michael Goggin
For the second time in two weeks, wind power once again kept consumers' energy costs down as extreme cold drove energy prices to record highs across much of the eastern U.S.
Electricity and natural gas prices skyrocketed to 10 to 50 times normal across parts of the Mid-Atlantic and Great Lakes states as extreme cold drove demand for electric and gas heating to near-record levels late last week. Fortunately, regional wind energy output was strong throughout these periods of peak demand, producing around 3,000 megawatts (MW) on the evening of Jan. 22 when supply was particularly tight, and roughly 3,000 to 4,000 MW for nearly all of Jan. 23 as electricity prices remained very high.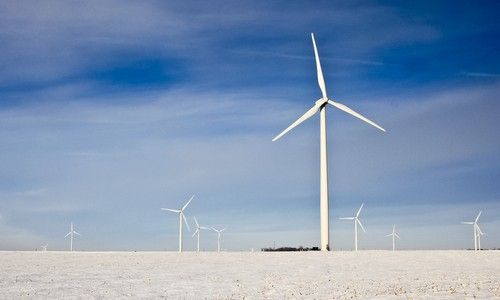 Photo courtesy of Shutterstock
The savings that wind energy provided for consumers last week likely tally in the millions if not tens of millions of dollars, as wind energy reduced consumers' energy costs in several major ways. Wind energy always provides these savings for consumers, which is why more than a dozen state government, grid operator, and other studies have confirmed that wind energy reduces consumers' electricity prices.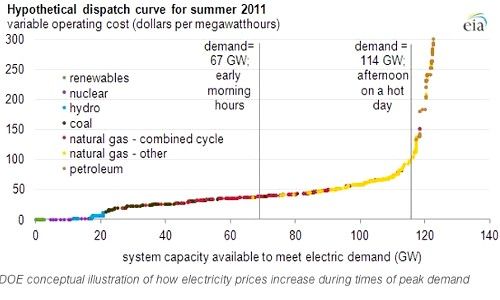 However, these savings are further magnified when energy prices are high:
Most directly, wind energy provided highly valuable electricity when PJM, the regional grid operator, needed it most. During the period of peak demand on Thursday evening, wind energy was providing PJM with 3,500 MW while electricity prices averaged more than $500 per MW hour (MWh), providing direct savings of $1.5 million to $2 million per hour.
A potentially far larger impact is that wind energy helped to drive down the market price for all MWh of electricity that are being sold in the market, not just the wind MWh. Grid operators always use zero-fuel cost wind energy to displace output from the most expensive and least efficient power plants that are currently operating. This drives the electricity price for all market participants down, as the market price is now being set by a more efficient and less expensive power plant. Because the supply curve of generation options is typically extremely steep during periods of peak demand (see the illustration above), even a modest amount of additional supply greatly reduces the market electricity prices. Moreover, because this market price applies to all MWh sold in the market, not just the wind MWh, the savings are multiplied again.
Through a similar mechanism, additional wind energy supply also reduces prices in natural gas markets, providing savings for all users of natural gas. During these times of peak demand, wind energy was primarily displacing gas use at natural-gas fired power plants. Many areas in the eastern U.S. were at or near record natural gas prices due to weather-driven demand for natural gas for building heating as well as electricity generation. Because the natural gas price curve is also quite steep during times of peak demand, and because the market price applies to all transactions in the market, wind energy likely produced large savings for all natural gas users by driving down the price of natural gas. So even if you primarily use natural gas to heat your home (in addition to electricity to run your furnace fans) you can thank wind energy for helping to keep your heating bill low.
One compelling illustration of these benefits came in a glowing press release from the Nebraska Public Power District (NPPD), describing how a large amount of wind energy output kept energy prices low for their customers during the cold snap two weeks ago. The utility explained that "Nebraskans benefit from NPPD's diverse portfolio of generating resources. Using a combination of fuels means we deliver electricity using the lowest cost resources while maintaining high reliability for our customers." The utility also noted that "NPPD did not operate its natural gas generation because the fuel costs were up more than 300 percent over typical prices."
Another illustration comes from across the Atlantic in Ireland. As we just noted, the Emerald Isle is now green for two additional reasons, as wind energy reduced pollution and protected consumers' pocketbooks from near-record natural gas prices by providing 24 percent of Ireland's electricity for all of December.
The Irish Examiner noted two weeks ago that "the sustained wind volumes forced expensive gas powered plants off the system and this provided downward pressure on wholesale prices." It quotes an energy trader noting that "the substantial contribution of wind energy helped reduce the monthly average wholesale electricity price by 5 percent." The article further explains that wind energy played a critical role in driving the price of electricity down despite near-record natural gas prices.
Both recent cold snaps also highlight the value of wind energy for diversifying our energy mix, improving energy reliability and reducing energy costs for homes and businesses. Diversity inherently makes the power system more reliable by protecting against the unexpected failures that afflict all energy sources from time to time. PJM noted that dozens of power plants of all types failed during the last cold snap, and during this cold snap PJM experienced the abrupt and unexpected failure of several nuclear power plants.
The New York grid operator also highlighted that it received very high wind output when it needed it most during the last cold snap, while other forms of generation experienced a variety problems. While wind energy output does change with the wind speed, such changes occur far more slowly than the unexpected outages that frequently occur at large conventional power plants. Moreover, changes in wind energy output are predictable using weather forecasting, while conventional power plant failures are not, making them far more difficult and costly for grid operators to accommodate.
Wind energy output has been very strong throughout both recent cold spells in the Eastern U.S., keeping the lights on and saving consumers millions of dollars by keeping both electricity prices and natural gas prices in check. Wind power diversifies our energy mix during both extreme weather and normal conditions, providing consumers with more reliable and lower cost energy.
Visit EcoWatch's RENEWABLES page for more related news on this topic.

EcoWatch Daily Newsletter
Pxhere
By Richard Denison
Readers of this blog know how concerned EDF is over the Trump EPA's approval of many dozens of new chemicals based on its mere "expectation" that workers across supply chains will always employ personal protective equipment (PPE) just because it is recommended in the manufacturer's non-binding safety data sheet (SDS).
By Grant Smith
From 2009 to 2012, Gregory Jaczko was chairman of the Nuclear Regulatory Commission, which approves nuclear power plant designs and sets safety standards for plants. But he now says that nuclear power is too dangerous and expensive — and not part of the answer to the climate crisis.
A lake in Rocky Mountain National Park. Brett Walton / Circle of Blue
By Brett Walton
When Greg Wetherbee sat in front of the microscope recently, he was looking for fragments of metals or coal, particles that might indicate the source of airborne nitrogen pollution in Rocky Mountain National Park. What caught his eye, though, were the plastics.
Gabriele Holtermann Gorden / Pacific Press / LightRocket / Getty Images
In a big victory for animals, Prada has announced that it's ending its use of fur! It joins Coach, Jean Paul Gaultier, Giorgio Armani, Versace, Ralph Lauren, Vivienne Westwood, Michael Kors, Donna Karan and many others PETA has pushed toward a ban.
This is a victory more than a decade in the making. PETA and our international affiliates have crashed Prada's catwalks with anti-fur signs, held eye-catching demonstrations all around the world, and sent the company loads of information about the fur industry. In 2018, actor and animal rights advocate Pamela Anderson sent a letter on PETA's behalf urging Miuccia Prada to commit to leaving fur out of all future collections, and the iconic designer has finally listened.
Amer Ghazzal / Barcroft Media / Getty Images
If people in three European countries want to fight the climate crisis, they need to chill out more.
That's the conclusion of a new study from think tank Autonomy, which found that Germany, the UK and Sweden all needed to drastically reduce their workweeks to fight climate change.
Amazon Employees for Climate Justice held a press conference after the annual shareholder meeting on May 22. Amazon Employees for Climate Justice
An artist's rendering of the recomposition facility. MOLT Studios
Washington became the first U.S. state to legalize human composting Tuesday, offering residents a more environmentally friendly way to dispose of their remains, AFP reported.
Mr.TinDC / Flickr / CC BY-ND 2.0
Many nutrients are essential for good health.