This website uses cookies to ensure you get the best experience while browsing it. By clicking 'Got It' you're accepting these terms.
How Will Climate Change Effect Harmful Marine Bacteria Brought on by Saharan Dust?
May. 15, 2014 02:16PM EST
A population explosion of the flesh-eating bacteria, Vibrio, may just be one of the many realities the Gulf Coast will face in the future.
Every summer big dust plumes leave the Saharan and Sahel deserts in Africa and travel across the Atlantic. The dust eventually gets deposited in the Atlantic, Caribbean and Gulf—including coastal Texas.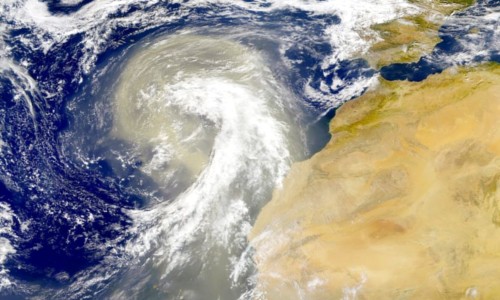 Dr. Michael Wetz, Assistant Professor of Marine Biology at Texas A&M University-Corpus Christi, has secured a $220,758 grant that will allow him to provide insight into the effects of global climate change on growth of marine bacteria such as Vibrio. The grant, funded by the National Science Foundation, will provide the first look on how marine bacteria respond to the long term effects of Saharan Dust.
Vibrio is common in bodies of water, including Corpus Christi Bay, and lives off energy from its environment. This is where Saharan dust comes in. Bacteria, like Vibrio, absorb nutrients from the dust that falls in the ocean and use these nutrients to survive and multiply. More dust in our atmosphere means more dust in our oceans and could trigger a population explosion of Vibrio.
"Climate models suggest that the Saharan and Sahel regions of Africa are likely to become drier over the coming century due to climate change," said Wetz. "These factors suggest that there will likely be more of this dust going into the atmosphere and oceans, potentially leading to more outbreaks of organisms such as Vibrio."
Wetz said other studies suggest that this dust affects growth of not only vibrio, but also microbes that cause coral disease in the Caribbean, as well as growth of the red tide organism in the Gulf of Mexico.
Wetz will focus on Vibrio's response to Saharan dust and identify the key components of the dust that causes bacterial outbreaks in the environment.
"One of my big research interests is understanding how climate and human-driven environmental change affects coastal water quality," said Wetz. "This study has direct linkages to climate change, and the response of these organisms will have significant implications for the health of our marine ecosystems."
The project is set to take place in the Florida Keys and Wetz will collaborate with Dr. Erin Lipp from the University of Georgia, who is the Primary Investigator on the project. Other collaborators include Dr. Bill Landing from Florida State University, Dr. Liz Ottesen from the University of Georgia, Dr. Dale Griffin from USGS, and Texas A&M-Corpus Christi Professor of Mathematics Dr. Blair Sterba-Boatwright.
--------
YOU MIGHT ALSO LIKE
Parasitic Flatworm Could Decimate Coral Reefs Worldwide
Seabed Survey Shows Deep, Remote Ocean Waters Littered With Human Trash
Scientists to Build Underwater Bio-Dome Simulating Future Ocean Acidification Levels
-------- 
PeopleImages / E+ / Getty Images
By Daniel Ross
Hurricane Florence, which battered the U.S. East Coast last September, left a trail of ruin and destruction estimated to cost between $17 billion and $22 billion. Some of the damage was all too visible—smashed homes and livelihoods. But other damage was less so, like the long-term environmental impacts in North Carolina from hog waste that spilled out over large open-air lagoons saturated in the rains.
Hog waste can contain potentially dangerous pathogens, pharmaceuticals and chemicals. According to the state's Department of Environmental Quality, as of early October nearly 100 such lagoons were damaged, breached or were very close to being so, the effluent from which can seep into waterways and drinking water supplies.
This picture taken on May 21, 2018 shows discarded climbing equipment and rubbish scattered around Camp 4 of Mount Everest. Decades of commercial mountaineering have turned Mount Everest into the world's highest rubbish dump as an increasing number of big-spending climbers pay little attention to the ugly footprint they leave behind. DOMA SHERPA / AFP / Getty Images
China has closed its Everest base camp to tourists because of a buildup of trash on the world's tallest mountain.
Researchers tested the eggs of Arctic northern fulmers like these in Nunavut, Canada.
Fiona Paton / Flickr
By Madison Dapcevich
Plastics have been recorded in every corner of the world, from the remote icy waters of Antarctica to the bellies of deep-sea fishes. Now, preliminary findings presented at this year's American Association for the Advancement of Science (AAAS) annual meeting in Washington, DC suggest that bird eggs from the high Arctic—one of the most remote wildernesses on the planet—show evidence of contamination from chemicals used in plastics.

A small Australian rat that lived on a 12 acre island in the Great Barrier Reef has become the first mammal to go extinct primarily because of human-caused climate change, the Australian Government confirmed Monday.
The Bramble Cay melomys was first declared extinct after a 2014 search on Bramble Cay, its native island in the Torres Strait, between Queensland, Australia and Papua New Guinea, according to a 2016 report by the University of Queensland and the Queensland government.