This website uses cookies to ensure you get the best experience while browsing it. By clicking 'Got It' you're accepting these terms.
How Widespread Is the Use of Glyphosate in Our Food Supply?
May. 05, 2016 07:45AM EST
Food
By Carey Gillam
As the active ingredient in Monsanto's branded Roundup weed killer, along with hundreds of other weed-killing products, the chemical called glyphosate spells billions of dollars in sales for Monsanto and other companies each year as farmers around the world use it in their fields and orchards.
Ubiquitous in food production, glyphosate is used not just with row crops like corn, soybeans and wheat but also a range of fruits, nuts and veggies. Even spinach growers use glyphosate.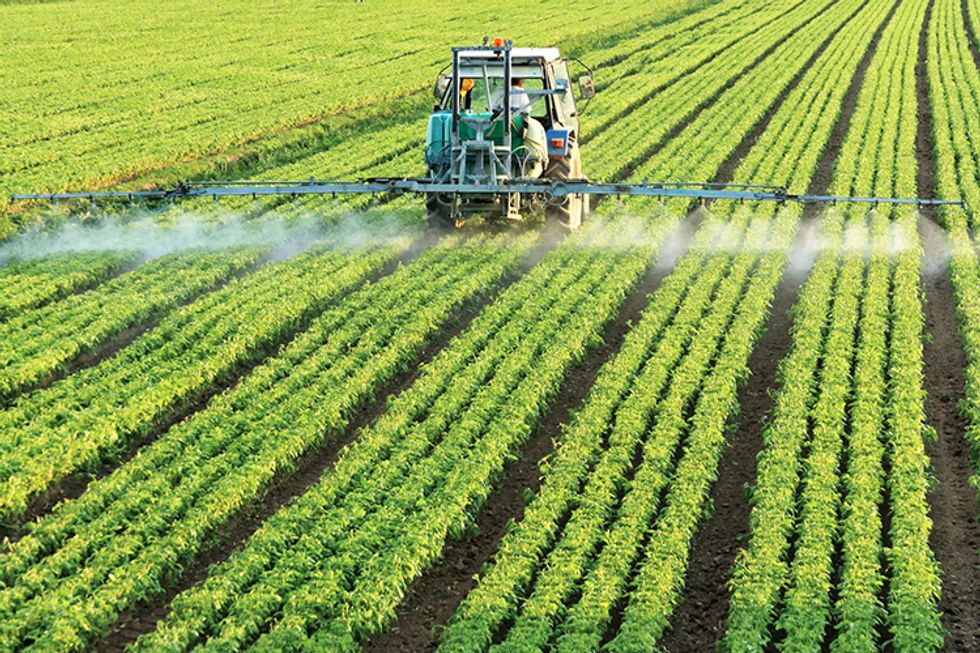 Though considered for years as among the safest of agrichemicals, concerns about glyphosate have been growing after the World Health Organization's cancer experts last year classified it as a probable human carcinogen, based on a series of scientific studies.
There are other concerns as well—mounting weed resistance to glyphosate, negative impacts on soil health and a demise in the monarch butterfly population tied to glyphosate use on forage that young monarchs feed on. The U.S. Environmental Protection Agency (EPA) is currently finishing a risk assessment for glyphosate that examines the range of issues.
The EPA is still trying to determine just how worrisome glyphosate is or isn't. In the meantime, it's worth a look at how widespread the use of glyphosate is in our food supply. A document released by the EPA on April 29 gives us a peek.
In a memorandum dated Oct. 22, 2015, the EPA analysts reported an "updated Screening Level Usage Analysis" for glyphosate use on food items. That memo updates estimates of glyphosate use on crops in top agricultural states and provides annual average use estimates for the decade 2004-2013.
Seventy crops are on the EPA list, ranging alphabetically from alfalfa and almonds to watermelons and wheat. And, when compared to a prior analysis that ran through 2011, it shows that glyphosate use has been growing in production of most of the key food crops on the list.
Here's a snapshot:
Glyphosate used on U.S. soybean fields, on an average annual basis, was pegged at 101.2 million pounds; with corn-related use at 63.5 million pounds. Both estimates are up from a prior analysis that ran through 2011, which pegged average annual soybean use at 86.4 million pounds and corn at 54.6 million pounds. Both those crops are genetically engineered so they can be sprayed directly with glyphosate as farmers treat fields for weeds. Use with sugar beets, also genetically engineered as glyphosate-tolerant, was estimated at 1.3 million pounds, compared to 1 million pounds.
Notably, glyphosate use is also seen with a variety of crops not engineered to be sprayed directly. Looking at the period ending in 2013 compared to 2011, glyphosate use in wheat production was pegged at 8.6 million pounds, up from 8.1 million pounds; use in almonds was pegged at 2.1 million pounds, unchanged from the prior analysis; grape use was pegged at 1.5 million pounds, up from 1.4 million pounds; and rice use was estimated at 800,000 pounds, compared to 700,000 pounds in the prior analysis.
You can check out your own favorite food here and compare it to the prior analysis here. Some on the list may surprise you, including cherries, avocados, apples, lemons, grapefruit, peanuts, pecans and walnuts.
The growing use of glyphosate on food crops has prompted calls for regulators to start testing levels of such residues on food to determine if they are within levels regulators deem safe. They've been doing such testing for years for residues of other agrichemicals. The U.S. Food and Drug Administration said in February it would start doing that type of testing for glyphosate residues this year on a limited basis.
In the meantime, the EPA, which sets the "tolerance" levels that deem what is safe regarding pesticide residue, announced May 3 that it was finalizing a new rule that will expand the numbers of crops that can have tolerances established. The EPA said this will "allow minor use growers a wider choice of pest control tools including lower-risk pesticides, to be used on minor crops, both domestically and in countries that import food to the United States."
YOU MIGHT ALSO LIKE
Should You Be Concerned About the Overuse of Antibiotics in Farm Animals?
Quaker Oats Accused of Being 'Deceptive and Misleading' After Glyphosate Detected in Oatmeal
Interactive Maps Show Where Monsanto's Roundup Is Sprayed in San Francisco and Portland
EcoWatch Daily Newsletter
In this view from an airplane rivers of meltwater carve into the Greenland ice sheet near Sermeq Avangnardleq glacier on Aug. 4 near Ilulissat, Greenland. Climate change is having a profound effect in Greenland, where over the last several decades summers have become longer and the rate that glaciers and the Greenland ice cap are retreating has accelerated. Sean Gallup / Getty Images
The rate that Greenland's ice sheet is melting surpassed scientists' expectations and has raised concerns that their worst-case scenario predictions are coming true, Business Insider reported.
An Alagoas curassow in captivity. Luís Fábio Silveira / Agência Alagoas / Mongabay
By Pedro Biondi
Extinct in its habitat for at least three decades, the Alagoas curassow (Pauxi mitu) is now back in the jungle and facing a test of survival, thanks to the joint efforts of more than a dozen institutions to pull this pheasant-like bird back from the brink.

Elizabeth Warren's Blue New Deal aims to expand offshore renewable energy projects, like the Block Island Wind Farm in Rhode Island.
Luke H. Gordon / Flickr
By Julia Conley
Sen. Elizabeth Warren expanded her vision for combating the climate crisis on Tuesday with the release of her Blue New Deal — a new component of the Green New Deal focusing on protecting and restoring the world's oceans after decades of pollution and industry-caused warming.
Former U.S. Secretary of State Rex Tillerson leaves the courthouse after testifying in the Exxon Mobil trial on Oct. 30, 2019 in New York. DON EMMERT / AFP via Getty Images
A judge in New York's Supreme Court sided with Exxon in a case that accused the fossil fuel giant of lying to investors about the true cost of the climate crisis. The judge did not absolve Exxon from its contribution to the climate crisis, but insisted that New York State failed to prove that the company intentionally defrauded investors, as NPR reported.
By Sharon Elber
You may have heard that giving a pet for Christmas is just a bad idea. Although many people believe this myth, according to the ASPCA, 86 percent of adopted pets given as gifts stay in their new homes. These success rates are actually slightly higher than average adoption/rehoming rates. So, if done well, giving an adopted pet as a Christmas gift can work out.