This website uses cookies to ensure you get the best experience while browsing it. By clicking 'Got It' you're accepting these terms.
How Widespread Is the Use of Glyphosate in Our Food Supply?
May. 05, 2016 07:45AM EST
GMO
By Carey Gillam
As the active ingredient in Monsanto's branded Roundup weed killer, along with hundreds of other weed-killing products, the chemical called glyphosate spells billions of dollars in sales for Monsanto and other companies each year as farmers around the world use it in their fields and orchards.
Ubiquitous in food production, glyphosate is used not just with row crops like corn, soybeans and wheat but also a range of fruits, nuts and veggies. Even spinach growers use glyphosate.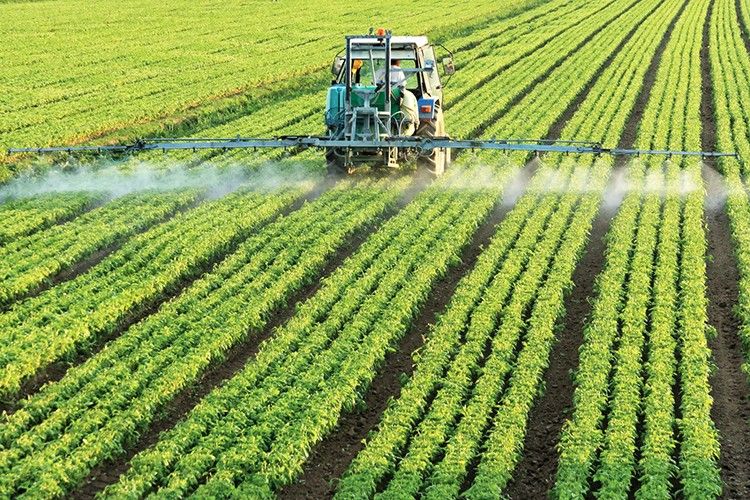 Though considered for years as among the safest of agrichemicals, concerns about glyphosate have been growing after the World Health Organization's cancer experts last year classified it as a probable human carcinogen, based on a series of scientific studies.
There are other concerns as well—mounting weed resistance to glyphosate, negative impacts on soil health and a demise in the monarch butterfly population tied to glyphosate use on forage that young monarchs feed on. The U.S. Environmental Protection Agency (EPA) is currently finishing a risk assessment for glyphosate that examines the range of issues.
The EPA is still trying to determine just how worrisome glyphosate is or isn't. In the meantime, it's worth a look at how widespread the use of glyphosate is in our food supply. A document released by the EPA on April 29 gives us a peek.
In a memorandum dated Oct. 22, 2015, the EPA analysts reported an "updated Screening Level Usage Analysis" for glyphosate use on food items. That memo updates estimates of glyphosate use on crops in top agricultural states and provides annual average use estimates for the decade 2004-2013.
Seventy crops are on the EPA list, ranging alphabetically from alfalfa and almonds to watermelons and wheat. And, when compared to a prior analysis that ran through 2011, it shows that glyphosate use has been growing in production of most of the key food crops on the list.
Here's a snapshot:
Glyphosate used on U.S. soybean fields, on an average annual basis, was pegged at 101.2 million pounds; with corn-related use at 63.5 million pounds. Both estimates are up from a prior analysis that ran through 2011, which pegged average annual soybean use at 86.4 million pounds and corn at 54.6 million pounds. Both those crops are genetically engineered so they can be sprayed directly with glyphosate as farmers treat fields for weeds. Use with sugar beets, also genetically engineered as glyphosate-tolerant, was estimated at 1.3 million pounds, compared to 1 million pounds.
Notably, glyphosate use is also seen with a variety of crops not engineered to be sprayed directly. Looking at the period ending in 2013 compared to 2011, glyphosate use in wheat production was pegged at 8.6 million pounds, up from 8.1 million pounds; use in almonds was pegged at 2.1 million pounds, unchanged from the prior analysis; grape use was pegged at 1.5 million pounds, up from 1.4 million pounds; and rice use was estimated at 800,000 pounds, compared to 700,000 pounds in the prior analysis.
You can check out your own favorite food here and compare it to the prior analysis here. Some on the list may surprise you, including cherries, avocados, apples, lemons, grapefruit, peanuts, pecans and walnuts.
The growing use of glyphosate on food crops has prompted calls for regulators to start testing levels of such residues on food to determine if they are within levels regulators deem safe. They've been doing such testing for years for residues of other agrichemicals. The U.S. Food and Drug Administration said in February it would start doing that type of testing for glyphosate residues this year on a limited basis.
In the meantime, the EPA, which sets the "tolerance" levels that deem what is safe regarding pesticide residue, announced May 3 that it was finalizing a new rule that will expand the numbers of crops that can have tolerances established. The EPA said this will "allow minor use growers a wider choice of pest control tools including lower-risk pesticides, to be used on minor crops, both domestically and in countries that import food to the United States."
YOU MIGHT ALSO LIKE
Should You Be Concerned About the Overuse of Antibiotics in Farm Animals?
Quaker Oats Accused of Being 'Deceptive and Misleading' After Glyphosate Detected in Oatmeal
Interactive Maps Show Where Monsanto's Roundup Is Sprayed in San Francisco and Portland
EcoWatch Daily Newsletter
People carry children on a flooded street in Almoradi, Spain on Sept. 13. JOSE JORDAN / AFP / Getty Images
Large food companies are following in the footsteps of fast-food restaurants such as Burger King and KFC by offering meat alternatives. Getty Images
By Elizabeth Pratt
Hormel, Kellogg's, and Kroger are among the large companies now planning to offer "fake meat" products at grocery stores.
Experts say the trend toward plant-based meats coincides with consumers' desires to eat less meat.
However, experts urge consumers to closely check package labels as a product isn't necessarily healthy just because it's described as plant-based.
In grocery stores and fast-food outlets around the U.S., a revolution is taking place.
Colombia rainforest. Marcel Oosterwijk / CC BY-SA 2.0
Many of us think of the Amazon as an untouched wilderness, but people have been thriving in these diverse environments for millennia. Due to this long history, the knowledge that Indigenous and forest communities pass between generations about plants, animals and forest ecology is incredibly rich and detailed and easily dwarfs that of any expert.
picture-alliance / Newscom / R. Ben Ari
By Wesley Rahn
Plastic byproducts were found in 97 percent of blood and urine samples from 2,500 children tested between 2014 and 2017, according to a study by the German Environment Ministry and the Robert Koch Institute.

Pexels
Medically reviewed by Daniel Bubnis, MS, NASM-CPT, NASE Level II-CSS
Hot yoga has become a popular exercise in recent years. It offers many of the same benefits as traditional yoga, such as stress reduction, improved strength, and flexibility.
Lara Hata / iStock / Getty Images
By SaVanna Shoemaker, MS, RDN, LD
Rice is a staple in many people's diets. It's filling, inexpensive, and a great mild-tasting addition to flavorful dishes.
An image of the trans-alaskan oil pipeline that carries oil from the northern part of Alaska all the way to valdez. This shot is right near the arctic national wildlife refuge. kyletperry / iStock / Getty Images Plus
The Trump administration has initialized the final steps to open up nearly 1.6 million acres of the protected Alaskan National Wildlife Refuge to allow oil and gas drilling.