How Weight Gain During Pregnancy Could Protect Your Baby From Toxic Chemicals
Gaining more weight during pregnancy can substantially reduce a baby's exposure to pesticides that accumulate in a mother's body, according to new research.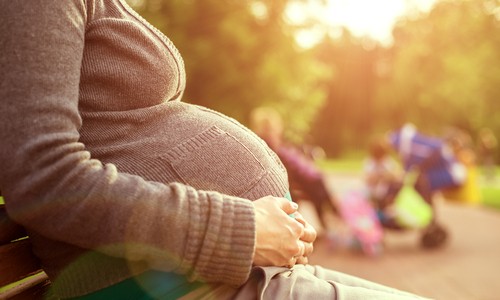 Photo courtesy of Shutterstock
Pregnant women who don't gain enough weight lose fat when the fetus grows. This releases fat-soluble chemicals such as DDT into the bloodstream, which reaches the fetus.
"This study suggests that sufficient weight gain during pregnancy may help to dilute certain chemicals that store in fat, reducing exposure to the fetus," said Jonathan Chevrier, an epidemiologist at McGill University in Montreal who did not participate in the research.
Exposure to persistent organic pollutants, or POPs, in the womb has been linked to developmental disorders and learning delays, reduced immune system function and changes in hormones.
Only a few studies have investigated how pregnancy weight gain may affect a baby's exposures.
In the new study, scientists compared weight gain for 325 expectant mothers from Avilés, Spain, with the levels of 35 chemicals in their babies' umbilical cord blood. Included were brominated flame retardants, organochlorine pesticides such as DDT and polychlorinated biphenyls, or PCBs.
The babies' exposure to all the chemicals decreased as pregnancy weight gain increased, according to the study. However, when the scientists accounted for other factors known to influence concentrations—such as a mother' s age and how much fish she ate—the association was significant for only two chemicals: a byproduct of the insecticide lindane called beta-HCH and a DDT metabolite.
DDT was banned in the U.S. in 1972 because it was building up in the environment. Agricultural use of lindane was banned in 2006 due to concerns over its effects on the nervous system.
For every pound of pregnancy weight gain, the researchers saw a 0.75 percent decrease in DDE in the cord blood and a 1.4 percent decrease in beta-HCH. For the average woman who gained about 31 pounds during pregnancy, that's about a 22 percent decrease in DDE and a 42 percent decrease in beta-HCH.
The researchers from Spain's University of Oviedo wrote that if a pregnant woman has inadequate body fat, she could lose fat stores during the last trimester, when the baby grows rapidly. "This mobilization effect to meet the fetal demand may trigger the release of POPs to the bloodstream, where they may become available and cross the placenta barrier," they said in the journal Environmental Health Perspectives.
The U.S. Institute of Medicine and the World Health Organization recommend that normal-weight women (determined by the Body Mass Index) gain between 25 and 35 pounds during pregnancy. In the new study, more than 40 percent of mothers gained excessive weight while 25 percent of mothers gained too little. Mothers were asked to recall their own starting weight, so it's possible that some may have gained more or less than recorded.
For PCBs, there may have been no significant link to weight gain because the mothers' consumption of fish is a stronger factor determining their babies' exposures. PCBs have been linked to reduced IQs and other effects in children exposed in the womb.
——–
YOU MIGHT ALSO LIKE
New Study Finds Miscarriage Risk Increases With BPA Exposure
30% Jump in Autism Rates Brings Greater Urgency to Toxic Chemical Reform
——–
Bill Maher is sick of billionaires' obsession with Mars, more like "Mars-a-Lago," he said.
In a new animation produced by ATTN:, the popular talk show host of Real Time, discusses the perils of our planet, including how "climate change is killing us."
Keep reading...
Show less
Dr. Benjamin D. Santer, research scientist
A group of prominent climate scientists have written a study explicitly refuting statements made by the U.S. Environmental Protection Agency Administrator Scott Pruitt on climate data. During his Senate confirmation hearing, Pruitt claimed in a written response that satellite data shows a "leveling off" of warming over the past two decades.
Keep reading...
Show less
By David Pomerantz
The Nevada Assembly passed a bill Wednesday that would dramatically increase the growth of renewable energy in the state, but Sheldon Adelson, the casino magnate and major donor to Donald Trump, is attempting to prevent the bill from becoming law.
Keep reading...
Show less
Matt Crossick
By Yosola Olorunshola
Whether it's through fashion or protest, Vivienne Westwood is not a woman afraid of making a statement.
On May 23, she rocked up to the residence of the Archbishop of Canterbury in London with a special guest—the Grim Reaper—to issue a strong statement on the Church of England's position on fracking.
Keep reading...
Show less
By Paul Brown
The food industry and big agricultural concerns are driving climate change and at the same time threatening to undermine efforts to feed the world's growing population, according to GRAIN, an organization that supports small farmers.
Particularly singled out for criticism are the large chemical fertilizer producers that have gained access to the United Nations talks on climate change. GRAIN accuses them of behaving like the fossil fuel companies did in the 1990s, pushing false information in the hope of delaying real action on climate change.
Keep reading...
Show less
By Sydney Robinson
President Trump has no doubt been given a long list of extravagant, elaborate gifts in his lifetime, but the gift given to him today by Pope Francis may not make it on his most favorite list.
Keep reading...
Show less
By John Rogers
Maybe it's because I first started working on clean energy while serving in the Peace Corps he founded, or maybe it's my years of working on these issues from his home state. But I can't help thinking about the 100th anniversary of John F. Kennedy's birth, and connecting his stirring rhetoric to the energy challenges of our times.
Here's what our 35th president might have said about the challenges of energy transition and the opportunities in clean energy:
"Change is the law of life. And those who look only to the past or present are certain to miss the future."
Keep reading...
Show less
May. 24, 2017 01:47PM EST
Keep reading...
Show less


Get EcoWatch in your inbox