This website uses cookies to ensure you get the best experience while browsing it. By clicking 'Got It' you're accepting these terms.
How to Vote With Your Wallet
Feb. 05, 2015 09:24AM EST
Food
Is it true that Burt's Bees—maker of those natural creams and lipsticks—isn't owned by that avuncular character on the labels but by the industrial giant Clorox? Is the Nestle boycott still on? What is that for again? Do the ice cream mavens Ben and Jerry still support local Vermont dairy farms?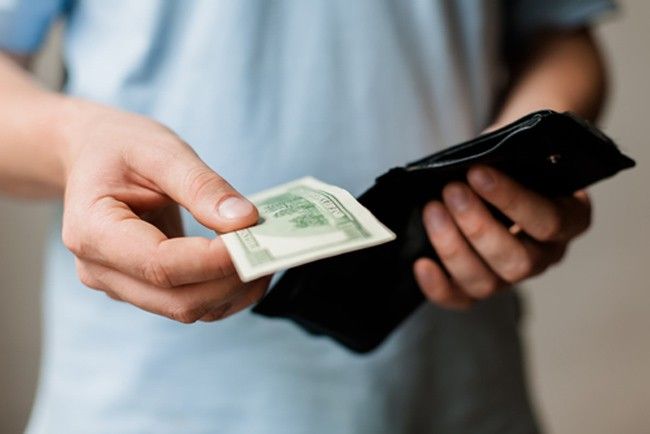 Photo credit: Shutterstock
If you are trying to shop ethically, it can be confusing and hard to keep up. Some issues that can arise are greenwashing (a marketing ploy that gives the impression that products are better for the environment than they are); keeping track of who owns whom (for example, a seemingly small, local company may be bought by huge conglomerates); and finally, labeling regulations (you can put almost anything on labels).
JP Davidson is trying to overhaul his buying habits to become greener. With help from Adria Vasil, an author and writer of the Ecoholic column for Toronto's free weekly, Now Magazine, he found a couple of apps that assisted in his journey. (Spoiler alert: Don't buy Bumble bee or CloverLeaf Tuna. I already know that, at least).
Ethical Barcode lets you scan a product and it will tell you a variety of things, including if it was tested on animals, its impact on the oceans, how sustainable the packaging is, and even how many women are on the company's board of directors.
Buycott lets people start campaigns against some food product practices. "Demand GMO Labeling" is one of their most successful campaigns. It has nearly 400,000 users signed on. So that means, in theory at least, almost half a million people are scanning products and when they find those that are sold by companies that have worked to prevent GMO labeling (such as Pepsi, Nestle and Kellogg), they don't buy them. And that started with just one person on Buycott.com.
When anyone talks about food labeling, the discussion often ends up on whether or not GMOs (or other ingredients), which should be on the label, are in the tomato sauce. (Shouldn't everything be on the label?) This has been a huge fight in the U.S.
You may have heard the acronym, or even know what the acronym stands for, but you may be wondering what on Earth are GMOs. Tyler Sanville at Greenpeace USA has written about this a lot and helps us define a GMO, or a genetically modified organism: "any plant or animal that has had their cells changed by scientists in a lab and altered by genes from other plants, animals, viruses, or bacterias." GMOs were recently introduced, in the early 90s, so they've only been part of our diets for the past 20 years. This is why there are safety and health concerns.
It's one thing to not eat toxins. It's another to keep them out of clothes and shoes.
Kevin Stairs, Greenpeace's chemicals policy director in Europe, told me that when babies are born today, most of them carry at least 200 chemicals that are foreign to nature in their bodies. And the threat from toxic chemicals is growing over time.
But why concentrate on shoes? As Kevin explained, the textile and shoe sectors use a host of toxic chemicals, yet they try to portray themselves as very green and sustainable. Last year, Greenpeace was very successful in asking companies to detox the clothing and shoes they sell.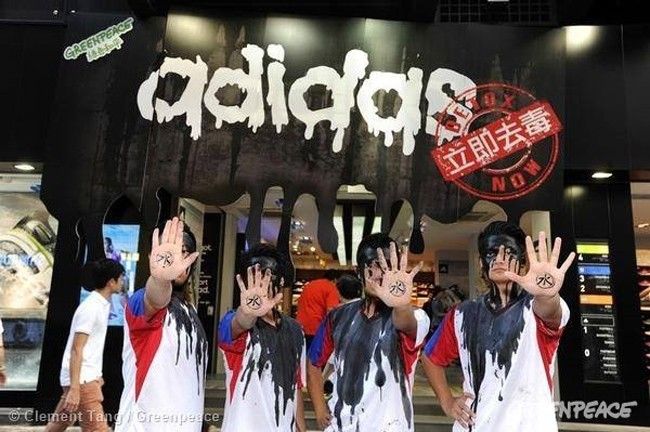 The chemicals used in making these products, such as polyfluorinated chemicals or PFCs, can accumulate in the environment and can show up in our water systems. They can damage our immune and reproductive systems and some are also linked to thyroid disease. Adidas has committed to being toxic-free by 2020 and to phasing out 99 percent of all PFCs from its clothing by the end of 2017. Puma has also agreed to eliminate hazardous chemicals from its products and supply chain, and ensure 100 percent of all its products are PFC-free by the end of the same year.
Listen below to the Greenpeace Podcast: Detox Your Shopping. Vote With Your Wallet. Is There an App for That?:
YOU MIGHT ALSO LIKE
70 American Cities Ranked Based on Access to Uber and Other Car-Free Options
Baby Carrots: A Great Way to Get Kids to Snack on Veggies, But Are They Safe?
Diane Rehm Examines the Dangers of Monsanto's Roundup and Dow's Enlist Duo Herbicides
EcoWatch Daily Newsletter
Extreme weather events supercharged by climate change in 2012 led to nearly 1,000 more deaths, more than 20,000 additional hospitalizations, and cost the U.S. healthcare system $10 billion, a new report finds.
Giant sequoia trees at Sequoia National Park, California. lucky-photographer / iStock / Getty Images Plus
A Bay Area conservation group struck a deal to buy and to protect the world's largest remaining privately owned sequoia forest for $15.6 million. Now it needs to raise the money, according to CNN.
This aerial view shows the Ogasayama Sports Park Ecopa Stadium, one of the venues for 2019 Rugby World Cup. MARTIN BUREAU / AFP / Getty Images
The Rugby World Cup starts Friday in Japan where Pacific Island teams from Samoa, Fiji and Tonga will face off against teams from industrialized nations. However, a new report from a UK-based NGO says that when the teams gather for the opening ceremony on Friday night and listen to the theme song "World In Union," the hypocrisy of climate injustice will take center stage.
Vera_Petrunina / iStock / Getty Images Plus
By Wudan Yan
In June, New York Times journalist Andy Newman wrote an article titled, "If seeing the world helps ruin it, should we stay home?" In it, he raised the question of whether or not travel by plane, boat, or car—all of which contribute to climate change, rising sea levels, and melting glaciers—might pose a moral challenge to the responsibility that each of us has to not exacerbate the already catastrophic consequences of climate change. The premise of Newman's piece rests on his assertion that traveling "somewhere far away… is the biggest single action a private citizen can take to worsen climate change."

Volunteer caucasian woman giving grain to starving African children.
Bartosz Hadyniak / E+ / Getty Images
Food will be scarce, expensive and less nutritious," CNN warns us in its coverage of the UN's new "Climate Change and Land" report. The New York Times announces that "Climate Change Threatens the World's Food Supply."
By Adam Vaughan
Two-thirds of people in the UK think the amount people fly should be reined in to tackle climate change, polling has found.
Climate Week NYC
On Monday, Sept. 23, the Climate Group will kick off its 11th annual Climate Week NYC, a chance for governments, non-profits, businesses, communities and individuals to share possible solutions to the climate crisis while world leaders gather in the city for the UN Climate Action Summit.
By Pam Radtke Russell in New Orleans
Local TV weather forecasters have become foot soldiers in the war against climate misinformation. Over the past decade, a growing number of meteorologists and weathercasters have begun addressing the climate crisis either as part of their weather forecasts, or in separate, independent news reports to help their viewers understand what is happening and why it is important.