This website uses cookies to ensure you get the best experience while browsing it. By clicking 'Got It' you're accepting these terms.
How to Use Cold Frames As a Year-Round Gardening Tool
Apr. 03, 2014 09:50AM EST
Springtime sees your friendly, think-ahead Planet Natural blogger putting his cold frame to heavy use. Now, in a time of year where frosts are still possible, many of our indoor vegetable starts are almost ready to go into the garden. They need to get use to being outdoors. Many of them can't survive the night-time cold but can when protected inside a cold frame, maybe draped with a blanket on the coldest nights.
It's also the time of year we've also run out of room under our indoor grow light and need a place to keep vegetable starts where they'll get more sunshine than they would on a window sill. And we also want to get a head start on some of our long-season plants, like tomatoes, peppers or winter squash.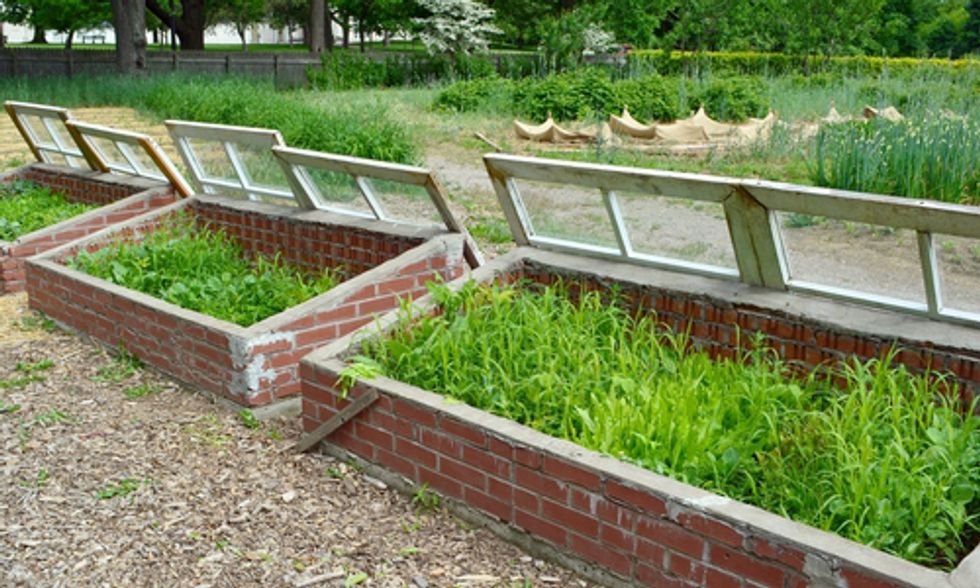 Photo courtesy of Shutterstock
Can you see why we're thinking a second, and maybe a third, cold frame might be a good—make that great—idea?
And don't forget flowering plants. You can get a big jump growing pansies by starting them in pots inside a cold frame.
But cold frames aren't just an amazing accessory to your spring-time gardening. They're good for a number of uses all year 'round:
Cold frames are a good place to store potted plants and cold-sensitive bulbs and root-cuttings (buried in sawdust or straw) during winters in areas where night-time temperatures aren't consistently extreme (near and below zero).
Cold frames are a good place to make late fall plantings of such cold hardy plants as broccoli, kale and spinach, which can be over winters in a cold frame—plant them right in the ground–and can even provide early spring and mid-winter harvests during warm spells. Fresh greens in February? Yeah!
Cold frames are a great place to start vegetable seeds in pots ahead of gardening season.
Cold frames are great for hardening off your vegetable starts as they provide warmth (even with the tops up), protect against excess wind, and offer warmer over-night temperatures.
Cold frames are an ideal place to sow squash seed or set out tomato plants once there's room. They'll give these long season vegetables a warm, jump start. By the time they're pushing up against the cold frame's top, just leave the tops off.
Cold frames are great places to plant greens in late summer and hold them well past the first frosts of fall … and maybe longer.
When locating a permanently-placed cold frame, make sure the soil drainage is good. This might require digging up the soil to a depth of two or three feet and putting in a six-inch layer of pea-gravel or small river rock to facilitate water conduction before laying down compost and soil. If you're only using your cold frame for potted plants and starts, you can just dig up six inches of soil and add a gravel surface. The gravel or tile or stone will serve as a heat sink, carrying the day's accumulated warmth into the night. We've seen a cold frame in which the gardener set concrete block in sideways, then filled the spaces with gravel to provide a heat-retaining surface.
Placing your permanent cold frame against the south or west-facing side of a building will also help it gather and retain heat. The building will also shelter your cold frame from the wind. Here are examples of permanent cold frames (brick!) incorporated into the sides of buildings. Our cold frame was against a white garage wall which gave the tomatoes we grew there an extra warm and sunny boost throughout the summer, just what they needed in short-season Montana.
Covering your raised garden bed with plastic or some other type of light-conducting shelter can turn it into a wonderful cold frame.
Cold frames that sit on top of the soil and are moveable can travel from place to place as you plant different, heat-loving vegetables. You can build a cold frame that's transportable or construct a make-shift one of hay bales, which are especially good insulators, by placing them in a square or rectangle just big enough to support old window frames with glass or a shower door. They're also available as kits and can even be made of convenient materials that make them lightweight and functional as tents.
You can turn your cold frame into a hot box by adding rotting manure or a layer of leaves or straw seasoned with microbe-rich compost beneath your soil layer. The heat generated by the decaying organic material will help hold plants over winter as well as give soil temperatures a boost in time for spring germination. One gardener we know reported great result using a layer of alfalfa pellets and some compost instead of straw or leaves (which tend to compact … chop them first).
Here's a comprehensive guide to using cold frames—with building plans—from the University of Missouri. We'd really like to hear about your cold frame—how it's built, where it's located, how you use it.
One warning about cold frames … they can get hot when the sun's shining! Be sure to ventilate your cold frames by lifting the lids and propping them open—or removing them all together—on sunny days. It's an unpleasant surprise to come home from work at the end of the day and find your lettuce starts baked beneath the glass or plastic of your cold frame.
——–
YOU MIGHT ALSO LIKE
7 Tips to Prep for Gardening Season
Rooftop Farm in New York City Grows 50,000 Pounds of Organic Produce Per Year
10 Interesting Facts About Earthworms
——–
EcoWatch Daily Newsletter
A man wearing a protective mask sits on the lawn in front of the Australian Parliament house in Canberra, Australia on Jan. 1, 2020. The level of air pollution in Canberra is the highest in the world on some days. Daniiielc / iStock / Getty Images Plus
Researchers now say there is "no safe level" of air pollution exposure after a large-scale study found a correlation between exposure to fine particle matter, known as PM2.5, and cardiac arrests, according to the The Sydney Morning Herald.
The British Medical Journal announced a fossil fuel divestment campaign. Andrew Matthews / PA Images via Getty Images
By Andrea Germanos
Respected medical journal The BMJ drew praise online from climate activists and medical professionals for its newly-announced fossil fuel divestment campaign.

New Jersey will be the first state in the U.S. to require builders to take the climate crisis into consideration before seeking permission for a project.
Workers selectively harvest slightly under-ripe Syrah grapes to make a Blanc de Noir wine for the Israeli winery Zaza on Aug. 6, 2019 in central Israel. Israeli vintners are harvesting their grapes earlier than they did a decade ago due to shorter winters and more intense summers. David Silverman / Getty Images

An aerial view of a neighborhood destroyed by the Camp Fire on Nov. 15, 2018 in Paradise, Calif. Justin Sullivan / Getty Images
Respecting scientists has never been a priority for the Trump Administration. Now, a new investigation from The Guardian revealed that Department of the Interior political appointees sought to play up carbon emissions from California's wildfires while hiding emissions from fossil fuels as a way to encourage more logging in the national forests controlled by the Interior department.