This website uses cookies to ensure you get the best experience while browsing it. By clicking 'Got It' you're accepting these terms.
How to Talk About Climate Change on Thanksgiving
Nov. 24, 2014 11:32AM EST
Climate
My mother's family is politically diverse. And opinionated. As my grandmother tells it, the last time she and my grandfather voted for the same president was Eisenhower. Like a lot of families, our discussions around the holidays can veer into national issues and politics. Sometimes those discussions are enlightening, but they can also devolve into arguments.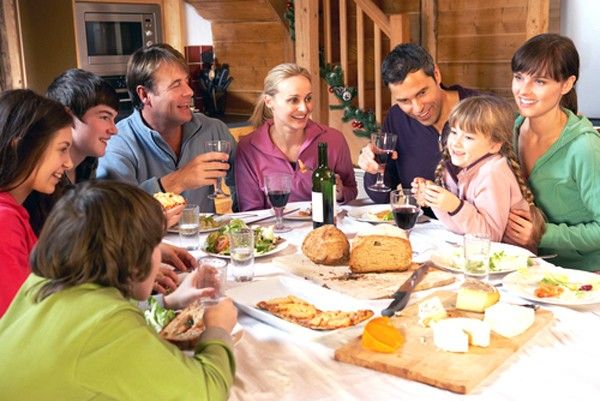 Photo credit: Shutterstock
I know many families ban political discussions around the dinner table. While that's not how I grew up, I understand why people want to avoid raised voices and hurt feelings, especially while they're digging into stuffing. Unfortunately, many people would consider a discussion about climate change political, too. That sentiment can create a spiral of silence, according to George Marshall, who wrote a masterful guide to how we talk about climate change.
So if you care about climate issues, should you march into Thanksgiving dinner with some graphs, charts and talking points? I sure hope not. For one thing, those aren't edible (except pie charts, which are delicious). But even if you're not trying to talk about climate change, it can and does come up.
It's easy to have a normal, friendly conversation about climate issues with most people. But if you have a friend or relative who has very strong opinions about climate science or policy, the discussion can get more heated than the atmosphere. In those cases, you should think a little differently about how you approach the conversation.
Course One: serve up questions, not arguments
If someone tells you the Earth isn't really warming, it's an invitation to argue about temperature data and scientific authority. Further, some folks who don't accept the science can raise a surprisingly large number of misleading points because there's so much misinformation out there from which to draw.
Instead of having an argument, ask them where they read or heard a given point. Tell them you heard something different somewhere else. Don't be defensive or aggressive about it. This isn't about proving you're right. It's about sharing perspectives. Keep asking questions. You'll probably find that someone's skepticism toward climate science stems from a negative attitude about climate policy and politics rather than substantive objections to the science.
Similarly, a lot of people who accept the science are depressed about our prospects for dealing with climate change. They might feel like we're already doomed, when, in fact, climate science presents us with a range of risks. It's worth looking at what those risks —and our climate choices—really look like. The National Climate Assessment is the richest and most accessible resource on this topic for the U.S.
Course Two: served by people who share someone's values
In his forthcoming book from Stanford University Press, How Culture Shapes the Climate Debate, the University of Michigan's Andrew Hoffman argues that we can easily get caught up in the culture war when we talk about climate change. "Certainly, Al Gore and Rush Limbaugh evoke visceral responses from individuals on either side of the political divide while also resonating strongly with those who agree with their ideology," Hoffman writes. "But individuals with credibility on both sides of the debate can act as 'climate brokers.'"
Hoffman recommends pointing to people who share an audience's values when it comes to climate and energy issues.
For instance, some people are uncomfortable with climate change because it feels like it's in conflict with their religious views. You can point them to researchers like Katharine Hayhoe and religious leaders like Richard Cizik.
If someone's objections are rooted in conservative politics, it's worth learning about Bob Inglis and the R Street Institute. They have sensible ideas for addressing climate change based on conservative values and they have good-faith criticisms of liberal policies, too.
If you have a friend or relative who thinks addressing climate change will harm the economy, look to CERES and CDP, two groups that illuminate the business case for responding to climate change. Broad coalitions of businesses accept climate science, too.
These people and groups are also useful to highlight for people who are despondent about climate change. Efforts to respond to climate risks are bigger and more diverse than most people know; that should give us hope.
Course Three: clear the table and bring the solutions
After you've tried the steps above, a discussion might still devolve into an argument. The good news is, you can always talk about solutions.
Indeed, even people who think climate change is a scientific conspiracy are interested in saving money on their electricity bills and visiting the gas station less often. Generally, Americans are in stronger agreement with one another about national and personal energy choices than they are about climate science. Spending more time focusing on what we agree on can be incredibly productive.
Some people who work in climate communication are uncomfortable with the idea of skipping over the science, but it can absolutely be the right approach for some audiences. If you face a choice between having a fifteen minute argument about the polar vortex or packing a few folks in Uncle Bob's Chevy Volt for a test drive, the choice should be clear.
Mmmm….pie
Persuasion doesn't happen right away. Sometimes the most you can do is encourage someone to be a little more open minded. After a conversation, you can follow up with an email or a Facebook message pointing to whatever (or whoever) you talked about earlier. Maybe your friend or relative will be singing a slightly different tune next time you see them.
Regardless, at some point, you'll want to stop talking about climate change. National political figures and interest groups have done a lot to polarize these conversations and pushing too hard can polarize someone's views even more. More importantly, you don't want a discussion about climate change to distract from your valuable family time, or delicious, delicious pie.
Happy Thanksgiving!
Have you had difficult conversations about climate change with a friend or relative? Did climate change come up at your family dinner? Let us know how it went below.
YOU MIGHT ALSO LIKE
Why You Should Think Twice About Buying a Butterball Turkey
8 Ways to Eat Healthy on Thanksgiving
EcoWatch Daily Newsletter
A glacier is seen in the Kenai Mountains on Sept. 6, near Primrose, Alaska. Scientists from the U.S. Geological Survey have been studying the glaciers in the area since 1966 and their studies show that the warming climate has resulted in sustained glacial mass loss as melting outpaced the accumulation of new snow and ice. Joe Raedle / Getty Images
By Mark Mancini
On Aug. 18, Iceland held a funeral for the first glacier lost to climate change. The deceased party was Okjökull, a historic body of ice that covered 14.6 square miles (38 square kilometers) in the Icelandic Highlands at the turn of the 20th century. But its glory days are long gone. In 2014, having dwindled to less than 1/15 its former size, Okjökull lost its status as an official glacier.
Members of Chicago Democratic Socialists of America table at the Logan Square Farmers Market on Aug. 18. Alex Schwartz
By Alex Schwartz
Among the many vendors at the Logan Square Farmers Market on Aug. 18 sat three young people peddling neither organic vegetables, gourmet cheese nor handmade crafts. Instead, they offered liberation from capitalism.
Hackney primary school students went to the Town Hall on May 24 in London after school to protest about the climate emergency. Jenny Matthews / In Pictures / Getty Images
Bird watching in the U.S. may be a lot harder than it once was, since bird populations are dropping off in droves, according to a new study.
Amazon CEO Jeff Bezos announces the co-founding of The Climate Pledge at the National Press Club on Sept. 19 in Washington, DC. Paul Morigi / Getty Images for Amazon
The day before over 1,500 Amazon.com employees planned a walkout to participate in today's global climate strike, CEO Jeff Bezos unveiled a sweeping plan for the retail and media giant to be carbon neutral by 2040, 10 years ahead of the Paris agreement schedule.
For the past seven years, the Anishinaabe people have been facing the largest tar sands pipeline project in North America. We still are. In these dying moments of the fossil fuel industry, Water Protectors stand, prepared for yet another battle for the water, wild rice and future of all. We face Enbridge, the largest pipeline company in North America, and the third largest corporation in Canada. We face it unafraid and eyes wide open, for indeed we see the future.
The climate crisis often intensifies systems of oppression. Rieko Honma / Stone / Getty Images Plus
By Mara Dolan
We see the effects of the climate crisis all around us in hurricanes, droughts, wildfires, and rising sea levels, but our proximity to these things, and how deeply our lives are changed by them, are not the same for everyone. Frontline groups have been leading the fight for environmental and climate justice for centuries and understand the critical connections between the climate crisis and racial justice, economic justice, migrant justice, and gender justice. Our personal experiences with climate change are shaped by our experiences with race, gender, and class, as the climate crisis often intensifies these systems of oppression.