This website uses cookies to ensure you get the best experience while browsing it. By clicking 'Got It' you're accepting these terms.
How to Talk About Climate Change on Thanksgiving
Nov. 24, 2014 11:32AM EST
My mother's family is politically diverse. And opinionated. As my grandmother tells it, the last time she and my grandfather voted for the same president was Eisenhower. Like a lot of families, our discussions around the holidays can veer into national issues and politics. Sometimes those discussions are enlightening, but they can also devolve into arguments.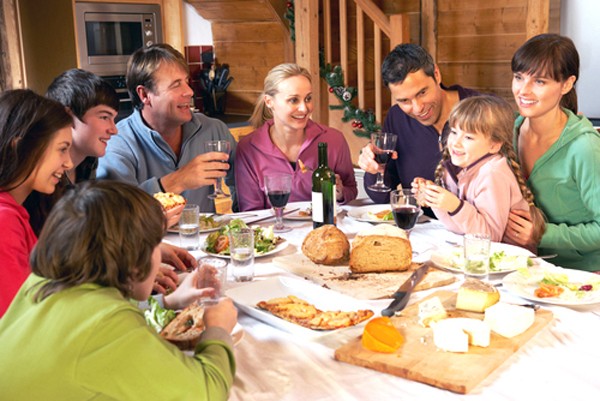 Photo credit: Shutterstock
I know many families ban political discussions around the dinner table. While that's not how I grew up, I understand why people want to avoid raised voices and hurt feelings, especially while they're digging into stuffing. Unfortunately, many people would consider a discussion about climate change political, too. That sentiment can create a spiral of silence, according to George Marshall, who wrote a masterful guide to how we talk about climate change.
So if you care about climate issues, should you march into Thanksgiving dinner with some graphs, charts and talking points? I sure hope not. For one thing, those aren't edible (except pie charts, which are delicious). But even if you're not trying to talk about climate change, it can and does come up.
It's easy to have a normal, friendly conversation about climate issues with most people. But if you have a friend or relative who has very strong opinions about climate science or policy, the discussion can get more heated than the atmosphere. In those cases, you should think a little differently about how you approach the conversation.
Course One: serve up questions, not arguments
If someone tells you the Earth isn't really warming, it's an invitation to argue about temperature data and scientific authority. Further, some folks who don't accept the science can raise a surprisingly large number of misleading points because there's so much misinformation out there from which to draw.
Instead of having an argument, ask them where they read or heard a given point. Tell them you heard something different somewhere else. Don't be defensive or aggressive about it. This isn't about proving you're right. It's about sharing perspectives. Keep asking questions. You'll probably find that someone's skepticism toward climate science stems from a negative attitude about climate policy and politics rather than substantive objections to the science.
Similarly, a lot of people who accept the science are depressed about our prospects for dealing with climate change. They might feel like we're already doomed, when, in fact, climate science presents us with a range of risks. It's worth looking at what those risks —and our climate choices—really look like. The National Climate Assessment is the richest and most accessible resource on this topic for the U.S.
Course Two: served by people who share someone's values
In his forthcoming book from Stanford University Press, How Culture Shapes the Climate Debate, the University of Michigan's Andrew Hoffman argues that we can easily get caught up in the culture war when we talk about climate change. "Certainly, Al Gore and Rush Limbaugh evoke visceral responses from individuals on either side of the political divide while also resonating strongly with those who agree with their ideology," Hoffman writes. "But individuals with credibility on both sides of the debate can act as 'climate brokers.'"
Hoffman recommends pointing to people who share an audience's values when it comes to climate and energy issues.
For instance, some people are uncomfortable with climate change because it feels like it's in conflict with their religious views. You can point them to researchers like Katharine Hayhoe and religious leaders like Richard Cizik.
If someone's objections are rooted in conservative politics, it's worth learning about Bob Inglis and the R Street Institute. They have sensible ideas for addressing climate change based on conservative values and they have good-faith criticisms of liberal policies, too.
If you have a friend or relative who thinks addressing climate change will harm the economy, look to CERES and CDP, two groups that illuminate the business case for responding to climate change. Broad coalitions of businesses accept climate science, too.
These people and groups are also useful to highlight for people who are despondent about climate change. Efforts to respond to climate risks are bigger and more diverse than most people know; that should give us hope.
Course Three: clear the table and bring the solutions
After you've tried the steps above, a discussion might still devolve into an argument. The good news is, you can always talk about solutions.
Indeed, even people who think climate change is a scientific conspiracy are interested in saving money on their electricity bills and visiting the gas station less often. Generally, Americans are in stronger agreement with one another about national and personal energy choices than they are about climate science. Spending more time focusing on what we agree on can be incredibly productive.
Some people who work in climate communication are uncomfortable with the idea of skipping over the science, but it can absolutely be the right approach for some audiences. If you face a choice between having a fifteen minute argument about the polar vortex or packing a few folks in Uncle Bob's Chevy Volt for a test drive, the choice should be clear.
Mmmm….pie
Persuasion doesn't happen right away. Sometimes the most you can do is encourage someone to be a little more open minded. After a conversation, you can follow up with an email or a Facebook message pointing to whatever (or whoever) you talked about earlier. Maybe your friend or relative will be singing a slightly different tune next time you see them.
Regardless, at some point, you'll want to stop talking about climate change. National political figures and interest groups have done a lot to polarize these conversations and pushing too hard can polarize someone's views even more. More importantly, you don't want a discussion about climate change to distract from your valuable family time, or delicious, delicious pie.
Happy Thanksgiving!
Have you had difficult conversations about climate change with a friend or relative? Did climate change come up at your family dinner? Let us know how it went below.
YOU MIGHT ALSO LIKE
Why You Should Think Twice About Buying a Butterball Turkey
8 Ways to Eat Healthy on Thanksgiving
EcoWatch Daily Newsletter
Mizina / iStock / Getty Images
Oats are widely regarded as one of the healthiest grains you can eat, as they're packed with many important vitamins, minerals, and fiber.
JPMorgan Chase building in New York City. Ben Sutherland / CC BY 2.0
By Sharon Kelly
A report published Wednesday names the banks that have played the biggest recent role in funding fossil fuel projects, finding that since 2016, immediately following the Paris agreement's adoption, 33 global banks have poured $1.9 trillion into financing climate-changing projects worldwide.
Sriram Madhusoodanan of Corporate Accountability speaking on conflict of interest demand of the People's Demands at a defining action launching the Demands at COP24. Corporate Accountability
By Patti Lynn
2018 was a groundbreaking year in the public conversation about climate change. Last February, The New York Times reported that a record percentage of Americans now believe that climate change is caused by humans, and there was a 20 percentage point rise in "the number of Americans who say they worry 'a great deal' about climate change."
The head of England's Environment Agency has urged people to stop watering their lawns as a climate-induced water shortage looms. Pexels
England faces an "existential threat" if it does not change how it manages its water, the head of the country's Environment Agency warned Tuesday.
Pexels
By Jessica Corbett
A new analysis revealed Tuesday that over the past two decades heat records across the U.S. have been broken twice as often as cold ones—underscoring experts' warnings about the increasingly dangerous consequences of failing to dramatically curb planet-warming emissions.
A flock of parrots in Telegraph Hill, San Francisco.
~dgies / Flickr
By Madison Dapcevich
Ask any resident of San Francisco about the waterfront parrots, and they will surely tell you a story of red-faced conures squawking or dive-bombing between building peaks. Ask a team of researchers from the University of Georgia, however, and they will tell you of a mysterious string of neurological poisonings impacting the naturalized flock for decades.
Fire burns in the North Santiam State Recreational Area on March 19. Oregon Department of Forestry
An early-season wildfire near Lyons, Oregon burned 60 acres and forced dozens of homes to evacuate Tuesday evening, the Oregon Department of Forestry (ODF) said, as KTVZ reported.
The initial cause of the fire was not yet known, but it has been driven by the strong wind and jumped the North Santiam River, The Salem Statesman Journal reported. As of Tuesday night, it threatened around 35 homes and 30 buildings, and was 20 percent contained.
Edwin Hardeman is the plaintiff in the first U.S. federal trial claiming that Roundup causes cancer. NOAH BERGER / AFP / Getty Images
A second U.S. jury has ruled that Roundup causes cancer.
The unanimous verdict was announced Tuesday in San Francisco in the first federal case to be brought against Monsanto, now owned by Bayer, alleging that repeated use of the company's glyphosate-containing weedkiller caused the plaintiff's cancer. Seventy-year-old Edwin Hardeman of Santa Rosa, California said he used Roundup for almost 30 years on his properties before developing non-Hodgkin's lymphoma.
The decision comes less than a year after a jury awarded $289 million to Bay-area groundskeeper Dewayne Johnson over similar claims. The amount was later reduced to $78 million.
"Today's verdict reinforces what another jury found last year, and what scientists with the state of California and the World Health Organization have concluded: Glyphosate causes cancer in people," Environmental Working Group President Ken Cook said in a statement. "As similar lawsuits mount, the evidence will grow that Roundup is not safe, and that the company has tried to cover it up."
Judge Vince Chhabria has split Hardeman's trial into two phases. The first, decided Tuesday, focused exclusively on whether or not Roundup use caused the plaintiff's cancer. The second, to begin Wednesday, will assess if Bayer is liable for damages.

"We are disappointed with the jury's initial decision, but we continue to believe firmly that the science confirms glyphosate-based herbicides do not cause cancer," Bayer spokesman Dan Childs said in a statement reported by The Guardian. "We are confident the evidence in phase two will show that Monsanto's conduct has been appropriate and the company should not be liable for Mr. Hardeman's cancer."
Some legal experts said that Chhabria's decision to split the trial was beneficial to Bayer, Reuters reported. The company had complained that the jury in Johnson's case had been distracted by the lawyers' claims that Monsanto had sought to mislead scientists and the public about Roundup's safety.

However, a remark made by Chhabria during the trial and reported by The Guardian was blatantly critical of the company.
"Although the evidence that Roundup causes cancer is quite equivocal, there is strong evidence from which a jury could conclude that Monsanto does not particularly care whether its product is in fact giving people cancer, focusing instead on manipulating public opinion and undermining anyone who raises genuine and legitimate concerns about the issue," he said.
Many regulatory bodies, including the U.S. Environmental Protection Agency, have ruled that glyphosate is safe for humans, but the World Health Organization's International Agency for Research on Cancer found it was "probably carcinogenic to humans" in 2015. A university study earlier this year found that glyphosate use increased cancer risk by as much as 41 percent.
Hardeman's lawyers Jennifer Moore and Aimee Wagstaff said they would now reveal Monsanto's efforts to mislead the public about the safety of its product.
"Now we can focus on the evidence that Monsanto has not taken a responsible, objective approach to the safety of Roundup," they wrote in a statement reported by The Guardian.
Hardeman's case is considered a "bellwether" trial for the more than 760 glyphosate cases Chhabria is hearing. In total, there are around 11,200 such lawsuits pending in the U.S., according to Reuters.
University of Richmond law professor Carl Tobias told Reuters that Tuesday's decision showed that the verdict in Johnson's case was not "an aberration," and could possibly predict how future juries in the thousands of pending cases would respond.