This website uses cookies to ensure you get the best experience while browsing it. By clicking 'Got It' you're accepting these terms.
How to Make Your Own Natural Cleaning Products
Nov. 22, 2013 01:01PM EST
Most synthetic cleaning products are based on age-old formulas that used natural ingredients and were passed down through the generations because the chemistry was right.
Going back to the original, naturally derived ingredients is a way to make your own cleaning products that are effective, don't pollute your home and save money. Most of the ingredients can be found in your kitchen cupboards. Add a few of these to well-chosen and environmentally friendly green cleaning products found in health food stores, and you can easily and simply transform your home into a non-toxic and healthy haven.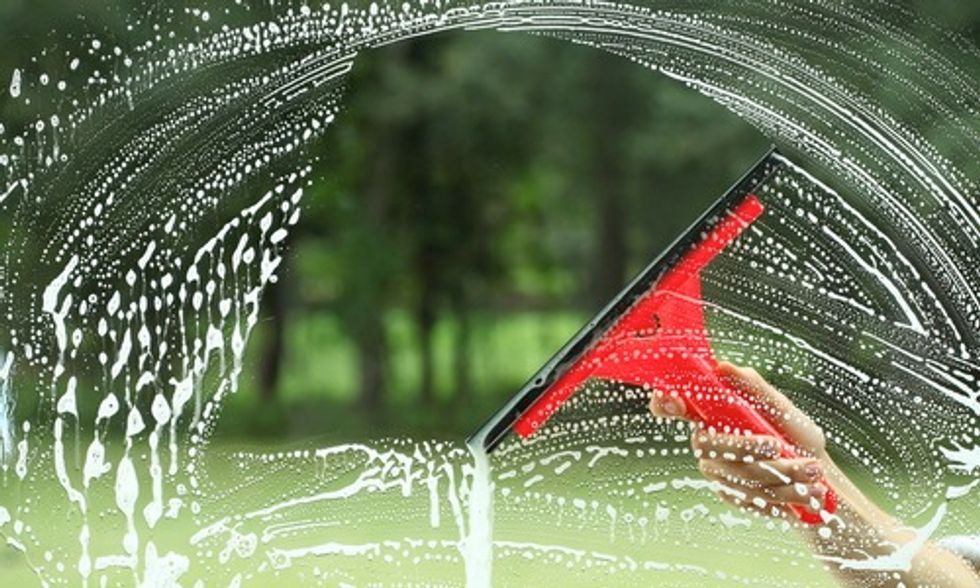 Shutterstock
Non-toxic cleaning can give you a deep feeling of gratification to know that your family's health is protected, and that your home is a place for your bodies to rest and recuperate rather than promote harm. As an added bonus, homemade cleaning formulas cost about one-tenth the price of their commercial counterpart—and that includes costly, but worthwhile essential oils, and concentrated, all-purpose detergents for homemade recipes.
With this kit you will be supplied with enough product for months of cleaning. 
Supplies
White distilled vinegar
A good liquid soap or detergent
Tea tree oil
Six clean spray bottles
Two glass jars
CREAMY SOFT SCRUBBER
Pour about 1/2 cup of baking soda into a bowl, and add enough liquid detergent to make a texture like frosting. Scoop the mixture onto a sponge, and wash the surface. This is the perfect recipe for cleaning the bathtub because it rinses easily and doesn't leave grit.
Add 1 teaspoon of vegetable glycerin to the mixture and store in a sealed glass jar, to keep the product moist. Or just make as much as you need at a time.
WINDOW CLEANER
1/4 to 1/2 teaspoon liquid detergent
3 tablespoons vinegar
2 cups water
Spray bottle
Put all the ingredients into a spray bottle, shake it up a bit, and use as you would a commercial brand. The soap in this recipe is important. It cuts the wax residue from the commercial brands you might have used in the past.
OVEN CLEANER
1 cup or more baking soda
Water
A squirt or two of liquid detergent
Sprinkle water generously over the bottom of the oven, then cover the grime with enough baking soda that the surface is totally white. Sprinkle some more water over the top. Let the mixture set overnight. You can easily wipe up the grease the next morning because the grime will have loosened. When you have cleaned up the worst of the mess, dab a bit of liquid detergent or soap on a sponge, and wash the remaining residue from the oven. If this recipe doesn't work, it is probably because you didn't use enough baking soda and/or water.
ALL-PURPOSE SPRAY CLEANER
1/2 teaspoon washing soda
A dab of liquid soap
2 cups hot tap water
Combine the ingredients in a spray bottle and shake until the washing soda has dissolved. Apply and wipe off with a sponge or rag.
FURNITURE POLISH
1/2 teaspoon oil, such as olive (or jojoba, a liquid wax)
1/4 cup vinegar or fresh lemon juice
Mix the ingredients in a glass jar. Dab a soft rag into the solution and wipe onto wood surfaces. Cover the glass jar and store indefinitely.
VINEGAR DEODORIZER
Keep a clean spray bottle filled with straight 5 percent vinegar in your kitchen near your cutting board and in your bathroom and use them for cleaning. I often spray the vinegar on our cutting board before going to bed at night, and don't even rinse but let it set overnight. The smell of vinegar dissipates within a few hours. Straight vinegar is also great for cleaning the toilet rim. Just spray it on and wipe off.
MOLD KILLERS
Tea Tree Treasure
Nothing natural works for mold and mildew as well as this spray. I've used it successfully on a moldy ceiling from a leaking roof, on a musty bureau, a musty rug, and a moldy shower curtain. Tea tree oil is expensive, but a little goes a very long way. Note that the smell of tea tree oil is very strong, but it will dissipate in a few days.
2 teaspoons tea tree oil
2 cups water
Combine in a spray bottle, shake to blend, and spray on problem areas. Do not rinse. Makes two cups.
Vinegar Spray
Straight vinegar reportedly kills 82 percent of mold. Pour some white distilled vinegar straight into a spray bottle, spray on the moldy area, and let set without rinsing if you can put up with the smell. It will dissipate in a few hours.

EcoWatch Daily Newsletter
Heavy industry on the lower Mississippi helps to create dead zones.
AJ Wallace on Unsplash.
Cutting out coal-burning and other sources of nitrogen oxides (NOx) from heavy industry, electricity production and traffic will reduce the size of the world's dead zones along coasts where all fish life is vanishing because of a lack of oxygen.
Despite the ongoing coronavirus pandemic, which has restricted the ability to gather in peaceful assembly, a Canadian company has moved forward with construction of the controversial Keystone XL pipeline, according to the AP.
A gas flare from the Shell Chemical LP petroleum refinery illuminates the sky on August 21, 2019 in Norco, Louisiana. Drew Angerer / Getty Images.
Methane levels in the atmosphere experienced a dramatic rise in 2019, preliminary data released Sunday shows.
A retired West Virginia miner suffering from black lung visits a doctor for tests. Andrew Lichtenstein / Corbis via Getty Images
In some states like West Virginia, coal mines have been classified as essential services and are staying open during the COVID-19 pandemic, even though the close quarters miners work in and the known risks to respiratory health put miners in harm's way during the spread of the coronavirus.
Solar panel installations and a wind turbine at the Phu Lac wind farm in southern Vietnam's Binh Thuan province on April 23, 2019. MANAN VATSYAYANA / AFP via Getty Images