This website uses cookies to ensure you get the best experience while browsing it. By clicking 'Got It' you're accepting these terms.
How to Get Your Kids to Eat Superfoods
Feb. 25, 2015 08:49AM EST
Food
The inherent pickiness of children's eating habits can pose challenges for parents every step of the way—we're constantly brainstorming new ways to add healthy ingredients to meals, and present those healthy ingredients in ways that will convince kids to eat them. When it comes to superfoods—whole grains, legumes, nuts and vegetables with high amounts of nutritious content—this challenge remains daunting. With a few simple culinary tricks of the mommy trade, you may just get your child to eat that extra helping of kale.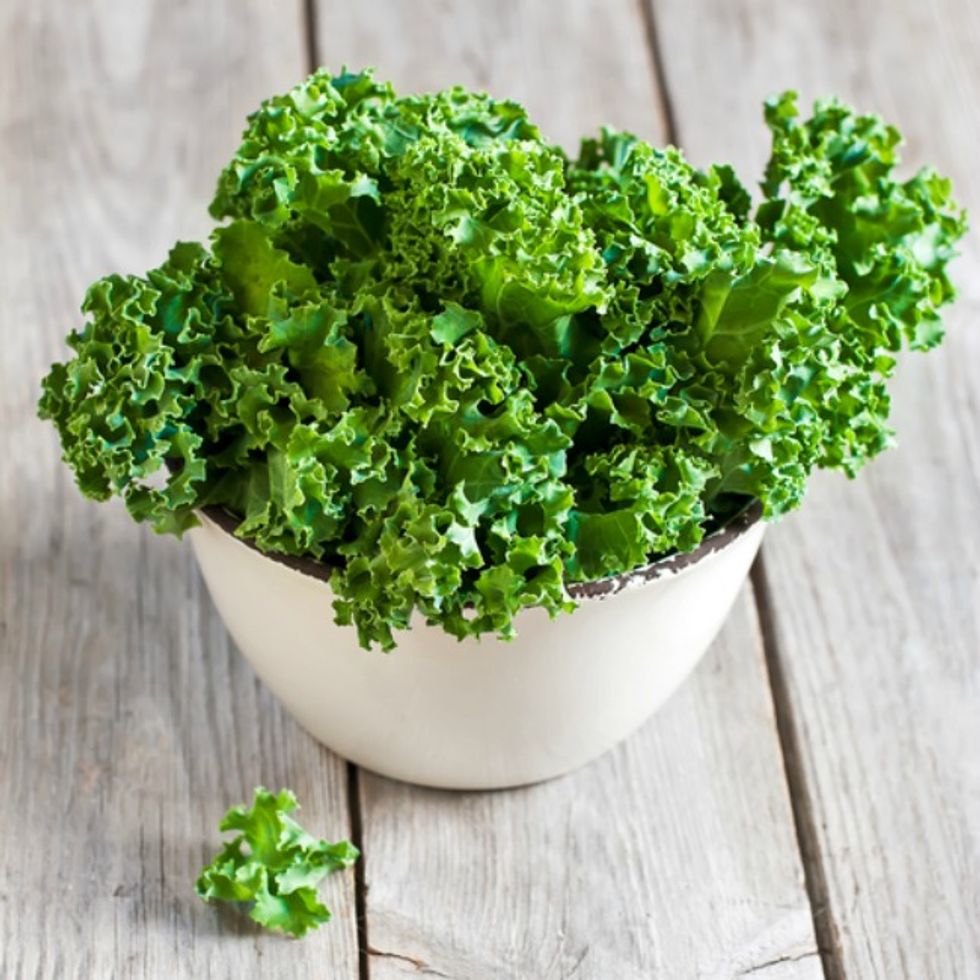 Photo credit: Shutterstock
Puree
Kale, chard and cauliflower are among the top superfood salad greens on the planet. One ounce of kale contains most of the vitamin A and all of the vitamin K that you and a child four years or older needs for the day. Steam your vegetable of choice, then puree in a blender, Cuisinart or Vitamix with a few tablespoons of the boiled water. Then, mix into fruit smoothies, tomato sauce or pancake batter.
Chop
Spinach and bok coy (Chinese cabbage) are other great choices when it comes to superfood greens. Chop them up finely and add to a lettuce salad, put inside a burger, grilled cheese or pressed panini sandwich.
Grind
Sunflower seeds, pumpkin seeds and almonds all offer impressive amounts of vitamins and trace minerals in a single serving. Grind a ½ pound bag of your favorite nut or seed, and keep the grounds in the freezer for regular use. Sprinkle the grinds in your child's sandwich under the nut butter, ketchup or mayonnaise, or add 1 teaspoon of ground nuts to pancakes or smoothies.
Add Superfood Flour to Baking
Garbanzo beans and buckwheat are two excellent superfoods that can be purchased in the form of flour. Include ¼ cup of said flour in any cookie, muffin, quick bread or cake recipe for added amounts of fiber, protein, B vitamins and amino acids. The amount of ¼ cup seems to be the magic number—more than that and your child may taste the difference, while adding 1 tsp of superfood-based flour won't include enough additional nutritional content in every serving.
Good luck. Let us know in the comments below what works best for you.
YOU MIGHT ALSO LIKE
Top 10 Cities Where Americans Love Eating Organic
Revolutionary Honey Harvesting Beehive Crowdsources $2 Million in First Day
EcoWatch Daily Newsletter
We need our government to do everything it can to stop PFAS contamination and exposure from wreaking havoc in communities across the country. LuAnn Hun /
Unsplash
By Genna Reed
The EPA announced last week that it is issuing a preliminary regulatory determination for public comment to set an enforceable drinking water standard to two of the most common and well-studied PFAS, PFOA and PFOS.
This decision is based on three criteria:
PFOA and PFOS have an adverse effect on public health
PFOA and PFOS occur in drinking water often enough and at levels of public health concern;
regulation of PFOA and PFOS is a meaningful opportunity for reducing the health risk to those served by public water systems.
Charging EVs in Stockholm: But where does a dead battery go? Ranjithsiji / Wikimedia Commons
By Kieran Cooke
Driving an electric-powered vehicle (EV) rather than one reliant on fossil fuels is a key way to tackle climate change and improve air quality — but it does leave the old batteries behind as a nasty residue.
U.S. Secretary of the Treasure Steven Mnuchin arrives for a welcome dinner at the Murabba Palace in Riyadh, Saudi Arabia on Feb. 22, 2020 during the G20 finance ministers and central bank governors meeting. FAYEZ NURELDINE / AFP via Getty Images
Finance ministers from the 20 largest economies agreed to add a scant mention of the climate crisis in its final communiqué in Riyadh, Saudi Arabia on Sunday, but they stopped short of calling it a major economic risk, as Reuters reported. It was the first time the G20 has mentioned the climate crisis in its final communiqué since Donald Trump became president in 2017.
Aerial view of Parque da Cachoeira, which suffered the January 2019 dam collapse, in Brumadinho, state of Minas Gerais, Brazil — one of the country's worst industrial accidents that left 270 people dead. Millions of tons of toxic mining waste engulfed houses, farms and waterways, devastating the mineral-rich region. DOUGLAS MAGNO / AFP / Getty Images
Participants of the climate demonstration Fridays for Future walk through Hamburg, Germany on Feb. 21, 2020. Axel Heimken / picture alliance via Getty Images