This website uses cookies to ensure you get the best experience while browsing it. By clicking 'Got It' you're accepting these terms.
How to Fight Deforestation With Your Fork
Apr. 26, 2016 10:35AM EST
Can going meatless once a week change the course of our rainforests?
Let's look at what, why and how. Today, the raising of livestock uses 30 percent of the Earth's total land surface. And every hour, rainforests the size of 4,000 football fields are being destroyed, most of it for beef production. Plus, the raising of cattle further damages the soil—about 20 percent of pastures (and even higher for dry lands) are degraded through overgrazing and erosion.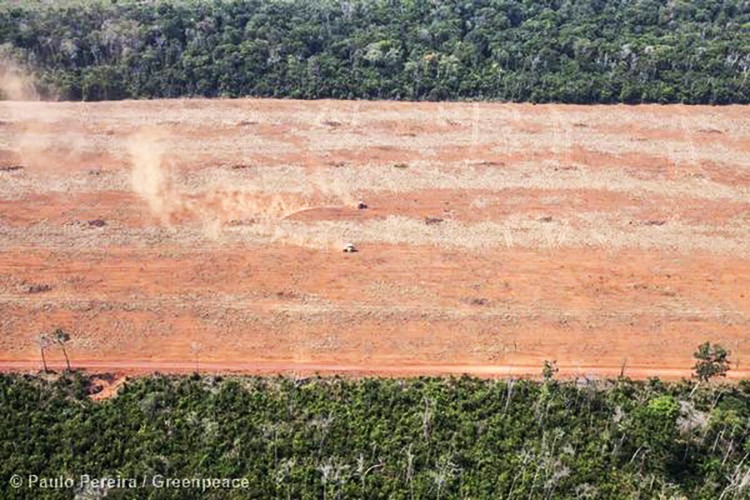 We simply can't afford to lose our rainforests. They produce our clean air, balance the climate and protect water cycles. Our rainforests are also home to thousands of valuable medicinal plants, many of which are used in modern medicine today. Truly priceless is the culture and wisdom of native peoples who have lived in the rainforests for thousands of years. Livestock displaces them.
Simple truth: As the world population explodes and the demand for meat grows, more and more rainforest will be destroyed. But it's not out of our hands. You can take one very important step. Just go meatless one day a week.
Why? Because for each hamburger you exchange for a delicious meat-free dish like our Pasta Primavera, you save 55 square feet of tropical rainforest.
Peggy Neu, president of the Monday campaigns, reminds us that Meatless Monday has its roots in World War I and II, when Americans were asked to help conserve key staples to aid the war effort. Today, our "cut out meat one day a week" program is active in 40 countries and growing. Activists like actor Mark Ruffalo, Sir Paul McCartney, Sir Richard Branson and many international cooking stars like Giada De Laurentiis and Mario Batali have jumped on board.
Join with all of us on Meatless Monday and watch our food choices change the future.
YOU MIGHT ALSO LIKE
Activists Scale NYC Landmark, Drop Banner: Pepsi Cola, Cut Conflict Palm Oil
Can Superfoods Help Boost the Planet's Health, Too?
The Role of the Worm in Recycling Wastewater
Watch Racing Extinction: It Will Change the Way You View the World
PeopleImages / E+ / Getty Images
By Daniel Ross
Hurricane Florence, which battered the U.S. East Coast last September, left a trail of ruin and destruction estimated to cost between $17 billion and $22 billion. Some of the damage was all too visible—smashed homes and livelihoods. But other damage was less so, like the long-term environmental impacts in North Carolina from hog waste that spilled out over large open-air lagoons saturated in the rains.
Hog waste can contain potentially dangerous pathogens, pharmaceuticals and chemicals. According to the state's Department of Environmental Quality, as of early October nearly 100 such lagoons were damaged, breached or were very close to being so, the effluent from which can seep into waterways and drinking water supplies.
This picture taken on May 21, 2018 shows discarded climbing equipment and rubbish scattered around Camp 4 of Mount Everest. Decades of commercial mountaineering have turned Mount Everest into the world's highest rubbish dump as an increasing number of big-spending climbers pay little attention to the ugly footprint they leave behind. DOMA SHERPA / AFP / Getty Images
China has closed its Everest base camp to tourists because of a buildup of trash on the world's tallest mountain.
Researchers tested the eggs of Arctic northern fulmers like these in Nunavut, Canada.
Fiona Paton / Flickr
By Madison Dapcevich
Plastics have been recorded in every corner of the world, from the remote icy waters of Antarctica to the bellies of deep-sea fishes. Now, preliminary findings presented at this year's American Association for the Advancement of Science (AAAS) annual meeting in Washington, DC suggest that bird eggs from the high Arctic—one of the most remote wildernesses on the planet—show evidence of contamination from chemicals used in plastics.

A small Australian rat that lived on a 12 acre island in the Great Barrier Reef has become the first mammal to go extinct primarily because of human-caused climate change, the Australian Government confirmed Monday.
The Bramble Cay melomys was first declared extinct after a 2014 search on Bramble Cay, its native island in the Torres Strait, between Queensland, Australia and Papua New Guinea, according to a 2016 report by the University of Queensland and the Queensland government.