This website uses cookies to ensure you get the best experience while browsing it. By clicking 'Got It' you're accepting these terms.
How to Drink a 'Green' Beer on St. Patrick's Day
Mar. 17, 2014 11:29AM EST
By Susan Bird
Your St. Patty's Day beer may be tinted an amusing and pretty shade of green this week, but have you ever considered how eco-friendly and sustainable your beloved brewskies really are? If you want to ensure you're maintaining your environmentalist credentials while hoisting a few brews, keep these considerations in mind:
Keg, Can or Bottle?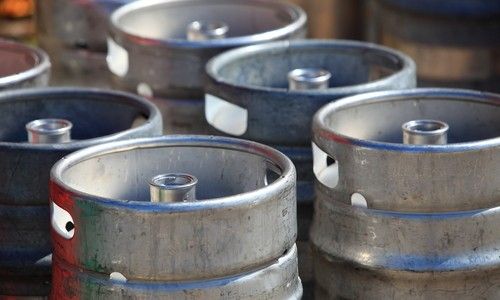 Photo courtesy of Shutterstock
The keg is king. Besides being handy for large gatherings, rented beer kegs are reused about twice a month or 22 times a year. Kegs are durable enough to last two decades. Using them means that about 58,000 fewer beer cans and bottles get tossed into the trash every year.
Even in a restaurant or bar, beer on tap from a keg is almost always the more eco-friendly choice than from an individual bottle or can. This is true even after taking into account the need to truck the beer from brewery to bar, as well as the need to wash the glasses.
The Bottle vs. The Can
If your choices are limited to bottled or canned beer, your instinct might be to choose a bottle. They can be washed and reused, so they seem to be the greener choice, right? Not so fast. This is a subject of some debate.
"Generally speaking, every time you drink a can of beer and you recycle it, some part of that can will be back up in a shop within the next 60 days," Kim Moratta, MillerCoors' director of social sustainability, told OPB.org. "The other part that's interesting is that if you make a can out of recycled content, it requires 95 percent less energy."
Fans of the bottle, however, say that if you consider a container's entire life cycle and the manner in which it is made, bottles clearly win. In part, this is because most of the bauxite required to manufacture aluminum cans comes from environmentally damaging mining operations in Jamaica, Guinea and Australia.
"Recycling 100 beer bottles requires more energy than recycling 100 aluminum cans, but making the aluminum cans requires a lot more energy," David Allaway, a solid waste policy analyst at Oregon Department of Environmental Quality, told OPB.org.
No clear winner here, then, which is why drinking locally produced beer winds up a greener choice than either bottles or cans.
Think Globally, Drink Locally
Photo courtesy of Shutterstock
If your goal is reducing the carbon footprint of the beer you drink, choose locally brewed beverages. Many craft brewers now source their hops and grain locally, reducing the pollution that inevitably results from shipping beer ingredients across the country or around the globe.
Look for craft brewers who go the extra mile to respect the environment in ways like these:
Using heat from the brewing process to heat office space and other structures
Using spent grain as a co-fuel for beer production, which can reduce energy consumption by as much as 70 percent a year
Using organically grown ingredients
Using wastewater creatively, infusing it with microorganisms that turn it into gaseous fuels like methane or hydrogen
Using water efficiently, such as harvesting rainwater and minimizing evaporation
Preventing spent sediment, yeast, proteins and grains from ending up in landfills by sending them to special processing facilities instead
Using wind or solar energy to power production
Now that you have the facts, get out there and enjoy a few eco-friendly beers. Remember to drink responsibly, designate a driver and minimize your impact on Mother Nature.
Visit EcoWatch's TIPS page for more related news on this topic.

EcoWatch Daily Newsletter
Smog over Los Angeles. Westend61 / Getty Images
After four decades of improving air quality, the U.S. has started to take a step backwards, as the number of polluted days has ticked upwards over the last two years, the Associated Press reported.
Photobos / iStock / Getty Images
Governors in Vermont and Maine signed bills on Monday that will ban plastic bags in their states next year, The Hill reported.
The Maine ban will go into effect next Earth Day, April 22, 2020. The Vermont ban, which extends beyond plastic bags and is the most comprehensive plastics ban so far, will go into effect in July 2020. The wait time is designed to give businesses time to adjust to the ban.
picture-alliance / AP Images / D. Goldman
By Daniel Moattar
Eastern Kentucky's hills are interrupted by jarring flats of bare rock: the aftermath of mountaintop removal mining, which uses explosives to destroy and harvest coal-rich peaks.
By Molly Taft
Lisa Marshall isn't your typical activist. For one thing, she's not into crowds. "I don't really like rallies," Marshall, a mom of three from upstate New York, said. "They're a little stressful — not my favorite thing."

An oil drilling site in a residential area of Los Angeles, California on July 16, 2014.
Faces of Fracking / Flickr
By Jake Johnson
A comprehensive analysis of nearly 1,500 scientific studies, government reports, and media stories on the consequences of fracking released Wednesday found that the evidence overwhelmingly shows the drilling method poses a profound threat to public health and the climate.

sonsam / iStock / Getty Images
By Grace Francese
A new Environmental Working Group (EWG) study published in Environmental Research found that nitrate, one of the most common contaminants of drinking water, may cause up to 12,594 cases of cancer per year, but that's not its only danger: It can pose unique health risks to children.
Melt water from Everest's Khumbu glacier. Ed Giles / Getty Images
EPA Administrator Andrew Wheeler signs his replacement for the Clean Power Plan. Win McNamee / Getty Images