How to Avoid Factory Farmed Foods
There are plenty of reasons to boycott factory farms, including your health, animal welfare and the environment.
It can be challenging to avoid foods produced from animals raised on factory farms, given how dominant factory farming has become. But it's possible. Here are some suggestions from the Organic Consumers Association: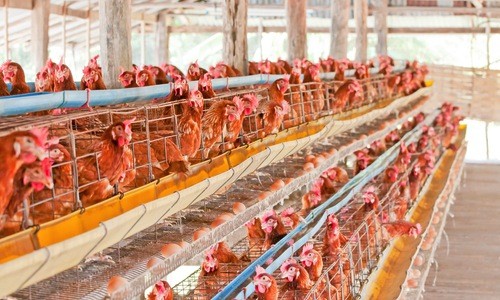 Shutterstock
1. Buy direct from farms. You can connect online with farmers markets, subscription-based Community Supported Agriculture (CSAs), buying clubs and farms at:
2. Shop carefully in grocery stores. Choosing certified organic is a good way to avoid the worst factory-farmed animal products in grocery stores.
But a certified organic product doesn't guarantee that it's 100 percent free of synthetic ingredients or non-organic ingredients, nor does it guarantee the highest level of animal welfare or the best pasture standard. You have to read the labels.
If you want to know that your food comes from farms that provide the highest level of animal welfare, you'll want to look for organic, grassfed foods that are also:
If you want nutrient-dense food from animals that are 100 percent grass-fed, you'll want to carefully vet organic companies' pasture claims. There is no legal standard for "pastured." The term implies that the animal has been raised primarily outdoors, on live pasture. But the quality of a pasture can range from land that consists of a mixture of living nutritious grasses, legumes and a variety of plant species, to land that is poorly managed with respect to soil and water quality, and consists primarily of dirt and gravel, with no living plants.
Products that are American Grassfed Certified, in addition to USDA Organic, guarantee the highest pasture standards and nutrient density.
3. Consider nutrition-per-calorie when shopping for factory farm food alternatives. Food from factory farms might be cheaper, but not when considering how much more nutrition you get from organic and grass-fed alternatives, or plant-based superfoods. Dr. Oz has put together a great list of foods ranked by nutrient density.
4. Don't be a animal-consuming glutton. Being a healthy omnivore means eating more vegetables, fruits, grains, beans and nuts and seeking out super-foods. Animal products, produced in sustainable, high-welfare systems, can be harmless, but consider treating them like a luxury purchase. 
5. Try going vegan every now and then. Going vegan is probably the only sure way to avoid food from factory farms when you eat out at restaurants. If you want to try vegan at home, there are plenty of nutrient-rich plant-based superfoods, and much evidence supports the health benefits of a vegan diet. Resources include:
Visit EcoWatch's FACTORY FARMING page for more related news on this topic.

A coalition of conservation groups and others announced Thursday that a historic number of comments and petitions of support have been submitted to the U.S. Department of the Interior in support of Bears Ears National Monument. Despite the entirely inadequate 15-day comment period ending on May 26, more than 685,000 comments in support of Bears Ears National Monument have been collected.
Keep reading...
Show less
Rink Glacier in western Greenland, with a meltwater lake visible center. NASA/OIB
Scientists have had their eyes on Greenland as its iconic glaciers have begun disappearing due to a warming climate. But, what they didn't expect to see was a whole new type of melting.
Keep reading...
Show less
Mountain View Fire
By Lena Moffitt
An oil tanker in Mead, Colorado exploded, killing one and injuring three on Thursday. Authorities are continuing to investigate the cause of the explosion.
Keep reading...
Show less
Banner created by Alliance for Climate Education
Keep reading...
Show less
Twenty-two GOP senators sent a letter Thursday urging Donald Trump to pull out of the Paris agreement. They argued remaining in the deal could "upend" the administration's ability "to fulfill its goal of rescinding the Clean Power Plan."
Keep reading...
Show less
By Cheryl Johncox
The Federal Energy Regulatory Commission (FERC) rejected on Thursday Energy Transfer Partners' request to resume horizontal directional drilling at two sites for its Rover fracked gas pipeline. This rejection comes after numerous leaks into Ohio's wetlands, and Clean Air and Clean Water act violations. FERC has halted the process at only eight locations of the 32 where drilling is taking place under Ohio's wetlands and streams.
Keep reading...
Show less
By Nadia Prupis
A majority of people in eight countries say they are ready to change their lifestyles if it would prevent climate catastrophe, a survey on global threats released Wednesday found.
Keep reading...
Show less
May. 25, 2017 01:55PM EST
Bill Maher is sick of billionaires' obsession with Mars, more like "Mars-a-Lago," he said.
In a new animation produced by ATTN:, the popular talk show host of Real Time, discusses the perils of our planet, including how "climate change is killing us."
Keep reading...
Show less