How This Trending Diet Is Saving the Planet
Nov. 21, 2014 01:33PM EST
Climate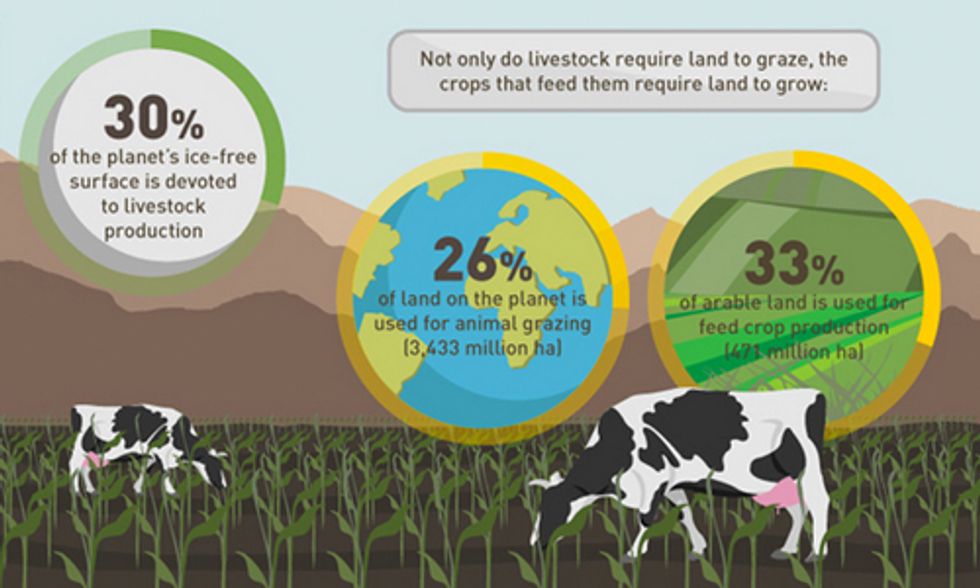 If you're like most of us, you probably know way more vegetarians and vegans than you did a decade ago. You may have even become one yourself. Although it's unlikely that a majority of Americans will decide to stop eating meat, the number of people cutting down on meat consumption or cutting out red meat seems to be increasing too. Some do it for health reasons, some do it because it's a trendy thing that feels virtuous. But it's a great thing to do for the environment as well.
What would it mean for our environment if all of us did become vegetarians?  A lot of good things, according to an infographic put together by Pounds to Pocket.
"The livestock industry's impact on the climate is enormous," it says. "Compared with vegetables and grains, farming animals requires a lot more land, more water and more energy."
How much more? Thirty percent of the globe's ice-free land is devoted to livestock production, with 26 percent of all land on Earth devoted to animal grazing and 33 percent of arable land used for feed production. The resources going into animal feed could feed four billion people. Meat production is water-intensive as well. And industrial animal farming methods have speed up the degradation of the soil. In fact, it's the factory-scale production of meat—ramped up to fuel an increasing taste for meat in developing nations trying to keep up with industrialized countries—that is most to blame for consuming these resources.
Not only that but livestock production is responsible for 18 percent of the Earth's greenhouse gas emissions, which fuel climate change. There's bad environmental news for cheese-eaters too. Cheese comes from ruminant animals which generate methane, a more potent greenhouse gas than carbon dioxide.

YOU MIGHT ALSO LIKE
Another School Joins Meatless Monday
Michael Pollan's New Food Rule: Take Control of Your Plate
Reducing Meat and Dairy Consumption Important for Healthy People and Planet
EcoWatch Daily Newsletter