This website uses cookies to ensure you get the best experience while browsing it. By clicking 'Got It' you're accepting these terms.
How This 6-Year-Old Fed His Community With $15k and a Big Heart
Jun. 12, 2015 08:31AM EST
Food
Oliver is the poster child for the "grow food not lawns" movement. Four years ago, when he was just six years old, he turned his lawn into a productive urban farm—with a little help from his younger sister, his parents and a $15,000 grant from Nature's Path. The $15,000 Gardens for Good grant allowed Oliver's Garden Project to blossom into a series of mini-farms across Oliver's inner city Hamilton, Ontario neighborhood, all dedicated to raising funds for at risk youth and feeding his community.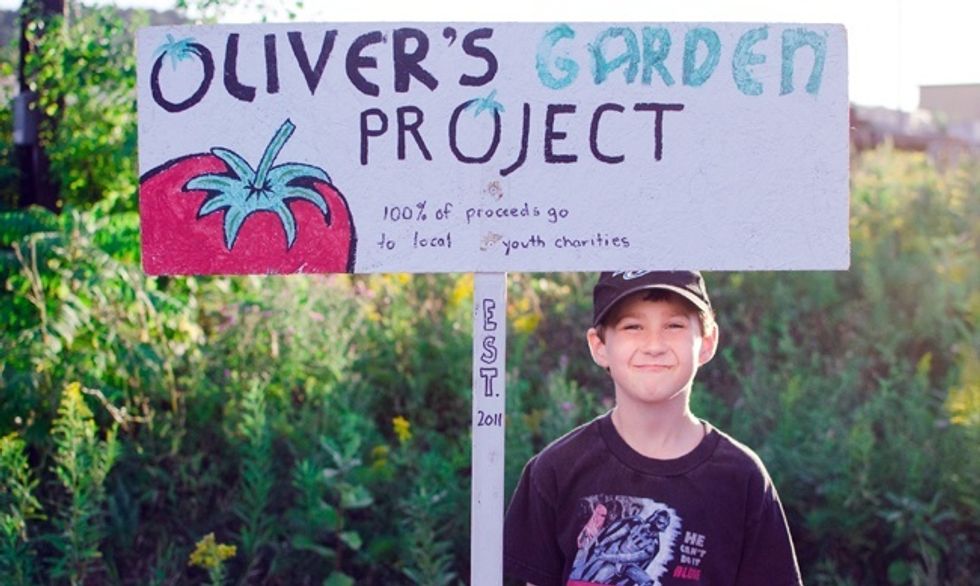 Like countless other children in neighborhoods across North America, Oliver lives in a food desert, meaning his family and community don't have easy access to fresh, healthy food. Children and students are at an especial disadvantage. One day, driving with mother Stacey Allen-Cillis, Oliver saw two kids rummaging through a recycling bin, and when he realized they were probably collecting cans to get money for food, he was inspired to spark change. A small family garden became the impetus to raise funds for kids in his community—says Stacey, "Oliver convinced us that rather than selling what we grew to fund our summer vacation, the money we raised should go to kids in our community who were in need."
All of the money raised from the vegetables grown by Oliver's Garden Project go to low income families and children. The family chooses an organization to donate to each year—one that's committed to Oliver's vision of healthy food in Hamilton. Gardens for Good helped take this family initiative to the next level when they won the $15,000 grant to expand their operations. The original lawn-turned-garden became five gardens spread across their community dedicated to helping families in need grow their own food, as well as a series of workshops to empower and provide ongoing support.
Since winning the grant from Nature's Path, Oliver and his family have been very busy indeed. They've run after school programs to get kids growing in greenhouses and making healthy recipes, have set up a garden at Oliver's school, and have found a market for their signature heirloom tomatoes in local food trucks. "Tomato candy," Oliver's mom Stacey says of this popular crop, "little rainbows in a bag."
For Oliver and his family, the best part of the Gardens for Good contest—aside from helping their community—was feeling that same community rally behind them to win the grant. Oliver may have planted the seeds for change, but it was his community that helped good things grow. And the community support has grown along with the project, says Stacey. "We get so much wonderful feedback, from people who share our story with others, to people who tell us how we've inspired them to put a garden their own backyard, daycare or school. It's been such a forward motion."
With all this success come limitless possibilities for Oliver's Garden Project. Stacey says that "Oliver's Garden Project has never veered from our main goal of grow, sell, share and we'll always stick to that. We're so happy to be involved with our community, and we want to keep sharing and spreading the love."
Oliver is making big change on a small scale. It just goes to show, growing food—and empowering communities to do the same—has an amazing capacity to transform the world, build a better food system and change lives. Do you have an urban garden project of your own, or know someone who does? Follow Oliver down the garden path and apply for your own Gardens for Good grant before June 22—you could win $15,000 to grow your farm and create lasting change in your community.
YOU MIGHT ALSO LIKE
EcoWatch Daily Newsletter
Pro-environment demonstrators on the streets of Washington, DC during the Jan. 20, 2017 Trump inauguration.
Mobilus In Mobili
/ Flickr /
CC BY-SA 2.0
By Dr. Brian R. Shmaefsky
One year after the Flint Water Crisis I was invited to participate in a water rights session at a conference hosted by the US Human Rights Network in Austin, Texas in 2015. The reason I was at the conference was to promote efforts by the American Association for the Advancement of Science (AAAS) to encourage scientists to shine a light on how science intersects with human rights, in the U.S. as well as in the context of international development. My plan was to sit at an information booth and share my stories about water quality projects I spearheaded in communities in Bangladesh, Colombia, and the Philippines. I did not expect to be thrown into conversations that made me reexamine how scientists use their knowledge as a public good.
Mt. Rainier and Reflection Lake on Sept. 10, 2015. Crystal Geyser planned to open a bottling plant near Mt. Rainier, emails show.
louelke - on and off / Flickr
Bottled water manufacturers looking to capture cool, mountain water from Washington's Cascade Mountains may have to look elsewhere after the state senate passed a bill banning new water permits, as The Guardian reported.
Large storage tank of Ammonia at a fertilizer plant in Cubatão, Sao Paulo State, Brazil. Luis Veiga / The Image Bank / Getty Images
The shipping industry is coming to grips with its egregious carbon footprint, as it has an outsized contribution to greenhouse gas emissions and to the dumping of chemicals into open seas. Already, the global shipping industry contributes about 2 percent of global carbon emissions, about the same as Germany, as the BBC reported.
At high tide, people are forced off parts of the pathway surrounding DC's Tidal Basin. Andrew Bossi /
Wikimedia
The Jefferson Memorial in Washington, DC overlooks the Tidal Basin, a man-made body of water surrounded by cherry trees. Visitors can stroll along the water's edge, gazing up at the stately monument.
But at high tide, people are forced off parts of the path. Twice a day, the Tidal Basin floods and water spills onto the walkway.
Lioness displays teeth during light rainstorm in Kruger National Park, South Africa. johan63 / iStock / Getty Images
Ahead of government negotiations scheduled for next week on a global plan to address the biodiversity crisis, 23 former foreign ministers from various countries released a statement on Tuesday urging world leaders to act "boldly" to protect nature.