How the Fracking Boom Increases Production of Disposable Plastics
Apr. 29, 2014 11:38AM EST
Energy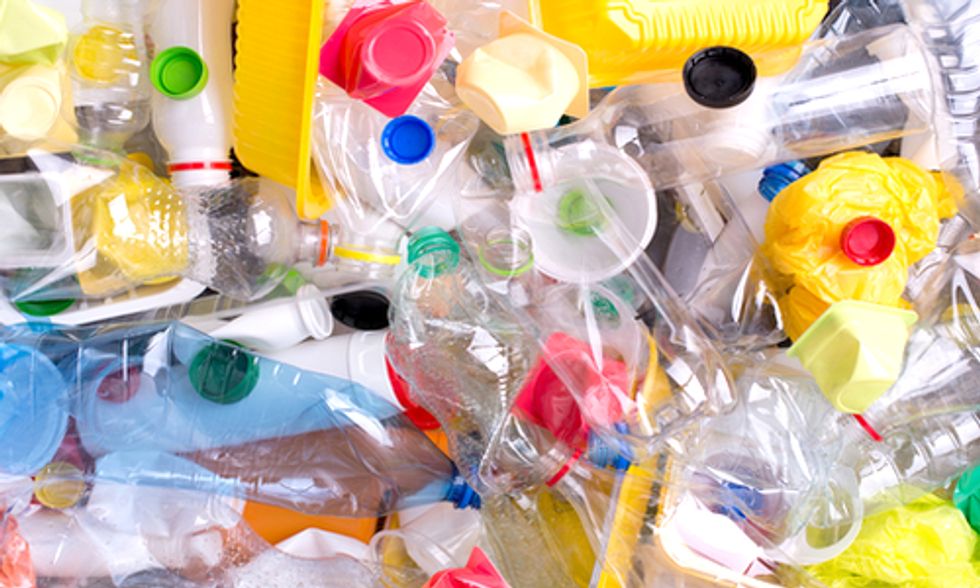 I used to keep a running list of stupid plastic products and gimmicks I had seen or heard about. Like the gizmo that somebody invented to aid in the task of cutting a hot dog into 12 identically-sized pieces. Or disposable Holy Communion cups that come pre-filled with wine, their tops sealed with peel-away foil. Or—my personal favorite—Del Monte's plastic-wrapped, single-serve banana, which, as Jon Stewart has pointed out, is apparently a product for "people who love bananas, but hate their biodegradability."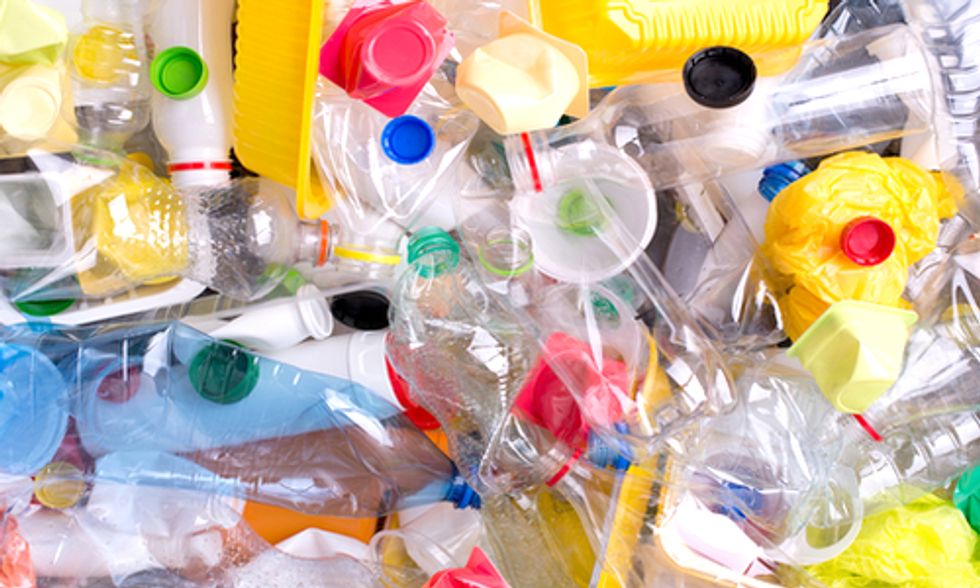 Photo courtesy of Shutterstock
All of these ridiculously unnecessary products testify to just how addicted we've become to the presence of throwaway plastics in our everyday lives. Yet weaning ourselves from them may soon be harder than it's ever been—thanks to the recent boom in shale gas, of all things. 
Twenty years ago, domestic producers of natural gas couldn't find enough reserves to justify the expenses associated with drilling. Today, thanks in large part to fracking, we're experiencing a natural-gas bonanza. According to the U.S. Energy Information Administration, new developments in drilling and extraction technology have opened the door for the capture of more than 2,000 trillion cubic feet of recoverable gas—enough to take us, at current rates of consumption, into the twenty-second century.
In addition to potential health concerns, most of the talk about the shale gas boom so far has focused on what it will or won't do for America's energy needs. But an important side conversation is now taking place among companies that rely on this fossil fuel for other purposes. Natural gas contains many of the vital raw materials that are used to manufacture plastics and chemicals. The new tide of cheap natural gas has launched the petrochemical industry on the biggest building spree it has seen in many years, with many experts predicting enormous increases in production of those plastics most often used in consumer packaging and single-use products.
The shale boom, in other words, has been a game-changer for the plastics industry. Just a few years ago, domestic gas prices were so high that U.S. companies were struggling to compete against producers in Asia and the Middle East, and were shutting down or shrinking their plants. Nowadays the U.S. is one of the cheapest places in the world to make plastic, according to Joseph Chang, global editor of ICIS Chemical Business. The petrochemical industry is ecstatic.
"This is the first time in more than a decade we've been able to talk about building facilities [and] increasing capacity," says Steve Russell, vice president of the plastics department of the American Chemistry Council, which represents many of the world's biggest producers of raw plastics and recently produced a report analyzing the impact of the shale gas boom. To date, companies under its aegis have announced plans to spend more than $100 billion by 2020 to build new facilities or expand existing ones.
Most of the proposed projects are focused on extracting ethylene from the ethane contained in natural gas. Ethylene is one of the most widely used chemicals in the world—a key raw material for ammonia, antifreeze, vinyl and rubber. But more than anything else it's used to make polyethylene: the plastic found in toys and diapers, plastic bags and bubble wrap, milk jugs and squeeze bottles. It's the chief plastic found in most consumer packaging. Not surprisingly, it's also the type of plastic most often found floating in ocean garbage patches, thousands of miles from land.
It takes gigantic furnaces known as crackers to break down ethane molecules into ethylene. The last time a new cracker was built in the U.S. was 2001. Now at least ten new crackers are slated for construction over the next several years—including a $6 billion plant that Chevron Phillips began building in Baytown, TX, earlier this month. The building boom extends from the industry's traditional home, along Texas's and Louisiana's Gulf coast, to parts of Appalachia and western Pennsylvania that sit atop the ethane-rich Marcellus Shale. Royal Dutch Shell, just to cite one example, has proposed locating an ethane cracker in Monaca, PA, not far from Pittsburgh.
The environmental implications are hard to quantify at this early stage of the new polymer boom. Certainly, however, it seems clear that industry interest in developing greener, biobased plastics has dimmed. When oil and gas prices were higher, the major petrochemical companies were all busy exploring ways to make plastics from renewable feedstocks, such as corn, sugar cane and sugar beets, as well as from non-food plants (such as algae). "Anecdotally, that does seem a little off the front burner, compared to where it was," says Don Loepp, editor of Plastics News.
But as I contemplate the broader ramifications of this newest boom, I can't help but wonder, too, what it will mean for the palpable texture of our daily lives—how it will affect the types of things that pass through our hands everyday. The proposed cracker projects could conceivably boost polyethylene production by as much as 50 percent, taking it to more than 42 billion pounds a year. That's fully six pounds of this one particular form of plastic for every man, woman and child on earth. That's a lot of polyethylene. And it's got to go somewhere.
I'm not suggesting that there's a straight A-to-B line between what comes out of the ground and what goes into our homes. The logic of capitalism demands that once money has been spent to extract a resource, that expense must be recouped. But in truth, actors in the marketplace don't always operate so rationally. Some analysts think that in the race to take optimal advantage of the new "shale gale," the industry is setting itself up for a bust—committing itself to producing far more plastic than the market can absorb.
Then again, the plastics industry has been very good at coming up with new ways to get consumers to substitute plastic for other, more traditional materials. The ubiquitous plastic shopping bag, to cite one famous example, is actually the product of a major marketing push in the 1970s by Exxon Mobil—then a leading maker of polyethylene—to replace conventional paper grocery sacks. It's safe to assume that as the new crackers and plants come on line, we'll likewise be seeing entirely new plastic products and packaging turning up in American stores. As a matter of fact, they're already starting to arrive: last year, polyethylene producer Dow Chemical introduced a flexible polyethylene pouch that the company is touting as a fantastic new form of packaging to mass-producers of food and beverages. One company that's trying it out is Tyson Foods, which has just started using it for frozen chicken sold in Mexico. (On the plus side—just barely—the pouch is fully recyclable.)
Ultimately, experts predict, much of the added polyethylene will be sold overseas to India, Africa, and Asia—places where plastic consumption is currently much lower than here in the U.S., but where rapidly growing economies are stimulating an appetite for more consumer goods. In India, for instance, plastic consumption had already been forecast to double over the next five years as people buy more things containing plastic from cars to washing machines to processed foods. Now it's almost certain to rise even more.
Again, from the market's perspective, the enhanced demand is understandable. People in India—like people everywhere—are vulnerable to the same material enticements as Americans. They want to be able to enjoy the wide panoply of consumer products that plastics make possible, as well as all of the conveniences afforded by a throwaway lifestyle.
But the coming boom in cheap polyethylene threatens to shove aside any serious discussion we need to be having about the ultimate cost—environmentally—of these conveniences. If industry has its way, we'll all be too busy peeling the plastic wrap off our bananas to consider the consequences.
This article was originally posted in Natural Resources Defense Council's OnEarth.
--------
YOU MIGHT ALSO LIKE
5 Gyres of Plastic Trash Pollutes the World's Oceans
22 Facts About Plastic Pollution (And 10 Things We Can Do About It)
EU Moves to Ban Most Plastics By 2020
--------
Recycling and general waste plastic wheelie bins awaiting collection for disposal in Newport, Rhode Island. Tim Graham / Getty Images
Reduce. Reuse. Recycle. According to The National Museum of American History, this popular slogan, with its iconic three arrows forming a triangle, embodied a national call to action to save the environment in the 1970s. In that same decade, the first Earth Day happened, the EPA was formed and Congress passed the Resource Conservation and Recovery Act, encouraging recycling and conservation of resources, Enviro Inc. reported.
According to Forbes, the Three R's sustainability catch-phrase, and the recycling cause it bolstered, remain synonymous with the U.S. environmental movement itself. There's only one problem: despite being touted as one of the most important personal actions that individuals can take to help the planet, "recycling" – as currently carried out in the U.S. – doesn't work and doesn't help.
Turns out, there is a vast divide between the misleading, popular notion of recycling as a "solution" to the American overconsumption problem and the darker reality of recycling as a failing business model.
Tiffany Duong is an avid ocean advocate. She holds degrees from UCLA and the University of Pennsylvania Carey Law School and is an Al Gore Climate Reality Leader and student member of The Explorer's Club.
She spent years as a renewable energy lawyer in L.A. before moving to the Amazon to conduct conservation fieldwork (and revamp her life). She eventually landed in the Florida Keys as a scientific scuba diver and field reporter and writes about the oceans, climate, and the environment from her slice of paradise. Follow her on Twitter/Instagram @lilicedt.
EcoWatch Daily Newsletter
The coal-fired Huaneng Power Plant in Huai 'an City, Jiangsu Province, China on Sept. 13, 2020. Costfoto / Barcroft Media via Getty Images
Overall energy demand is expected to rise 4.6 percent this year compared to 2020 and 0.5 percent compared to 2019, according to the IEA's Global Energy Review 2021. Demand for fossil fuels is expected to jump to such an extent that emissions will rise by nearly five percent in 2021. This will reverse 80 percent of the emissions decline reported in 2020, to end emissions just 1.2 percent below 2019 emissions levels. Because the lockdown saw the biggest drop in energy demand since World War II, the projected increase in carbon dioxide emissions will still be the second-highest on record, BBC News pointed out.
"This is a dire warning that the economic recovery from the COVID crisis is currently anything but sustainable for our climate," IEA Executive Director Fatih Birol said in a statement reported by AFP.
Birol said much of that increase was being driven by the resurgence of coal use. In fact, coal demand is expected to increase by 60 percent more than all forms of renewable energy, according to the report. Overall coal demand is expected to increase by 4.5 percent in 2021. More than 80 percent of that growth is in Asia, and more than 50 percent is in China. While coal use is expected to increase in the U.S. and Europe as well, it will remain far below pre-pandemic levels. Still, global coal use is expected to rise to nearly its 2014 peak, BBC News reported.
Natural gas demand is also expected to rise by 3.2 percent in 2021, to put it more than one percent above 2019 levels, according to the report.
There are, however, two bright spots in the report from a climate perspective. The first is that oil demand, while up 6.2 percent from 2020, is still expected to remain around 3 percent below 2019 levels. This is because oil use for ground transportation is not expected to recover until the end of 2021, and oil use for air travel is expected to remain at 20 percent below 2019 levels by December of 2021.
"A full return to pre-crisis oil demand levels would have pushed up CO2 emissions a further 1.5%, putting them well above 2019 levels," the report authors wrote.
The second bright spot is that renewable energy demand is set to rise in all sectors in 2021. In power, where its rise is the greatest, it is set to increase by more than eight percent. This is "the largest year-on-year growth on record in absolute terms," the report authors wrote.
Renewable energy will provide 30 percent of electricity overall, BBC News reported, which is the highest percentage since the industrial revolution. The problem is that the increase in renewables is running parallel to an increase in fossil fuels in some places. China, for example, is also expected to account for almost half of the rise in renewable electricity.
"As we have seen at the country-level in the past 15 years, the countries that succeed to cut their emissions are those where renewable energy replaces fossil energy," energy expert and University of East Anglia professor Corinne Le Quéré told BBC News. "What seems to be happening now is that we have a massive deployment of renewable energy, which is good for tackling climate change, but this is occurring alongside massive investments in coal and gas. Stimulus spending post-Covid-19 worldwide is still largely funding activities that lock us into high CO2 emissions for decades."
To address this issue, Birol called on the world leaders gathering for U.S. President Joe Biden's climate summit Thursday and Friday to pledge additional action before November's UN Climate Change Conference, according to AFP.
"Unless governments around the world move rapidly to start cutting emissions, we are likely to face an even worse situation in 2022," said Birol.
From Your Site Articles
Related Articles Around the Web
A grizzly bear killed an outdoor guide in a rare attack near Yellowstone Park. William Campbell / Corbis / Getty Images
Representative Alexandria Ocasio-Cortez (D-NY) re-introduces the Green New Deal in Washington, D.C. on April 20, 2021. Mandel Ngan / AFP / Getty Images
By Brett Wilkins
In the latest of a flurry of proposed Green New Deal legislation, Reps. Cori Bush and Alexandria Ocasio-Cortez on Monday introduced the Green New Deal for Cities Act of 2021, a $1 trillion plan to "tackle the environmental injustices that are making us and our children sick, costing us our homes, and destroying our planet."
Offshore oil and gas drillers have left more than 18,000 miles of pipelines at the bottom of the Gulf of Mexico. Drew Angerer / Getty Images
Offshore oil and gas drillers have discarded and abandoned more than 18,000 miles of pipelines on the floor of the Gulf of Mexico since the 1960s, a report from the Government Accountability Office says.
The industry has essentially recovered none of the pipelines laid in the Gulf in the last six decades; the abandoned infrastructure accounts for more than 97% of all of the decommissioned pipelines in the Gulf.
The pipelines pose a threat to the habitat around them, as maritime commerce and hurricanes and erosion can move sections of pipeline.
The Bureau of Safety and Environmental Enforcement does not conduct undersea inspections even though surface monitoring is "not always reliable for detecting ruptures," according to the GAO.
For a deeper dive:
For more climate change and clean energy news, you can follow Climate Nexus on Twitter and Facebook, sign up for daily Hot News, and visit their news site, Nexus Media News.