This website uses cookies to ensure you get the best experience while browsing it. By clicking 'Got It' you're accepting these terms.
How the Farm Bill Can Renew America's Food and Farm Policy
Apr. 16, 2012 06:30AM EST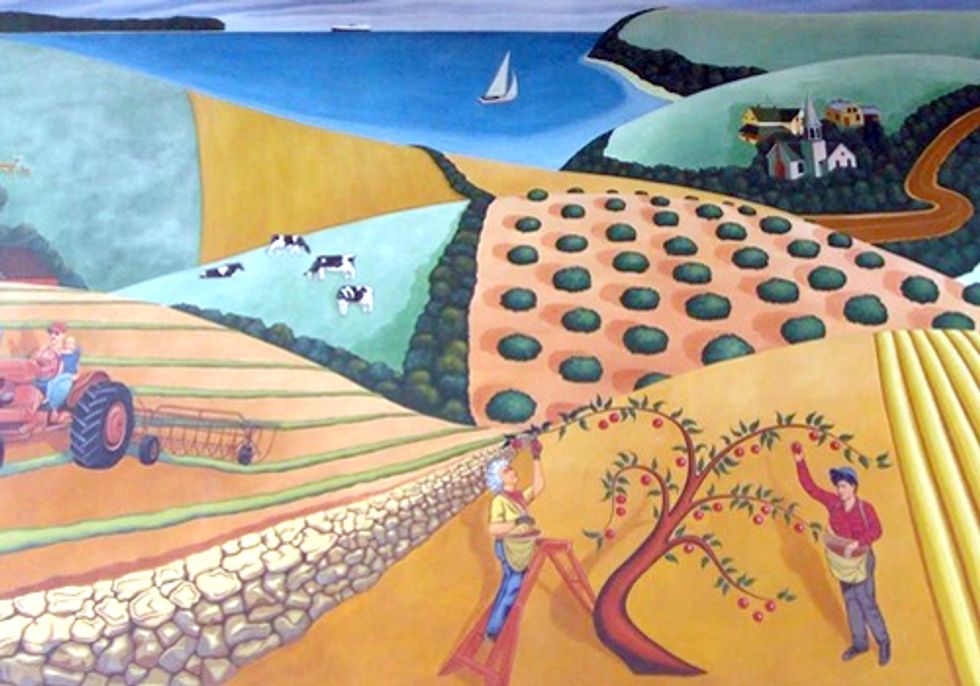 This year's effort to renew America's food and farm policy through the farm bill creates an opportunity for Congress to do more to support family farmers, protect the environment, encourage healthy diets and ensure better access to healthy food—all while supporting working families. Environmental Working Group (EWG) believes that Congress should enact farm and food policy legislation that: provides producers with an effective safety net at a lower cost to taxpayers; creates new markets for farm products; invests in conservation and nutrition programs that benefit all farmers and consumers; promotes greater consumption of fruits and vegetables; and meets the nation's deficit reduction goals. In particular, Congress should:
Support Family Farmers
Congress should support family farmers by ending subsidies that flow to the largest farm businesses regardless of need. In particular, Congress should:
End direct payments: Congress should end direct farm payments, which are provided regardless of need.
Replace insurance subsidies with free yield insurance: Congress should replace costly insurance subsidies for commodity "program crops" such as corn, wheat, soybeans, cotton and rice with yield insurance policies designed to help farmers recover from "deep" losses caused by bad weather.
Maintain the conservation compact: Congress should ensure that farmers implement practices that protect wetlands, grasslands and soil health in exchange for a taxpayer-financed safety net, including farm insurance.
Support beginning and socially disadvantaged farmers and ranchers: Congress should reform farm subsidy programs so as to level the playing field for all farmers and invest in programs that help beginning and socially disadvantaged farmers by easing access to conservation, crop insurance, credit, loan and grant programs.
Expand local and regional markets: Congress should invest in loan and grant programs that help create local and regional markets for farm products.
Support Stewardship
Congress should invest in research and provide incentives for farmers and ranchers to protect and restore water quality and wildlife habitat. In particular, Congress should:
Reject cuts to conservation: Congress should reject cuts to voluntary conservation programs and instead provide $30 billion over the next five years to share with farmers the cost of a clean environment.
Promote collaborative partnerships: Congress should deliver 25 percent of conservation funding in grants selected for their potential for environmental benefit and awarded to groups of farmers and local partners working together.
Reform easement and incentive programs: Congress should reform conservation programs to achieve administrative efficiencies, better target incentive and easement funds and provide loans for infrastructure projects.
Support organic food: Congress should invest in grant and loan programs that help farmers switch to organic food production.
Support research: Support and modify research, education and extension programs to better focus on organic and sustainable crop and livestock production and healthy food.
Support Healthy Diets
Fewer than 5 percent of American adults eat U.S. Department of Agriculture (USDA) recommended amounts of fruits and vegetables, and more than one-third are obese, increasing the nation's health care costs by $127 billion a year.
To support healthy diets, Congress should:
Support Feeding Assistance Programs: Congress should protect and strengthen SNAP and other nutrition assistance programs.
Support Nutrition Education: Congress should support efforts to help Americans eat healthier diets through nutrition education.
Promote Fruit and Vegetable Consumption: Congress should strengthen the Fresh Fruit and Vegetable program and reform specialty crop programs so as to increase consumption of local fruits and vegetables.
Increase Access to Healthy Food: Congress should provide grants for incentive programs that encourage SNAP recipients to buy and consume more fruits and vegetables, including at farmers markets and other food retailers.
Support Better School Food: Congress should allow schools to use more school lunch and breakfast funds to purchase local fruits and vegetables.
Maintain funding for research: Congress should underwrite sound research on nutrition, hunger and food security, and obesity prevention.
For more information, click here.
EcoWatch Daily Newsletter
A new study shows that half of all Arctic warming and corresponding sea-loss during the late 20th century was caused by ozone-depleting substances. Here, icebergs discharged from Greenland's Jakobshavn Glacier. Kevin Krajick / Earth Institute /
EurekAlert!
The world awakened to the hole in the ozone layer in 1985, which scientists attributed it to ozone depleting substances. Two years later, in Montreal, the world agreed to ban the halogen compounds causing the massive hole over Antarctica. Research now shows that those chemicals didn't just cut a hole in the ozone layer, they also warmed up the Arctic.
Diane Wilson holds up a bag full of nurdles she collected from one of Formosa's outfall areas on Jan. 15. Julie Dermansky / DeSmogBlog
On the afternoon of Jan. 15, activist Diane Wilson kicked off a San Antonio Estuary Waterkeeper meeting on the side of the road across from a Formosa plastics manufacturing plant in Point Comfort, Texas.
After Wilson and the waterkeeper successfully sued Formosa in 2017, the company agreed to no longer release even one of the tiny plastic pellets known as nurdles into the region's waterways. The group of volunteers had assembled that day to check whether the plant was still discharging these raw materials of plastics manufacturing.
Malaysian Environment Minister Yeo Bee Yin (front 2nd L) and officials inspect a container containing plastic waste shipment on Jan. 20, 2020 before sending back to the countries of origin. AFP via Getty Images
The Southeast Asian country Malaysia has sent 150 shipping containers packed with plastic waste back to 13 wealthy countries, putting the world on notice that it will not be the world's garbage dump, as CNN reported. The countries receiving their trash back include the United States, the United Kingdom, France and Canada.
Trump leaves after delivering a speech at the Congress Centre during the World Economic Forum annual meeting in Davos on Jan. 21, 2020. JIM WATSON / AFP via Getty Images