How Solar Panels Could Transform Parking Lots and Roadways Around the World
Apr. 28, 2014 04:57PM EST
Business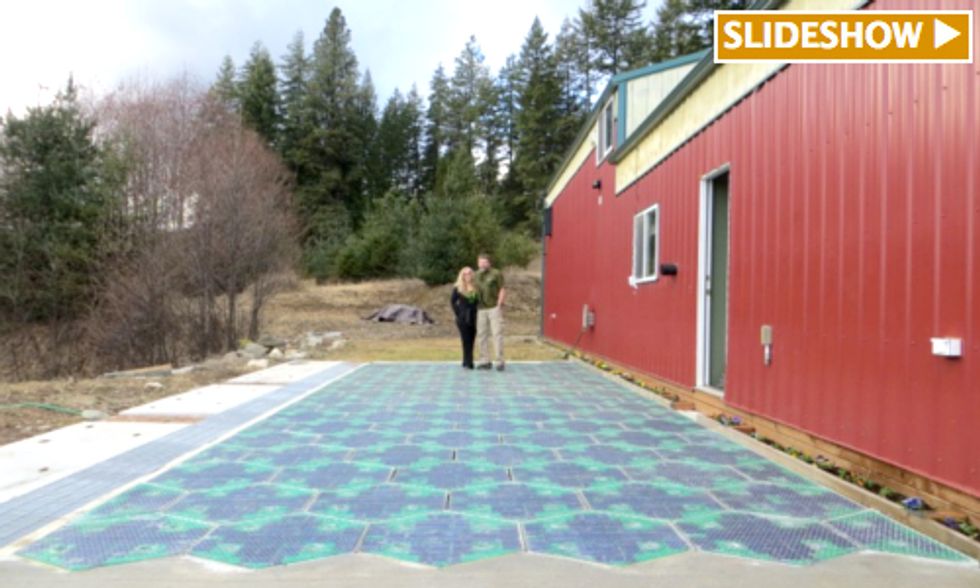 Are roads and parking lots covered with solar panels that feed power back into the grid actually feasible or does it sound like a green-energy fairy tale?
It's been about eight years since an electrical engineer and his counselor set out to show that updating our traveling infrastructure with renewable energy is more than a fantasy. Now, they're on the precipice of releasing their prototype for Solar Roadways, a system that would replace asphalt on our roads, giving them an energy production purpose.
With built-in LED lights, materials sturdy enough for vehicles and heat that would prevent the buildup of excess snow and ice, Solar Roadways is an ambitious project, to be sure. But Scott and Julie Brusaw have believers in the federal government—they have received two phases of funding from the U.S. Federal Highway Administration for research and development, including $100,000 in 2009.
"Half of our prototype parking lot is mono-crystalline, while the other half is poly-crystalline," Julie Brusaw told Gizmag. "The parking lot is equivalent to a 3,600-watt solar array. The power collected is dependent upon the amount of sunshine received. So as with all solar, it will produce more in some parts of the country and world than others."
The prototype parking lot is at the couple's electronics lab in Idaho. Textured glass covers the solar panels and circuitry, and the couple says the lot is fully operational. Next, the Brusaws will add covers for mounting holes, mastic between panels and software for LED patterns.
Solar Roadways' glass exceeded all requirements during rounds of testing for traction, load and impact resistance in civil engineering laboratories around the country.
In 2010 and 2011, the concept claimed first place in two General Electric competitions—the Ecomagination Challenge for "Powering the Grid" and the Ecomagination Challenge for "Powering the Home," respectively.
[blackoutgallery id="332285"]
Here's how the Brusaws envision things once their technology is brought to the market:
"Everyone has power. No more power shortages, no more roaming power outages, no more need to burn coal (50 percent of greenhouse gases)," they write on their site.
"Less need for fossil fuels and less dependency upon foreign oil. Much less pollution. How about this for a long term advantage: An electric road allows all-electric vehicles to recharge anywhere: rest stops, parking lots, etc. They would then have the same range as a gasoline-powered vehicle. Internal combustion engines would become obsolete. Our dependency on oil would come to an abrupt end. 
"It's time to upgrade our infrastructure—roads and power grid—to the 21st century."
——–
YOU ALSO MIGHT LIKE
Brooklyn Whole Foods Wows With Solar, Wind, EV Chargers, Greenhouse and More
World's Largest Solar Thermal Plant Opens For Business
Which States Have the Most Solar Jobs?
——– 
EcoWatch Daily Newsletter