This website uses cookies to ensure you get the best experience while browsing it. By clicking 'Got It' you're accepting these terms.
Sean Gogolin is a graduating senior at Bowling Green State University. There he studies Environmental Policy & Analysis, and looks to further his education in earning an Masters in Public Policy after graduation. Prior to his involvement with EcoWatch, he worked with Sierra Club last summer in Washington, DC.
Social Entrepreneurship—a simple, productive concept, yet some how shrouded in ambiguity and a general lack of understanding. The practice can be defined as combining a social cause with a business savvy intuition—taking business techniques to pressing social issues. And the best part, social entrepreneurs can still generate profit. Unlike a cause group or non-profit, social entrepreneurs are not heavily bound by funding restrictions. The sky is in fact, the limit. With the success that TOMS and Warby Parker have seen, social entrepreneurship has proven to be successful when aptly applied. This brings me to environmentalism.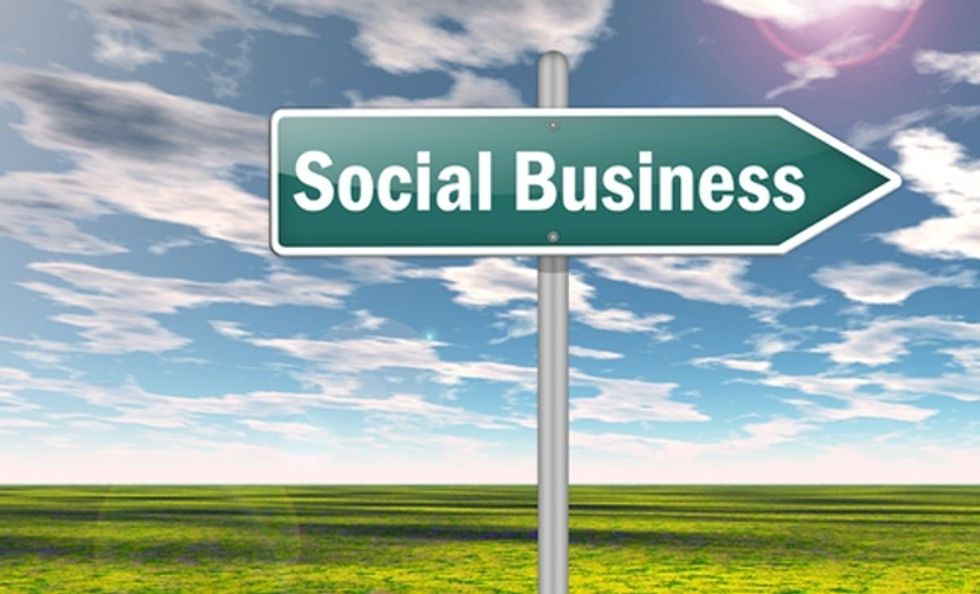 social entrepreneurship has proven to be successful when aptly applied. Photo credit: Shutterstock
One major flaw of the environmental movement is its inability to garner support from the private sector. In a world where environmental regulations are often pitted against business profits, imagine an economy where those two forces are working harmoniously. Social entrepreneurship offers that chance.
Bill Drayton, the father of social entrepreneurship defines the concept as "business with a cause." In a world where developers and entrepreneurs possess more power than ever, we are thriving off of technological innovation. Instead of examining simply how to make money, leaders are devising ways to both make money and to serve the public. Simon Sinek, an English author best known for the development of the concept, "Start with Why" and the "golden circle," argues that the working class is no longer fulfilled by their work because we no longer interact with, and help others. Sinek believes that the idea behind the business should not be to generate profits, but to capitalize on an idea. Apple has done this with its "Think Different" campaign—they think differently from other companies, but they happen to make great computers.
Moving forward, the environmental movement must look for new ways to incorporate these principles. The Millennials, as a generation, have a tremendous opportunity to do so. We must deconstruct the battle of environment vs. business, and create new business models with a "Why" reinforcing them. Combine the agility of business with the commitment of environmentalism—coming together to form sustainability driven social entrepreneurship practices.
This call to action by no means excuses the federal government, although it does seek to bypass its latency and gridlock. However, in a world where record-breaking droughts in the west, and brutal winters in the northeast have become the norm, we must look to our most powerful instruments to drive change and spur innovation.
YOU MIGHT ALSO LIKE
Chipotle Becomes First Fast Food Chain to Go GMO-Free
Adidas Wants to Turn Ocean Plastic Into Sportswear
EcoWatch Daily Newsletter
The staircase to a subway station in SOHO with a temporary closure, flood control installation sign. Jeffrey Greenberg / Universal Images Group / Getty Images
The Metropolitan Transit Authority in New York City tested out a new system designed to protect its subways stations from flooding when another super storm hits, creating a bizarre sight on Wednesday, as The Verge reported.
Flat-lay of friends eating vegan and vegetarian Thanksgiving or Friendsgiving dinner with pumpkin pie, roasted vegetables, fruit and rose wine. Foxys_forest_manufacture / Royalty-free / iStock / Getty Images
Thanksgiving can be a tricky holiday if you're trying to avoid animal products — after all, its unofficial name is Turkey Day. But, as more and more studies show the impact of meat and dairy consumption on the Earth, preparing a vegan Thanksgiving is one way to show gratitude for this planet and all its biodiversity.
Residents wear masks for protection as smoke billows from stacks in a neighborhood next to a coal fired power plant on Nov. 26, 2015 in Shanxi, China. Kevin Frayer / Getty Images
By Matt Berger
It's not just kids in the United States.
Children worldwide aren't getting enough physical activity.
That's the main conclusion of a new World Health Organization (WHO) study released Wednesday.
By Tim Ruben Weimer
Tanja Diederen lives near Maastricht in the Netherlands. She has been suffering from Hidradenitis suppurativa for 30 years. Its a chronic skin disease in which the hair roots are inflamed under pain — often around the armpits and on the chest.