This website uses cookies to ensure you get the best experience while browsing it. By clicking 'Got It' you're accepting these terms.
Sean Gogolin is a graduating senior at Bowling Green State University. There he studies Environmental Policy & Analysis, and looks to further his education in earning an Masters in Public Policy after graduation. Prior to his involvement with EcoWatch, he worked with Sierra Club last summer in Washington, DC.
Social Entrepreneurship—a simple, productive concept, yet some how shrouded in ambiguity and a general lack of understanding. The practice can be defined as combining a social cause with a business savvy intuition—taking business techniques to pressing social issues. And the best part, social entrepreneurs can still generate profit. Unlike a cause group or non-profit, social entrepreneurs are not heavily bound by funding restrictions. The sky is in fact, the limit. With the success that TOMS and Warby Parker have seen, social entrepreneurship has proven to be successful when aptly applied. This brings me to environmentalism.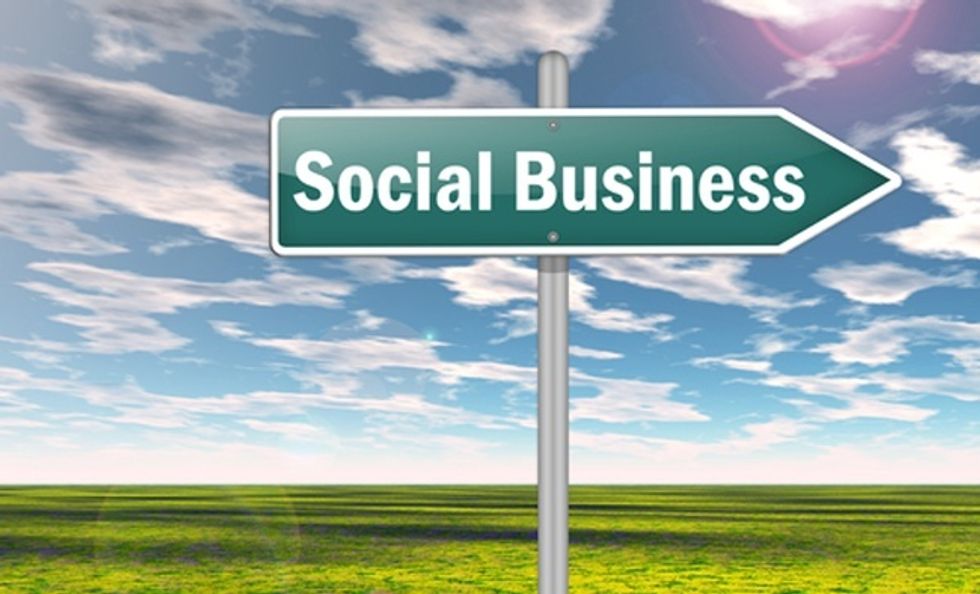 social entrepreneurship has proven to be successful when aptly applied. Photo credit: Shutterstock
One major flaw of the environmental movement is its inability to garner support from the private sector. In a world where environmental regulations are often pitted against business profits, imagine an economy where those two forces are working harmoniously. Social entrepreneurship offers that chance.
Bill Drayton, the father of social entrepreneurship defines the concept as "business with a cause." In a world where developers and entrepreneurs possess more power than ever, we are thriving off of technological innovation. Instead of examining simply how to make money, leaders are devising ways to both make money and to serve the public. Simon Sinek, an English author best known for the development of the concept, "Start with Why" and the "golden circle," argues that the working class is no longer fulfilled by their work because we no longer interact with, and help others. Sinek believes that the idea behind the business should not be to generate profits, but to capitalize on an idea. Apple has done this with its "Think Different" campaign—they think differently from other companies, but they happen to make great computers.
Moving forward, the environmental movement must look for new ways to incorporate these principles. The Millennials, as a generation, have a tremendous opportunity to do so. We must deconstruct the battle of environment vs. business, and create new business models with a "Why" reinforcing them. Combine the agility of business with the commitment of environmentalism—coming together to form sustainability driven social entrepreneurship practices.
This call to action by no means excuses the federal government, although it does seek to bypass its latency and gridlock. However, in a world where record-breaking droughts in the west, and brutal winters in the northeast have become the norm, we must look to our most powerful instruments to drive change and spur innovation.
YOU MIGHT ALSO LIKE
Chipotle Becomes First Fast Food Chain to Go GMO-Free
Adidas Wants to Turn Ocean Plastic Into Sportswear
EcoWatch Daily Newsletter
New pine trees grow from the forest floor along the North Fork of the Flathead River on the western boundary of Glacier National Park on Sept. 16, 2019 near West Glacier, Montana. Chip Somodevilla / Getty Images
Household actions lead to changes in collective behavior and are an essential part of social movements. Pixabay /
Pexels
Talk is cheap, says the acting executive secretary of the United Nations Convention on Biological Diversity, who begged governments around the world to make sure that 2020 is not another year of conferences and empty promises, but instead is the year to take decisive action to stop the mass extinction of wildlife and the destruction of habitat-sustaining ecosystems, as The Guardian reported.
The people of Kiribati have been under pressure to relocate due to sea level rise. A young woman wades through the salty sea water that flooded her way home on Sept. 29, 2015. Jonas Gratzer / LightRocket via Getty Images
Refugees fleeing the impending effects of the climate crisis cannot be forced to return home, according to a new decision by the United Nations Human Rights Committee, as CNN reported. The new decision could open up a massive wave of legal claims by displaced people around the world.
The first day of the Strike WEF march on Davos on Jan. 18, 2020 near Davos, Switzerland. The activists want climate justice and think the WEF is for the world's richest and political elite only. Kristian Buus / In Pictures via Getty Images
By Ashutosh Pandey
Teenage climate activist Greta Thunberg is returning to the Swiss ski resort of Davos for the 2020 World Economic Forum with a strong and clear message: put an end to the fossil fuel "madness."