How Scalia's Death Could Be a Pivotal Factor on Environmental and Climate Issues
Justice Antonin Scalia left an indelible mark on American law. His prodigious intellect, distinctive style and sharp wit will be sorely missed by his family, friends and colleagues.
His passing also creates a once-in-a-lifetime opportunity to shift the balance of power on the Supreme Court toward greater protection for the environment and greater access to the courts by those most affected by pollution and resource degradation.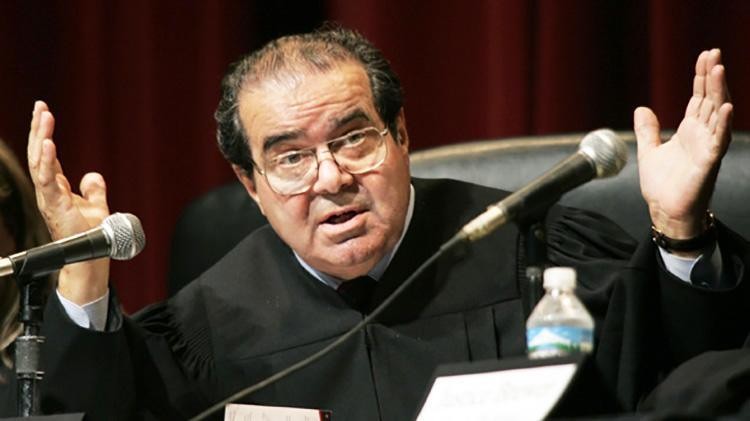 A look at Scalia's legacy reveals why his absence in the coming months could be a pivotal factor on environmental issues.
With few exceptions, such as his opinion in Whitman vs. American Trucking upholding the Environmental Protection Agency's (EPA) authority to set health-based air quality standards without regard to cost and his opinion in City of Chicago v. Environmental Defense Fund rejecting industry arguments that coal ash isn't a hazardous waste, Justice Scalia's environmental legacy is decidedly negative.
Interpreting "Standing" and "Harm"
He consistently voted in favor of property rights over protection of endangered species, wetlands and other natural resources. He dissented in the court's landmark ruling in Massachusetts vs. EPA that the Clean Air Act authorizes the agency to regulate the carbon pollution causing global warming and ocean acidification.
He wrote the majority opinion in a case limiting EPA's authority to require pre-construction permits for new power plants that only emit greenhouse gases. He wrote the opinion overturning the mercury rule on a technicality—namely, that EPA should have considered cost as a threshold matter before even embarking on the rule-making instead of at the stage when the regulations were actually being applied to specific facilities.
He argued that the Clean Water Act should be narrowly construed to apply only to "relatively permanent bodies of water" rather than, as the lower courts had consistently ruled for more than 30 years, to the entire tributary systems of the nation's major waterways.
And he is the author of several decisions severely limiting the ability of environmental plaintiffs to challenge unlawful government actions. This includes Lujan vs. Defenders of Wildlife, which the late Justice Blackmun in his dissent characterized as a "slash and burn expedition through the law of environmental standing."
To establish standing, a plaintiff must show how it is injured by the action being challenged. Scalia applied a more liberal test of injury for industry plaintiffs than for environmental plaintiffs. Standing was presumed whenever industry alleged that a government action might cause undue economic harm but not when an environmental organization alleged that the same action would cause undue environmental harm.
Whither the Clean Power Plan?
Though President Obama has said he intends to nominate a successor "in due course," Senate Republicans have vowed to stall the confirmation process in the hope that they will win the White House and have the opportunity to nominate someone more to their liking.
Suddenly the Supreme Court has become a huge prize in the 2016 elections and, given the stakes involved, it is likely that the vacancy will remain well into 2017 and the court will be forced to make a number of difficult decisions with an evenly divided bench.
A split court has important implications in a number of key environmental cases.
Top of the list is the president's Clean Power Plan (CPP), a rule that requires states to develop plans to lower carbon dioxide emissions from power plants. Only days before Scalia's death, the court in a 5-4 party line vote blocked the rule's implementation pending a decision by the DC Circuit, which has scheduled oral argument for June 2. The stay order provides that it will remain in effect until the Supreme Court either denies review (unlikely) or issues a final decision.
Most observers believe the government, arguing that the Clean Power Plan is legal, drew a favorable panel on the DC Circuit court, which includes Judge Sri Srinivasan, who is rumored to be on Obama's short list of nominees.
Assuming Srinivasan remains on the panel and further assuming the panel issues a decision this year upholding the CPP (not a forgone conclusion), there is a good chance the vacancy on the Supreme Court will not be filled by the time the case arrives there in 2017. This increases the odds of a 4-4 split, which would result in the DC Circuit decision being upheld and the CPP dodging a bullet.
Clean Waters Act at Court
Another case that may be affected by Scalia's departure but with far less at stake is Hawkes v. Corps of Engineers.
The question presented is whether landowners can go to court immediately when the regulators make what is called a "jurisdictional determination" under the Clean Water Act finding—for example, that there are wetlands on the property that may require a permit to fill.
There is a clear conflict in the circuits on this question. The Eighth Circuit in Hawkes held that jurisdictional determinations were reviewable in court, whereas the Fifth Circuit in Belle Co v. Corps of Engineers ruled that they are not.
Interestingly enough, the disagreement rests on how to read Justice Scalia's opinion in Sackett v. EPA. In that case, a compliance order under the Clean Water Act required restoration of an allegedly illegally filled wetland and exposed the recipient to potential penalties of US$75,000 per day. Scalia ruled that the compliance order in this case is "final agency action" for which there is no adequate remedy in a court other than judicial review under the Administrative Procedure Act.
Another case being closely watched is the challenge to EPA's Clean Water Rule that seeks to "clarify" the jurisdictional scope of the Clean Water Act and whether it covers tributaries that feed into waters protected by the act.
The need for clarification stems in large part from the Supreme Court's decision in Rapanos v. U.S., where the court split 4-1-4 and Justice Scalia authored a plurality opinion that would significantly reduce the scope of the act.
Justice Kennedy wrote a concurring opinion rejecting Scalia's approach and establishing the so-called "significance nexus" test—requiring the government to prove that a wetland, alone or in combination with other wetlands in the watershed, plays an important role in protecting the quality of the water downstream and therefore is subject to the Clean Water Act. Because Kennedy's significant test has been adopted by nine circuit courts as the controlling opinion from Rapanos, EPA used it as the basis for the Clean Water Rule.
The Sixth Circuit has stayed the rule pending its decision on whether it has exclusive authority to decide its legality. If the Sixth Circuit asserts jurisdiction, a final decision could be issued this year and the court would then be faced with another petition for review, knowing that it could result in yet another divided decision.
Finally there is a case involving the cleanup of Chesapeake Bay which is heavily polluted by agricultural runoff and other sources. The Third Circuit upheld EPA's landmark cleanup plan in a case brought by the American Farm Bureau and joined by over two dozen states.
The issue presented is whether EPA exceeded it authority by developing a complex "pollution budget" and allocating responsibility for reducing the inputs of nitrogen and phosphorous throughout the eight states that comprise the basin. The conference on whether to grant review will be considered at the next conference which is scheduled for Feb. 26. This will be the first test to see whether the post-Scalia court has the appetite to take up a case where there could be a 4-4 split.
With these and other environmental issues on the docket, the absence of Scalia will have a huge impact—as will the question of his eventual successor.
YOU MIGHT ALSO LIKE
6 Reasons Al Gore Believes 'We Will Prevail' in Climate Fight
Colbert's Hilarious Take on the Pope vs. Trump Feud
1,000 Coloradans: 'Rejecting the TPP Is Most important Thing Congress Can Do'
Greenpeace Asks Hillary Clinton to Say No to Fossil Fuel Money
Laurie Woolever
By James O'Hare
There are 20 million people in the world facing famine in South Sudan, Somalia, Nigeria and Yemen. In developed nations, too, people go hungry. Venezuela, for instance, is enduring food insecurity on a national level as a result of economic crisis and political corruption. In the U.S., the land of supposed excess, 12.7 percent of households were food insecure in 2015, meaning they didn't know where their next meal would come from.
Keep reading...
Show less
Melwater, Greenland ice sheet. Diane Tuft
Artists are taking the climate crisis into frame and the results are emotional, beautiful and stirring.
So you've seen the best climate change cartoons and shared them with your friends. You've showed your family the infographics on climate change and health, infographics on how the grid works and infographics about clean, renewable energy. You've even forwarded these official National Oceanic and Atmospheric Administration graphs that explain the 10 clear indicators of climate change to your colleagues at the office.
Keep reading...
Show less
May. 27, 2017 01:11PM EST
As the Trump administration moves full speed ahead on boosting the oil and fossil fuel industry, opposition to increased pipeline construction is cropping up in different communities around the country.
Keep reading...
Show less
May. 27, 2017 01:02PM EST
Minke whale stranding near Havergate Island in Suffolk. MCGA.
By Simon Evans
Last Saturday, two dead whales washed up on the coast of Suffolk, in eastern England, and a third was spotted floating at sea.
What happened next illustrates how news can spread and evolve into misinformation, when reported by journalists rushing to publish before confirming basic facts or sourcing their own quotes.
Keep reading...
Show less
May. 27, 2017 01:22PM EST
By Monica Amarelo and Paul Pestano
Sun safety is a crucial part of any outdoor activity for kids, and sunscreen can help protect children's skin from harmful ultraviolet rays. Kids often get sunburned when they're outside unprotected for longer than expected. Parents need to plan ahead and keep sun protection handy in their cars or bags.
Keep reading...
Show less
May. 27, 2017 01:02PM EST
By Joe McCarthy
A lot of people take part in community clean-up efforts—spending a Saturday morning picking up litter in a park, mowing an overgrown field or painting a fence.
Keep reading...
Show less
May. 26, 2017 03:22PM EST
Rink Glacier in western Greenland, with a meltwater lake visible center. NASA/OIB
Scientists have had their eyes on Greenland as its iconic glaciers have begun disappearing due to a warming climate. But, what they didn't expect to see was a whole new type of melting.
Keep reading...
Show less
May. 26, 2017 03:40PM EST
A coalition of conservation groups and others announced Thursday that a historic number of comments and petitions of support have been submitted to the U.S. Department of the Interior in support of Bears Ears National Monument. Despite the entirely inadequate 15-day comment period ending on May 26, more than 685,000 comments in support of Bears Ears National Monument have been collected.
Keep reading...
Show less


Get EcoWatch in your inbox