This website uses cookies to ensure you get the best experience while browsing it. By clicking 'Got It' you're accepting these terms.
How Saving Ecosystems Saves Lives
Feb. 04, 2014 08:53AM EST
One of the first things you realize about Borneo is how difficult it can be to land a plane. On my first trip there, our plane circled the provincial capital of Palangkaraya for a half hour before a window in the smoke opened long enough to land.
Like many places in the tropics, Borneo is burning—and the consequences are widespread.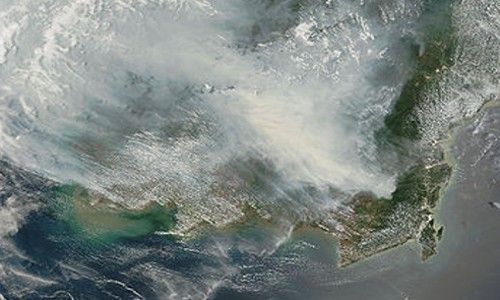 Every year more than 2 million acres [almost 810,000 hectares] of Indonesian rainforest are destroyed. Between 2000 and 2010, nearly a quarter of Borneo's diverse peat forests and their rich soils were drained, burned and cleared.
Before this trip, I'd known of the plight of orangutans, thousands of which have died as their forest habitat disappears. I also knew about the outsized role that clearing of these forests plays in driving climate change. I was less prepared for the impact that damage to these ecosystems has on human health.
For me, the burning forests were a nuisance to my visit. For the locals, they were a matter of life and death.
Though it's hard to track the number of deaths from these fires and their long-term impacts, airborne particulates from previous fires here were associated with a 5- to 25-fold increase in cases of pneumonia alone, a disease consistently one of the biggest causes of death of both the elderly and young children in the region.
Burning forests are not the only health threats to the island's people. Borneo's rivers are plied by barges scouring river sediments for gold. The process they use releases tons of mercury into the rivers where families catch fish and practice aquaculture. Mercury contamination damages riparian ecosystems and results in smaller, more toxic catches for thousands who depend on rivers for their food security and livelihoods. Parts of the Kahayan River harbor more than twice the legally allowable level of mercury.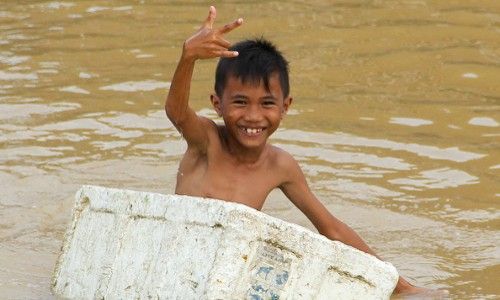 I left Borneo with a heavy feeling in my gut. In other places there's warfare, or HIV or other headline-grabbing atrocities that capture our attention. Yet the sad truth is that a shocking amount of human suffering comes from far less sensational things, such as the silent scourge of environmental degradation and ecosystem loss, which destroy opportunities for healthy and productive lives.
In Borneo, it is the slow burn of peat forests and steady contamination of mercury that quietly, but gravely, threaten the communities living there.
The idea that the natural environment is important to human health isn't new. It was foremost in Hippocrates' mind (yes, that Hippocrates) more than 2,000 years ago. But compared to our reactions to other important factors for human health—consider the many public health practices we've implemented over the centuries as we've learned how disease spread—societies have done very little in the way of sensibly managing ecosystems to protect our health.
One reason we may have neglected our natural lifelines for so long is that we didn't know just how closely human health is connected to our environment. But that's rapidly changing thanks to recent scientific advances.
I recently worked with a team of scientists and public health researchers on a study of the links between ecosystems and human health. The evidence we know of, published in Proceedings of the National Academy of Sciences, connects ecological health to a surprising range of human health dimensions:
Nutrition. Nutritional deficiencies account for many of the leading causes of death and disability globally, especially for children. With insects, birds and bats pollinating about 1 in 3 food crops worldwide, nature's role in pollination alone is essential for a big portion of nutrients and calories in the human diet. Meanwhile, fisheries and wild animal populations are key sources of nutrients for billions of people. Without wild game, children in Madagascar would experience a minimum 30 percent higher risk of anemia—increasing their risk for sickness and death in many ways. The global decline of wildlife poses a nutritional crisis for many, with the worst impacts felt by those unable to replace wild food sources with domesticated species or fortified foods.
Disasters. Healthy mangroves and other coastal barriers defend communities against coastal storms. Researchers estimated one cyclone in Orissa, India would have killed three times as many residents had mangroves not buffered their villages. Global loss of mangroves, reefs, wetlands and dunes places in harm's way millions who live near the world's coasts.
Infectious disease. From hunting to the destruction of habitats, people's actions alter communities of wild species in many ways, often with unforeseen and significant consequences. Healthy wildlife populations can influence the continued function of ecosystems and check the spread of disease. For example, in both Panama and the Brazilian Amazon, reduction in the diversity of mammal species has been linked to increased risk of human exposure to Chagas disease.
Climate change. Already the impacts of global forest loss—the combined result of a million matches, bulldozers and machetes—account for more carbon dioxide emissions than all passenger cars combined. As these and other human-caused sources of greenhouse gas emissions continue, the resulting climate shifts contribute to a range of human health impacts, including heat stress, air pollution, spread of infectious disease, respiratory allergens, natural hazards, food insecurity and water scarcity.
Indirect impacts. Many consequences of ecosystem loss take less direct pathways. In Belize, it took detailed study to discover that fertilizers applied to croplands caused changes in wetland vegetation far downstream. Unfortunately for coastal residents, these changes favor a variety of mosquito much more effective at transmitting malaria. Farming practices in one place have unwittingly resulted in greater exposure to malaria many miles away.
Evidence is mounting that the ecosystems we're destroying are important for a range of vital human health needs. But countries, communities and families don't have equal ability to deal with these impacts.
In a wealthy country, low fish catch might result in an altered menu or a shopping inconvenience. In another country it could be a matter of life and death. Indeed it is often the world's poor—those with few alternative food sources, with less public infrastructure, with limited health care and insurance—who feel the most immediate brunt of environmental losses.
But is money a panacea? In 2013, Singapore, a nation with one of the world's most productive economies and most admired healthcare systems, found itself choked by smoke from burning forests in neighboring Indonesia. The nation's otherwise moderate air quality reached "hazardous" levels for the first time ever, and residents flocked to hospitals with cardiopulmonary illnesses.
In the U.S., the potentially debilitating Lyme disease afflicts thousands annually, while West Nile virus killed nearly 300 Americans in 2012. For both diseases, researchers have found higher risk of infection in places where diversity of native animal species has been reduced. Mounting evidence supports the theory that a higher number of species can "dilute" the harmful impact of those few species most effective at transmitting disease.
I write these words from a hospital in Austin, TX. My father experienced a life-threatening infection earlier in the week, by a form of bacteria resistant to nearly all forms of treatment. Thankfully his condition is now improving. As I watch him getting back to cracking jokes and talking about his grandchildren, I notice the antibiotic in Dad's IV: vancomycin. I remember that it is one of the world's precious few "antibiotics of last resort." And I think of its humble origins: a handful of rich soil from the remote forests of Borneo.
Earth's biodiversity is, in fact, a remarkable storehouse of compounds and innovations that has provided more than half of all commercial medicines, and may harbor undiscovered cures for cancer, malaria or the next emerging infectious disease.
As we destroy Earth's forests, reefs, wetlands and other ecosystems, we light a fire to our storm barriers, our air filters, our water towers and our medicine cabinets, all at the same time. But we can turn this around: Stewarding nature would unleash a powerful, vital force in sustaining human life.
The notion that death and suffering can be prevented has been a driving force in medicine and has completely transformed human existence. We're rapidly learning about the health consequences of ecosystem loss, and the countless life-saving benefits that natural ecosystems give us. How much longer should we wait to use that knowledge to save and improve human lives?
This post was originally published on Conservation International's blog, Human Nature. Will Turner is chief scientist at CI. Follow him on Twitter at @WillRTurner.
Visit EcoWatch's BIODIVERSITY page for more related news on this topic.

EcoWatch Daily Newsletter
Pixabay
By Lisa Wartenberg, MFA, RD, LD
Pears are sweet, bell-shaped fruits that have been enjoyed since ancient times. They can be eaten crisp or soft.
Photon-Photos / iStock / Getty Images Plus
The desert of Australia's Northern Territory has the iconic Ayers Rock, but not much else. Soon, it may be known as home to the world's largest solar farm, according to the Guardian.
Golde Wallingford submitted this photo of "Pure Joy" to EcoWatch's first photo contest. Golde Wallingford
EcoWatch is pleased to announce our third photo contest!

A Boeing 737-800 BCF (Boeing Converted Freighter) is marked "Prime Air" as part of Amazon Prime's freight aircraft during the 53rd International Paris Air Show at Le Bourget Airport near Paris, France on June 22. Mustafa Yalcin / Anadolu Agency / Getty Images
It's Prime Day! The day when thousands of increasingly absurd items are discounted so deeply that you suddenly need items you never knew existed. Yes, I do need a hotdog shaped toaster next to me while I watch this Fast & Furious seven movie box set! And I need it in my house today!
By Peter Sinclair
The weather in many areas across the U.S. has been – and certainly throughout America's heartland was for much of the past winter and spring – frightful.
There's a short window between when a tick bites and when it passes on bacteria or virus.
MSU Ag Communications, Courtesy Dr. Tina Nations, CC BY-ND
By Jerome Goddard
When it comes to problems caused by ticks, Lyme disease hogs a lot of the limelight. But various tick species carry and transmit a collection of other pathogens, some of which cause serious, even fatal, conditions.

tomosang / Moment / Getty Images
By Jessica A. Knoblauch
Say goodbye to one of the dreamiest things about childhood. In the Midwest, fireflies are dying off.
A new Climate Emergency Fund contains more than $625,000 which will go to grassroots climate action groups like Extinction Rebellion and students who have organized weekly climate strikes all over the world. @ExtinctionR / Twitter
By Julia Conley
Heeding the call of grassroots campaigners, several wealthy philanthropists announced Friday a new fund that will raise money for climate action groups around the world.