How Polarized Is the Fracking Debate? Look to Pa. and N.J.
Feb. 09, 2012 12:30PM EST
Energy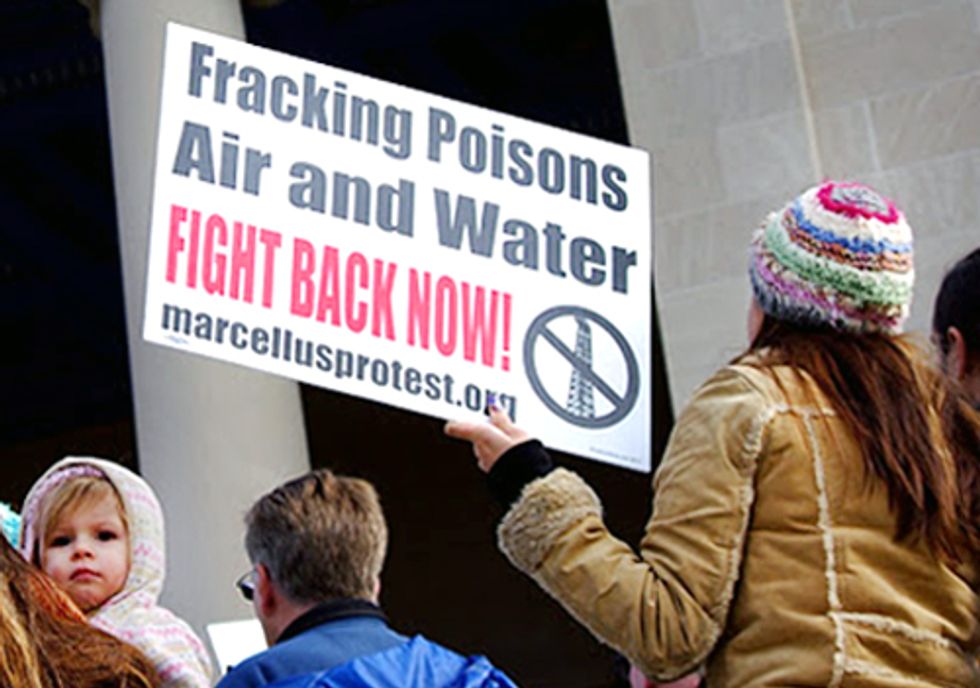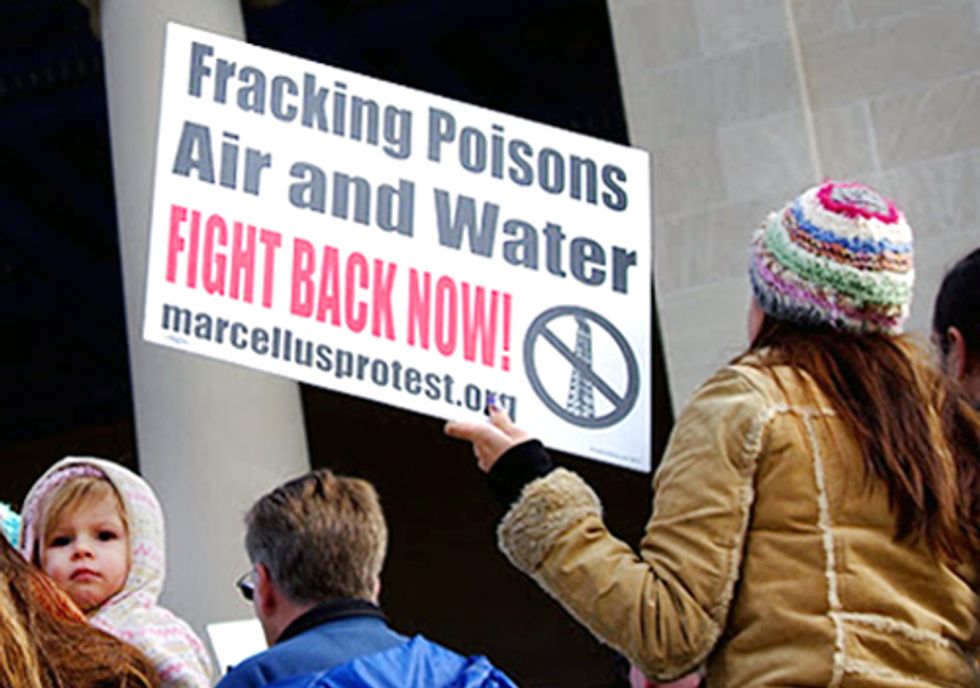 Yesterday, Pennsylvania legislators passed a hydraulic fracturing (fracking) bill that will further limit environmental protections, lower drilling fees, handcuff local governments' zoning power for gas development and undermine public health.
Today, SB 246—a bill to ban hydraulic fracturing in New Jersey—goes before the New Jersey Senate Environment and Energy Committee.
Estimates peg the value of natural gas reserves buried within the Marcellus Shale underneath Pennsylvania and some of the state's immediate neighbors as high as one trillion dollars. With that kind of money at stake, the mostly unregulated extraction process called fracking that's necessary to unleash the gas has become the nation's most polarizing environmental and energy issue.
Look no further than the neighboring states of Pennsylvania and New Jersey.
Fracking was brought to national attention back in 2008 through a sequence of mishaps involving gas wells set up by Cabot Oil and Gas in the small town of Dimock, Pa. In the winter of 2008, metals and methane linked to Cabot's wells were found in many area homes' drinking water. In 2009, the Pennsylvania Department of Environmental Protection (DEP) released a document citing dozens of infractions, including well-construction problems, diesel spills and fracking fluid spills. In September 2009, an estimated 8,000 gallons of fracturing fluid—manufactured by Halliburton—discharged into Stevens Creek and nearby wetlands.
Three years later, residents of Dimock are still fighting for their right to clean water and still reliant upon organizations such as the EPA to deliver fresh drinking water—a responsibility Cabot Oil and Gas is now absolved from. By now, most people are familiar with the infamous images of flammable water pouring from their taps. To see a video, click here.
And that is only the beginning.
Even so, in a move that blatantly disregards the health and welfare of Pennsylvania citizens, Feb. 8 was a landmark day in Pennsylvania as the Pennsylvania Legislature—led by Republican Gov. Tom Corbett—passed a bill to institute an impact fee on Marcellus gas wells and limit the ability of municipalities to restrict gas drilling. In a mostly party-line split, the Republican-led House pushed the bill through on a vote of 101-90.
Next door, New Jersey citizens stand on the brink of banning fracking within state lines entirely as consideration of Senate Bill 246 goes before the New Jersey Senate Environment and Energy Committee on Feb. 9. New Jersey currently has placed a moratorium on fracking until January 2013.
Despite opposition from Republican Gov. Chris Christie and the American Petroleum Institute, SB 246 has garnered overwhelming public support with the help of Sens. Robert Gordon (D-38th District), Linda Greenstein (D-14th District)  and Christopher Bateman (R-16th District).
While citizens of New Jersey are poised to celebrate, residents of Pennsylvania are witnessing just how powerful the oil and gas industry's lobbying arm really is.
According to MarcellusMoney.org, the drilling industry has contributed more than $3 million in political contributions to Pennsylvania lawmakers since 2001 and spent an additional $5 million in the capitol of Harrisburg in the past three years. Unfortunately, the money spent was vindicated yesterday.
The fight isn't over in New Jersey. Click here for more information on how you can reach out to New Jersey lawmakers today.
To learn more about fracking, visit EcoWatch's Fracking page for all the latest information—nationally and internationally.
EcoWatch Daily Newsletter
Related Articles from EcoWatch
Recent Stories from EcoWatch