This website uses cookies to ensure you get the best experience while browsing it. By clicking 'Got It' you're accepting these terms.
How Palm Oil Ravages Rainforests, Endangers Wildlife and Destroys Communities
Jul. 18, 2014 09:16AM EST
Energy
Demand for palm oil is growing—and fast. At the moment, most of it ends up in hundreds of food products—from margarine and chocolate to cream cheese and oven chips—although it's also used in cosmetics and increasingly, for use in biodiesel. But the cost to the environment and the global climate is devastating—to feed this demand, tropical rainforests and peatlands in South East Asia are being torn up to provide land for oil palm plantations.
Our consumption of palm oil is rocketing: compared to levels in 2000, demand is predicted to more than double by 2030 and to triple by 2050. Over 70 percent ends up in food, but the biofuels industry is expanding rapidly. Indonesia already has 6 million hectares of oil palm plantations, but has plans for another 4 million by 2015 dedicated to biofuel production alone.
Biodiesel fueling palm oil expansion
Commitments from various governments to increase the amount of biofuels being sold are pushing this rise in demand, because they're seen as an attractive quick fix to reduce greenhouse gas emissions. By 2020, 10 percent of fuel sold in the EU will be biofuel and China expects 15 percent of its fuel to be grown in fields, while India wants 20 percent of its diesel to be biodiesel by 2012. The irony is that these attempts to reduce the impact of climate change could actually make things worse—clearing forests and draining and burning peatlands to grow palm oil will release more carbon emissions than burning fossil fuels.
But this phenomenal growth of the palm oil industry spells disaster for local communities, biodiversity and climate change as palm plantations encroach further and further into forested areas. This is happening across South East Asia, but the problem is particularly acute in Indonesia which has been named in the 2008 Guinness Book of Records as the country with fastest rate of deforestation. The country is also the third largest emitter of greenhouse gases, largely due to deforestation.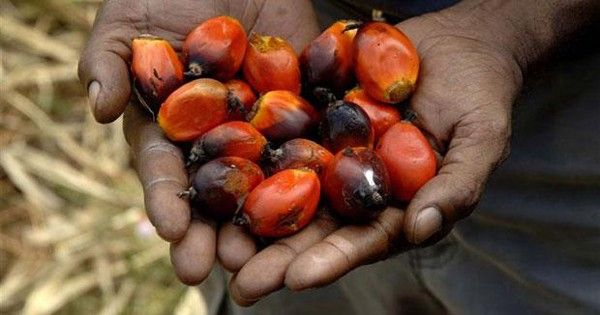 Much of the current and predicted expansion oil palm expansion in Indonesia is taking place on forested peatlands. Peat locks up huge amounts of carbon, so clearing peatlands by draining and burning them releases huge greenhouse gases. Indonesia's peatlands, cover less than 0.1 per cent of the Earth's surface, but are already responsible for 4 percent of global emissions every year. No less than ten million of Indonesia's 22.5 million hectares of peatland have already been deforested and drained.
Sustainable palm oil?
Industry efforts to bring this deforestation under control have come through the Roundtable on Sustainable Palm Oil (RSPO). It was set up in 2001 to establish clear ethical and ecological standards for producing palm oil, and its members include high-street names like Unilever, Cadbury's, Nestlé and Tesco, as well as palm oil traders such as Cargill and ADM. Together, these companies represent 40 percent of global palm oil trade.
But since then, forest destruction has continued. Many RSPO members are taking no steps to avoid the worst practices associated with the industry, such as large-scale forest clearance and taking land from local people without their consent. On top of this, the RSPO actually risks creating the illusion of sustainable palm oil, justifying the expansion of the palm oil industry.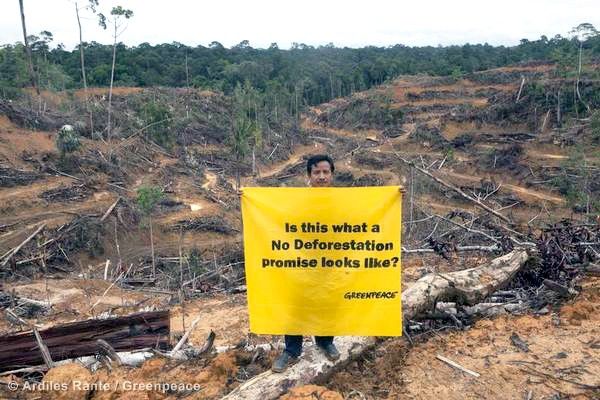 Our investigations—detailed in our report Cooking The Climate—found evidence that RSPO members are still relying on palm oil suppliers who destroy rainforests and convert peatlands for their plantations. One member—Duta Palma, an Indonesian palm oil refiner—has rights to establish plantations on land which theoretically is protected by law.
There are ways to stop this. A moratorium on converting forest and peatland into oil palm plantations will provide breathing space to allow long-term solutions to be developed, while restoring deforested and degraded peatland provides a relatively cheap, cost effective way to make huge reductions in greenhouse gas emissions in Indonesia. And governments around the world have to recognize the role deforestation plays in climate change, providing funds to help countries with tropical forests to protect their resources as well as reducing their own CO2 emissions.
For more information on our campaign and the issues behind it, read the FAQ on palm oil, forests and climate change.
You Might Also Like
How Food With Palm Oil is Wiping Out Orangutans and Enslaving Workers
9 Arrested After Death-Defying Protest of P&G's Use of Palm Oil
EcoWatch Daily Newsletter
A vegan diet can improve your health, but experts say it's important to keep track of nutrients and protein. Getty Images
By Dan Gray
Research shows that 16 weeks of a vegan diet can boost the gut microbiome, helping with weight loss and overall health.
A healthy microbiome is a diverse microbiome. A plant-based diet is the best way to achieve this.
It isn't necessary to opt for a strictly vegan diet, but it's beneficial to limit meat intake.
New research shows that following a vegan diet for about 4 months can boost your gut microbiome. In turn, that can lead to improvements in body weight and blood sugar management.
Students gathered at the National Mall in Washington DC, Sept. 20. NRDC
By Jeff Turrentine
Nearly 20 years have passed since the journalist Malcolm Gladwell popularized the term tipping point, in his best-selling book of the same name. The phrase denotes the moment that a certain idea, behavior, or practice catches on exponentially and gains widespread currency throughout a culture. Having transcended its roots in sociological theory, the tipping point is now part of our everyday vernacular. We use it in scientific contexts to describe, for instance, the climatological point of no return that we'll hit if we allow average global temperatures to rise more than 2 degrees Celsius above preindustrial levels. But we also use it to describe everything from resistance movements to the disenchantment of hockey fans when their team is on a losing streak.
samael334 / iStock / Getty Images
Berries are small, soft, round fruit of various colors — mainly blue, red, or purple.
A glacier is seen in the Kenai Mountains on Sept. 6, near Primrose, Alaska. Scientists from the U.S. Geological Survey have been studying the glaciers in the area since 1966 and their studies show that the warming climate has resulted in sustained glacial mass loss as melting outpaced the accumulation of new snow and ice. Joe Raedle / Getty Images
By Mark Mancini
On Aug. 18, Iceland held a funeral for the first glacier lost to climate change. The deceased party was Okjökull, a historic body of ice that covered 14.6 square miles (38 square kilometers) in the Icelandic Highlands at the turn of the 20th century. But its glory days are long gone. In 2014, having dwindled to less than 1/15 its former size, Okjökull lost its status as an official glacier.
Members of Chicago Democratic Socialists of America table at the Logan Square Farmers Market on Aug. 18. Alex Schwartz
By Alex Schwartz
Among the many vendors at the Logan Square Farmers Market on Aug. 18 sat three young people peddling neither organic vegetables, gourmet cheese nor handmade crafts. Instead, they offered liberation from capitalism.
Hackney primary school students went to the Town Hall on May 24 in London after school to protest about the climate emergency. Jenny Matthews / In Pictures / Getty Images
Bird watching in the U.S. may be a lot harder than it once was, since bird populations are dropping off in droves, according to a new study.