This website uses cookies to ensure you get the best experience while browsing it. By clicking 'Got It' you're accepting these terms.
How One Person Can Make a Big Difference
Apr. 14, 2015 10:48AM EST
Climate
Most people can identify a problem when they see one. What sets Climate Reality Leaders apart is their drive to do something about it, to be a part of the solution. Which means asking a lot of tough questions and acting on the answers, even when it means some difficult decisions.
Wei-Tai Kwok could identify a problem at a pretty early age. When he was still just a sophomore in 1978, he saw the problems American dependency on oil and gas presented and knew there had to be better alternatives. So at a national high school debate on energy, he started asking questions and proposed that the U.S. expand its use of solar power as a way to cut down on fossil fuels.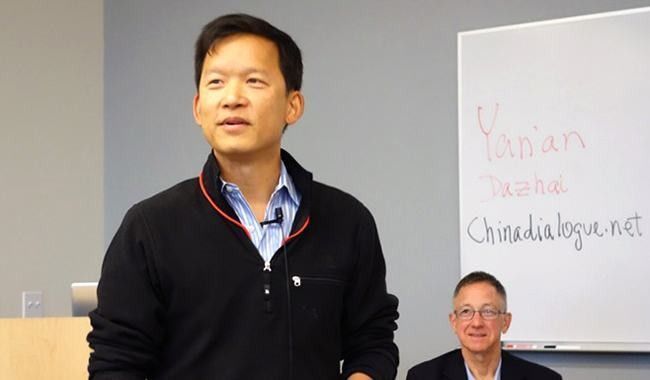 But it wasn't until years later, when he walked out of the theater after seeing An Inconvenient Truth, that he realized his life wasn't aligning with the solution to the larger problem that fossil fuels were driving: climate change. At that point, he was the CEO of his own successful advertising agency, helping businesses grow by selling more products and encouraging more consumption. "But," he wondered, "is increasing consumer spending and endless annual growth part of the solution? Or part of the problem?"
The question led him to a crossroads, and it wasn't long before he chose to leave his own agency and walk a new path. He found a new start as the head of global marketing with Suntech Power, one of the world's largest solar energy companies. Wei-Tai saw what forward-thinking businesses and solar could do to address climate change—after all, he was working on the very solution he'd proposed as a teenager—but after several years with Suntech, he also saw how ordinary Americans had to join in and he knew he could do more to help.
So he began asking himself how. When he received an email about a Climate Reality Leadership Corps training in Chicago in August of 2013, he decided to go, feeling it was the perfect opportunity to get the skills he needed.

Wei-Tai said later that it was "the most interesting conference" he had ever attended. He met people from Asia, Europe, Africa, and America, and trained alongside Jews, Christians, Buddhists and atheists. "It made me feel that people all over the world did care so much about this topic," he said. "It gave me hope that we, the people of this Earth, are in fact going to do something about this problem. And we are ready to do it NOW."
After the training, Wei-Tai returned home to Lafayette, California and set a personal goal to reach 1,000 people with the truth about climate change. But he soon discovered it was not something he could do alone. After initially struggling to find audiences for his message, he got some invaluable advice from a friend.
Steve Richard, founder of a local nonprofit called Sustainable Lafayette, told Wei-Tai that he could spread his message further and faster if people in the community were spreading it for him. All he had to do was start asking for their help. So he began to close each of his presentations with the statement, "I have a personal goal of giving this presentation to 1,000 people this year. So you can help me, and you can help spread the facts. If any groups you're involved with, or your business or your church, would be interested in having me speak to you, please contact me afterwards."
The difference that simple request made was tremendous. Every presentation he gave quickly led to others as people in the audience, energized by what they'd heard and eager to help, came up to connect him with friends and other groups he could speak to. It was working better than he had dared to hope and a sign that not only was his message on climate change resonating, but also that the people hearing it wanted to be part of the solution. All he had to do was ask.
The proof was in the numbers. In 2014, Wei-Tai beat his personal goal of reaching 1,000 people (he got to 1,200). For 2015, he's extended his goal and hopes to reach 2,000 people. And the numbers weren't the only benefit.
"It's been great to meet so many people in my community the past 18 months," he says. "From middle-schoolers to senior citizens, I've been totally encouraged to see that people genuinely care about climate change. There is growing momentum, and that gives me hope that this generation in this decade will put some meaningful legislation in place. I have been surprised, and very happy, to meet so many people who care."
To find out how you can become a part of the solution, visit the Climate Reality Leadership Corps Training page and sign up for our next training in Cedar Rapids, Iowa, May 5-7.
YOU MIGHT ALSO LIKE
One Simple Thing You Can Do Today to Stop Global Climate Change
Become a Climate Reality Leader: Share the Truth About Climate Change and Inspire Action
Hillary Clinton Announces 2016 Presidential Bid: Find Out Where She Stands on Climate
EcoWatch Daily Newsletter
Artist's conception of solar islands in the open ocean. PNAS
Millions of solar panels clustered together to form an island could convert carbon dioxide in seawater into methanol, which can fuel airplanes and trucks, according to new research from Norway and Switzerland and published in the Proceedings of the National Academy of Sciences journal, PNAS, as NBC News reported. The floating islands could drastically reduce greenhouse gas emissions and dependence on fossil fuels.
Marcos Alves / Moment Open / Getty Images
More than 40 percent of insects could go extinct globally in the next few decades. So why did the U.S. Environmental Protection Agency (EPA) last week ok the 'emergency' use of the bee-killing pesticide sulfoxaflor on 13.9 million acres?
EcoWatch teamed up with Center for Biological Diversity via EcoWatch Live on Facebook to find out why. Environmental Health Director and Senior Attorney Lori Ann Burd explained how there is a loophole in the The Federal Insecticide, Fungicide, and Rodenticide Act under section 18, "that allows for entities and states to request emergency exemptions to spraying pesticides where they otherwise wouldn't be allowed to spray."
Simple swaps that cut down on kitchen trash.
Sponsored
By Kayla Robbins
Along with the bathroom, the kitchen is one of the most daunting areas to try and make zero waste.
View of downtown Miami, Florida from Hobie Island on Feb. 2, 2019.
Michael Muraz / Flickr
The Democratic candidates for president descended upon Miami for a two-night debate on Wednesday and Thursday. Any candidate hoping to carry the state will have to make the climate crisis central to their campaign, as The New York Times reported.
By Sharon Kelly
On Monday, the Wall Street Journal featured a profile of Scott Sheffield, CEO of Pioneer Natural Resources, whose company is known among investors for its emphasis on drawing oil and gas from the Permian basin in Texas using horizontal drilling and hydraulic fracturing, or fracking.
Pexels
By Craig K. Chandler
The federal government has available to it, should it choose to use them, a wide range of potential climate change management tools, going well beyond the traditional pollution control regulatory options. And, in some cases (not all), without new legislative authorization.
Denis Poroy / Getty Images
By Dan Gray
Processed foods, in their many delicious forms, are an American favorite.
But new research shows that despite increasing evidence on just how unhealthy processed foods are, Americans have continued to eat the products at the same rate.
By Sarah Steffen
With a profound understanding of their environmental surroundings, indigenous communities around the world are often cited as being pivotal to tackling climate change.